Cheap Wax Wednesday Box Breaks: 2000 Topps Stars Baseball
For those who have been following along with my blog for the last four-plus years, welcome to the new home of #CheapWaxWednesday! For those new to the series, every Wednesday I share a box break of a "cheap" product. As a rule for this series, $50 is the maximum I usually pay. The product can be from any year and I try to jump around to share a variety of years and products.
So without further ado, this week's Cheap Wax Wednesday break features 2000 Topps Stars Baseball.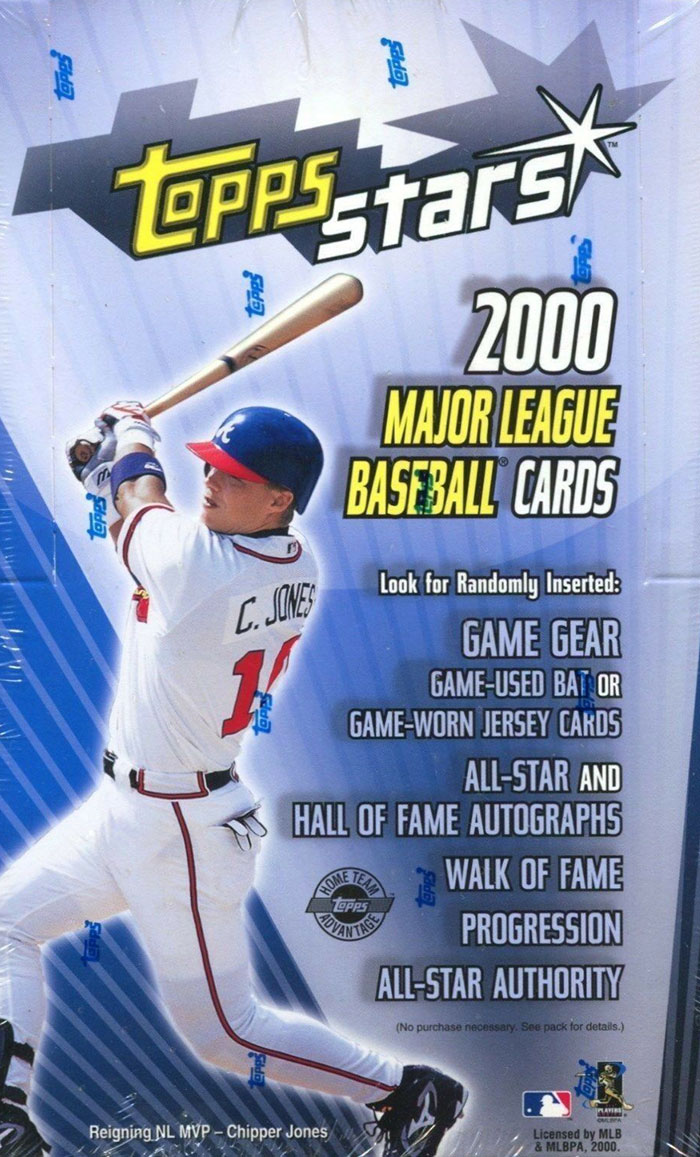 This box cost around $72 when it was released back in 2000. What did I pay? A lot less.
2000 Topps Star Baseball Box Break
Cards per pack: 6
Packs per box: 24
Price paid: $30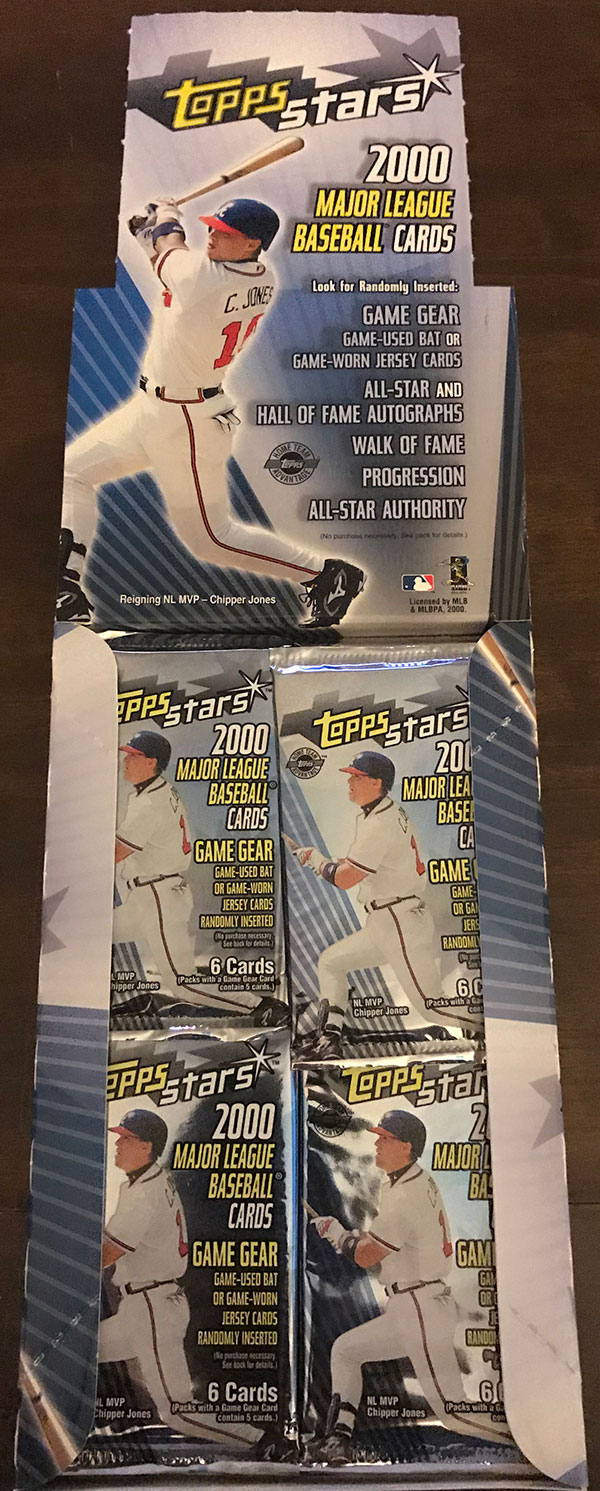 Pack 1 highlights:
Roberto Alomar, Andres Galarraga, Craig Biggio & Joe Morgan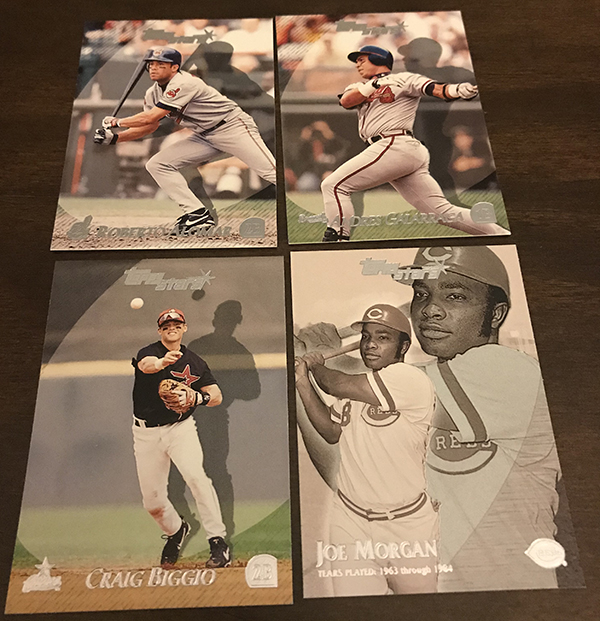 Pack 2:
Pedro Martinez (as a Pedro collector, this is my fifth copy of this card), Vladimir Guerrero & Troy Glaus
Pack 3:
Kenny Lofton, Curt Schilling, Alfonso Soriano, J.D. Drew Game Gear Jersey (1 in every 382 packs) & Kevin Millwood Game Gear Jersey (1:382 packs!). Now what are the odds of that? Pulling two cards, both 1:382 packs, in the same pack!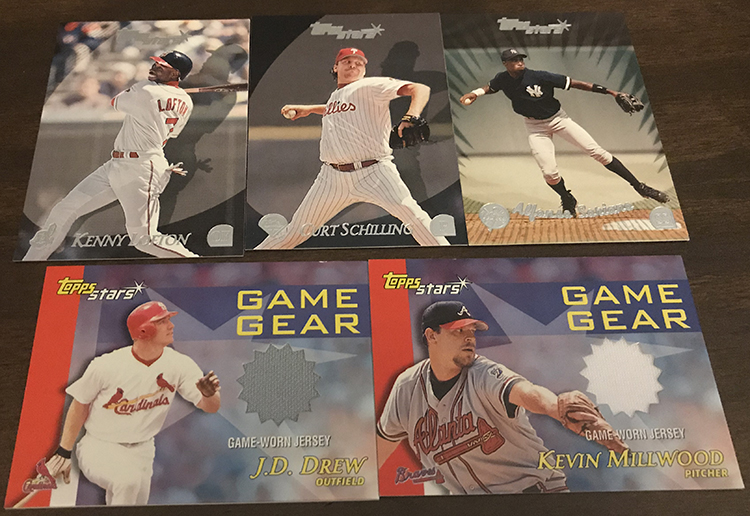 Pack 4:
Mike Piazza, Bartolo Colon, Dante Bichette (his son, Bo, has started off with a hot bat after his major league debut with the Blue Jays) & Randy Johnson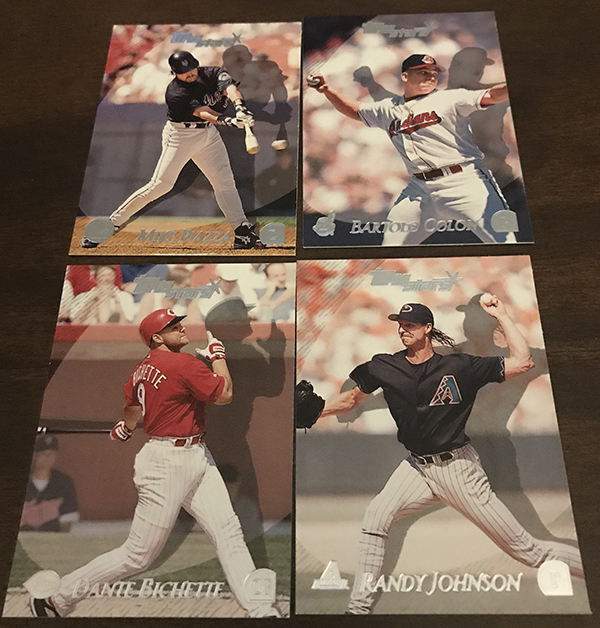 Pack 5:
Andruw Jones, Mark McGwire, Manny Ramirez & Brooks Robinson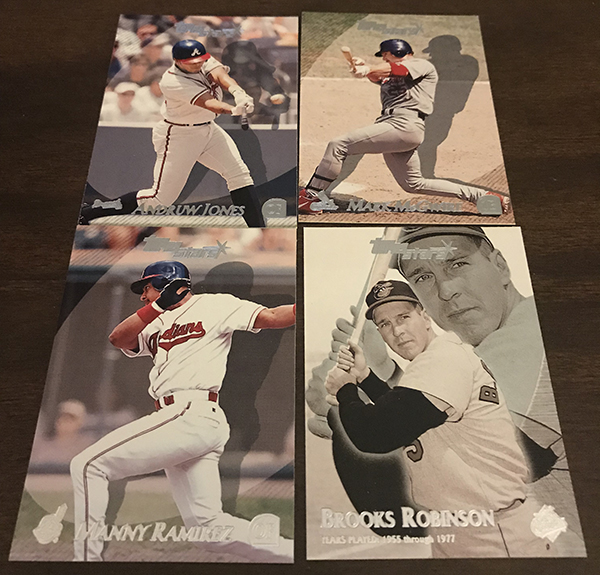 Pack 6:
Willie Stargell/Mark McGwire/Pat Burrell Progression (1:13 packs)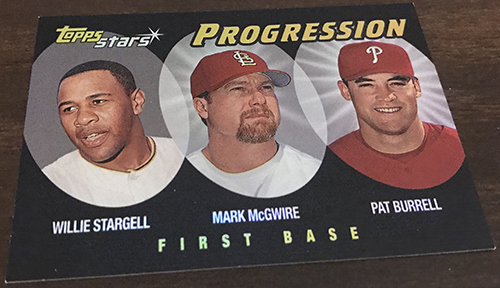 Pack 7:
Rick Ankiel, Alfonso Soriano & Al Kaline

Pack 8:
Carl Yastrzemski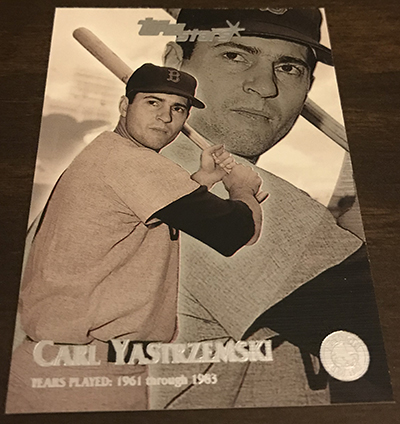 Pack 9:
Chipper Jones, Derek Jeter, Ken Griffey Jr. & Ozzie Smith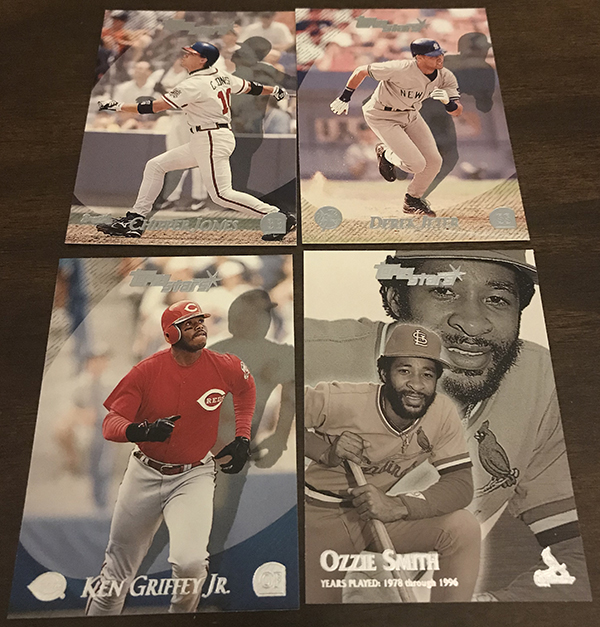 Pack 10:
Tom Glavine, Cal Ripken Jr. & Pedro Martinez Walk of Fame (1:8 packs, and my second copy of this one)

Pack 11:
Larry Walker, Nomar Garciaparra & Jeff Bagwell

Pack 12:
Kerry Wood & Mike Piazza All-Star Authority (1:13 packs)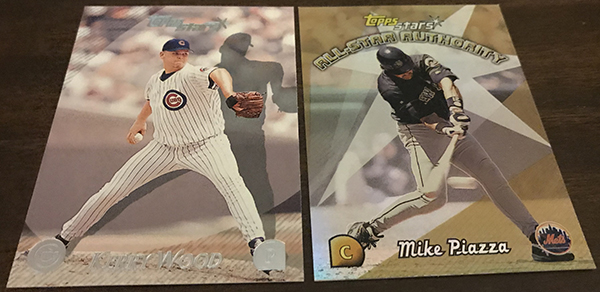 Pack 13:
Tony Gwynn, Bernie Williams & Ken Griffey Jr. Walk of Fame (1:8 packs)

Pack 14:
Jose Canseco, Greg Maddux, Willie Stargell & Al Kaline/Ken Griffey Jr./Ruben Mateo Progression (1:13 packs)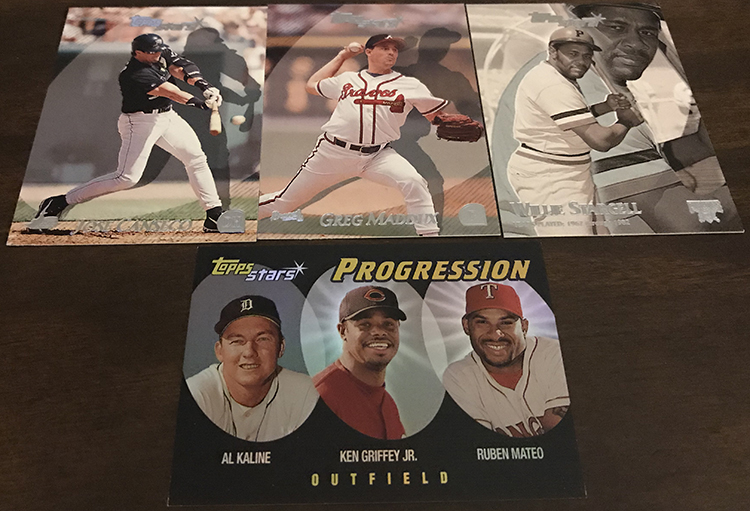 Pack 15:
Jim Thome, Carlos Beltran, Todd Helton & Gary Carter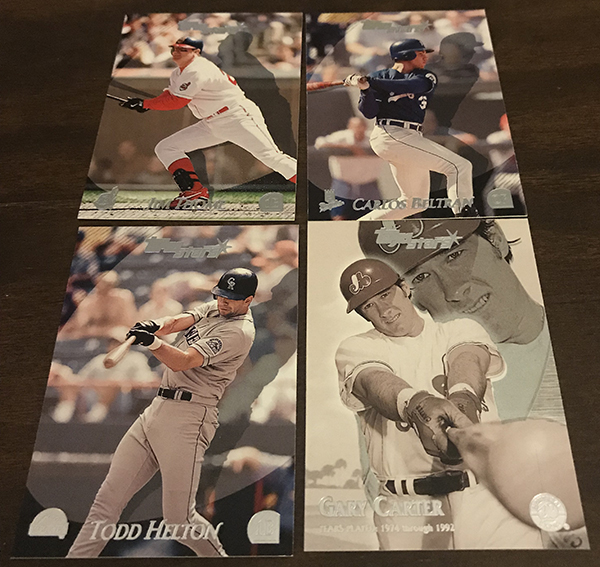 Pack 16:
Orlando "El Duque" Hernandez, Rafael Furcal, Sammy Sosa, Alex Rodriguez & Juan Gonzalez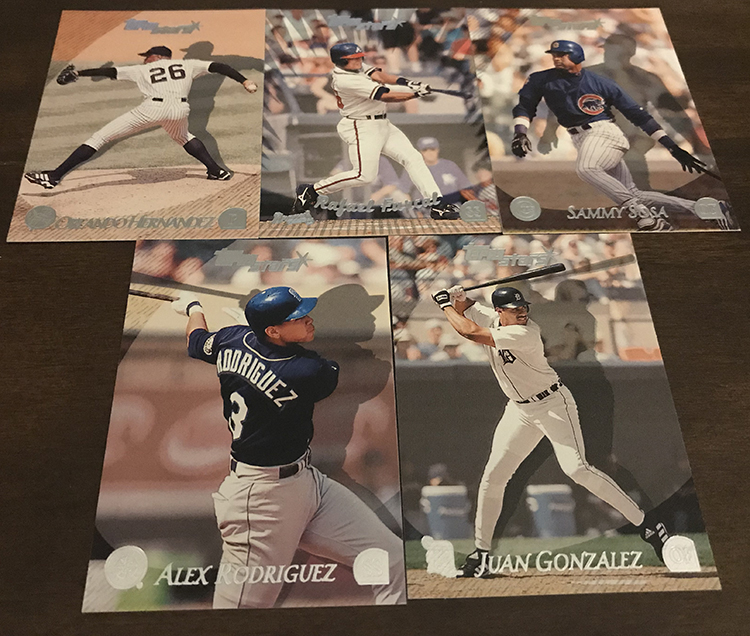 Pack 17:
Mo Vaughn, Albert Belle & Jason Giambi

Pack 18:
Frank Thomas, Paul O'Neill & Eric Munson SL

Pack 19:
Carlos Delgado, David Cone, Barry Larkin & Shawn Green SL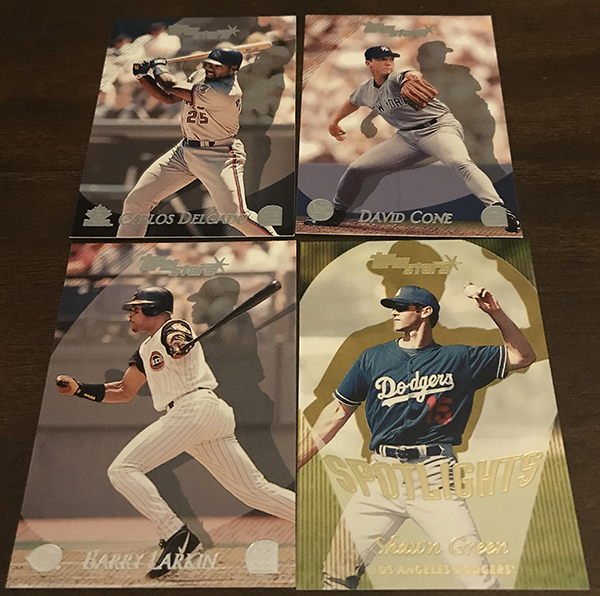 Pack 20:
Gary Sheffield, Gary Carter SL, Vladimir Guerrero SL & Manny Ramirez All-Star Authority (1:13 packs)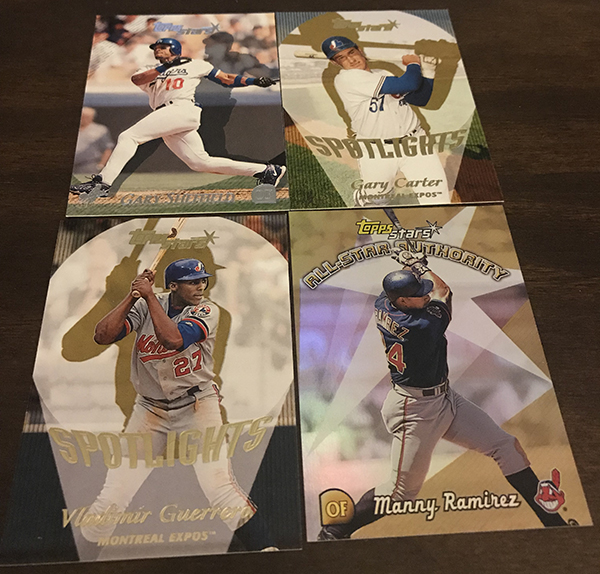 Pack 21:
Alex Rodriguez SL & Manny Ramirez Walk of Fame (1:8 packs)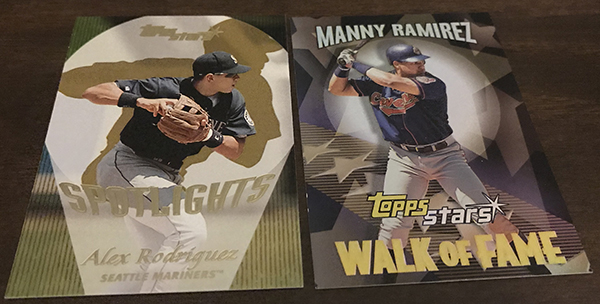 Pack 22:
Omar Vizquel, Bob Gibson SL, Vernon Wells SL & Roberto Alomar SL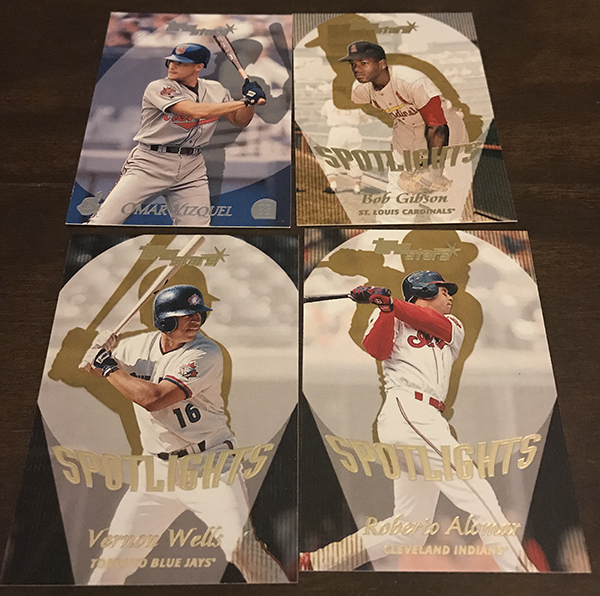 Pack 23:
Chipper Jones SL & Josh Hamiltons SL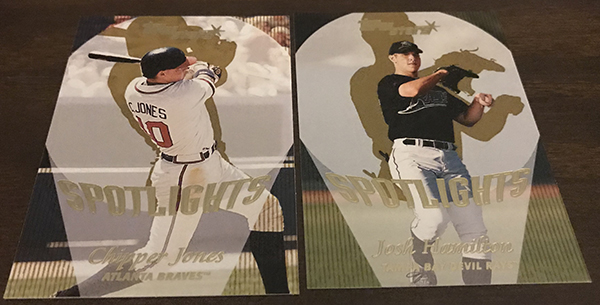 Pack 24:
Curt Schilling, Kenny Lofton, Sammy Sosa SL & Mark McGwire SL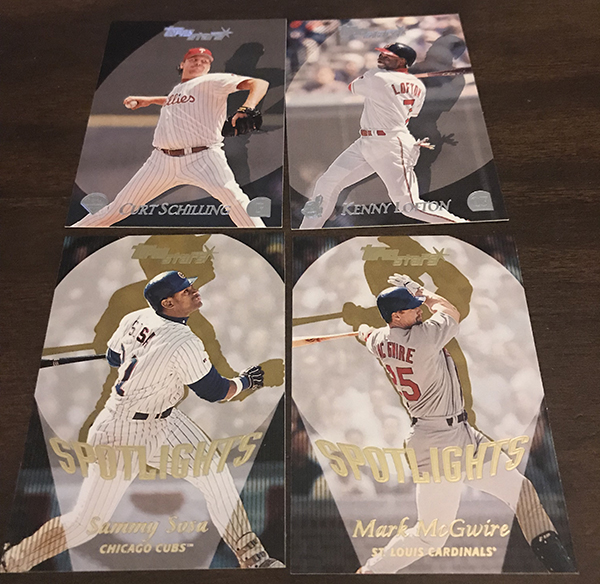 Finally, a card back. Not a big fan of this one as I prefer the stats-loaded card backs.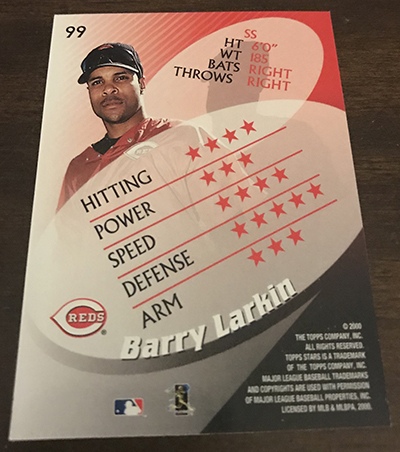 Not a bad box for $30! Lots of inserts to find and I got lucky with the double-relic pack. There is also a really solid autograph checklist in this product, including names like Yaz, Gibson, Jeter and Ozzie Smith. The autographs aren't easy to find, though, as there is just one in every 310 packs overall.
Shop for 2000 Topps Stars Baseball cards on: