Cheap Wax Wednesday Box Breaks: 1999 Team Best Baseball America
I messed up. Last week was supposed to be the first week of the annual Minor League May theme. I typed up the piece, submitted it, and then looked at the calendar. (facepalm). However, we are jumping into it a week late, and will continue to feature minor league products for the rest of the month!
Team Best released a bunch of different products between 1998 and 2000. Most were similar, but had some differentiating factor. This set, for instance, features just the Top 100 Prospects on Baseball America's rankings at the time. One hundred base cards are in the set plus three insert sets, and autographs. Two autographs are typically found in each box.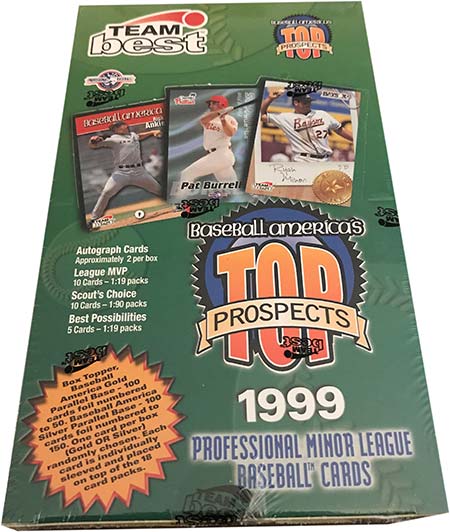 Some quick math — it seems there were probably 20,000 boxes produced of this product. 
1999 Team Best Baseball America Top Prospects Baseball Box Break
Cards per pack: 6
Packs per box: 18
Price paid: $7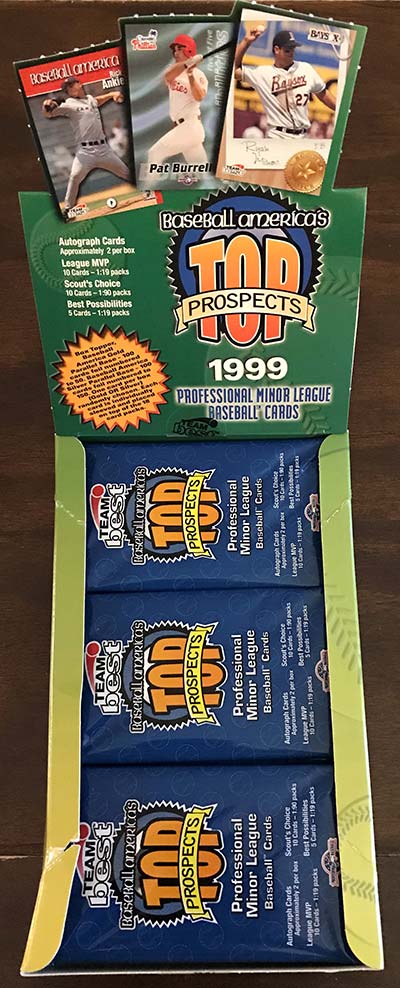 Box topper:
Each box starts with a Silver or Gold parallel. I found a Russ Branyan Silver parallel numbered 147/150.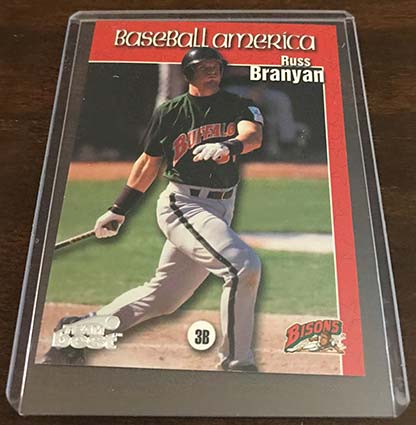 Pack 1 highlights:
Sometimes this happens with minor league products. It's tough to find a notable player in this one. Todd Williams leads the pack in this one, having appeared in 227 major league games, all as a relief pitcher.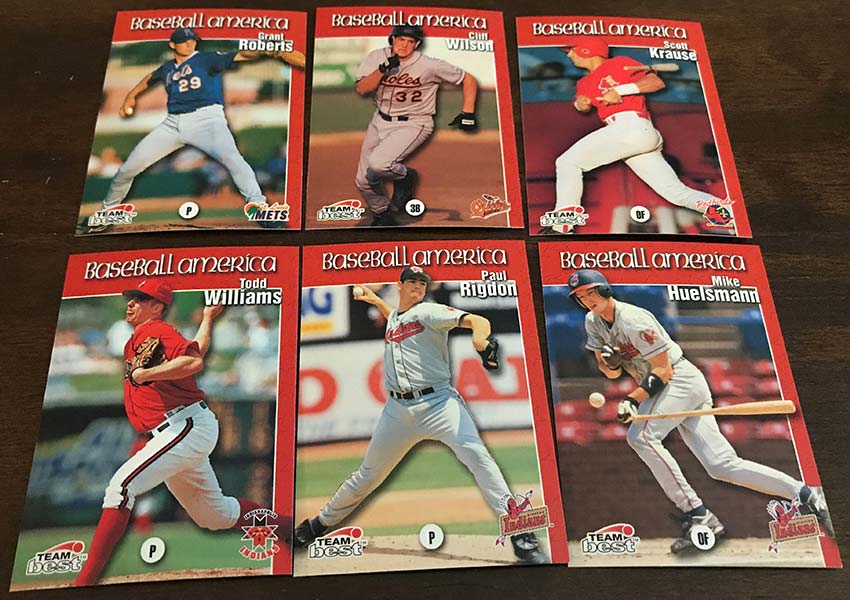 Pack 2:
Carlos Pena & Felipe Lopez Autograph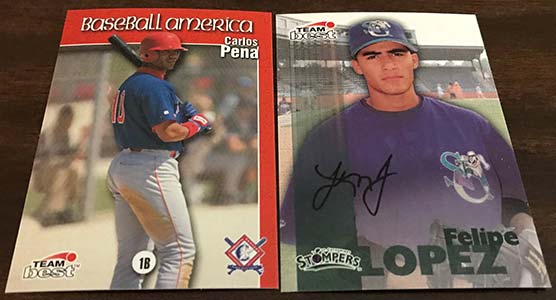 Pack 3:
Octavio Dotel
Dotel pitched for 15 major league seasons. He finished his career with 109 saves and a very respectable 3.78 ERA.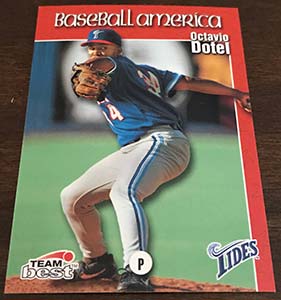 Pack 4:
Corey Patterson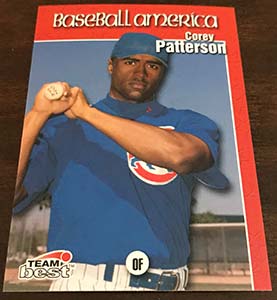 Pack 5:
Randy Wolf
Wolf made his lone All-Star appearance in 2003. He finished that season 16-10 with a 4.23 ERA for the Phillies.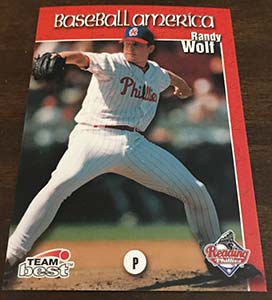 Pack 6:
Milton Bradley & Calvin Pickering League MVP (1:19 packs)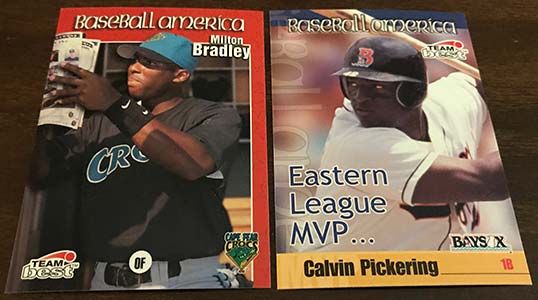 Pack 7:
Rick Ankiel, Lance Berkman & Brad Penny
Penny's best season came in 2007 while pitching for the Dodgers. He went 16-4 while sporting a 3.03 ERA. He finished third in the Cy Young voting. 

Pack 8:
Jerry Hairston, Jr.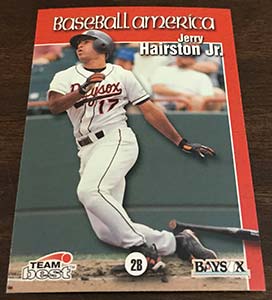 Pack 9:
Pat Burrell/Brad Penny Best Possibilities (1:19 packs)
The Red Sox drafted Burrell in the 43rd round of the 1995 draft. He chose not to sign, instead attending the University of Miami. He was drafted again, in 1998, but this time was a first round selection of the Phillies.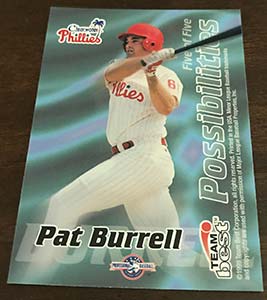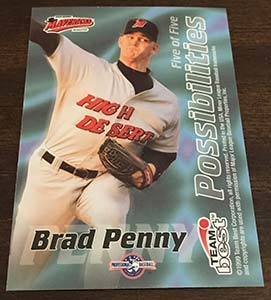 Pack 10:
Bronson Arroyo, Jayson Werth & Carlos Lee Autograph

Pack 11:
Fort Worth Wizards shortstop Michael Cuddyer
Michael Cuddyer, shortstop? Cuddyer played 1,536 major league games, never once appearing at shortstop.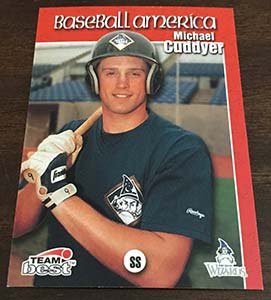 Pack 12:
Former Ray and Giant, Aubrey Huff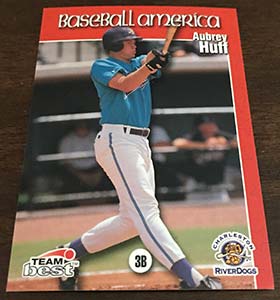 Pack 13:
Carlos Lee
"El Caballo" played 14 big league seasons, amassing 2,273 hits and 358 home runs.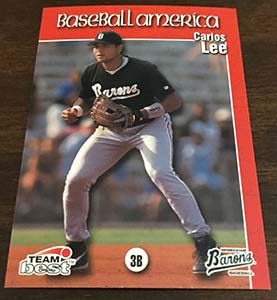 Pack 14:
Toby Hall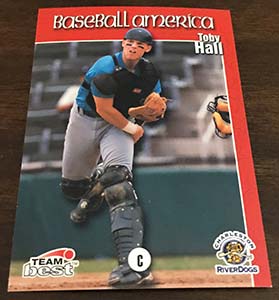 Pack 15:
Bruce Chen & Pat Burrell
Chen pitched in 17 major league seasons for 11 different ball clubs. His major league pitching record stands at 82-81.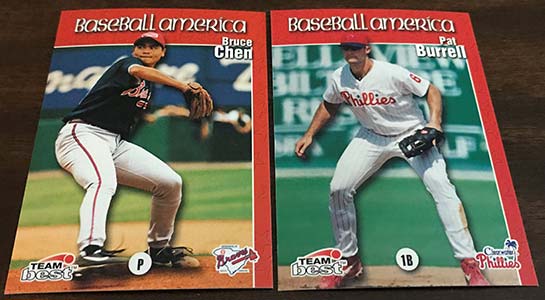 Pack 16:
Ron Belliard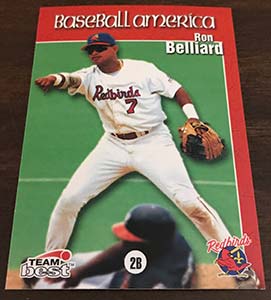 Pack 17:
Mark Mulder
Mulder's second season in the majors (2001) was impressive. He went 21-8 with a 3.45 ERA and a league-leading 4 complete game shutouts. He would finish second to Roger Clements in the Cy Young voting and 13th in the AL MVP balloting.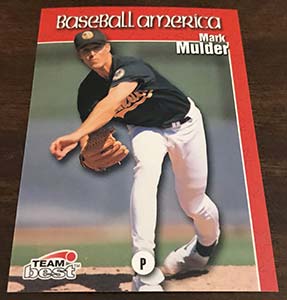 Pack 18:
Mike Bacsik
Bacsik is famous for allowing Barry Bonds' 756th career home run. He is also one of us, a card collector.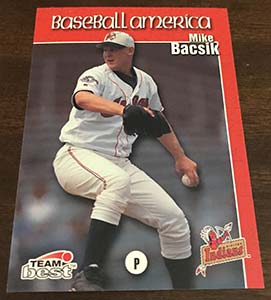 Lastly, the Berkman card back. Lance would use that impressive power to hit 366 major league home runs.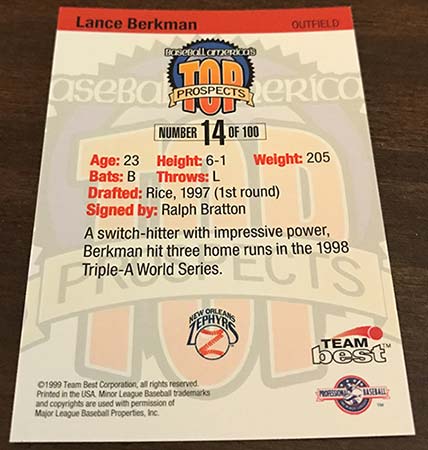 I always have fun busting minor league products. No, there aren't a ton of stars to find, but that is why you can buy them so cheaply. I mean, this one cost just $7! I enjoy finding notable names appearing in their minor league uniforms. It is just something different. 
The two autographs I pulled were surprisingly somewhat notable players. Lee was the bigger name, by far, but Lopez played a decade in the major leagues as well. The autograph checklist is full of guys that never made the majors, so finding two longtime major leaguers was a shock.
Shop for 1999 Team Best Baseball America on:
Want more installments of Shane Salmonson's Cheap Wax Wednesday? Check out his other breaks in the archives.