Cheap Wax Wednesday Box Breaks: 2008 Topps Series 2 Baseball Jumbo
It pays to shop the sales and check for steals on eBay every now and then. This box was an eBay find, and I paid much less than the current going rate of around $100. I got lucky and scored this one for under the Cheap Wax Wednesday max of $50.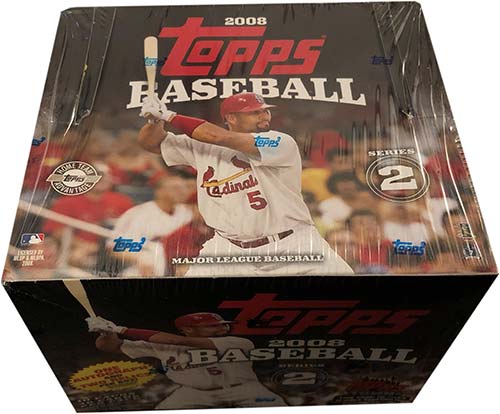 2008 Topps Series 2 contains 330 base cards. Each has three different parallels: Gold (/2008), Black (/57) and Platinum (1/1). In addition to the base set, there is a bevy of insert sets. Each jumbo box promises two relics and an autograph.
The most notable Rookie Card features in Series 2? Johnny Cueto.
2008 Topps Series 2 Jumbo Baseball Box Break
Cards per pack: 46
Packs per box: 10
Price paid: $40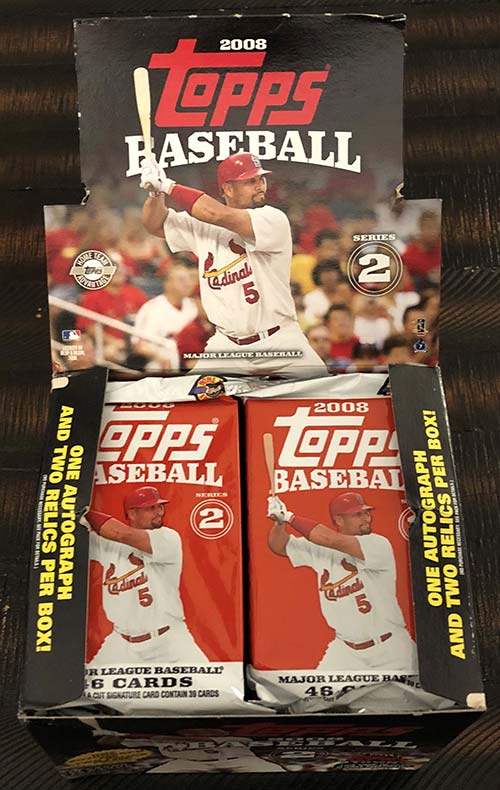 Pack 1 base:
Chipper Jones/Mark Teixeira, Carl Crawford, Mariano Rivera, Torii Hunter, Lance Berkman, Mark Teixeira & Hiroki Kuroda RC
Kuroda debuted in the major leagues at 33-years old. He would pitch in the majors for seven seasons, never posting an ERA over 3.76.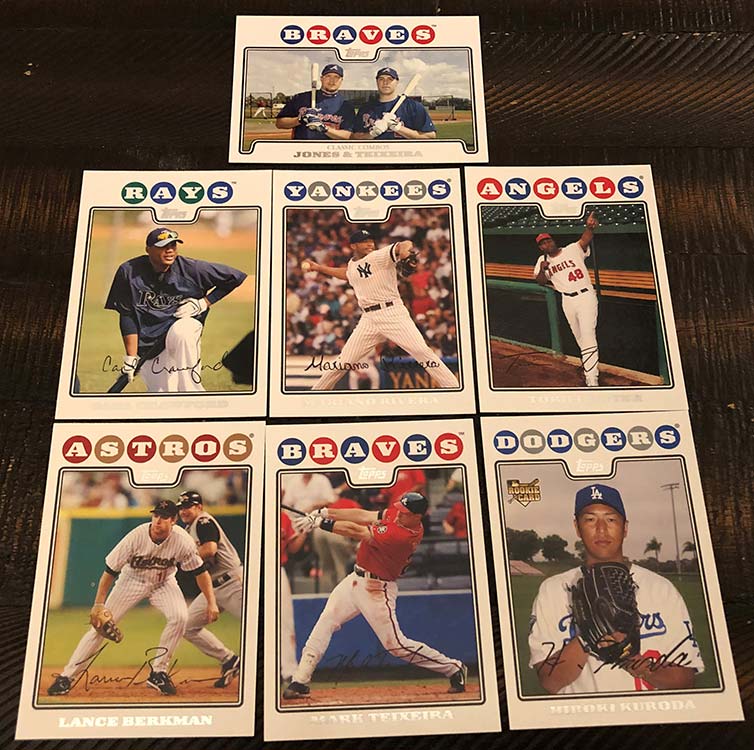 Pack 1 inserts/parallels:
Adam Dunn Trading Card History (one per pack), Jake Peavy Topps Stars (one per pack), Victor Martinez Year in Review (one per pack), Frank Catalanotto Gold /2008 (1:2 packs), Adam LaRoche All-Rookie Anniversary (one per pack), Woodrow Wilson/Charles Evans Hughes Campaign Match-Ups (one per pack) & Brandon Webb Highlights Jersey Relic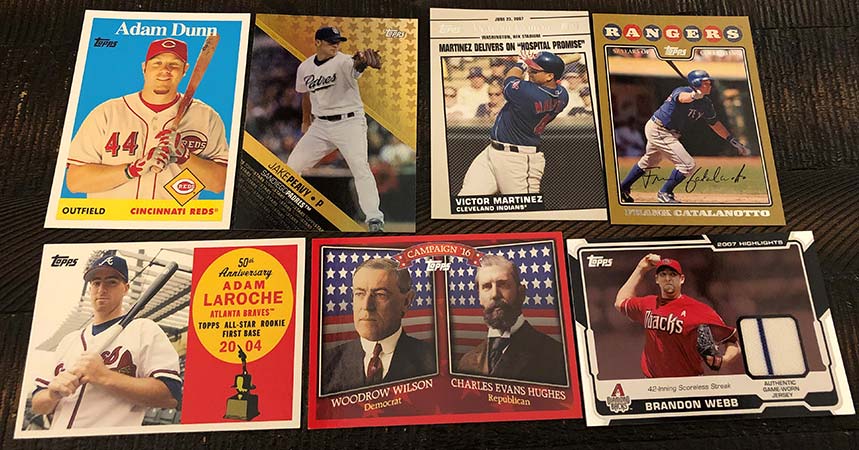 Pack 2 base:
Jason Giambi, Alex Gordon, Derek Jeter, Derrek Lee, Josh Hamilton, Ryan Braun, Troy Glaus, Randy Johnson & Curt Schilling
I love this shot of The Big Unit at the plate. Johnson racked up 625 at bats during his career, hitting just .125. His lone career home run came during the 2003 season.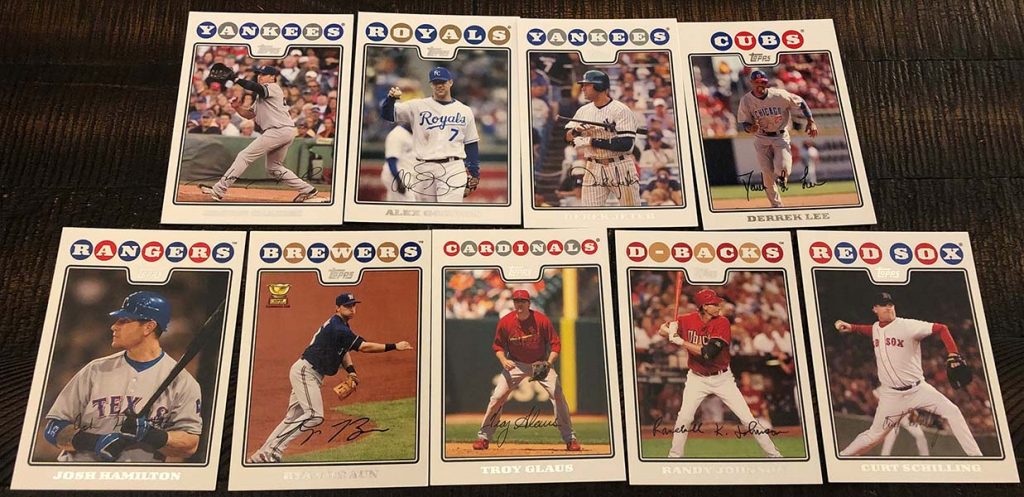 Pack 2 inserts/parallels:
Carlos Beltran All-Rookie Anniversary, Harrison/Cleveland Campaign Match-Ups, Mickey Mantle Story, Brandon Webb Trading Card History, Jose Reyes Topps Stars, Pedro Feliz Year in Review, Mike Scioscia Gold (/2008) (1:2 packs) & 2008 Red Hot Rookie Redemption #12
Daniel Murphy was later announced to be Red Hot Rookie #12. At least this wasn't a redemption for the Evan Longoria Red Hot Rookie Autograph card.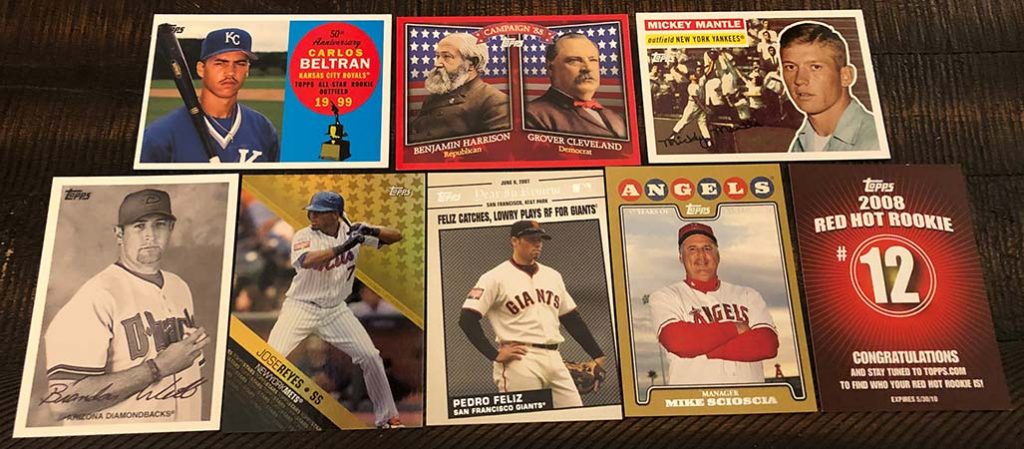 Pack 3 base:
Albert Pujols, Adrian Gonzalez, Adam Jones, Coco Crisp, Adam Dunn, Joe Maddon, Yadier Molina, Troy Tulowitzki, Ryan Zimmerman, Carlos Beltran & Francisco Rodriguez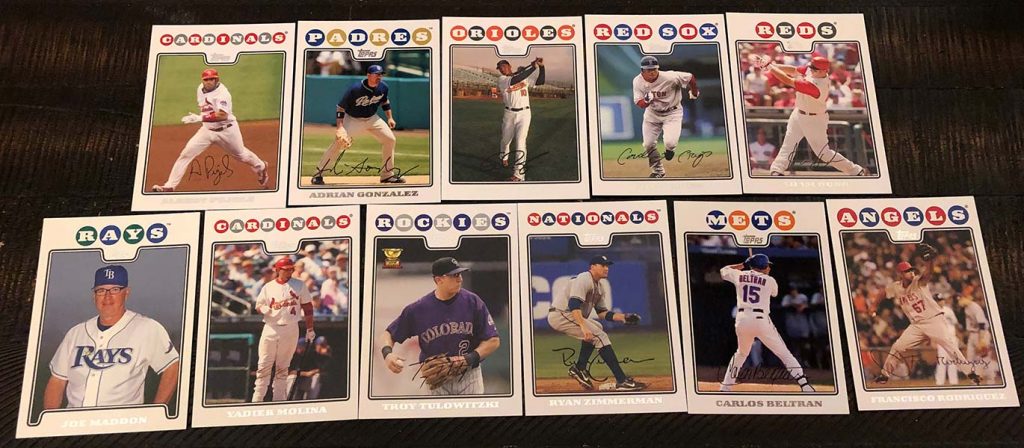 Pack 3 inserts/parallels:
Hunter Pence All-Rookie Anniversary, Roosevelt/Landon Campaign Match-Ups, Mickey Mantle Story, Jim Thome Trading Card History, Magglio Ordonez Topps Stars, Kevin Youkilous Year in Review & Philip Humber 2007 Highlights Autograph
Humber was the third overall pick in the 2004 draft. His career highlight? His April 21, 2012 Perfect Game against Seattle.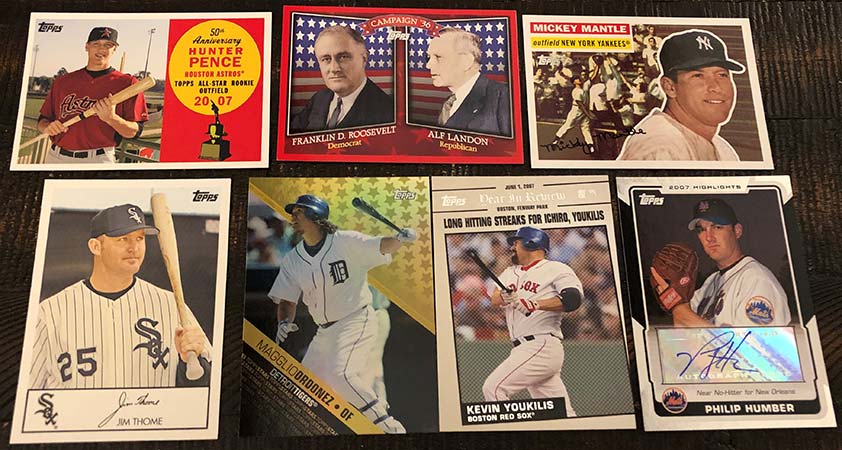 Pack 4 base:
Bobby Abreu, A.J. Burnett, Alex Cora, Chase Utley & Prince Fielder
Bobby Abreu, believe it or not, ranks in the Top 100 players all-time in on-base percentage. His career .395 OBP ranks 81st in the history of baseball. 

Pack 4 inserts/parallels:
Jake Peavy Trading Card History, Josh Beckett Topps Stars, Curt Schilling Year in Review, Miguel Cairo All-Rookie Anniversary, Pierce/Scott Campaign Match-Ups & Cameron Maybin 2007 Highlights Bat Relic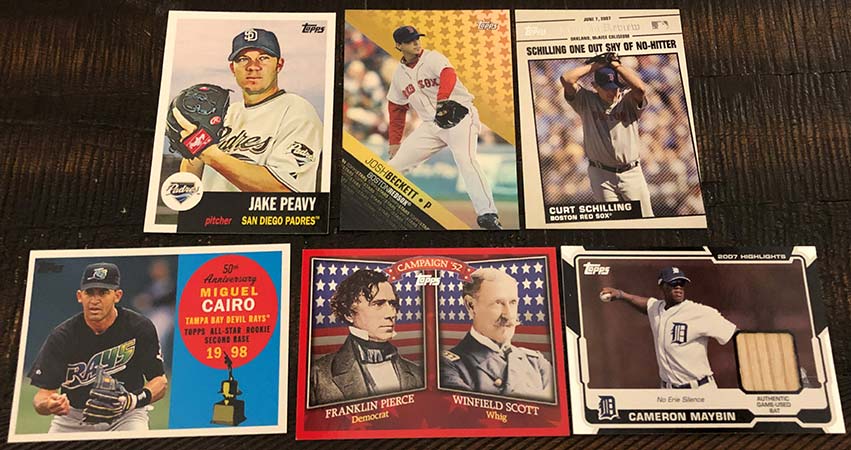 Pack 5 base:
Andy Pettitte, Kerry Wood, Carlos Lee, Johnny Cueto RC, Hideki Matsui, Jacoby Ellsbury, Matt Kemp & David Wright
Pack 5 inserts/parallels:
Chris Young Trading Card History, Manny Ramirez Topps Stars, Justin Verlander Year in Review, Juan Uribe Gold /2008 (1:2 packs), Delmon Young All-Rookie Anniversary, Washington/Adams Campaign Match-Ups, Mickey Mantle Story & Russell Martin Home Run Derby Contest Card (674/999)
If Russell Martin were to win the 2008 Home Run Derby, this card could be submitted into a drawing for the grand prize — the actual jersey the winner was wearing during the Home Run Derby.
Justin Morneau won the 2008 HR Derby.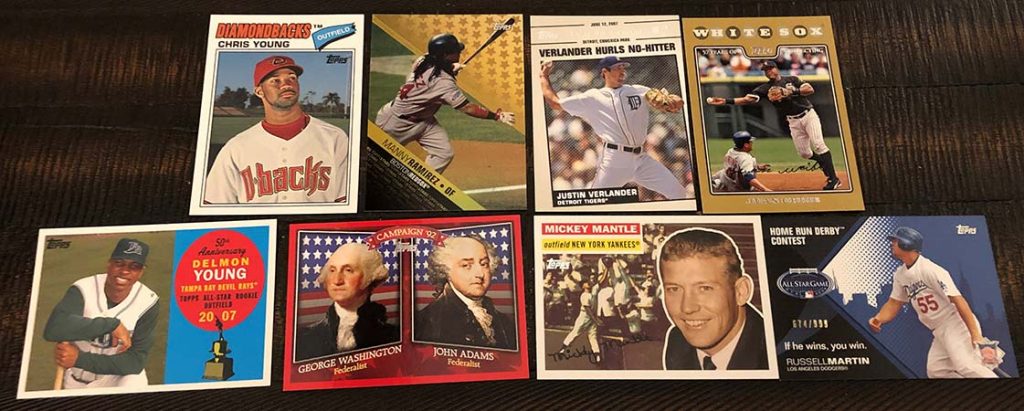 Pack 6 base:
Michael Young, Matt Holliday, Hanley Ramirez, Nick Markakis, Greg Maddux & Grady Sizemore
Want to feel really old? Matt Holliday's son, Jackson was he first overall selection in the 2022 MLB Draft.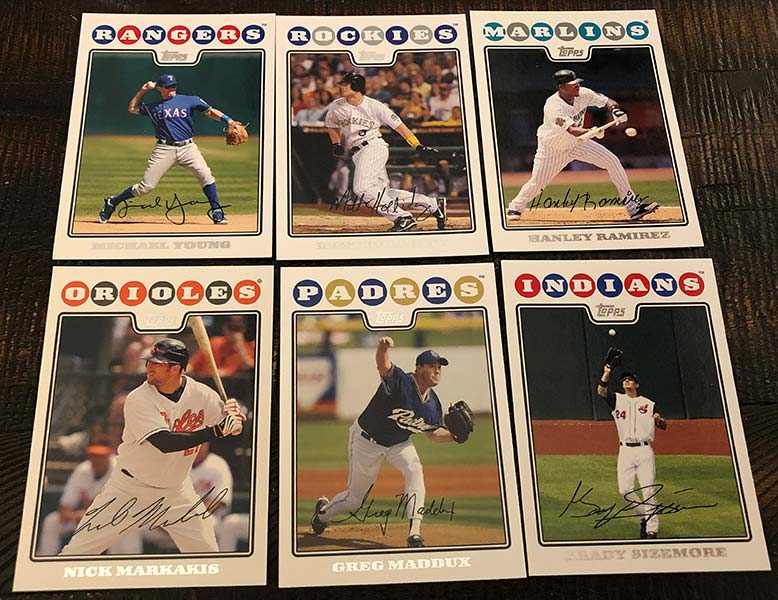 Pack 6 inserts/parallels:
Adams/Jackson Campaign Match-Ups, Scott Hatteberg All-Rookie Anniversary, Tim Lincecum Year in Review, Alex Rodriguez Topps Stars & Phil Hughes Trading Card History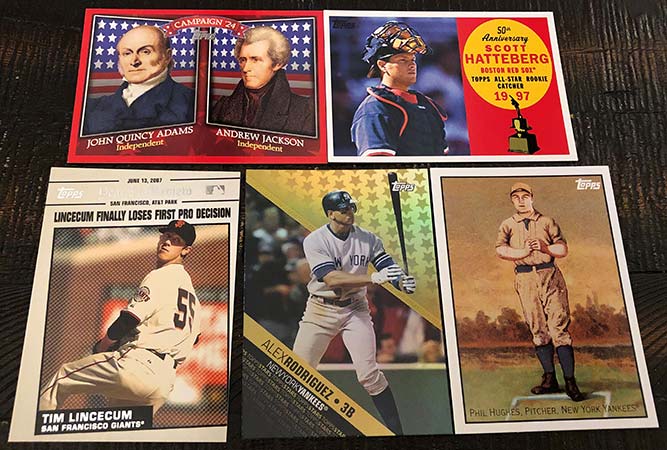 Pack 7 base:
David Ortiz, Frank Thomas, Justin Verlander, Ken Griffey, Jr., Livan Hernandez, Chipper Jones, Tom Glavine & Josh Beckett
Do you remember Livan Hernandez pitching for the Twins? Me neither. He pitched in just 23 games for Minnesota, posting a 5.48 ERA.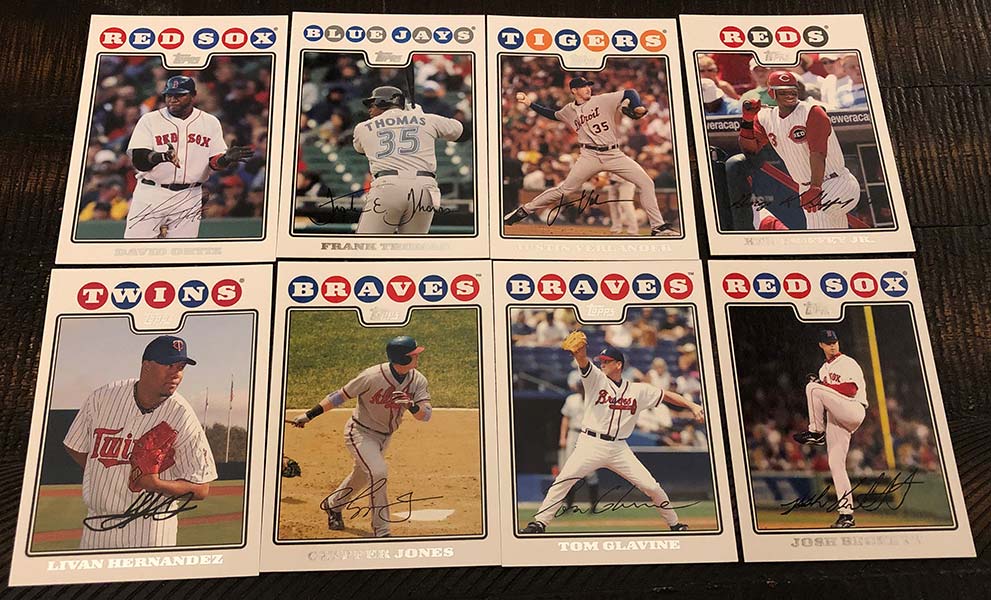 Pack 7 inserts/parallels:
Carlos Ruiz All-Rookie Anniversary, Grant/Seymour Campaign Match-Ups, Carlos Beltran Trading Card History, David Ortiz Topps Stars, Chipper Jones Year in Review & Evan Meek RC Gold (/2008) (1:2 packs)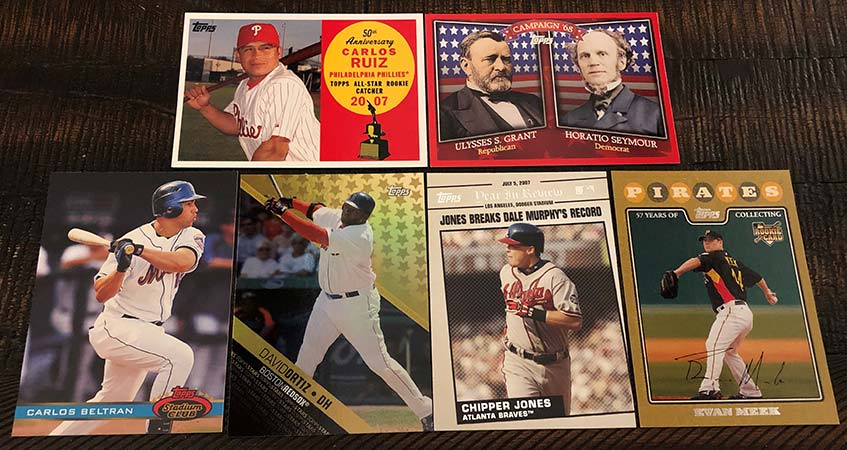 Pack 8 base:
Cabrera/Rodriguez, Mike Mussina, Troy Percival, Gary Sheffield, Garret Anderson, Johnny Damon & Joe Torre
Joe Torre was fired by the Yankees following the 2007 season. The four-time World Series winning manager was quickly hired by the Dodgers where he would go 259-227 over three seasons.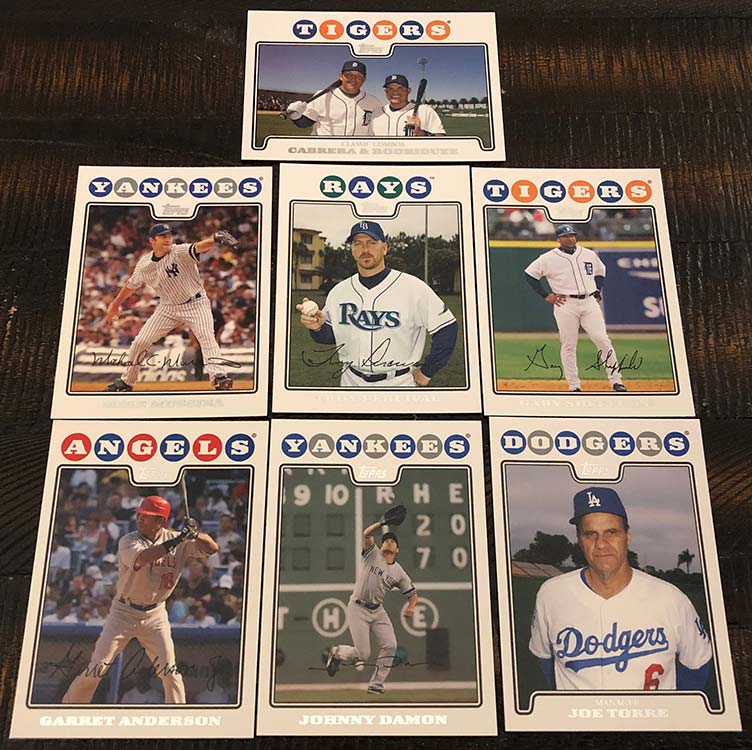 Pack 8 inserts/parallels:
Mark Kotsay All-Rookie Anniversary, Adams/Jefferson Campaign Match-Ups, Russell Branyan Year in Review, Russ Martin Trading Card History & Justin Morneau Topps Stars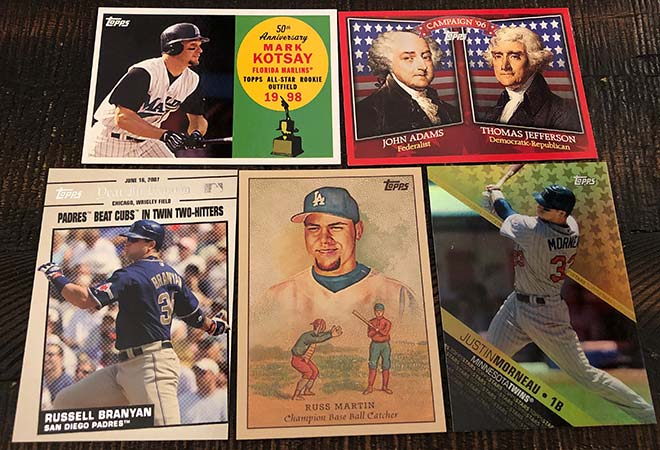 Pack 9 base:
Pujols/Fielder, Hideki Matsui, Johnny Cueto RC, Carlos Lee, Kerry Wood, John Smoltz, Eric Gagne, Pedro Martinez & Hideki Okajima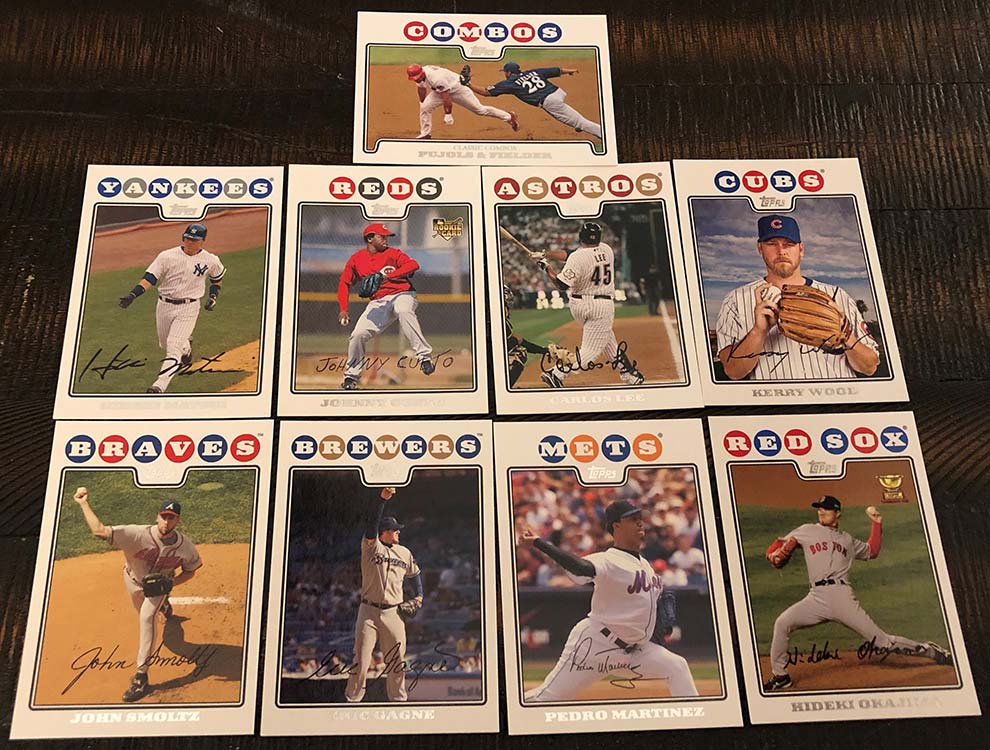 Pack 9 inserts/parallels:
Gregg Zaun Gold (/2008), Eric Bedard Year in Review, Carlos Lee Trading Card History, Miguel Cabrera Topps Stars, Khalil Greene All-Rookie Anniversary, Jefferson/Pinckney Campaign Match-Ups & Brad Hawpe Home Run Derby Contest (536/999)
Yes, Brad Hawpe was one of the 50 players selected by Topps to appear in the Home Run Derby Contest set. In their defense, he was just coming off a 29-homer season in 2007.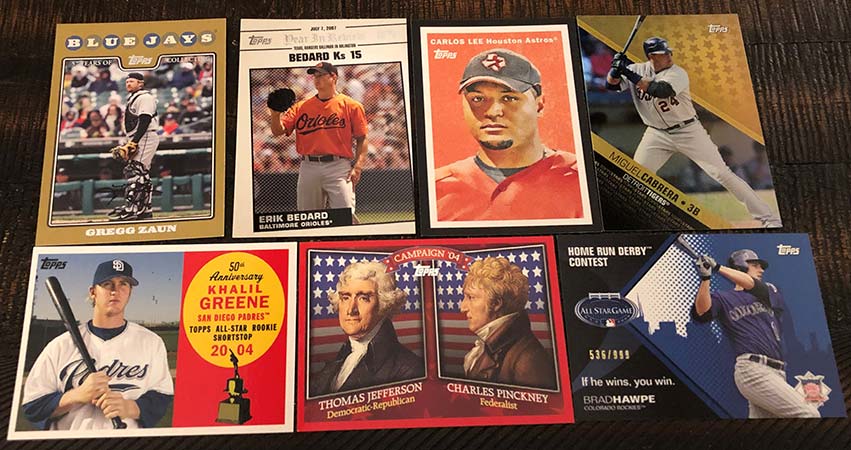 Pack 10 base:
David Wright, Dusty Baker & J.D. Drew
Dusty Baker continues to manage in the big leagues, now in Houston. I don't think he has aged a day since this 2008 photo.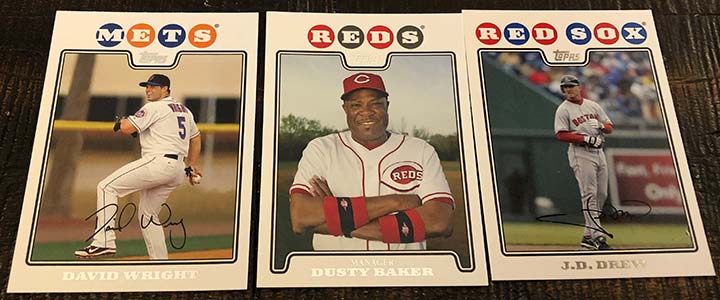 Pack 10 inserts/parallels:
Kerry Wood All-Rookie Anniversary, Cleveland/Harrison Campaign Match-Ups, Ryan Raburn Year in Review, Mickey Mantle Story, Mike Lowell Trading Card History & David Wright Topps Stars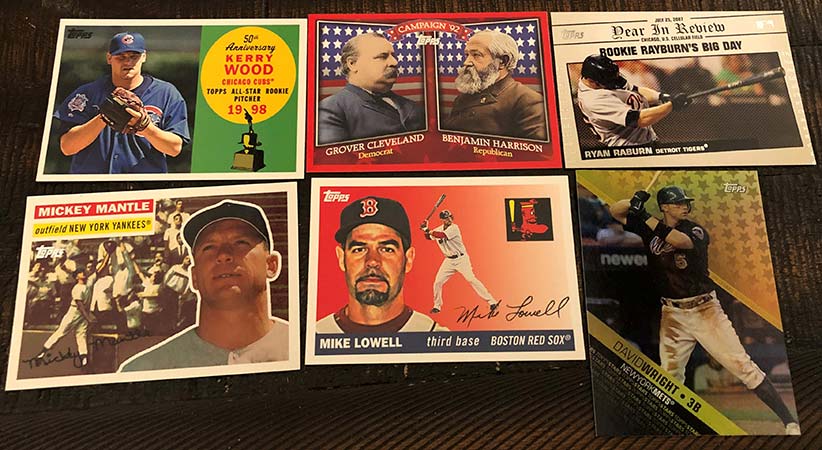 Lastly, the David Wright card back. Wright looked like he was going to be a Hall of Famer from the start. Unfortunately, injuries derailed that trajectory.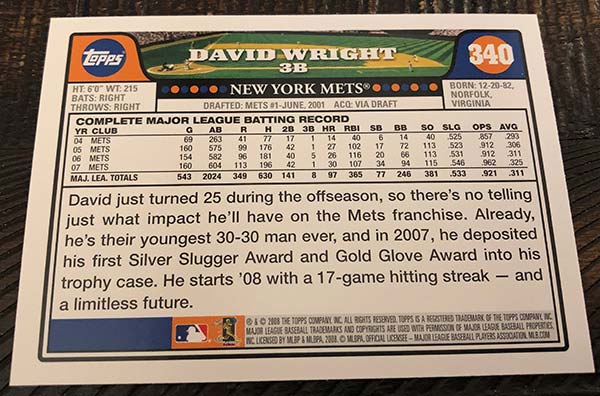 Hard to believe, but I bought this box with a winning $39.50 eBay bid back in November, 2020. Always check for steals!
Unfortunately, nothing big in this one. I got the expected two relics and one autograph, but no big stars in the hits. Also, no big names in the Gold parallels. Having said all of that negativity, this box was still stuffed with inserts. If you can find a box of this for the steal of a price that I did, there really is no going wrong.
Want more installments of Shane Salmonson's Cheap Wax Wednesday? Check out his other breaks in the archives.