1977 Topps Cloth Stickers Baseball Make for a Cheap, Sticky Situation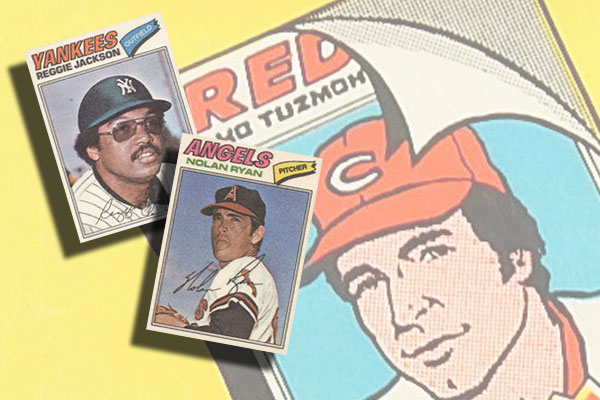 By Ryan Cracknell | Hobby Editor
1977 Topps Cloth Stickers Baseball arrived as a test issue, offering something a little different outside of the year's main release. The look may be familiar but the feel is definitely different. And like the flagship 1977 Topps Baseball, the majority of these stickers remain extremely affordable.
The main part of the 1977 Topps Cloth Stickers checklist has 55 cards. The top card in the set is Nolan Ryan. Other keys on the checklist include Reggie Jackson, George Brett, Pete Rose and Mike Schmidt. Mark Fidrych is the only player to have a Rookie Card in the 1977 Topps set to appear here.
Eleven cards are short prints, giving them a bit of a premium. Ryan and Rose are among them.
Outside of the material they're printed on, the design of the 1977 Topps Cloth Stickers is the same as the main set. And while photos are the same, a few players have different cropping. In the case of Richie Zisk, he was traded from the Pirates to the White Sox in December, 1976. So his 1977 Topps card has him with Pittsburgh. Releasing later, Zisk's sticker has an airbrushed Chicago cap, albeit with the same pose.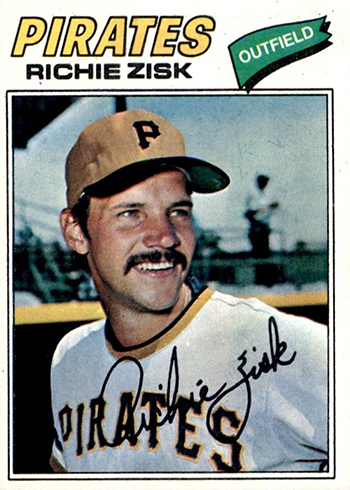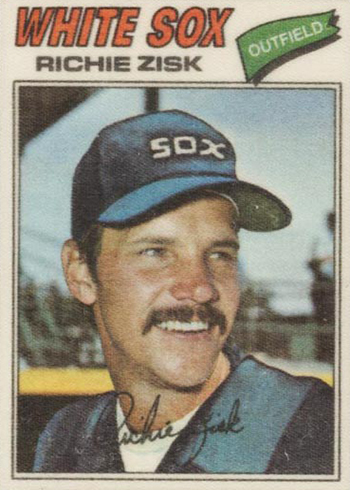 1977 Topps Cloth Stickers backs don't have any stats. Rather they have a few notes about the player and basic instructions on peeling the sticker.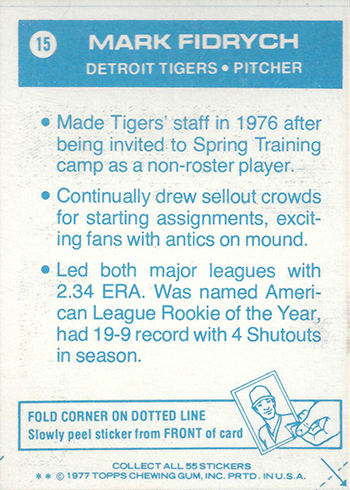 As far as condition goes, there are a couple of potential issues to look out for. Centering  can vary greatly, like any set of the era. Unique to the cloth material is the presence of frayed edges on some cards.
In addition to the main 55-sticker checklist, there are a pair of puzzles for the American League and National League All-Star teams. Both have nine cards, which make up a team photo. Puzzle backs have checklists.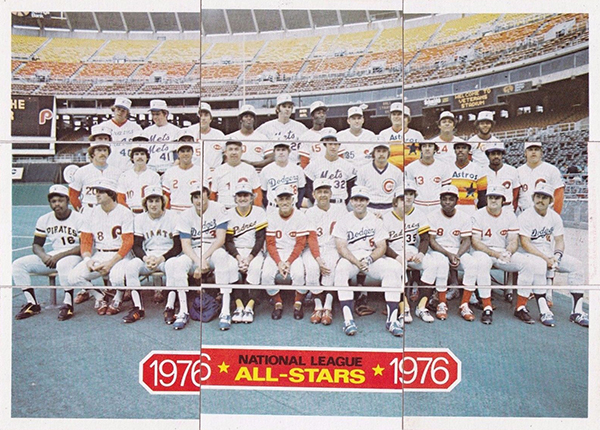 Each 1977 Topps Cloth Stickers Baseball pack carried an original price tag of 15 cents. Each came with two regular stickers plus a puzzle piece. Boxes have 36 packs.
The cloth stickers inspired a similar set of inserts, with current players, in 2012 Topps Archives Baseball.
1977 Topps Cloth Stickers Baseball at a glance:
Price Guide
Shop for 1977 Topps Cloth Stickers on the Beckett Marketplace
Packs per box: 36
Cards per pack: 3
Boxes per case: 16
Set size: 73 cards
Checklist
1977 Topps Cloth Stickers Baseball Checklist
Looking for specific cards? Click on the links to see what's on eBay.
73 cards.
1 Alan Ashby, Toronto Blue Jays
2 Buddy Bell, Cleveland Indians SP
3 Johnny Bench, Cincinnati Reds
4 Vida Blue, Oakland Athletics
5 Bert Blyleven, Texas Rangers
6 Steve Braun, Seattle Mariners SP
7 George Brett, Kansas City Royals
8 Lou Brock, St. Louis Cardinals
9 Jose Cardenal, Chicago Cubs
10 Rod Carew, Minnesota Twins SP
11 Steve Carlton, Philadelphia Phillies
12 Dave Cash, Montreal Expos
13 Cesar Cedeno, Houston Astros SP
14 Ron Cey, Los Angeles Dodgers
15 Mark Fidrych, Detroit Tigers
16 Dan Ford, Minnesota Twins
17 Wayne Garland, Cleveland Indians
18 Ralph Garr, Chicago White Sox
19 Steve Garvey, Los Angeles Dodgers
20 Mike Hargrove, Texas Rangers
21 Jim Hunter, New York Yankees
22 Reggie Jackson, New York Yankees
23 Randy Jones, San Diego Padres
24 Dave Kingman, New York Mets SP
25 Bill Madlock, Chicago Cubs
26 Lee May, Baltimore Orioles SP
27 John Mayberry, Kansas City Royals
28 John Messersmith, Atlanta Braves
29 Willie Montanez, Atlanta Braves
30 John Montefusco, San Francisco Giants SP
31 Joe Morgan, Cincinnati Reds
32 Thurman Munson, New York Yankees
33 Bobby Murcer, San Francisco Giants
34 Al Oliver, Pittsburgh Pirates SP
35 Dave Pagan, Seattle Mariners
36 Jim Palmer, Baltimore Orioles SP
37 Tony Perez, Cincinnati Reds
38 Pete Rose, Cincinnati Reds SP
39 Joe Rudi, California Angels
40 Nolan Ryan, California Angels SP
41 Mike Schmidt, Philadelphia Phillies
42 Tom Seaver, New York Mets
43 Ted Simmons, St. Louis Cardinals
44 Bill Singer, Toronto Blue Jays
45 Willie Stargell, Pittsburgh Pirates
46 Rusty Staub, Detroit Tigers
47 Don Sutton, Los Angeles Dodgers
48 Luis Tiant, Boston Red Sox
49 Bill Travers, Milwaukee Brewers
50 Claudell Washington, Oakland Athletics
51 Bob Watson, Houston Astros
52 Dave Winfield, San Diego Padres
53 Carl Yastrzemski, Boston Red Sox
54 Robin Yount, Milwaukee Brewers
55 Richie Zisk, Chicago White Sox
AL Puzzle Upper-Left
AL Puzzle Upper-Center
AL Puzzle Upper-Right
AL Puzzle Middle-Left
AL Puzzle Middle-Center
AL Puzzle Middle-Right
AL Puzzle Bottom-Left
AL Puzzle Bottom-Center
AL Puzzle Bottom-Right
NL Puzzle Upper-Left
NL Puzzle Upper-Center
NL Puzzle Upper-Right
NL Puzzle Middle-Left
NL Puzzle Middle-Center
NL Puzzle Middle-Right
NL Puzzle Bottom-Left
NL Puzzle Bottom-Center
NL Puzzle Bottom-Right
Gallery
Comments? Questions? Contact Ryan Cracknell on Twitter @tradercracks.