Baseball's Angriest Managers – Beckett Pricing Insider
On April 30th, 1988, Cincinnati Reds Manager Pete Rose was ejected for shoving umpire Dave Pallone while arguing a call at first base. Rose would be suspended for 30 days and fined for his actions. It was the longest suspension ever handed down for an on-field incident involving a manager.
Pete Rose was obviously a fiery player and manager, but surprisingly, he was ejected just nine times in six years as a manager, which is nothing compared to some of baseball's testiest bench bosses
Here's a look at the three most ejected managers in MLB history. They also happen to be three of the greatest.
Bobby Cox
Bobby Cox is the leader in the clubhouse with a record 158 ejections throughout his 29-year career as a manager with the Blue Jays and Braves. This works out to an ejection once every 29 games. He won 2,001 games in his career, the 1995 World Series and was inducted into the Hall of Fame in 2014.
Cox has nearly 300 cards in the Online Price Guide, ranging in value from $0.05 to $200. He's got over 60 certified autograph cards and more than 20 memorabilia cards. His lone Rookie Card hails from the 1969 Topps set and is currently valued at $40.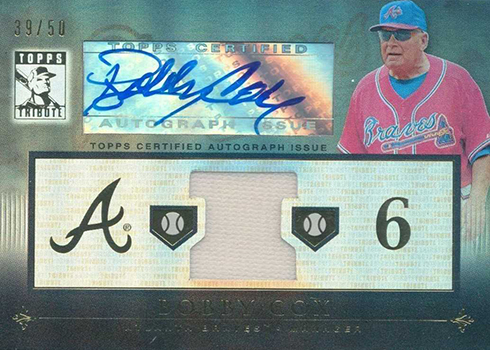 John McGraw
John McGraw was ejected 122 times in 33 years managing the Orioles and the Giants, or once every 39 games. He is the second winningest manager in MLB history with 2,763 wins and three World Series titles. He was inducted into the Hall of Fame in 1937.
McGraw has 415 cards in the Online Price Guide, dating back to the 1894 Orioles Alpha release. He appears in several recent Panini releases including 2018 Diamond Kings, 2018 Panini Flawless and 2018 Panini National Treasures. We catalog eight cut signature cards and, surprisingly, 67 different memorabilia cards.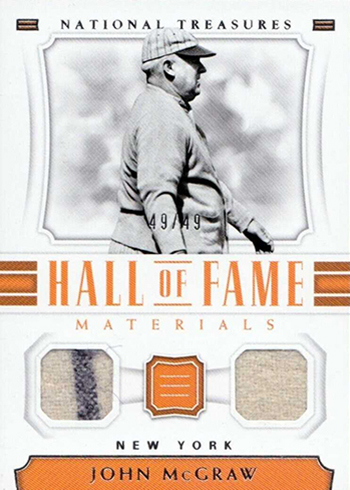 Leo Durocher
Leo Durocher spent 24 years as a major league manager, leading the Dodgers, Giants, Cubs and Astros. He was ejected 100 times, or once every 37 games. He won 2,008 games in his career, the 1954 World Series and was elected to Cooperstown in 1994.
Collectors have just under 500 cards of Durocher to track down including 139 memorabilia cards, 97 autographs and one Rookie Card. Like McGraw, Durocher appeared in several 2018 products including Diamond Kings, Immaculate Collection and Panini National Treasures, among others.