The Best Bray Wyatt Cards to Collect (And Husky Harris, Too)
Every so often, a wrestler comes along that captures the audience's imagination. The concepts of good guys and bad guys are tossed aside for compelling action, memorable promos and goosebump-inducing entrances. Enter Bray Wyatt and his army of fireflies. While it has taken the third-generation star a while to ascend to the top of the wrestling world, he's made it, winning the WWE Championship at the 2017 Elimination Chamber. With that in mind, here's a look at some of the key Bray Wyatt cards, including a couple that have the superstar under earlier personas.
Top Bray Wyatt Cards
2010 FCW Duke Rotundo
The first Bray Wyatt card is extremely rare. Handed out in small numbers at Florida Championship Wrestling live events, it features the future superstar channeling his inner Michael P.S. Hayes or doing some Fabulous Freebirds cosplay. At the time, Wyatt was teaming with his brother Bo (now Bo Dallas). As far as Bray Wyatt cards go, this should be considered the Holy Grail given its small numbers and importance.
Buy on: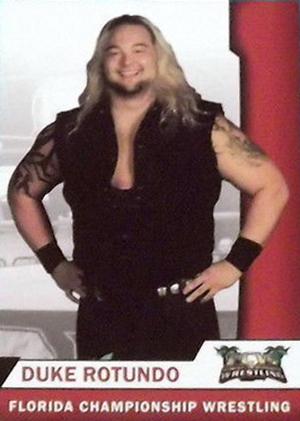 2010 Topps Platinum Husky Harris #44
This marks Wyatt's debut in a mainstream WWE set. Following his stint on NXT and the ensuing Nexus faction that spun out of it, Wyatt was a regular on TV for a few months as Husky Harris. But the character wasn't clicking so he returned to FCW where his iconic character was conceived and developed.
Like other products under the Topps Platinum label, this is a foil-based card. It's not overly premium in nature, but it does help it stand out a little.
Parallels: Rainbow, X-Fractor, Green (/499), Blue (/199), Gold (/50), Printing Plates Black (1/1), Printing Plates Cyan (1/1), Printing Plates Magenta (1/1), Printing Plates Yellow (1/1), Red (1/1)
Buy on: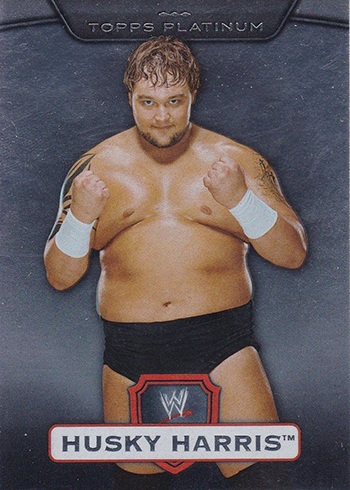 2010 Topps Slam Attax Mayhem Husky Harris
Actually releasing a couple months before his Topps Platinum card, the 2010 Topps Slam Attax Husky Harris is part of an expansion set for the trading card game. While the Slam Attax line is limited now to primarily European distribution, at the time Topps was trying to make a go of it in North America as well. This should make it a little easier to find.
Buy on: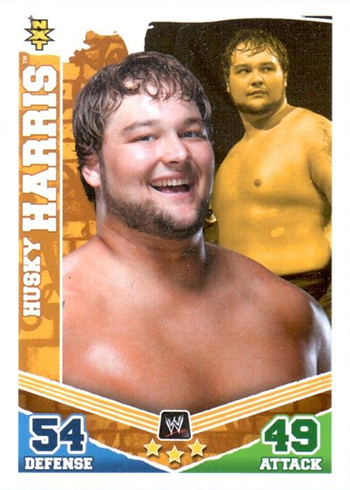 2011 FCW Summer Slamarama Husky Harris
It might not be his first FCW card, but looking back, 2011 FCW Summer Slamarama will likely go down as a wrestling card classic. Like the 2010 set, this one was handed out in limited numbers at live events. Included on the checklist are early cards of Dean Ambrose, Seth Rollins, Roman Reigns and several others that went on to have WWE careers. The Husky Harris card is made strong in part by association. But its rarity is also a big factor.
Buy on: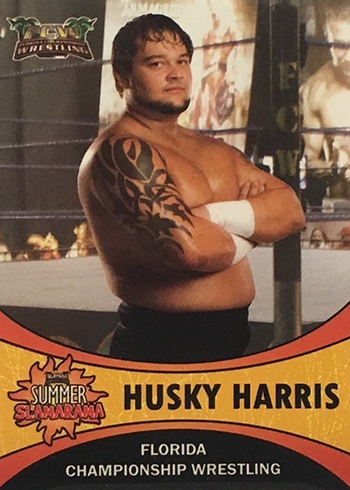 2014 Topps WWE Bray Wyatt #6
Here it is, the first card of "Bray Wyatt." It's tough to view it as a Rookie Card given the handful of cards that came before it, only under different characters. Nonetheless, it's significant in that it finally sees the character featured on a card. It has a handful of parallels not to mention a near duplicate version in 2014 Topps Chrome WWE with several Refractors.
Parallels: Silver, Black (Print Run: 50), Gold (/10),Printing Plates Black (1/1), Printing Plates Cyan (1/1), Printing Plates Magenta (1/1), Printing Plates Yellow (1/1), Red (1/1)
Buy on: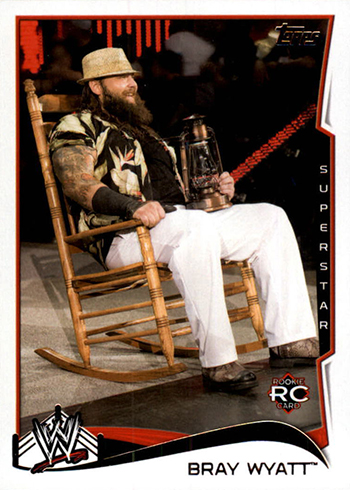 2014 Topps WWE Autographs Bray Wyatt
For the most part, the first Bray Wyatt autograph card is the same as his 2014 Topps WWE base card. The signature uses a sticker and has similar parallels as the base version. Wyatt has been a regular signer for Topps since the introduction of the character including several cards with on-card signatures. The significance here is that it's his first signed card.
Parallels: Black (Print Run: 50), Silver (/25), Gold (/10),Printing Plates Black (1/1), Printing Plates Cyan (1/1), Printing Plates Magenta (1/1), Printing Plates Yellow (1/1), Red (1/1)
Buy on: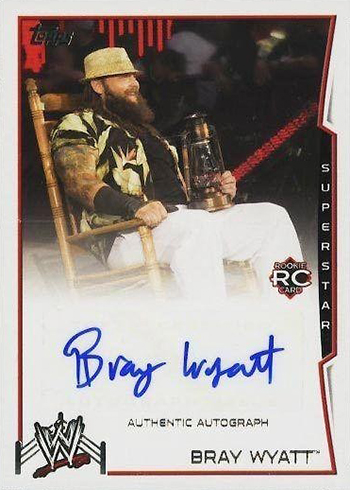 2014 Topps WWE Triple Autographs Bray Wyatt/Luke Harper/Erick Rowan
2014 Topps WWE has five different Triple Autographs. Preliminary details for the product there were 25 total between all of them. That would suggest that this card likely has somewhere around five copies. Needless to say, it's virtually impossible to find. That said, given the importance of the Wyatt Family in establishing the Bray Wyatt character and mystique, it's certainly worth noting.
2016 Topps WWE has a second Wyatt Family Triple Autograph with Bray, Harper and Braun Strowman.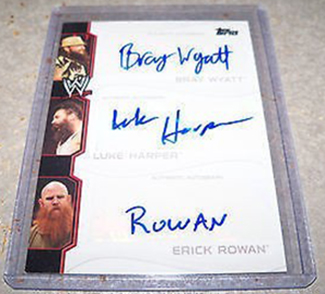 2014 Topps WWE Road to WrestleMania WrestleMania XXX Signed Mat Relics Bray Wyatt #BW
This is a card you're not going to find everyday. But as far as wrestling cards go, it's got plenty of importance. For starters, it's signed. That's never a bad thing. The signing surface — that's a piece of canvas from WrestleMania XXX where Wyatt fought (and lost to) John Cena.
Buy on: