Home Run Derby Memories – Beckett Pricing Insider
During the Home Run Derby a few weeks ago, I was reminded of how much I enjoyed watching Home Run Derby, a 1960 television show that aired again on ESPN in the late 1980s, just as my baseball consciousness was taking shape.
The show, which ran 23 episodes, featured two power hitters of the era facing off against each other in a nine-inning home run derby contest. Nineteen different players were featured on the show, including many of the legendary names you'd hope to see: Hank Aaron, Ernie Banks, Al Kaline, Harmon Killebrew, Mickey Mantle and Willie Mays. Aaron made seven appearances on the show, putting up a record of 6-1. Mantle and Mays each appeared five times, winning four and three times, respectively.
In an effort to publicize the show, a 20-card set was produced, likely by American Motors. The set consists of each of the nineteen players who appeared on the show, along with the host, Mark Scott. The 1959 Home Run Derby set is commonly referred to as a '59 release (the show was filmed in December of '59), but it was likely produced and distributed in early 1960. The Beckett Online Price Guide points out that Rocky Colavito was traded to the Tigers in April of 1960. His card lists him with the Tigers, while showing him in an Indians uniform. This gives credence to the theory that the set was issued in 1960. The cards are black and white, blank backed and measure approximately 3 1/8″ by 5 1/4″.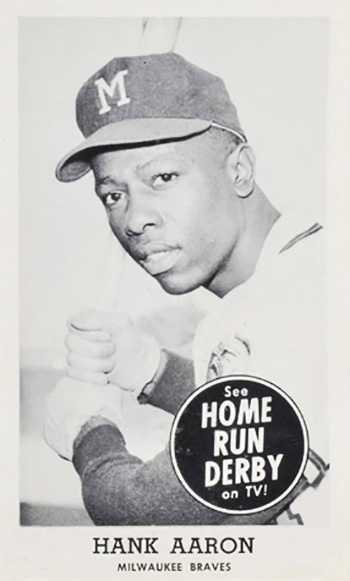 Though not exceedingly rare, the set can be difficult to find in high grade. Common cards in VG condition sell for about $120, while Mickey Mantle ($2,000), Willie Mays ($800) and Hank Aaron ($600) will set you back a significantly more. It should be noted that the set was reprinted in late 1980s, so unless you're buying a professionally graded example or purchasing from a reputable dealer, buyer beware.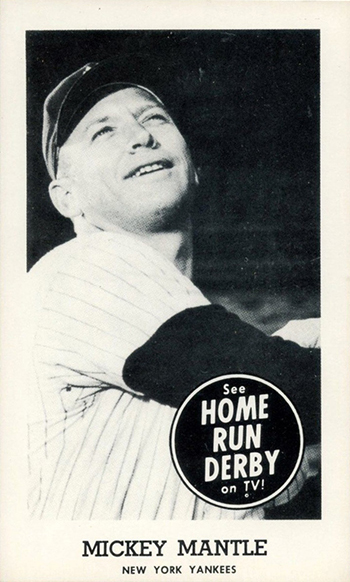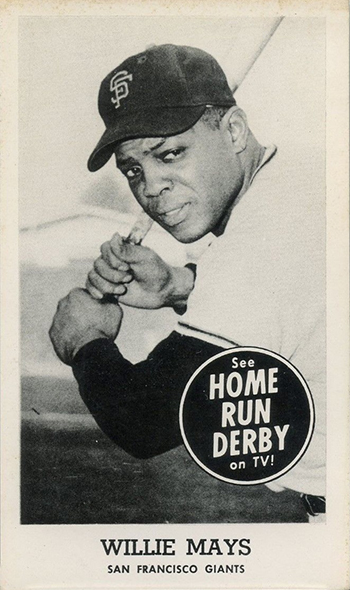 For the complete checklist and pricing, check out the 1959 Home Run Derby set in the Online Price Guide.
This edition of the Beckett Pricing Insider is sponsored by MN Nice Cards.