Who would be your football Fan Favorites?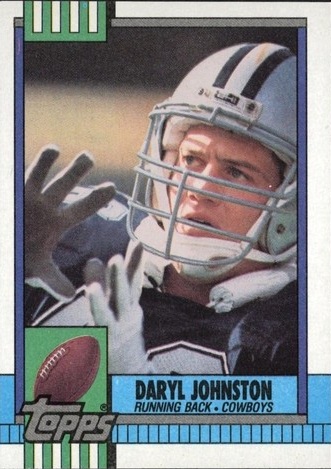 By Susan Lulgjuraj | Contributing Editor
Coming off the heels of a successful Topps Archives baseball product, the team at Topps is will be rolling out something similar for football. On Twitter and Facebook, the company solicited ideas for designs and Fan Favorite autographs.
Topps recently wrote on its Facebook page: "Now, we are bringing this fun to football! The football team is plowing through the archives to pick out the coolest retro designs for the debut of Topps Archives Football."
Topps has asked what years collectors would like see and received more than 400 responses. Early 1980s designs seem to be some of the more popular picks.
Now, it is looking to see who they could include in the Fan Favorites autograph set. These are guys who aren't obvious superstars or legends. They want players who were adored, but weren't the biggest names on the team.
We've compiled a list of some former football players who can be featured on these cards:
・ Daryl "Moose" Johnston – The Moose spent his entire 10-year career with the Dallas Cowboys. The fullback blocked in front of Emmitt Smith, and was named to two Pro Bowls. Johnston also won three Super Bowls. Whenever he touched the ball, the entire stadium erupted: "Mooooooooose."
・ Brian Dawkins – He'll forever be one of the favorites for Philadelphia Eagles fans. The safety is a nine-time Pro Bowler. He was so loved by the Eagles and its fans that Philadelphia re-signed him to an offseason contract just so he could retire in green.
・ Amani Toomer – Toomer was loved where ever he played, in college and in the NFL. Toomer had a great career at Michigan and then went on to win a Super Bowl with with the New York Giants.
・ Vinny Testaverde – Testaverde played for seven teams in the NFL, but never did he get as much attention as when he was with the New York Jets. The former number-one draft pick by the Tampa bay Buccaneers didn't actually live up to the hype, but he was fun to watch.
・ Mark Duper – The former wide receiver played for the Miami Dolphins from 1982-1992. He was a three-time Pro Bowl selection. And who doesn't love a guy whose nickname is Super Duper.
・Tedy Bruschi – Bruschi was a successful linebacker with the New England Patriots from 1996-2008. He won three Super Bowl with the Pats. But 2005 will be remembered more than any other accomplishment. Bruschi suffered a mild stroke, but came back to play football again.
・ William Perry – The Refrigerator. Perry played most of his career for the Chicago Bears. The fans loved him so much, he even got to run the ball in Super Bowl XX where he scored a touchdown in the 46-10 blowout of the Patriots.
・ Jim McMahon – One of Perry's teammates was also beloved – at least for a year. He was on two Super Bowl championship teams, but the year Chicago fans will never forget is 1985. A Super Bowl, Pro Bowl selection and All-Pro selection.
・ Mike Alstott – The A-Train is coming through. Alstott was a six-time Pro Bowl selection and a Super Bowl champ for the Bucs. He finished with 5,088 career rushing yards.
・ Wayne Chrebet – Who didn't love Chrebet – other than Keyshawn Johnson? The 5-foot-10 undrafted wide receiver finished his career as one of the best in New York Jets history. He is second all-time in franchise history with 580 receptions and fifth with 7,365 career rushing yards.
We could keep on going, but what do you think? Who would you like to see on the Fan Favorites autograph set?
Susan Lulgjuraj is a contributing editor for Beckett Media. You can email Susan here. Follow her on Twitter here.