Panini marks 50th anniversary with promo cards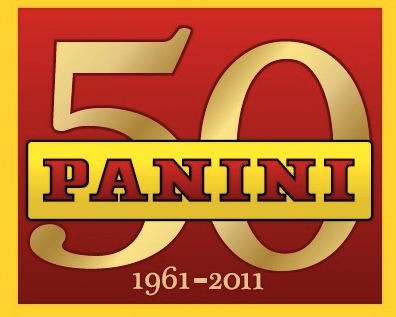 By Chris Olds | BSCM Editor
Panini is a definite newcomer to the world of sports memorabilia — at least in the United States — but its European memorabilia offerings have hit a milestone this year, one that will be marked on some Panini America releases as well.
While Panini America is in the midst of its sophomore season as an NBA licensee, its rookie season for the NHL and embarks its third season as an NFL licensee in the United States soon, its parent company is celebrating its 50th anniversary this year.
As part of the celebration, Panini unveiled on Sunday plans to release a 15-card set of specially marked previously released promo cards at the 2011 Industry Summit this week in Las Vegas. The Summit is an event where dealers and manufacturers meet to discuss the industry and its direction.
The cards will be the same as those offered at the NHL All-Star Game, the Super Bowl and the NBA All-Star Game earlier this year but will be marked with a 50th anniversary foil stamp.
The 50th anniversary logo first appeared on the company's Playoff Contenders Patches boxes and its events marking the milestone will continue throughout the year.
See a gallery of all 15 cards after the jump.
Click on the thumbnails for a closer look.
Chris Olds is the editor of Beckett Baseball. Have a comment, question or idea? Send an e-mail to him at colds@beckett.com. Follow him on Twitter by clicking here.