2012 Score Football evokes memories of old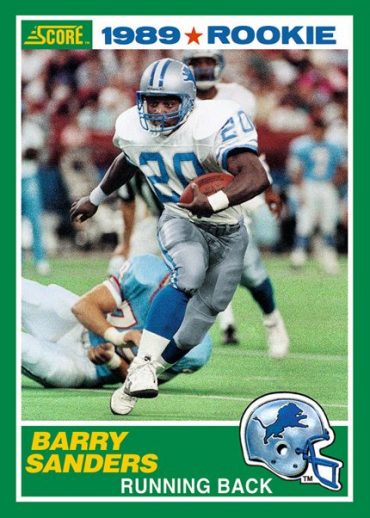 By Susan Lulgjuraj | Contributing Editor
With 2012 Score on its way on to shelves, the product brings a reminder of the popular football brands of the past.
Specifically, the iconic 1989 Score with a number of great Rookie Cards.
This year's set includes Rookie Reprints on their original designs, but with different pictures. Of the 50 Rookie Reprints, 10 of the cards are from the 1989 set, including Score Supplemental (20 percent).
The original 1989 Score is one of the most popular football sets from the past 30 years. Just look at the rookies from that year: Barry Sanders, Deion Sanders, Troy Aikman, Cris Carter, Michael Irvin, Rod Woodson, Thurman Thomas and so many others  (Need an OPG or checklist from 1989 Score? Click here).
The fun thing about the Rookie Cards from that year are the mug shots. Being so early in the release, some of the players were shown as just simple head shots of young, smiling men. But now Panini America is showing off these cards in what it would look like if these were action shots.
Will these be as popular as the originals?
That will be hard to beat. A raw Barry Sanders 1989 Score RC is valued between $15-$30, but high graded cards can sell for around $200. Part of the reason is that it's just one of three Sanders RCs on the market. His other two are from Topps Traded and Pro Set. In addition, Sanders and Aikman's Score RCs were the first on the market. Neither were in the original Pro Set or Topps products that season (Need a Barry Sanders OPG or checklist? Click here).
The stock and design made collectors fall for the 330-card set along with the 110-card supplemental card set coming out in January 1990.
As the years went on and more and more football products became available, the Score cards weren't valued as much as they once were. Instead, RCs appeared with autographs and jersey cards.
Nothing will be like 1989 Score again, but here's a chance to get a look at how cards might have looked.
Here's the checklist from 2012 Score's Rookie Reprints and some extra pictures (Also, click here for more information on 2012 Score):
Preliminary checklist:
Troy Aikman
Tim Brown
Cris Carter
Michael Irvin
Andre Rison
Barry Sanders
Deion Sanders
Thurman Thomas
Rod Woodson
Sterling Sharpe
Haywood Jeffires
Mark Carrier
Junior Seau
Emmitt Smith
Brett Favre
Jimmy Smith
Jerome Bettis
Marshall Faulk
Kerry Collins
Keyshawn Johnson
Mike Alstott
Marvin Harrison
Eddie George
Tiki Barber
Warrick Dunn
Tony Gonzalez
Peyton Manning
Randy Moss
Charles Woodson
Hines Ward
Ricky Williams
Donovan NcNabb
Champ Bailey
Kurt Warner
Brian Urlacher
Tom Brady
LaDanian Tomlinson
Michael Vick
Drew Brees
Edward Reed
Jason Witten
Dallas Clark
Eli Manning
Philip Rivers
Larry Fitzgerald
Ben Roethlisberger
Alex Smith
Aaron Rodgers
Roddy White
Frank Gore
Susan Lulgjuraj is a contributing editor for Beckett Media. You can email Susan here. Follow her on Twitter here.