When will Paul Goldschmidt cards get the respect they deserve?
Paul Goldschmidt is one of the best players in baseball. Period. His stats over the last few years put him in baseball's elite. And while collectors flock to the likes of Mike Trout, Bryce Harper and Kris Bryant, Paul Goldschmidt cards are more akin to a tumbleweed blowing through the scorching desert sand.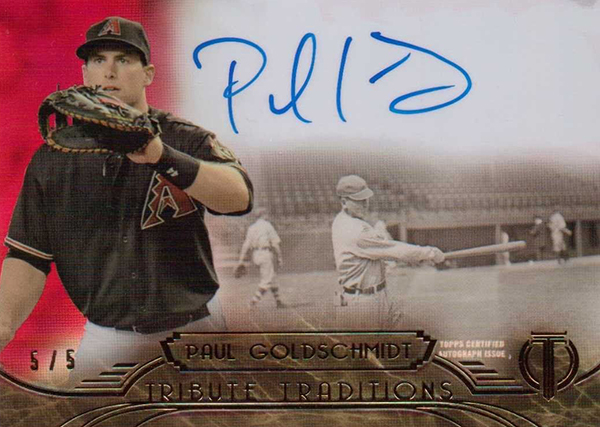 It's not that they're completely ignored, but you don't see nearly the same excitement as you might when someone lands a Trout autograph or just about anything with Bryant's smile. The prices aren't close either.
So why are Paul Goldschmidt cards some of the most overlooked in the hobby?
Ultimately, it comes down to what people are willing to pay. But Goldschmidt's exposure is limited. That means fewer people are enthused or even know about his accomplishments.
Trout and Harper are among a core group of young stars that have become the faces of MLB. They seem to be everywhere. They make the nightly Sports Center highlights. They get a ton of attention. And deservedly so. Goldschmidt is getting plenty of clutch hits. He's already won a Gold Glove.
Yet he's on the outside looking in.
The easiest thing to do is point to the fact that Goldschmidt plays for the Diamondbacks. They're not exactly a team that draws a lot of attention from the hobby. Outside of the local Arizona market, the team isn't talked about much.
The fact that the Diamondbacks are consistently in the middle of the standings doesn't help either. Currently, they're not good enough to  be in contention for the postseason. And their record isn't bad enough to complain too much. Simply put, there doesn't seem to be much drama when it comes to the franchise. And that's carried over to the hobby for Goldschmidt.
Here's a quick comparison that compares Goldschmidt's on-field performance from 2012-2015 versus Mike Trout and Bryce Harper. Then take a look at what their first Bowman Chrome autographs book for.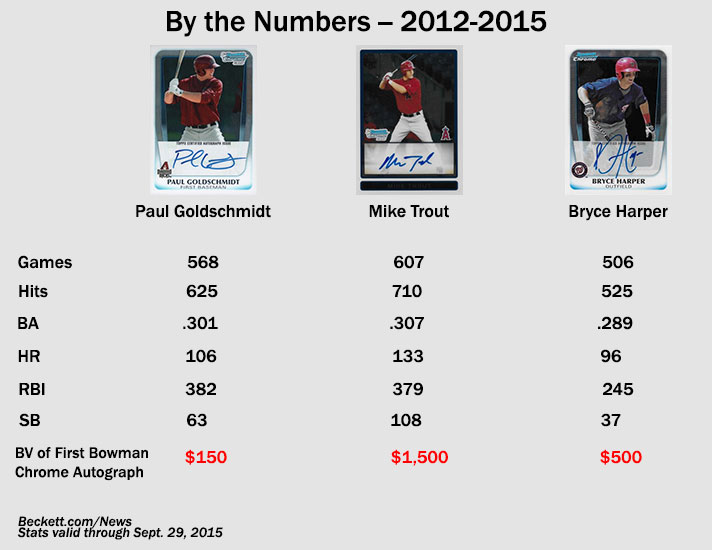 Numbers don't lie. Trout has outpaced Goldschmidt in some categories, but not by much — especially when you factor in Goldschmidt's fewer games. But $1,500 for a 2009 Bowman Chrome Draft Prospects Autograph Mike Trout versus $150 for a 2011 Bowman Chrome Prospects Autograph Paul Goldschmidt?
It gets even more interesting when you look at how Goldschmidt stacks up against Bryce Harper. In the last four seasons, the Diamondbacks first baseman has been better yet you can expect to pay at least three times as much for the comparable first Bowman Chrome autographs.
A similar multiplier carries over into more recent autographs and premium cards. It's possible to find some upscale Paul Goldschmidt autograph cards for under $30 on the secondary market (sometimes even $20). Good luck finding any certified Bryce Harper for under $100 and $120 for Mike Trout, much less something premium.
When it comes to key cards, we often look to the future. Trout has slightly better stats. Harper has better hair — and a lot of potential. But all things being equal, Goldschmidt looks to have the better upside when it comes to baseball cards — if he gets a bit of attention.
Check out the Beckett Marketplace for a large selection of Paul Goldschmidt cards including rookie cards, autographs and more.
5 Paul Goldschmidt Cards Not to Overlook
2010 Bowman Platinum Prospect Autograph Paul Goldschmidt #PG
Reasons to consider:
First MLB autograph card
On-card signature
Cheaper than 2011 Bowman Chrome autograph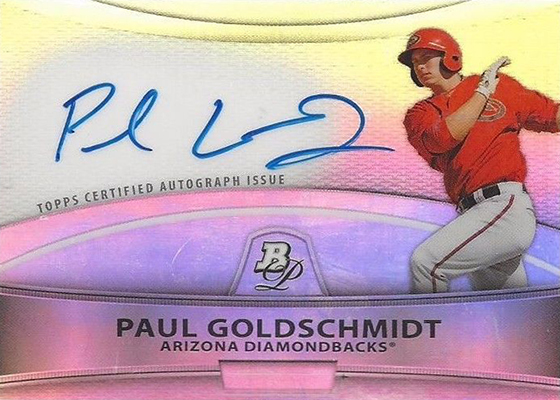 2010 Donruss Elite Extra Edition Autograph #191 Paul Goldschmidt /820
Reasons to consider:
Although not licensed, in college uniform
Serial numbered
Sells for less than 2011 Bowman Chrome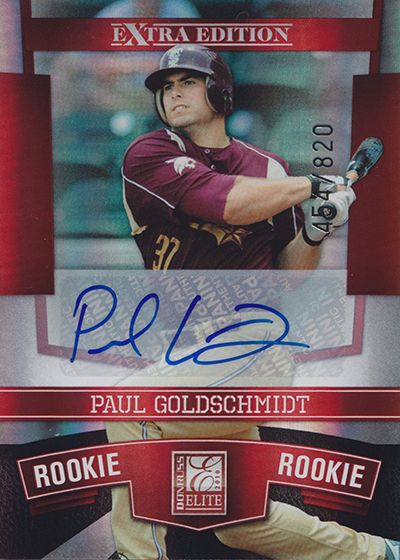 2011 Bowman Chrome Prospect Autographs #BCP99 Paul Goldschmidt
Reasons to consider:
Most popular Paul Goldschmidt card
Widely traded
Bowman Chrome is king when it comes to prospect autographs
Refractors very popular as well.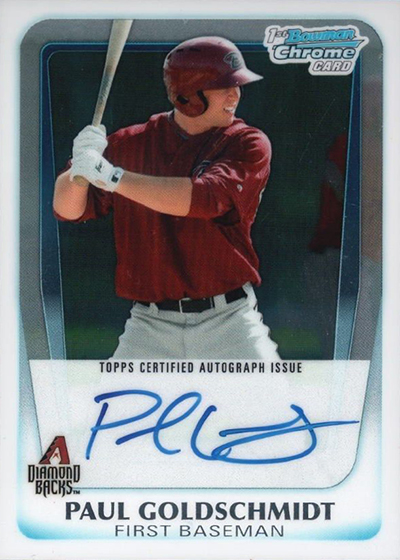 2011 Bowman Sterling #27 Paul Goldschmidt RC
Reasons to consider:
Rarest rookie card
Tough to find in any quantity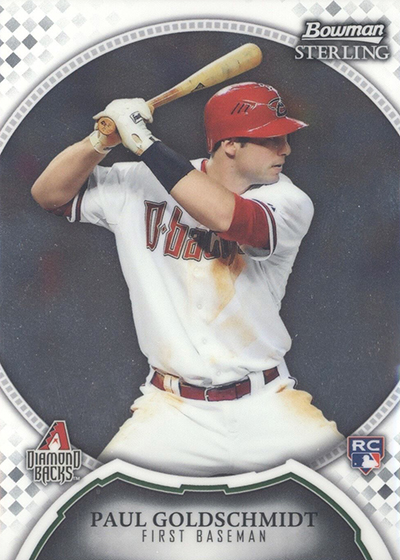 2011 Topps Update #US47 Paul Goldschmidt RC
Reasons to consider:
A key card in a popular set (even if that's largely because of Mike Trout's rookie card)
Part of flagship line
Cheap and not hard to find