Watch a Bear Bryant Houndstooth become a card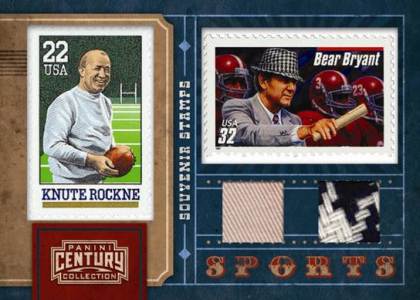 By Chris Olds | Editor
Not long ago during an exclusive behind-the-scenes tour at Panini America, I spotted something nestled among some desks and file cabinets in a crowded room that, as a University of Alabama alum, might has well have been the Holy Grail.
There it sat, in a modest two-tier glass display case surrounded by paperwork, trash cans (and maybe a little dust) as part of the everyday decor while workers shuffled about around it during their daily routines. It didn't have a nameplate, description or any other way it could be visibly identified but it didn't need one.
It was a fedora.
Since Panini is based in Arlington, Texas — literally in Texas-sized shadows of the new Cowboys Stadium on East Randol Mill Road — there was a slight chance that it could have belonged to a certain other coaching legend. But as the crimson flowing through me pumped a little faster, I knew that its colors — it was black and white Houndstooth check — probably meant a little something else.
I calmly asked one of the employees, an acquisitions manager who was nearby examining newly received autograph cards for smudges, if I saw what I thought I thought I saw. Meanwhile, in my head I was frantically doing a Harry Caray impression — only without the bovine substitute.
Indeed, it was a hat originally owned by legendary Crimson Tide coach Paul "Bear" Bryant.
At the time, Panini hadn't yet made a memorabilia card of the man who dominated the college football coaching ranks like no other with six national championships and 323 victories in his career.
In fact, no company had.
After the recent arrival of Panini's Century Collection, though, that has all changed.
The treasured Crimson Tide item — an item perhaps un-toppable among the Alabama annals — was bought long ago on the auction block without any plans in place with the Bryant estate for the use of his likeness. For all I figured, there it would stay until recently — months after that tour — discovering that the symbol of all Crimson Tide symbols was going to hit the chopping block with 100 small pieces of the hat being inserted into what are now the first Paul "Bear" Bryant memorabilia cards.
The cards also feature Bryant's appearance on a postage stamp painted by another Alabama alum, Daniel A. Moore. The actual 32-cent stamps from 1997 are used in this product on each and every one of the 100 cards made, so there's technically no licensing deal needed for a newly created work bearing Bryant's image. (It's a card that has a piece of fabric in it along with a stamp, which carries Bryant's likeness, attached. Oh, and all 100 cards also include a Knute Rockne stamp and a swatch from something he wore, too.)
This kind of cardboard first, arriving decades after Bryant's last game, is tougher and tougher to come by these days in the hobby, and this writer wasn't sure whether the chopping block was best for a Bear item.
But I knew that I wouldn't be able to own the hat. I might be able to own the card, though.
Today, Panini released a video showing the process of how the cards were made — the hat carefully un-stitched seam by seam and then each piece carefully affixed to a plastic coating with a security code on its underside to dissuade later tampering. Then, each panel met a cutter where the tiny swatches — destined for cards — were born.
"One of the most commonly asked questions we get is 'How are memorabilia cards made?'" said Panini America Hobby Marketing Manager Tracy Hackler. "With this unique video, we hope to offer a compelling answer to that question while giving collectors and fans alike a deeper appreciation of the process — and the lengths we go to carefully create meaningful, historically significant trading cards."
See for yourself the entire process — the birth of the Bear Bryant card — at the link below.
[youtube]http://www.youtube.com/watch?v=YeTFc9jHoXA[/youtube]
While some might be torn about the fact that such an iconic item that could only be owned by one was cut up into little pieces, this is a common occurrence in the trading card industry these days. It's a perhaps more democratic way of letting collectors have a piece of something that they otherwise would never have for themselves.
In this card's case, I can think of more than a few Crimson Tide fans — way more than 100 — who would love to own one.
Chris Olds is the editor of Beckett Baseball. Have a comment, question or idea? Send an e-mail to him at colds@beckett.com. Follow him on Twitter by clicking here.