First Look: 2014-15 Panini Select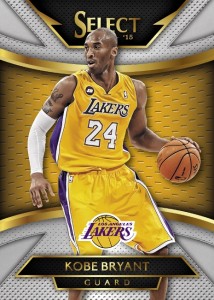 By Stephen Laroche | Beckett Basketball Editor
Preliminary details about the upcoming 2014-15 Panini Select release from Panini America and the hobby is bracing itself for the arrival of a revamped product that will include a psychedelic new parallel concept and in addition to an exciting tiered base set that is expected to be a challenge to build.
Hitting store shelves in early March, 2014-15 marks the third season that Panini has produced Select and there should be plenty of content that will appeal to a broad base of basketball card collectors. The chase for the extremely limited Tie Dye parallel cards made for the base set, all memorabilia collections and some of the autographs are almost like a trip back to the 1960s and are sure to generate some discussion in the hobby.
What else can be found in 2014-15 Panini Select? Find out after the jump.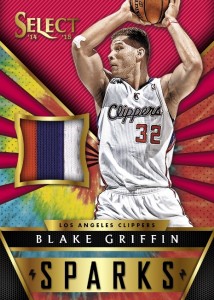 With a large 300-card base set that is split into three different levels, Panini has certainly given collectors something to put effort into completing. The Concourse (1-100) and Premier Level (201-300) cards will be the easiest to pull and shortprinted Courtside (101-200) will fall only twice per box.
Each tier has specific parallel versions that add to the chase as well. Concourse cards can be found in a rainbow of Black, Blue, Gold, Green, Orange, Red, Silver and a Blue and Silver Prizm while Courtside only has Black, Copper, Gold, Green, Silver and Blue and Silver Prizms. For the Premier Level cards, there will be a mix of die-cut Black, Gold, Green, Light Blue and Purple Prizms in addition to Silver and Blue and Silver Prizms that are standard size. Some of these Prizms will be produced in seriously limited numbers, including Black one-of-ones.
In addition to 12 Prizm parallel cards, each box of Select is set to deliver three autograph or memorabilia cards, which means that there is a decent hit once in every four packs.
When it comes to signed cards, the Select roster has a strong group of options for hobbyists. The fun starts with Rookie Signatures, which is all about this season's freshman class and there will be plenty of veterans found on the checklist for the Signatures collection. Both sets will also have a die-cut version. Panini takes things up a few notches with Autograph Materials and Rookie Jersey Autographs in addition to Fame Game. Expect to find plenty of parallels and prime swatches, too, some of which are going to be extremely limited.
Select will also boast a strong selection of memorabilia cards that are expected to be a hit. So far, they have revealed designs of some collections and the Tie Dye parallel theme will carry over as well. City to City will feature two swatches of a player's jersey from two different teams that they played on while Sparks is all about the game's most explosive talents. Additionally, collectors can look for Select Swatches, Rookie Swatches, Double Team and On Hallowed Ground.
Since the information provided by Panini at this time is preliminary, it is subject to change upon the release of the product.
Stephen Laroche is the editor of Beckett Basketball and Beckett Hockey magazines. Have a comment, question or idea? Send an e-mail to him at slaroche@beckett.com. Follow him on Twitter @Stephen_Laroche.