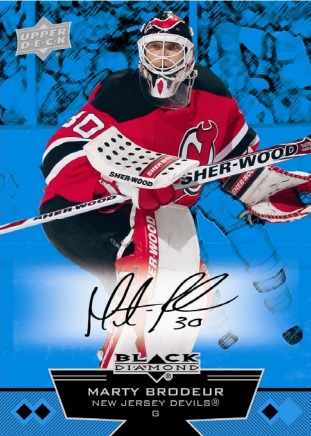 By Susan Lulgjuraj | Beckett Hockey Editor
There are still previews for hockey products even though the NHL is still in a lockout. However, how long companies continue to do so remains the question.
At least Upper Deck is giving hockey fans some hope with its latest preview of 2012-13 Black Diamond.
In December, Upper Deck has tentatively scheduled to release a 250-base-card set with 24 five-card packs per box along with a bonus pack.
Black Diamond will feature parallels including a new emerald version (numbered to 10) and sapphire 1-of-1. In addition, Upper Deck states on the sell sheet more than half of the cards will be autographed.
One box should yield six Double Diamond Veterans, three Triple Diamond Veterans, three Triple Diamond Rookie Gems, one quadruple Diamond Rookie Gems, one Ruby, Emerald or Sapphire parallel and two Black Diamond Jerseys.
The Black Diamond jerseys will have a puzzled-theme format with four- and six-card puzzles with the 1984 NHL Draft Class with player such as Mario Lemieux, Patrick Roy and Luc Robataille.
Case breakers will find four to five GEMography autographs.
Another highlight of Black Diamond includes Sidney Crosby and Alexander Ovechkin hard-signed buyback autographs.
Susan Lulgjuraj is an editor of Beckett Hockey. You can email her here with questions, comments or ideas. Follow her on Twitter here.