Upper Deck creates Winter Classic cards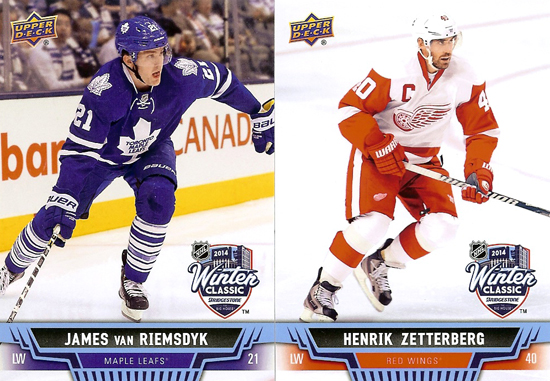 By Susan Lulgjuraj | Beckett Hockey Editor
As the NHL gets ready for The Winter Classic, Upper Deck has put together a set of the big game.
Every fan in attendance at The Winter Classic between the Toronto Maple Leafs and Detroit Red Wings will get a free pack of Upper Deck's Winter Classic cards.
The set consists of 20 cards with 10 for each side and, what Upper Deck calls, added surprises. Upper Deck will have a booth at the event where fans can get more packs and also a card of themselves at The Winter Classic.
Below is the checklist for the base set.
2014 Upper Deck NHL Winter Classic ® Checklist
Card #
Name
Team
WC1
Jimmy Howard
Red Wings
WC2
Henrik Zetterberg
Red Wings
WC3
Jonathan Ericsson
Red Wings
WC4
Dan Cleary
Red Wings
WC5
Johan Franzen
Red Wings
WC6
Daniel Alfredsson
Red Wings
WC7
Niklas Kronwall
Red Wings
WC8
Pavel Datsyuk
Red Wings
WC9
Danny DeKeyser
Red Wings
WC10
Petr Mrazek
Red Wings
WC11
Jonathan Bernier
Maple Leafs
WC12
Phil Kessel
Maple Leafs
WC13
James van Riemsdyk
Maple Leafs
WC14
Tyler Bozak
Maple Leafs
WC15
Nazem Kadri
Maple Leafs
WC16
Dion Phaneuf
Maple Leafs
WC17
Joeffrey Lupul
Maple Leafs
WC18
James Reimer
Maple Leafs
WC19
Josh Leivo
Maple Leafs
WC20
Morgan Reilly
Maple Leafs
Susan Lulgjuraj is an editor at Beckett Media. You can email her here with questions, comments or ideas. Follow her on Twitter here. Follow Beckett Media on Facebook and Twitter.