First look: 2013-14 Fleer Showcase Hockey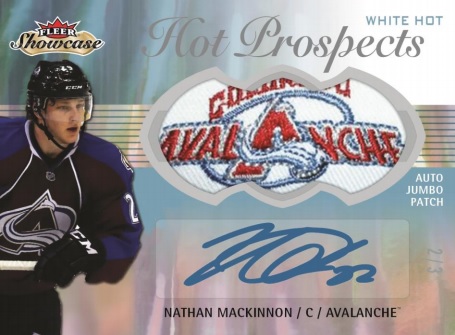 By Susan Lulgjuraj | Beckett Hockey Editor
Upper Deck is revamping its popular Fleer Retro brand into 2013-14 Fleer Showcase Hockey.
The product will contain a number of the elements that made Fleer Retro popular such as short-printed inserts and low-numbered parallels.
Each box will contain 15 packs with five cards in each pack.
There will be three hits in every box, including a Hot Prospects Autograph Patch card numbered to 399 of less. The top rookies will be numbered to 199 or less. Hot Prospects cards could also include a combination of up to three rookies.
Other hits include autographs, memorabilia cards, patch cards, and low-numbered parallels.
Upper Deck is including Fleer Ultra Rookies with Red Medallion (numbered to 99) and Platinum Medallion (numbered to 25) parallels.
Case hits include Hot Prospects Glove, Fight Strap or Patch cards numbered to 36 or fewer, Precious Metal Gems numbered to 100 or fewer, Skybox Premium Rubies or Sparking Diamonds, a Platinum Medallion and a Jambalaya insert.
2013-14 Fleer Showcase Hockey is scheduled to come out March 25.
Susan Lulgjuraj is an editor at Beckett Media. You can email her here with questions, comments or ideas. Follow her on Twitter here. Follow Beckett Media on Facebook and Twitter.
---
2013-14 Fleer Showcase Hockey checklist
Base Set 1 Evgeni Malkin
Base Set 2 Jeremy Roenick
Base Set 3 Ryan Getzlaf
Base Set 4 Corey Perry
Base Set 5 Jonas Hiller
Base Set 6 Milan Lucic
Base Set 7 Tuukka Rask
Base Set 8 Zdeno Chara
Base Set 9 Glen Murray
Base Set 10 Ryan Miller
Base Set 11 Dominik Hasek
Base Set 12 Matt Stajan
Base Set 13 Eric Staal
Base Set 14 Cam Ward
Base Set 15 Jonathan Toews
Base Set 16 Patrick Kane
Base Set 17 Duncan Keith
Base Set 18 Corey Crawford
Base Set 19 Bryan Bickell
Base Set 20 Matt Duchene
Base Set 21 Milan Hejduk
Base Set 22 Paul Stastny
Base Set 23 Patrick Roy
Base Set 24 Peter Forsberg
Base Set 25 Henrik Zetterberg
Base Set 26 Jim Howard
Base Set 27 Johan Franzen
Base Set 28 Pavel Datsyuk
Base Set 29 Steve Yzerman
Base Set 30 Ryan Nugent-Hopkins
Base Set 31 Wayne Gretzky
Base Set 32 Taylor Hall
Base Set 33 Jordan Eberle
Base Set 34 David Perron
Base Set 35 Ales Hemsky
Base Set 36 Sam Gagner
Base Set 37 Pavel Bure
Base Set 38 Ed Belfour
Base Set 39 Jonathan Quick
Base Set 40 Mike Richards
Base Set 41 Anze Kopitar
Base Set 42 Dustin Brown
Base Set 43 Slava Voynov
Base Set 44 Zach Parise
Base Set 45 Mikko Koivu
Base Set 46 Tomas Plekanec
Base Set 47 P.K. Subban
Base Set 48 Max Pacioretty
Base Set 49 Larry Robinson
Base Set 50 Carey Price
Base Set 51 David Desharnais
Base Set 52 David Legwand
Base Set 53 Pekka Rinne
Base Set 54 Patrik Elias
Base Set 55 Martin Brodeur
Base Set 56 Travis Zajac
Base Set 57 Mike Bossy
Base Set 58 Kyle Okposo
Base Set 59 John Tavares
Base Set 60 Rick Nash
Base Set 61 Mike Gartner
Base Set 62 Derek Stepan
Base Set 63 Chris Kreider
Base Set 64 Theoren Fleury
Base Set 65 Carl Hagelin
Base Set 66 Bobby Ryan
Base Set 67 Robin Lehner
Base Set 68 Jason Spezza
Base Set 69 Erik Karlsson
Base Set 70 Simon Gagne
Base Set 71 Claude Giroux
Base Set 72 Bill Barber
Base Set 73 Scott Hartnell
Base Set 74 Steve Mason
Base Set 75 Shane Doan
Base Set 76 Mario Lemieux
Base Set 77 Kris Letang
Base Set 78 Marc-Andre Fleury
Base Set 79 Sidney Crosby
Base Set 80 Logan Couture
Base Set 81 Patrick Marleau
Base Set 82 Antti Niemi
Base Set 83 Alexander Steen
Base Set 84 Patrik Berglund
Base Set 85 Brett Hull
Base Set 86 Martin St. Louis
Base Set 87 Steven Stamkos
Base Set 88 Mats Sundin
Base Set 89 Grant Fuhr
Base Set 90 Eric Lindros
Base Set 91 Phil Kessel
Base Set 92 Nazem Kadri
Base Set 93 Daniel Sedin
Base Set 94 Henrik Sedin
Base Set 95 Ryan Kesler
Base Set 96 Alexandre Burrows
Base Set 97 Roberto Luongo
Base Set 98 Braden Holtby
Base Set 99 Nicklas Backstrom
Base Set 100 Alexander Ovechkin
---
Base Set – Hot Prospects Trios 101 Zach Trotman/Justin Florek/Craig Cunningham
Base Set – Hot Prospects Trios 102 Carter Bancks/Mark Cundari/Christopher Breen
Base Set – Hot Prospects Trios 103 Andrej Sustr/Jayson Megna/Eriah Hayes
Base Set – Hot Prospects Trios 104 Max Reinhart/Tyler Johnson/Alex Petrovic
Base Set – Hot Prospects Trios 105 Martin Jones/Reto Berra/Antti Raanta
Base Set – Hot Prospects Trios 106 Ben Hanowski/Drew LeBlanc/Oliver Lauridsen
Base Set – Hot Prospects Trios 107 Joonas Rask/Victor Bartley/Kevin Henderson
Base Set – Hot Prospects Trios 108 Eric Gryba/Derek Grant/David Dziurzynski
Base Set – Hot Prospects Trios 109 Philipp Grubauer/Connor Carrick/Steve Oleksy
Base Set – Hot Prospects Trios 110 Brian Dumoulin/Patrick Wey/Philip Samuelsson
Base Set – Hot Prospects Trios 111 Radko Gudas/Ondrej Palat/Dmitry Korobov
Base Set – Hot Prospects Trios 112 Michael Chaput/Jonathan Audy-Marchessault/Antoine Roussel
Base Set – Hot Prospects Trios 113 Greg Pateryn/Luke Glendening/Chad Billins
Base Set – Hot Prospects Trios 114 Sami Vatanen/Hampus Lindholm/Alex Grant
Base Set – Hot Prospects Trios 115 John Albert/Julian Melchiori/Eric O'Dell
Base Set – Hot Prospects Trios 116 Kevan Miller/Brian Gibbons/David Warsofsky
Base Set – Hot Prospects Trios 117 Kevin Connauton/Jamie Oleksiak/Cristopher Nilstorp
Base Set – Hot Prospects Trios 118 Shawn Lalonde/Jason Akeson/Cody Ceci
Base Set – Hot Prospects Trios 119 Dmitrij Jaskin/Mark Barberio/Zach Sill
Base Set – Hot Prospects Trios 120 Frank Corrado/Joe Cannata/Darren Archibald
Base Set – Hot Prospects Trios 121 Matthew Irwin/Conor Allen/Mike Kostka
Base Set – Hot Prospects Trios 122 Jared Staal/Michael Sgarbossa/Ben Chiarot
Base Set – Hot Prospects Trios 123 Will Acton/Tyler Pitlick/Luke Gazdic
Base Set – Hot Prospects Trios 124 Martin Marincin/Taylor Fedun/Brad Hunt
Base Set – Hot Prospects Trios 125 John Muse/Edward Pasquale/Igor Bobkov
Base Set – Hot Prospects Duos 126 Spencer Abbott/Jerry D'Amigo
Base Set – Hot Prospects Duos 127 Michael Bournival/Patrick Holland
Base Set – Hot Prospects Duos 128 Nate Schmidt/Erik Haula
Base Set – Hot Prospects Duos 129 Calvin Pickard/Kent Simpson
Base Set – Hot Prospects Duos 130 Reid Boucher/Connor Murphy
Base Set – Hot Prospects Duos 131 Josh Leivo/David Broll
Base Set – Hot Prospects Duos 132 Michael Raffl/Matthew Konan
Base Set – Hot Prospects Duos 133 Joacim Eriksson/Niklas Svedberg
Base Set – Hot Prospects Duos 134 Adam Almqvist/Alexey Marchenko
Base Set – Hot Prospects Duos 135 Eric Hartzell/Jeff Zatkoff
Base Set – Hot Prospects Duos 136 Marek Mazanec/Magnus Hellberg
Base Set – Hot Prospects Duos 137 Eric Gelinas/Mike Sislo
Base Set – Hot Prospects Duos 138 Olli Maatta/Nikita Zadorov
Base Set – Hot Prospects Auto 139 Frederik Andersen
Base Set – Hot Prospects Auto 140 Freddie Hamilton
Base Set – Hot Prospects Auto 141 John Gibson
Base Set – Hot Prospects Auto 142 Linden Vey
Base Set – Hot Prospects Auto 143 Rickard Rakell
Base Set – Hot Prospects Auto 144 Mathew Dumba
Base Set – Hot Prospects Auto 145 Zemgus Girgensons
Base Set – Hot Prospects Auto 146 Justin Fontaine
Base Set – Hot Prospects Auto 147 Jon Merrill
Base Set – Hot Prospects Auto 148 Matt Nieto
Base Set – Hot Prospects Auto 149 Alex Killorn
Base Set – Hot Prospects Auto 150 Tomas Jurco
Base Set – Hot Prospects Auto Patch 151 Ryan Murphy
Base Set – Hot Prospects Auto Patch 152 Mark Arcobello
Base Set – Hot Prospects Auto Patch 153 Thomas Hickey
Base Set – Hot Prospects Auto Patch 154 Tom Wilson
Base Set – Hot Prospects Auto Patch 155 Brock Nelson
Base Set – Hot Prospects Auto Patch 156 Rasmus Ristolainen
Base Set – Hot Prospects Auto Patch 157 Jean-Gabriel Pageau
Base Set – Hot Prospects Auto Patch 158 Valeri Nichushkin
Base Set – Hot Prospects Auto Patch 159 Johan Larsson
Base Set – Hot Prospects Auto Patch 160 Morgan Rielly
Base Set – Hot Prospects Auto Patch 161 Danny DeKeyser
Base Set – Hot Prospects Auto Patch 162 Jacob Trouba
Base Set – Hot Prospects Auto Patch 163 Christian Thomas
Base Set – Hot Prospects Auto Patch 164 Chris Brown
Base Set – Hot Prospects Auto Patch 165 Richard Panik
Base Set – Hot Prospects Auto Patch 166 Jordan Schroeder
Base Set – Hot Prospects Auto Patch 167 Zach Redmond
Base Set – Hot Prospects Auto Patch 168 Ryan Strome
Base Set – Hot Prospects Auto Patch 169 Carl Soderberg
Base Set – Hot Prospects Auto Patch 170 Drew Shore
Base Set – Hot Prospects Auto Patch 171 Dylan McIlrath
Base Set – Hot Prospects Auto Patch 172 Olli Maatta
Base Set – Hot Prospects Auto Patch 173 Mikael Granlund
Base Set – Hot Prospects Auto Patch 174 Mikhail Grigorenko
Base Set – Hot Prospects Auto Patch 175 Nathan Beaulieu
Base Set – Hot Prospects Auto Patch 176 Charlie Coyle
Base Set – Hot Prospects Auto Patch 177 Dougie Hamilton
Base Set – Hot Prospects Auto Patch 178 Elias Lindholm
Base Set – Hot Prospects Auto Patch 179 Beau Bennett
Base Set – Hot Prospects Auto Patch 180 Austin Watson
Base Set – Hot Prospects Auto Patch 181 Ryan Murray
Base Set – Hot Prospects Auto Patch 182 Emerson Etem
Base Set – Hot Prospects Auto Patch 183 Jonas Brodin
Base Set – Hot Prospects Auto Patch 184 Jack Campbell
Base Set – Hot Prospects Auto Patch 185 Petr Mrazek
Base Set – Hot Prospects Auto Patch 186 Quinton Howden
Base Set – Hot Prospects Auto Patch 187 Ryan Spooner
Base Set – Hot Prospects Auto Patch 188 Scott Laughton
Base Set – Hot Prospects Auto Patch 189 Damien Brunner
Base Set – Hot Prospects Auto Patch 190 Viktor Fasth
Base Set – Hot Prospects Auto Patch 191 Jarred Tinordi
Base Set – Hot Prospects Auto Patch 192 Cory Conacher
Base Set – Hot Prospects Auto Patch 193 Nicklas Jensen
Base Set – Hot Prospects Auto Patch 194 Filip Forsberg
Base Set – Hot Prospects Auto Patch 195 Boone Jenner
Base Set – Hot Prospects Auto Patch 196 Tanner Pearson
Base Set – Hot Prospects Auto Patch 197 Alex Chiasson
Base Set – Hot Prospects Auto Patch 198 Nick Bjugstad
Base Set – Hot Prospects Auto Patch 199 Nail Yakupov
Base Set – Hot Prospects Auto Patch 200 Alex Galchenyuk
Base Set – Hot Prospects Auto Patch 201 Jonathan Huberdeau
Base Set – Hot Prospects Auto Patch 202 Brendan Gallagher
Base Set – Hot Prospects Auto Patch 203 Tomas Hertl
Base Set – Hot Prospects Auto Patch 204 Sean Monahan
Base Set – Hot Prospects Auto Patch 205 Justin Schultz
Base Set – Hot Prospects Auto Patch 206 Tyler Toffoli
Base Set – Hot Prospects Auto Patch 207 Nathan MacKinnon
Base Set – Hot Prospects Auto Patch 208 Seth Jones
Base Set – Hot Prospects Auto Patch 209 Aleksander Barkov
Base Set – Hot Prospects Auto Patch 210 Vladimir Tarasenko
---
Red Glow // – Base Set Jersey 1 Evgeni Malkin
Red Glow // – Base Set Jersey 2 Jeremy Roenick
Red Glow // – Base Set Jersey 3 Ryan Getzlaf
Red Glow // – Base Set Jersey 4 Corey Perry
Red Glow // – Base Set Jersey 5 Jonas Hiller
Red Glow // – Base Set Jersey 6 Milan Lucic
Red Glow // – Base Set Jersey 7 Tuukka Rask
Red Glow // – Base Set Jersey 8 Zdeno Chara
Red Glow // – Base Set Jersey 9 Glen Murray
Red Glow // – Base Set Jersey 10 Ryan Miller
Red Glow // – Base Set Jersey 11 Dominik Hasek
Red Glow // – Base Set Jersey 12 Matt Stajan
Red Glow // – Base Set Jersey 13 Eric Staal
Red Glow // – Base Set Jersey 14 Cam Ward
Red Glow // – Base Set Jersey 15 Jonathan Toews
Red Glow // – Base Set Jersey 17 Duncan Keith
Red Glow // – Base Set Jersey 18 Corey Crawford
Red Glow // – Base Set Jersey 19 Bryan Bickell
Red Glow // – Base Set Jersey 20 Matt Duchene
Red Glow // – Base Set Jersey 21 Milan Hejduk
Red Glow // – Base Set Jersey 22 Paul Stastny
Red Glow // – Base Set Jersey 23 Patrick Roy
Red Glow // – Base Set Jersey 24 Peter Forsberg
Red Glow // – Base Set Jersey 25 Henrik Zetterberg
Red Glow // – Base Set Jersey 26 Jim Howard
Red Glow // – Base Set Jersey 27 Johan Franzen
Red Glow // – Base Set Jersey 28 Pavel Datsyuk
Red Glow // – Base Set Jersey 29 Steve Yzerman
Red Glow // – Base Set Jersey 30 Ryan Nugent-Hopkins
Red Glow // – Base Set Jersey 31 Wayne Gretzky
Red Glow // – Base Set Jersey 32 Taylor Hall
Red Glow // – Base Set Jersey 33 Jordan Eberle
Red Glow // – Base Set Jersey 34 David Perron
Red Glow // – Base Set Jersey 35 Ales Hemsky
Red Glow // – Base Set Jersey 36 Sam Gagner
Red Glow // – Base Set Jersey 37 Pavel Bure
Red Glow // – Base Set Jersey 38 Ed Belfour
Red Glow // – Base Set Jersey 39 Jonathan Quick
Red Glow // – Base Set Jersey 40 Mike Richards
Red Glow // – Base Set Jersey 41 Anze Kopitar
Red Glow // – Base Set Jersey 42 Dustin Brown
Red Glow // – Base Set Jersey 43 Slava Voynov
Red Glow // – Base Set Jersey 45 Mikko Koivu
Red Glow // – Base Set Jersey 46 Tomas Plekanec
Red Glow // – Base Set Jersey 47 P.K. Subban
Red Glow // – Base Set Jersey 48 Max Pacioretty
Red Glow // – Base Set Jersey 50 Carey Price
Red Glow // – Base Set Jersey 52 David Legwand
Red Glow // – Base Set Jersey 53 Pekka Rinne
Red Glow // – Base Set Jersey 54 Patrik Elias
Red Glow // – Base Set Jersey 55 Martin Brodeur
Red Glow // – Base Set Jersey 56 Travis Zajac
Red Glow // – Base Set Jersey 58 Kyle Okposo
Red Glow // – Base Set Jersey 59 John Tavares
Red Glow // – Base Set Jersey 60 Rick Nash
Red Glow // – Base Set Jersey 61 Mike Gartner
Red Glow // – Base Set Jersey 62 Derek Stepan
Red Glow // – Base Set Jersey 63 Chris Kreider
Red Glow // – Base Set Jersey 64 Theoren Fleury
Red Glow // – Base Set Jersey 65 Carl Hagelin
Red Glow // – Base Set Jersey 67 Robin Lehner
Red Glow // – Base Set Jersey 68 Jason Spezza
Red Glow // – Base Set Jersey 69 Erik Karlsson
Red Glow // – Base Set Jersey 70 Simon Gagne
Red Glow // – Base Set Jersey 72 Bill Barber
Red Glow // – Base Set Jersey 73 Scott Hartnell
Red Glow // – Base Set Jersey 74 Steve Mason
Red Glow // – Base Set Jersey 75 Shane Doan
Red Glow // – Base Set Jersey 76 Mario Lemieux
Red Glow // – Base Set Jersey 78 Marc-Andre Fleury
Red Glow // – Base Set Jersey 79 Sidney Crosby
Red Glow // – Base Set Jersey 80 Logan Couture
Red Glow // – Base Set Jersey 81 Patrick Marleau
Red Glow // – Base Set Jersey 82 Antti Niemi
Red Glow // – Base Set Jersey 84 Patrik Berglund
Red Glow // – Base Set Jersey 85 Brett Hull
Red Glow // – Base Set Jersey 86 Martin St. Louis
Red Glow // – Base Set Jersey 87 Steven Stamkos
Red Glow // – Base Set Jersey 88 Mats Sundin
Red Glow // – Base Set Jersey 89 Grant Fuhr
Red Glow // – Base Set Jersey 90 Eric Lindros
Red Glow // – Base Set Jersey 91 Phil Kessel
Red Glow // – Base Set Jersey 92 Nazem Kadri
Red Glow // – Base Set Jersey 93 Daniel Sedin
Red Glow // – Base Set Jersey 95 Ryan Kesler
Red Glow // – Base Set Jersey 97 Roberto Luongo
Red Glow // – Base Set Jersey 98 Braden Holtby
Red Glow // – Base Set Jersey 99 Nicklas Backstrom
Red Glow // – Base Set Jersey 100 Alexander Ovechkin
---
Red Glow // – Hot Prospects Trios 101 Zach Trotman/Justin Florek/Craig Cunningham
Red Glow // – Hot Prospects Trios 102 Carter Bancks/Mark Cundari/Christopher Breen
Red Glow // – Hot Prospects Trios 103 Andrej Sustr/Jayson Megna/Eriah Hayes
Red Glow // – Hot Prospects Trios 104 Max Reinhart/Tyler Johnson/Alex Petrovic
Red Glow // – Hot Prospects Trios 105 Martin Jones/Reto Berra/Antti Raanta
Red Glow // – Hot Prospects Trios 106 Ben Hanowski/Drew LeBlanc/Oliver Lauridsen
Red Glow // – Hot Prospects Trios 107 Joonas Rask/Victor Bartley/Kevin Henderson
Red Glow // – Hot Prospects Trios 108 Eric Gryba/Derek Grant/David Dziurzynski
Red Glow // – Hot Prospects Trios 109 Philipp Grubauer/Connor Carrick/Steve Oleksy
Red Glow // – Hot Prospects Trios 110 Brian Dumoulin/Patrick Wey/Philip Samuelsson
Red Glow // – Hot Prospects Trios 111 Radko Gudas/Ondrej Palat/Dmitry Korobov
Red Glow // – Hot Prospects Trios 112 Michael Chaput/Jonathan Audy-Marchessault/Antoine Roussel
Red Glow // – Hot Prospects Trios 113 Greg Pateryn/Luke Glendening/Chad Billins
Red Glow // – Hot Prospects Trios 114 Sami Vatanen/Hampus Lindholm/Alex Grant
Red Glow // – Hot Prospects Trios 115 John Albert/Julian Melchiori/Eric O'Dell
Red Glow // – Hot Prospects Trios 116 Kevan Miller/Brian Gibbons/David Warsofsky
Red Glow // – Hot Prospects Trios 117 Kevin Connauton/Jamie Oleksiak/Cristopher Nilstorp
Red Glow // – Hot Prospects Trios 118 Shawn Lalonde/Jason Akeson/Cody Ceci
Red Glow // – Hot Prospects Trios 119 Dmitrij Jaskin/Mark Barberio/Zach Sill
Red Glow // – Hot Prospects Trios 120 Frank Corrado/Joe Cannata/Darren Archibald
Red Glow // – Hot Prospects Trios 121 Matthew Irwin/Conor Allen/Mike Kostka
Red Glow // – Hot Prospects Trios 122 Jared Staal/Michael Sgarbossa/Ben Chiarot
Red Glow // – Hot Prospects Trios 123 Will Acton/Tyler Pitlick/Luke Gazdic
Red Glow // – Hot Prospects Trios 124 Martin Marincin/Taylor Fedun/Brad Hunt
Red Glow // – Hot Prospects Trios 125 John Muse/Edward Pasquale/Igor Bobkov
Red Glow // – Hot Prospects Duos 126 Spencer Abbott/Jerry D'Amigo
Red Glow // – Hot Prospects Duos 127 Michael Bournival/Patrick Holland
Red Glow // – Hot Prospects Duos 128 Nate Schmidt/Erik Haula
Red Glow // – Hot Prospects Duos 129 Calvin Pickard/Kent Simpson
Red Glow // – Hot Prospects Duos 130 Reid Boucher/Connor Murphy
Red Glow // – Hot Prospects Duos 131 Josh Leivo/David Broll
Red Glow // – Hot Prospects Duos 132 Michael Raffl/Matthew Konan
Red Glow // – Hot Prospects Duos 133 Joacim Eriksson/Niklas Svedberg
Red Glow // – Hot Prospects Duos 134 Adam Almqvist/Alexey Marchenko
Red Glow // – Hot Prospects Duos 135 Eric Hartzell/Jeff Zatkoff
Red Glow // – Hot Prospects Duos 136 Marek Mazanec/Magnus Hellberg
Red Glow // – Hot Prospects Duos 137 Eric Gelinas/Mike Sislo
Red Glow // – Hot Prospects Duos 138 Olli Maatta/Nikita Zadorov
Red Glow // – Hot Prospects Autos 139 Frederik Andersen
Red Glow // – Hot Prospects Autos 140 Freddie Hamilton
Red Glow // – Hot Prospects Autos 141 John Gibson
Red Glow // – Hot Prospects Autos 142 Linden Vey
Red Glow // – Hot Prospects Autos 143 Rickard Rakell
Red Glow // – Hot Prospects Autos 144 Mathew Dumba
Red Glow // – Hot Prospects Autos 145 Zemgus Girgensons
Red Glow // – Hot Prospects Autos 146 Justin Fontaine
Red Glow // – Hot Prospects Autos 147 Jon Merrill
Red Glow // – Hot Prospects Autos 148 Matt Nieto
Red Glow // – Hot Prospects Autos 149 Alex Killorn
Red Glow // – Hot Prospects Autos 150 Tomas Jurco
Red Glow // – Hot Prospects Auto Strap 151 Ryan Murphy
Red Glow // – Hot Prospects Auto Strap 152 Mark Arcobello
Red Glow // – Hot Prospects Auto Strap 153 Thomas Hickey
Red Glow // – Hot Prospects Auto Glove 154 Tom Wilson
Red Glow // – Hot Prospects Auto Strap 155 Brock Nelson
Red Glow // – Hot Prospects Auto Strap 156 Rasmus Ristolainen
Red Glow // – Hot Prospects Auto Strap 157 Jean-Gabriel Pageau
Red Glow // – Hot Prospects Auto Strap 158 Valeri Nichushkin
Red Glow // – Hot Prospects Auto Strap 159 Johan Larsson
Red Glow // – Hot Prospects Auto Strap 160 Morgan Rielly
Red Glow // – Hot Prospects Auto Strap 161 Danny DeKeyser
Red Glow // – Hot Prospects Auto Strap 162 Jacob Trouba
Red Glow // – Hot Prospects Auto Strap 163 Christian Thomas
Red Glow // – Hot Prospects Auto Strap 164 Chris Brown
Red Glow // – Hot Prospects Auto Strap 165 Richard Panik
Red Glow // – Hot Prospects Auto Strap 166 Jordan Schroeder
Red Glow // – Hot Prospects Auto Strap 167 Zach Redmond
Red Glow // – Hot Prospects Auto Strap 168 Ryan Strome
Red Glow // – Hot Prospects Auto Strap 169 Carl Soderberg
Red Glow // – Hot Prospects Auto Strap 170 Drew Shore
Red Glow // – Hot Prospects Auto Glove 171 Dylan McIlrath
Red Glow // – Hot Prospects Auto Strap 173 Mikael Granlund
Red Glow // – Hot Prospects Auto Glove 174 Mikhail Grigorenko
Red Glow // – Hot Prospects Auto Strap 175 Nathan Beaulieu
Red Glow // – Hot Prospects Auto Strap 176 Charlie Coyle
Red Glow // – Hot Prospects Auto Strap 177 Dougie Hamilton
Red Glow // – Hot Prospects Auto Strap 178 Elias Lindholm
Red Glow // – Hot Prospects Auto Strap 179 Beau Bennett
Red Glow // – Hot Prospects Auto Strap 180 Austin Watson
Red Glow // – Hot Prospects Auto Strap 181 Ryan Murray
Red Glow // – Hot Prospects Auto Strap 182 Emerson Etem
Red Glow // – Hot Prospects Auto Strap 183 Jonas Brodin
Red Glow // – Hot Prospects Auto Strap 184 Jack Campbell
Red Glow // – Hot Prospects Auto Glove 185 Petr Mrazek
Red Glow // – Hot Prospects Auto Strap 186 Quinton Howden
Red Glow // – Hot Prospects Auto Strap 187 Ryan Spooner
Red Glow // – Hot Prospects Auto Strap 188 Scott Laughton
Red Glow // – Hot Prospects Auto Strap 189 Damien Brunner
Red Glow // – Hot Prospects Auto Strap 190 Viktor Fasth
Red Glow // – Hot Prospects Auto Strap 191 Jarred Tinordi
Red Glow // – Hot Prospects Auto Glove 192 Cory Conacher
Red Glow // – Hot Prospects Auto Glove 193 Nicklas Jensen
Red Glow // – Hot Prospects Auto Strap 194 Filip Forsberg
Red Glow // – Hot Prospects Auto Glove 195 Boone Jenner
Red Glow // – Hot Prospects Auto Glove 196 Tanner Pearson
Red Glow // – Hot Prospects Auto Strap 197 Alex Chiasson
Red Glow // – Hot Prospects Auto Strap 198 Nick Bjugstad
Red Glow // – Hot Prospects Auto Strap 199 Nail Yakupov
Red Glow // – Hot Prospects Auto Strap 200 Alex Galchenyuk
Red Glow // – Hot Prospects Auto Strap 201 Jonathan Huberdeau
Red Glow // – Hot Prospects Auto Glove 202 Brendan Gallagher
Red Glow // – Hot Prospects Auto Strap 203 Tomas Hertl
Red Glow // – Hot Prospects Auto Glove 204 Sean Monahan
Red Glow // – Hot Prospects Auto Strap 205 Justin Schultz
Red Glow // – Hot Prospects Auto Strap 206 Tyler Toffoli
Red Glow // – Hot Prospects Auto Glove 207 Nathan MacKinnon
Red Glow // – Hot Prospects Auto Strap 208 Seth Jones
Red Glow // – Hot Prospects Auto Strap 209 Aleksander Barkov
Red Glow // – Hot Prospects Auto Strap 210 Vladimir Tarasenko
---
White Hot // – Base Set Patch 1 Evgeni Malkin
White Hot // – Base Set Patch 3 Ryan Getzlaf
White Hot // – Base Set Patch 5 Jonas Hiller
White Hot // – Base Set Patch 6 Milan Lucic
White Hot // – Base Set Patch 7 Tuukka Rask
White Hot // – Base Set Patch 8 Zdeno Chara
White Hot // – Base Set Patch 9 Glen Murray
White Hot // – Base Set Patch 12 Matt Stajan
White Hot // – Base Set Patch 13 Eric Staal
White Hot // – Base Set Patch 17 Duncan Keith
White Hot // – Base Set Patch 18 Corey Crawford
White Hot // – Base Set Patch 19 Bryan Bickell
White Hot // – Base Set Patch 20 Matt Duchene
White Hot // – Base Set Patch 21 Milan Hejduk
White Hot // – Base Set Patch 22 Paul Stastny
White Hot // – Base Set Patch 24 Peter Forsberg
White Hot // – Base Set Patch 25 Henrik Zetterberg
White Hot // – Base Set Patch 26 Jim Howard
White Hot // – Base Set Patch 27 Johan Franzen
White Hot // – Base Set Patch 28 Pavel Datsyuk
White Hot // – Base Set Patch 29 Steve Yzerman
White Hot // – Base Set Patch 30 Ryan Nugent-Hopkins
White Hot // – Base Set Patch 31 Wayne Gretzky
White Hot // – Base Set Patch 32 Taylor Hall
White Hot // – Base Set Patch 33 Jordan Eberle
White Hot // – Base Set Patch 35 Ales Hemsky
White Hot // – Base Set Patch 36 Sam Gagner
White Hot // – Base Set Patch 37 Pavel Bure
White Hot // – Base Set Patch 39 Jonathan Quick
White Hot // – Base Set Patch 40 Mike Richards
White Hot // – Base Set Patch 41 Anze Kopitar
White Hot // – Base Set Patch 42 Dustin Brown
White Hot // – Base Set Patch 45 Mikko Koivu
White Hot // – Base Set Patch 46 Tomas Plekanec
White Hot // – Base Set Patch 47 P.K. Subban
White Hot // – Base Set Patch 50 Carey Price
White Hot // – Base Set Patch 52 David Legwand
White Hot // – Base Set Patch 53 Pekka Rinne
White Hot // – Base Set Patch 54 Patrik Elias
White Hot // – Base Set Patch 55 Martin Brodeur
White Hot // – Base Set Patch 58 Kyle Okposo
White Hot // – Base Set Patch 59 John Tavares
White Hot // – Base Set Patch 62 Derek Stepan
White Hot // – Base Set Patch 63 Chris Kreider
White Hot // – Base Set Patch 64 Theoren Fleury
White Hot // – Base Set Patch 65 Carl Hagelin
White Hot // – Base Set Patch 68 Jason Spezza
White Hot // – Base Set Patch 70 Simon Gagne
White Hot // – Base Set Patch 72 Bill Barber
White Hot // – Base Set Patch 73 Scott Hartnell
White Hot // – Base Set Patch 75 Shane Doan
White Hot // – Base Set Patch 77 Kris Letang
White Hot // – Base Set Patch 78 Marc-Andre Fleury
White Hot // – Base Set Patch 79 Sidney Crosby
White Hot // – Base Set Patch 80 Logan Couture
White Hot // – Base Set Patch 82 Antti Niemi
White Hot // – Base Set Patch 84 Patrik Berglund
White Hot // – Base Set Patch 85 Brett Hull
White Hot // – Base Set Patch 88 Mats Sundin
White Hot // – Base Set Patch 90 Eric Lindros
White Hot // – Base Set Patch 94 Henrik Sedin
White Hot // – Base Set Patch 100 Alexander Ovechkin
---
White Hot // – Hot Prospects Trios 101 Zach Trotman/Justin Florek/Craig Cunningham
White Hot // – Hot Prospects Trios 102 Carter Bancks/Mark Cundari/Christopher Breen
White Hot // – Hot Prospects Trios 103 Andrej Sustr/Jayson Megna/Eriah Hayes
White Hot // – Hot Prospects Trios 104 Max Reinhart/Tyler Johnson/Alex Petrovic
White Hot // – Hot Prospects Trios 105 Martin Jones/Reto Berra/Antti Raanta
White Hot // – Hot Prospects Trios 106 Ben Hanowski/Drew LeBlanc/Oliver Lauridsen
White Hot // – Hot Prospects Trios 107 Joonas Rask/Victor Bartley/Kevin Henderson
White Hot // – Hot Prospects Trios 108 Eric Gryba/Derek Grant/David Dziurzynski
White Hot // – Hot Prospects Trios 109 Philipp Grubauer/Connor Carrick/Steve Oleksy
White Hot // – Hot Prospects Trios 110 Brian Dumoulin/Patrick Wey/Philip Samuelsson
White Hot // – Hot Prospects Trios 111 Radko Gudas/Ondrej Palat/Dmitry Korobov
White Hot // – Hot Prospects Trios 112 Michael Chaput/Jonathan Audy-Marchessault/Antoine Roussel
White Hot // – Hot Prospects Trios 113 Greg Pateryn/Luke Glendening/Chad Billins
White Hot // – Hot Prospects Trios 114 Sami Vatanen/Hampus Lindholm/Alex Grant
White Hot // – Hot Prospects Trios 115 John Albert/Julian Melchiori/Eric O'Dell
White Hot // – Hot Prospects Trios 116 Kevan Miller/Brian Gibbons/David Warsofsky
White Hot // – Hot Prospects Trios 117 Kevin Connauton/Jamie Oleksiak/Cristopher Nilstorp
White Hot // – Hot Prospects Trios 118 Shawn Lalonde/Jason Akeson/Cody Ceci
White Hot // – Hot Prospects Trios 119 Dmitrij Jaskin/Mark Barberio/Zach Sill
White Hot // – Hot Prospects Trios 120 Frank Corrado/Joe Cannata/Darren Archibald
White Hot // – Hot Prospects Trios 121 Matthew Irwin/Conor Allen/Mike Kostka
White Hot // – Hot Prospects Trios 122 Jared Staal/Michael Sgarbossa/Ben Chiarot
White Hot // – Hot Prospects Trios 123 Will Acton/Tyler Pitlick/Luke Gazdic
White Hot // – Hot Prospects Trios 124 Martin Marincin/Taylor Fedun/Brad Hunt
White Hot // – Hot Prospects Trios 125 John Muse/Edward Pasquale/Igor Bobkov
White Hot // – Hot Prospects Duos 126 Spencer Abbott/Jerry D'Amigo
White Hot // – Hot Prospects Duos 127 Michael Bournival/Patrick Holland
White Hot // – Hot Prospects Duos 128 Nate Schmidt/Erik Haula
White Hot // – Hot Prospects Duos 129 Calvin Pickard/Kent Simpson
White Hot // – Hot Prospects Duos 130 Reid Boucher/Connor Murphy
White Hot // – Hot Prospects Duos 131 Josh Leivo/David Broll
White Hot // – Hot Prospects Duos 132 Michael Raffl/Matthew Konan
White Hot // – Hot Prospects Duos 133 Joacim Eriksson/Niklas Svedberg
White Hot // – Hot Prospects Duos 134 Adam Almqvist/Alexey Marchenko
White Hot // – Hot Prospects Duos 135 Eric Hartzell/Jeff Zatkoff
White Hot // – Hot Prospects Duos 136 Marek Mazanec/Magnus Hellberg
White Hot // – Hot Prospects Duos 137 Eric Gelinas/Mike Sislo
White Hot // – Hot Prospects Duos 138 Olli Maatta/Nikita Zadorov
White Hot // – Hot Prospects Autos 139 Frederik Andersen
White Hot // – Hot Prospects Autos 140 Freddie Hamilton
White Hot // – Hot Prospects Autos 141 John Gibson
White Hot // – Hot Prospects Autos 142 Linden Vey
White Hot // – Hot Prospects Autos 143 Rickard Rakell
White Hot // – Hot Prospects Autos 144 Mathew Dumba
White Hot // – Hot Prospects Autos 145 Zemgus Girgensons
White Hot // – Hot Prospects Autos 146 Justin Fontaine
White Hot // – Hot Prospects Autos 147 Jon Merrill
White Hot // – Hot Prospects Autos 148 Matt Nieto
White Hot // – Hot Prospects Autos 149 Alex Killorn
White Hot // – Hot Prospects Autos 150 Tomas Jurco
White Hot // – Hot Prospects Auto Jumbo Patch 151 Ryan Murphy
White Hot // – Hot Prospects Auto Jumbo Patch 152 Mark Arcobello
White Hot // – Hot Prospects Auto Jumbo Patch 153 Thomas Hickey
White Hot // – Hot Prospects Auto Jumbo Patch 154 Tom Wilson
White Hot // – Hot Prospects Auto Jumbo Patch 155 Brock Nelson
White Hot // – Hot Prospects Auto Jumbo Patch 156 Rasmus Ristolainen
White Hot // – Hot Prospects Auto Jumbo Patch 157 Jean-Gabriel Pageau
White Hot // – Hot Prospects Auto Jumbo Patch 158 Valeri Nichushkin
White Hot // – Hot Prospects Auto Jumbo Patch 159 Johan Larsson
White Hot // – Hot Prospects Auto Jumbo Patch 160 Morgan Rielly
White Hot // – Hot Prospects Auto Jumbo Patch 161 Danny DeKeyser
White Hot // – Hot Prospects Auto Jumbo Patch 162 Jacob Trouba
White Hot // – Hot Prospects Auto Jumbo Patch 163 Christian Thomas
White Hot // – Hot Prospects Auto Jumbo Patch 164 Chris Brown
White Hot // – Hot Prospects Auto Jumbo Patch 165 Richard Panik
White Hot // – Hot Prospects Auto Jumbo Patch 166 Jordan Schroeder
White Hot // – Hot Prospects Auto Jumbo Patch 167 Zach Redmond
White Hot // – Hot Prospects Auto Jumbo Patch 168 Ryan Strome
White Hot // – Hot Prospects Auto Jumbo Patch 169 Carl Soderberg
White Hot // – Hot Prospects Auto Jumbo Patch 170 Drew Shore
White Hot // – Hot Prospects Auto Jumbo Patch 171 Dylan McIlrath
White Hot // – Hot Prospects Auto Jumbo Patch 173 Mikael Granlund
White Hot // – Hot Prospects Auto Jumbo Patch 174 Mikhail Grigorenko
White Hot // – Hot Prospects Auto Jumbo Patch 175 Nathan Beaulieu
White Hot // – Hot Prospects Auto Jumbo Patch 176 Charlie Coyle
White Hot // – Hot Prospects Auto Jumbo Patch 177 Dougie Hamilton
White Hot // – Hot Prospects Auto Jumbo Patch 178 Elias Lindholm
White Hot // – Hot Prospects Auto Jumbo Patch 179 Beau Bennett
White Hot // – Hot Prospects Auto Jumbo Patch 180 Austin Watson
White Hot // – Hot Prospects Auto Jumbo Patch 181 Ryan Murray
White Hot // – Hot Prospects Auto Jumbo Patch 182 Emerson Etem
White Hot // – Hot Prospects Auto Jumbo Patch 183 Jonas Brodin
White Hot // – Hot Prospects Auto Jumbo Patch 184 Jack Campbell
White Hot // – Hot Prospects Auto Jumbo Patch 185 Petr Mrazek
White Hot // – Hot Prospects Auto Jumbo Patch 186 Quinton Howden
White Hot // – Hot Prospects Auto Jumbo Patch 187 Ryan Spooner
White Hot // – Hot Prospects Auto Jumbo Patch 188 Scott Laughton
White Hot // – Hot Prospects Auto Jumbo Patch 189 Damien Brunner
White Hot // – Hot Prospects Auto Jumbo Patch 190 Viktor Fasth
White Hot // – Hot Prospects Auto Jumbo Patch 191 Jarred Tinordi
White Hot // – Hot Prospects Auto Jumbo Patch 192 Cory Conacher
White Hot // – Hot Prospects Auto Jumbo Patch 193 Nicklas Jensen
White Hot // – Hot Prospects Auto Jumbo Patch 194 Filip Forsberg
White Hot // – Hot Prospects Auto Jumbo Patch 195 Boone Jenner
White Hot // – Hot Prospects Auto Jumbo Patch 196 Tanner Pearson
White Hot // – Hot Prospects Auto Jumbo Patch 197 Alex Chiasson
White Hot // – Hot Prospects Auto Jumbo Patch 198 Nick Bjugstad
White Hot // – Hot Prospects Auto Jumbo Patch 199 Nail Yakupov
White Hot // – Hot Prospects Auto Jumbo Patch 200 Alex Galchenyuk
White Hot // – Hot Prospects Auto Jumbo Patch 201 Jonathan Huberdeau
White Hot // – Hot Prospects Auto Jumbo Patch 202 Brendan Gallagher
White Hot // – Hot Prospects Auto Jumbo Patch 203 Tomas Hertl
White Hot // – Hot Prospects Auto Jumbo Patch 204 Sean Monahan
White Hot // – Hot Prospects Auto Jumbo Patch 205 Justin Schultz
White Hot // – Hot Prospects Auto Jumbo Patch 206 Tyler Toffoli
White Hot // – Hot Prospects Auto Jumbo Patch 207 Nathan MacKinnon
White Hot // – Hot Prospects Auto Jumbo Patch 208 Seth Jones
White Hot // – Hot Prospects Auto Jumbo Patch 209 Aleksander Barkov
White Hot // – Hot Prospects Auto Jumbo Patch 210 Vladimir Tarasenko
---
Jambalaya 1 of 42JB Tony Esposito
Jambalaya 2 of 42JB Mario Lemieux
Jambalaya 3 of 42JB Ron Hextall
Jambalaya 4 of 42JB Peter Forsberg
Jambalaya 5 of 42JB Tuukka Rask
Jambalaya 6 of 42JB Marcel Dionne
Jambalaya 7 of 42JB Wayne Gretzky
Jambalaya 8 of 42JB Pavel Bure
Jambalaya 9 of 42JB Ray Bourque
Jambalaya 10 of 42JB Ryan Nugent-Hopkins
Jambalaya 11 of 42JB Steve Yzerman
Jambalaya 12 of 42JB Nazem Kadri
Jambalaya 13 of 42JB Corey Crawford
Jambalaya 14 of 42JB Taylor Hall
Jambalaya 15 of 42JB Zdeno Chara
Jambalaya 16 of 42JB Jonathan Toews
Jambalaya 17 of 42JB Zach Parise
Jambalaya 18 of 42JB Carey Price
Jambalaya 19 of 42JB P.K. Subban
Jambalaya 20 of 42JB Evander Kane
Jambalaya 21 of 42JB Sidney Crosby
Jambalaya 22 of 42JB Jonathan Quick
Jambalaya 23 of 42JB Antti Niemi
Jambalaya 24 of 42JB James van Riemsdyk
Jambalaya 25 of 42JB Anze Kopitar
Jambalaya 26 of 42JB Patrick Roy
Jambalaya 27 of 42JB Nathan MacKinnon
Jambalaya 28 of 42JB Marc-Andre Fleury
Jambalaya 29 of 42JB Henrik Lundqvist
Jambalaya 30 of 42JB Sean Monahan
Jambalaya 31 of 42JB Ryan Miller
Jambalaya 32 of 42JB Doug Gilmour
Jambalaya 33 of 42JB Teemu Selanne
Jambalaya 34 of 42JB Evgeni Malkin
Jambalaya 35 of 42JB Tomas Hertl
Jambalaya 36 of 42JB Bobby Orr
Jambalaya 37 of 42JB Alexander Ovechkin
Jambalaya 38 of 42JB Alex Galchenyuk
Jambalaya 39 of 42JB Brendan Gallagher
Jambalaya 40 of 42JB Henrik Zetterberg
Jambalaya 41 of 42JB Jonathan Huberdeau
Jambalaya 42 of 42JB Nail Yakupov
---
Stitches S-AG Alex Galchenyuk
Stitches S-AK Anze Kopitar
Stitches S-AN Antti Niemi
Stitches S-BB Beau Bennett
Stitches S-CA Carey Price
Stitches S-DD Devan Dubnyk
Stitches S-DK Duncan Keith
Stitches S-DS Drew Stafford
Stitches S-EM Evgeni Malkin
Stitches S-HE Tomas Hertl
Stitches S-JC Jack Campbell
Stitches S-JE Jordan Eberle
Stitches S-JM J.T. Miller
Stitches S-MD Matt Duchene
Stitches S-MS Martin St. Louis
Stitches S-NB Nicklas Backstrom
Stitches S-NM Nathan MacKinnon
Stitches S-PK Phil Kessel
Stitches S-PR Pekka Rinne
Stitches S-PS P.K. Subban
Stitches S-RG Ryan Getzlaf
Stitches S-SJ Seth Jones
Stitches S-SV Slava Voynov
Stitches S-TH Taylor Hall
---
Stitches Red Glow Patch // S-AG Alex Galchenyuk
Stitches Red Glow Patch // S-AK Anze Kopitar
Stitches Red Glow Patch // S-AN Antti Niemi
Stitches Red Glow Patch // S-BB Beau Bennett
Stitches Red Glow Patch // S-CA Carey Price
Stitches Red Glow Patch // S-DD Devan Dubnyk
Stitches Red Glow Patch // S-DK Duncan Keith
Stitches Red Glow Patch // S-DS Drew Stafford
Stitches Red Glow Patch // S-EM Evgeni Malkin
Stitches Red Glow Patch // S-HE Tomas Hertl
Stitches Red Glow Patch // S-JC Jack Campbell
Stitches Red Glow Patch // S-JE Jordan Eberle
Stitches Red Glow Patch // S-JM J.T. Miller
Stitches Red Glow Patch // S-MD Matt Duchene
Stitches Red Glow Patch // S-MS Martin St. Louis
Stitches Red Glow Patch // S-NB Nicklas Backstrom
Stitches Red Glow Patch // S-NM Nathan MacKinnon
Stitches Red Glow Patch // S-PR Pekka Rinne
Stitches Red Glow Patch // S-PS P.K. Subban
Stitches Red Glow Patch // S-RG Ryan Getzlaf
Stitches Red Glow Patch // S-SJ Seth Jones
Stitches Red Glow Patch // S-SV Slava Voynov
Stitches Red Glow Patch // S-TH Taylor Hall
---
Stitches White Hot Strap // S-AG Alex Galchenyuk
Stitches White Hot Strap // S-AK Anze Kopitar
Stitches White Hot Strap // S-AN Antti Niemi
Stitches White Hot Strap // S-BB Beau Bennett
Stitches White Hot Strap // S-CA Carey Price
Stitches White Hot Strap // S-DD Devan Dubnyk
Stitches White Hot Strap // S-DK Duncan Keith
Stitches White Hot Strap // S-DS Drew Stafford
Stitches White Hot Strap // S-EM Evgeni Malkin
Stitches White Hot Strap // S-HE Tomas Hertl
Stitches White Hot Strap // S-JC Jack Campbell
Stitches White Hot Strap // S-JE Jordan Eberle
Stitches White Hot Strap // S-JM J.T. Miller
Stitches White Hot Strap // S-MD Matt Duchene
Stitches White Hot Strap // S-MS Martin St. Louis
Stitches White Hot Strap // S-NB Nicklas Backstrom
Stitches White Hot Strap // S-NM Nathan MacKinnon
Stitches White Hot Strap // S-PR Pekka Rinne
Stitches White Hot Strap // S-PS P.K. Subban
Stitches White Hot Strap // S-RG Ryan Getzlaf
Stitches White Hot Strap // S-SJ Seth Jones
Stitches White Hot Strap // S-SV Slava Voynov
Stitches White Hot Strap // S-TH Taylor Hall
---
Uniformity U-BN Nicklas Backstrom/Michal Neuvirth
Uniformity U-CN Jack Campbell/Valeri Nichushkin
Uniformity U-DE Devan Dubnyk/Jordan Eberle
Uniformity U-DM Matt Duchene/Nathan MacKinnon
Uniformity U-EH Jordan Eberle/Taylor Hall
Uniformity U-ER Emerson Etem/Rickard Rakell
Uniformity U-GF Ryan Getzlaf/Viktor Fasth
Uniformity U-HB Jonathan Huberdeau/Aleksander Barkov
Uniformity U-HM Carl Hagelin/J.T. Miller
Uniformity U-JF Seth Jones/Filip Forsberg
Uniformity U-KC Duncan Keith/Corey Crawford
Uniformity U-KQ Anze Kopitar/Jonathan Quick
Uniformity U-MR Ryan Miller/Rasmus Ristolainen
Uniformity U-NH Ryan Nugent-Hopkins/Taylor Hall
Uniformity U-PJ P.K. Subban/Jarred Tinordi
Uniformity U-SN Ryan Strome/Brock Nelson
Uniformity U-ST Ryan Strome/John Tavares
Uniformity U-WJ Austin Watson/Seth Jones
---
Uniformity Red Glow Patch // U-BN Nicklas Backstrom/Michal Neuvirth
Uniformity Red Glow Patch // U-CN Jack Campbell/Valeri Nichushkin
Uniformity Red Glow Patch // U-DE Devan Dubnyk/Jordan Eberle
Uniformity Red Glow Patch // U-DM Matt Duchene/Nathan MacKinnon
Uniformity Red Glow Patch // U-EH Jordan Eberle/Taylor Hall
Uniformity Red Glow Patch // U-ER Emerson Etem/Rickard Rakell
Uniformity Red Glow Patch // U-GF Ryan Getzlaf/Viktor Fasth
Uniformity Red Glow Patch // U-HB Jonathan Huberdeau/Aleksander Barkov
Uniformity Red Glow Patch // U-HM Carl Hagelin/J.T. Miller
Uniformity Red Glow Patch // U-JF Seth Jones/Filip Forsberg
Uniformity Red Glow Patch // U-KC Duncan Keith/Corey Crawford
Uniformity Red Glow Patch // U-KQ Anze Kopitar/Jonathan Quick
Uniformity Red Glow Patch // U-MR Ryan Miller/Rasmus Ristolainen
Uniformity Red Glow Patch // U-NH Ryan Nugent-Hopkins/Taylor Hall
Uniformity Red Glow Patch // U-SN Ryan Strome/Brock Nelson
Uniformity Red Glow Patch // U-ST Ryan Strome/John Tavares
Uniformity Red Glow Patch // U-WJ Austin Watson/Seth Jones
Uniformity White Hot Strap // U-BN Nicklas Backstrom/Michal Neuvirth
Uniformity White Hot Strap // U-CN Jack Campbell/Valeri Nichushkin
Uniformity White Hot Strap // U-DE Devan Dubnyk/Jordan Eberle
Uniformity White Hot Strap // U-DM Matt Duchene/Nathan MacKinnon
Uniformity White Hot Strap // U-EH Jordan Eberle/Taylor Hall
Uniformity White Hot Strap // U-ER Emerson Etem/Rickard Rakell
Uniformity White Hot Strap // U-GF Ryan Getzlaf/Viktor Fasth
Uniformity White Hot Strap // U-HB Jonathan Huberdeau/Aleksander Barkov
Uniformity White Hot Strap // U-HM Carl Hagelin/J.T. Miller
Uniformity White Hot Strap // U-JF Seth Jones/Filip Forsberg
Uniformity White Hot Strap // U-KC Duncan Keith/Corey Crawford
Uniformity White Hot Strap // U-KQ Anze Kopitar/Jonathan Quick
Uniformity White Hot Strap // U-MR Ryan Miller/Rasmus Ristolainen
Uniformity White Hot Strap // U-NH Ryan Nugent-Hopkins/Taylor Hall
Uniformity White Hot Strap // U-SN Ryan Strome/Brock Nelson
Uniformity White Hot Strap // U-ST Ryan Strome/John Tavares
Uniformity White Hot Strap // U-WJ Austin Watson/Seth Jones
---
Autographed Buybacks 48 John Tavares '12-13 Showcase Row 2
---
Metal Universe MU-1 Bobby Orr
Metal Universe MU-2 Alex Galchenyuk
Metal Universe MU-3 Claude Giroux
Metal Universe MU-4 Zach Parise
Metal Universe MU-5 Wayne Gretzky
Metal Universe MU-6 Jonas Brodin
Metal Universe MU-7 Brad Marchand
Metal Universe MU-8 Nail Yakupov
Metal Universe MU-9 Corey Crawford
Metal Universe MU-10 Brendan Gallagher
Metal Universe MU-11 Felix Potvin
Metal Universe MU-12 Vladimir Tarasenko
Metal Universe MU-13 Peter Forsberg
Metal Universe MU-14 Aleksander Barkov
Metal Universe MU-15 Tyler Seguin
Metal Universe MU-16 Elias Lindholm
Metal Universe MU-17 John Tavares
Metal Universe MU-18 Dino Ciccarelli
Metal Universe MU-19 Patrick Kane
Metal Universe MU-20 Teemu Selanne
Metal Universe MU-21 Paul Coffey
Metal Universe MU-22 Sean Monahan
Metal Universe MU-23 Nazem Kadri
Metal Universe MU-24 Tomas Hertl
Metal Universe MU-25 Matt Duchene
Metal Universe MU-26 Mikhail Grigorenko
Metal Universe MU-27 Brett Hull
Metal Universe MU-28 Bobby Ryan
Metal Universe MU-29 Guy Lafleur
Metal Universe MU-30 Nathan MacKinnon
Metal Universe MU-31 Doug Gilmour
Metal Universe MU-32 Valeri Nichushkin
Metal Universe MU-33 Tyler Toffoli
Metal Universe MU-34 Beau Bennett
Metal Universe MU-35 Sidney Crosby
Metal Universe MU-36 Seth Jones
Metal Universe MU-37 Patrick Roy
Metal Universe MU-38 Ryan Strome
Metal Universe MU-39 Cam Neely
Metal Universe MU-40 Morgan Rielly
Metal Universe MU-41 Nicklas Lidstrom
Metal Universe MU-42 Justin Schultz
---
Metal Universe Precious Metal Gems Red // MU-1 Bobby Orr
Metal Universe Precious Metal Gems Red // MU-2 Alex Galchenyuk
Metal Universe Precious Metal Gems Red // MU-3 Claude Giroux
Metal Universe Precious Metal Gems Red // MU-4 Zach Parise
Metal Universe Precious Metal Gems Red // MU-5 Wayne Gretzky
Metal Universe Precious Metal Gems Red // MU-6 Jonas Brodin
Metal Universe Precious Metal Gems Red // MU-7 Brad Marchand
Metal Universe Precious Metal Gems Red // MU-8 Nail Yakupov
Metal Universe Precious Metal Gems Red // MU-9 Corey Crawford
Metal Universe Precious Metal Gems Red // MU-10 Brendan Gallagher
Metal Universe Precious Metal Gems Red // MU-11 Felix Potvin
Metal Universe Precious Metal Gems Red // MU-12 Vladimir Tarasenko
Metal Universe Precious Metal Gems Red // MU-13 Peter Forsberg
Metal Universe Precious Metal Gems Red // MU-14 Aleksander Barkov
Metal Universe Precious Metal Gems Red // MU-15 Tyler Seguin
Metal Universe Precious Metal Gems Red // MU-16 Elias Lindholm
Metal Universe Precious Metal Gems Red // MU-17 John Tavares
Metal Universe Precious Metal Gems Red // MU-18 Dino Ciccarelli
Metal Universe Precious Metal Gems Red // MU-19 Patrick Kane
Metal Universe Precious Metal Gems Red // MU-20 Teemu Selanne
Metal Universe Precious Metal Gems Red // MU-21 Paul Coffey
Metal Universe Precious Metal Gems Red // MU-22 Sean Monahan
Metal Universe Precious Metal Gems Red // MU-23 Nazem Kadri
Metal Universe Precious Metal Gems Red // MU-24 Tomas Hertl
Metal Universe Precious Metal Gems Red // MU-25 Matt Duchene
Metal Universe Precious Metal Gems Red // MU-26 Mikhail Grigorenko
Metal Universe Precious Metal Gems Red // MU-27 Brett Hull
Metal Universe Precious Metal Gems Red // MU-28 Bobby Ryan
Metal Universe Precious Metal Gems Red // MU-29 Guy Lafleur
Metal Universe Precious Metal Gems Red // MU-30 Nathan MacKinnon
Metal Universe Precious Metal Gems Red // MU-31 Doug Gilmour
Metal Universe Precious Metal Gems Red // MU-32 Valeri Nichushkin
Metal Universe Precious Metal Gems Red // MU-33 Tyler Toffoli
Metal Universe Precious Metal Gems Red // MU-34 Beau Bennett
Metal Universe Precious Metal Gems Red // MU-35 Sidney Crosby
Metal Universe Precious Metal Gems Red // MU-36 Seth Jones
Metal Universe Precious Metal Gems Red // MU-37 Patrick Roy
Metal Universe Precious Metal Gems Red // MU-38 Ryan Strome
Metal Universe Precious Metal Gems Red // MU-39 Cam Neely
Metal Universe Precious Metal Gems Red // MU-40 Morgan Rielly
Metal Universe Precious Metal Gems Red // MU-41 Nicklas Lidstrom
Metal Universe Precious Metal Gems Red // MU-42 Justin Schultz
Metal Universe Precious Metal Gems Blue // MU-1 Bobby Orr
Metal Universe Precious Metal Gems Blue // MU-2 Alex Galchenyuk
Metal Universe Precious Metal Gems Blue // MU-3 Claude Giroux
Metal Universe Precious Metal Gems Blue // MU-4 Zach Parise
Metal Universe Precious Metal Gems Blue // MU-5 Wayne Gretzky
Metal Universe Precious Metal Gems Blue // MU-6 Jonas Brodin
Metal Universe Precious Metal Gems Blue // MU-7 Brad Marchand
Metal Universe Precious Metal Gems Blue // MU-8 Nail Yakupov
Metal Universe Precious Metal Gems Blue // MU-9 Corey Crawford
Metal Universe Precious Metal Gems Blue // MU-10 Brendan Gallagher
Metal Universe Precious Metal Gems Blue // MU-11 Felix Potvin
Metal Universe Precious Metal Gems Blue // MU-12 Vladimir Tarasenko
Metal Universe Precious Metal Gems Blue // MU-13 Peter Forsberg
Metal Universe Precious Metal Gems Blue // MU-14 Aleksander Barkov
Metal Universe Precious Metal Gems Blue // MU-15 Tyler Seguin
Metal Universe Precious Metal Gems Blue // MU-16 Elias Lindholm
Metal Universe Precious Metal Gems Blue // MU-17 John Tavares
Metal Universe Precious Metal Gems Blue // MU-18 Dino Ciccarelli
Metal Universe Precious Metal Gems Blue // MU-19 Patrick Kane
Metal Universe Precious Metal Gems Blue // MU-20 Teemu Selanne
Metal Universe Precious Metal Gems Blue // MU-21 Paul Coffey
Metal Universe Precious Metal Gems Blue // MU-22 Sean Monahan
Metal Universe Precious Metal Gems Blue // MU-23 Nazem Kadri
Metal Universe Precious Metal Gems Blue // MU-24 Tomas Hertl
Metal Universe Precious Metal Gems Blue // MU-25 Matt Duchene
Metal Universe Precious Metal Gems Blue // MU-26 Mikhail Grigorenko
Metal Universe Precious Metal Gems Blue // MU-27 Brett Hull
Metal Universe Precious Metal Gems Blue // MU-28 Bobby Ryan
Metal Universe Precious Metal Gems Blue // MU-29 Guy Lafleur
Metal Universe Precious Metal Gems Blue // MU-30 Nathan MacKinnon
Metal Universe Precious Metal Gems Blue // MU-31 Doug Gilmour
Metal Universe Precious Metal Gems Blue // MU-32 Valeri Nichushkin
Metal Universe Precious Metal Gems Blue // MU-33 Tyler Toffoli
Metal Universe Precious Metal Gems Blue // MU-34 Beau Bennett
Metal Universe Precious Metal Gems Blue // MU-35 Sidney Crosby
Metal Universe Precious Metal Gems Blue // MU-36 Seth Jones
Metal Universe Precious Metal Gems Blue // MU-37 Patrick Roy
Metal Universe Precious Metal Gems Blue // MU-38 Ryan Strome
Metal Universe Precious Metal Gems Blue // MU-39 Cam Neely
Metal Universe Precious Metal Gems Blue // MU-40 Morgan Rielly
Metal Universe Precious Metal Gems Blue // MU-41 Nicklas Lidstrom
Metal Universe Precious Metal Gems Blue // MU-42 Justin Schultz
Metal Universe Precious Metal Gems Green // MU-1 Bobby Orr
Metal Universe Precious Metal Gems Green // MU-2 Alex Galchenyuk
Metal Universe Precious Metal Gems Green // MU-3 Claude Giroux
Metal Universe Precious Metal Gems Green // MU-4 Zach Parise
Metal Universe Precious Metal Gems Green // MU-5 Wayne Gretzky
Metal Universe Precious Metal Gems Green // MU-6 Jonas Brodin
Metal Universe Precious Metal Gems Green // MU-7 Brad Marchand
Metal Universe Precious Metal Gems Green // MU-8 Nail Yakupov
Metal Universe Precious Metal Gems Green // MU-9 Corey Crawford
Metal Universe Precious Metal Gems Green // MU-10 Brendan Gallagher
Metal Universe Precious Metal Gems Green // MU-11 Felix Potvin
Metal Universe Precious Metal Gems Green // MU-12 Vladimir Tarasenko
Metal Universe Precious Metal Gems Green // MU-13 Peter Forsberg
Metal Universe Precious Metal Gems Green // MU-14 Aleksander Barkov
Metal Universe Precious Metal Gems Green // MU-15 Tyler Seguin
Metal Universe Precious Metal Gems Green // MU-16 Elias Lindholm
Metal Universe Precious Metal Gems Green // MU-17 John Tavares
Metal Universe Precious Metal Gems Green // MU-18 Dino Ciccarelli
Metal Universe Precious Metal Gems Green // MU-19 Patrick Kane
Metal Universe Precious Metal Gems Green // MU-20 Teemu Selanne
Metal Universe Precious Metal Gems Green // MU-21 Paul Coffey
Metal Universe Precious Metal Gems Green // MU-22 Sean Monahan
Metal Universe Precious Metal Gems Green // MU-23 Nazem Kadri
Metal Universe Precious Metal Gems Green // MU-24 Tomas Hertl
Metal Universe Precious Metal Gems Green // MU-25 Matt Duchene
Metal Universe Precious Metal Gems Green // MU-26 Mikhail Grigorenko
Metal Universe Precious Metal Gems Green // MU-27 Brett Hull
Metal Universe Precious Metal Gems Green // MU-28 Bobby Ryan
Metal Universe Precious Metal Gems Green // MU-29 Guy Lafleur
Metal Universe Precious Metal Gems Green // MU-30 Nathan MacKinnon
Metal Universe Precious Metal Gems Green // MU-31 Doug Gilmour
Metal Universe Precious Metal Gems Green // MU-32 Valeri Nichushkin
Metal Universe Precious Metal Gems Green // MU-33 Tyler Toffoli
Metal Universe Precious Metal Gems Green // MU-34 Beau Bennett
Metal Universe Precious Metal Gems Green // MU-35 Sidney Crosby
Metal Universe Precious Metal Gems Green // MU-36 Seth Jones
Metal Universe Precious Metal Gems Green // MU-37 Patrick Roy
Metal Universe Precious Metal Gems Green // MU-38 Ryan Strome
Metal Universe Precious Metal Gems Green // MU-39 Cam Neely
Metal Universe Precious Metal Gems Green // MU-40 Morgan Rielly
Metal Universe Precious Metal Gems Green // MU-41 Nicklas Lidstrom
Metal Universe Precious Metal Gems Green // MU-42 Justin Schultz
---
SkyBox Premium 1 Wayne Gretzky
SkyBox Premium 2 Bobby Orr
SkyBox Premium 3 Mario Lemieux
SkyBox Premium 4 Eric Lindros
SkyBox Premium 5 Steve Yzerman
SkyBox Premium 6 Sidney Crosby
SkyBox Premium 7 Alexander Ovechkin
SkyBox Premium 8 Martin St. Louis
SkyBox Premium 9 Jonathan Toews
SkyBox Premium 10 Henrik Lundqvist
SkyBox Premium 11 John Tavares
SkyBox Premium 12 Steven Stamkos
SkyBox Premium 13 Carey Price
SkyBox Premium 14 P.K. Subban
SkyBox Premium 15 Evgeni Malkin
SkyBox Premium – SP's 16 Rick Nash
SkyBox Premium – SP's 17 Ryan Getzlaf
SkyBox Premium – SP's 18 Phil Kessel
SkyBox Premium – SP's 19 Jordan Eberle
SkyBox Premium – SP's 20 Anze Kopitar
SkyBox Premium – SP's 21 Logan Couture
SkyBox Premium – SP's 22 Henrik Zetterberg
SkyBox Premium – SP's 23 Eric Staal
SkyBox Premium – SP's 24 Patrice Bergeron
SkyBox Premium – SP's 25 Martin Brodeur
SkyBox Premium – Prospects 26 Nail Yakupov
SkyBox Premium – Prospects 27 Alex Galchenyuk
SkyBox Premium – Prospects 28 Aleksander Barkov
SkyBox Premium – Prospects 29 Morgan Rielly
SkyBox Premium – Prospects 30 Nikita Kucherov
SkyBox Premium – Prospects 31 Sean Monahan
SkyBox Premium – Prospects 32 Justin Schultz
SkyBox Premium – Prospects 33 Taylor Beck
SkyBox Premium – Prospects 34 Seth Jones
SkyBox Premium – Prospects 35 Mikhail Grigorenko
SkyBox Premium – Prospects 36 Ryan Murray
SkyBox Premium – Prospects 37 Tomas Hertl
SkyBox Premium – Prospects 38 Dougie Hamilton
SkyBox Premium – Prospects 39 Philipp Grubauer
SkyBox Premium – Prospects 40 Valeri Nichushkin
SkyBox Premium – Prospects 41 Zemgus Girgensons
SkyBox Premium – Prospects 42 Nathan MacKinnon
SkyBox Premium – Prospects 43 Olli Maatta
SkyBox Premium – Prospects 44 Jonathan Huberdeau
SkyBox Premium – Prospects 45 Brendan Gallagher
---
SkyBox Premium Star Rubies // 1 Wayne Gretzky
SkyBox Premium Star Rubies // 2 Bobby Orr
SkyBox Premium Star Rubies // 3 Mario Lemieux
SkyBox Premium Star Rubies // 4 Eric Lindros
SkyBox Premium Star Rubies // 5 Steve Yzerman
SkyBox Premium Star Rubies // 6 Sidney Crosby
SkyBox Premium Star Rubies // 7 Alexander Ovechkin
SkyBox Premium Star Rubies // 8 Martin St. Louis
SkyBox Premium Star Rubies // 9 Jonathan Toews
SkyBox Premium Star Rubies // 10 Henrik Lundqvist
SkyBox Premium Star Rubies // 11 John Tavares
SkyBox Premium Star Rubies // 12 Steven Stamkos
SkyBox Premium Star Rubies // 13 Carey Price
SkyBox Premium Star Rubies // 14 P.K. Subban
SkyBox Premium Star Rubies // 15 Evgeni Malkin
SkyBox Premium Star Rubies // 16 Rick Nash
SkyBox Premium Star Rubies // 17 Ryan Getzlaf
SkyBox Premium Star Rubies // 18 Phil Kessel
SkyBox Premium Star Rubies // 19 Jordan Eberle
SkyBox Premium Star Rubies // 20 Anze Kopitar
SkyBox Premium Star Rubies // 21 Logan Couture
SkyBox Premium Star Rubies // 22 Henrik Zetterberg
SkyBox Premium Star Rubies // 23 Eric Staal
SkyBox Premium Star Rubies // 24 Patrice Bergeron
SkyBox Premium Star Rubies // 25 Martin Brodeur
SkyBox Premium Star Rubies // – Prospects 26 Nail Yakupov
SkyBox Premium Star Rubies // – Prospects 27 Alex Galchenyuk
SkyBox Premium Star Rubies // – Prospects 28 Aleksander Barkov
SkyBox Premium Star Rubies // – Prospects 29 Morgan Rielly
SkyBox Premium Star Rubies // – Prospects 30 Nikita Kucherov
SkyBox Premium Star Rubies // – Prospects 31 Sean Monahan
SkyBox Premium Star Rubies // – Prospects 32 Justin Schultz
SkyBox Premium Star Rubies // – Prospects 33 Taylor Beck
SkyBox Premium Star Rubies // – Prospects 34 Seth Jones
SkyBox Premium Star Rubies // – Prospects 35 Mikhail Grigorenko
SkyBox Premium Star Rubies // – Prospects 36 Ryan Murray
SkyBox Premium Star Rubies // – Prospects 37 Tomas Hertl
SkyBox Premium Star Rubies // – Prospects 38 Dougie Hamilton
SkyBox Premium Star Rubies // – Prospects 39 Philipp Grubauer
SkyBox Premium Star Rubies // – Prospects 40 Valeri Nichushkin
SkyBox Premium Star Rubies // – Prospects 41 Zemgus Girgensons
SkyBox Premium Star Rubies // – Prospects 42 Nathan MacKinnon
SkyBox Premium Star Rubies // – Prospects 43 Olli Maatta
SkyBox Premium Star Rubies // – Prospects 44 Jonathan Huberdeau
SkyBox Premium Star Rubies // – Prospects 45 Brendan Gallagher
---
SkyBox Premium Sparkling Diamond // 1 Wayne Gretzky
SkyBox Premium Sparkling Diamond // 2 Bobby Orr
SkyBox Premium Sparkling Diamond // 3 Mario Lemieux
SkyBox Premium Sparkling Diamond // 4 Eric Lindros
SkyBox Premium Sparkling Diamond // 5 Steve Yzerman
SkyBox Premium Sparkling Diamond // 6 Sidney Crosby
SkyBox Premium Sparkling Diamond // 7 Alexander Ovechkin
SkyBox Premium Sparkling Diamond // 8 Martin St. Louis
SkyBox Premium Sparkling Diamond // 9 Jonathan Toews
SkyBox Premium Sparkling Diamond // 10 Henrik Lundqvist
SkyBox Premium Sparkling Diamond // 11 John Tavares
SkyBox Premium Sparkling Diamond // 12 Steven Stamkos
SkyBox Premium Sparkling Diamond // 13 Carey Price
SkyBox Premium Sparkling Diamond // 14 P.K. Subban
SkyBox Premium Sparkling Diamond // 15 Evgeni Malkin
SkyBox Premium Sparkling Diamond // 16 Rick Nash
SkyBox Premium Sparkling Diamond // 17 Ryan Getzlaf
SkyBox Premium Sparkling Diamond // 18 Phil Kessel
SkyBox Premium Sparkling Diamond // 19 Jordan Eberle
SkyBox Premium Sparkling Diamond // 20 Anze Kopitar
SkyBox Premium Sparkling Diamond // 21 Logan Couture
SkyBox Premium Sparkling Diamond // 22 Henrik Zetterberg
SkyBox Premium Sparkling Diamond // 23 Eric Staal
SkyBox Premium Sparkling Diamond // 24 Patrice Bergeron
SkyBox Premium Sparkling Diamond // 25 Martin Brodeur
SkyBox Premium Sparkling Diamond // – Prospects 26 Nail Yakupov
SkyBox Premium Sparkling Diamond // – Prospects 27 Alex Galchenyuk
SkyBox Premium Sparkling Diamond // – Prospects 28 Aleksander Barkov
SkyBox Premium Sparkling Diamond // – Prospects 29 Morgan Rielly
SkyBox Premium Sparkling Diamond // – Prospects 30 Nikita Kucherov
SkyBox Premium Sparkling Diamond // – Prospects 31 Sean Monahan
SkyBox Premium Sparkling Diamond // – Prospects 32 Justin Schultz
SkyBox Premium Sparkling Diamond // – Prospects 33 Taylor Beck
SkyBox Premium Sparkling Diamond // – Prospects 34 Seth Jones
SkyBox Premium Sparkling Diamond // – Prospects 35 Mikhail Grigorenko
SkyBox Premium Sparkling Diamond // – Prospects 36 Ryan Murray
SkyBox Premium Sparkling Diamond // – Prospects 37 Tomas Hertl
SkyBox Premium Sparkling Diamond // – Prospects 38 Dougie Hamilton
SkyBox Premium Sparkling Diamond // – Prospects 39 Philipp Grubauer
SkyBox Premium Sparkling Diamond // – Prospects 40 Valeri Nichushkin
SkyBox Premium Sparkling Diamond // – Prospects 41 Zemgus Girgensons
SkyBox Premium Sparkling Diamond // – Prospects 42 Nathan MacKinnon
SkyBox Premium Sparkling Diamond // – Prospects 43 Olli Maatta
SkyBox Premium Sparkling Diamond // – Prospects 44 Jonathan Huberdeau
SkyBox Premium Sparkling Diamond // – Prospects 45 Brendan Gallagher
---
Ultra 1 Wayne Gretzky
Ultra 2 Bobby Orr
Ultra 3 Mario Lemieux
Ultra 4 Peter Forsberg
Ultra 5 Steve Yzerman
Ultra 6 Patrick Roy
Ultra 7 Bobby Clarke
Ultra 8 Bobby Hull
Ultra 9 Mike Bossy
Ultra 10 Grant Fuhr
Ultra 11 Sidney Crosby
Ultra 12 Alexander Ovechkin
Ultra 13 Ryan Nugent-Hopkins
Ultra 14 Jonathan Toews
Ultra 15 Henrik Lundqvist
Ultra 16 John Tavares
Ultra 17 Steven Stamkos
Ultra 18 Carey Price
Ultra 19 P.K. Subban
Ultra 20 Evgeni Malkin
Ultra 21 Rick Nash
Ultra 22 Teemu Selanne
Ultra 23 Phil Kessel
Ultra 24 Jordan Eberle
Ultra 25 Anze Kopitar
Ultra – SP's 26 Logan Couture
Ultra – SP's 27 Henrik Zetterberg
Ultra – SP's 28 Eric Staal
Ultra – SP's 29 Patrice Bergeron
Ultra – SP's 30 Martin Brodeur
Ultra – SP's 31 Drew Doughty
Ultra – SP's 32 Claude Giroux
Ultra – SP's 33 Tuukka Rask
Ultra – SP's 34 Marian Gaborik
Ultra – SP's 35 Pavel Datsyuk
Ultra – Rookies 36 Nail Yakupov
Ultra – Rookies 37 Alex Galchenyuk
Ultra – Rookies 38 Jonathan Huberdeau
Ultra – Rookies 39 Brendan Gallagher
Ultra – Rookies 40 Cory Conacher
Ultra – Rookies 41 Aleksander Barkov
Ultra – Rookies 42 Justin Schultz
Ultra – Rookies 43 Vladimir Tarasenko
Ultra – Rookies 44 Mikael Granlund
Ultra – Rookies 45 John Gibson
Ultra – Rookies 46 Elias Lindholm
Ultra – Rookies 47 Charlie Coyle
Ultra – Rookies 48 Dougie Hamilton
Ultra – Rookies 49 Linden Vey
Ultra – Rookies 50 Jon Merrill
Ultra – Rookies 51 Tyler Toffoli
Ultra – Rookies 52 Sean Monahan
Ultra – Rookies 53 Ryan Murray
Ultra – Rookies 54 Tomas Hertl
Ultra – Rookies 55 Valeri Nichushkin
Ultra – Rookies 56 J.T. Miller
Ultra – Rookies 57 Nikita Zadorov
Ultra – Rookies 58 Jonas Brodin
Ultra – Rookies 59 Filip Forsberg
Ultra – Rookies 60 Ryan Strome
Ultra – Rookies 61 Martin Jones
Ultra – Rookies 62 Seth Jones
Ultra – Rookies 63 Nathan MacKinnon
Ultra – Rookies 64 Jacob Trouba
Ultra – Rookies 65 Morgan Rielly
---
Ultra Red Medallion // 1 Wayne Gretzky
Ultra Red Medallion // 2 Bobby Orr
Ultra Red Medallion // 3 Mario Lemieux
Ultra Red Medallion // 4 Peter Forsberg
Ultra Red Medallion // 5 Steve Yzerman
Ultra Red Medallion // 6 Patrick Roy
Ultra Red Medallion // 7 Bobby Clarke
Ultra Red Medallion // 8 Bobby Hull
Ultra Red Medallion // 9 Mike Bossy
Ultra Red Medallion // 10 Grant Fuhr
Ultra Red Medallion // 11 Sidney Crosby
Ultra Red Medallion // 12 Alexander Ovechkin
Ultra Red Medallion // 13 Ryan Nugent-Hopkins
Ultra Red Medallion // 14 Jonathan Toews
Ultra Red Medallion // 15 Henrik Lundqvist
Ultra Red Medallion // 16 John Tavares
Ultra Red Medallion // 17 Steven Stamkos
Ultra Red Medallion // 18 Carey Price
Ultra Red Medallion // 19 P.K. Subban
Ultra Red Medallion // 20 Evgeni Malkin
Ultra Red Medallion // 21 Rick Nash
Ultra Red Medallion // 22 Teemu Selanne
Ultra Red Medallion // 23 Phil Kessel
Ultra Red Medallion // 24 Jordan Eberle
Ultra Red Medallion // 25 Anze Kopitar
Ultra Red Medallion // 26 Logan Couture
Ultra Red Medallion // 27 Henrik Zetterberg
Ultra Red Medallion // 28 Eric Staal
Ultra Red Medallion // 29 Patrice Bergeron
Ultra Red Medallion // 30 Martin Brodeur
Ultra Red Medallion // 31 Drew Doughty
Ultra Red Medallion // 32 Claude Giroux
Ultra Red Medallion // 33 Tuukka Rask
Ultra Red Medallion // 34 Marian Gaborik
Ultra Red Medallion // 35 Pavel Datsyuk
Ultra Red Medallion // – Rookies 36 Nail Yakupov
Ultra Red Medallion // – Rookies 37 Alex Galchenyuk
Ultra Red Medallion // – Rookies 38 Jonathan Huberdeau
Ultra Red Medallion // – Rookies 39 Brendan Gallagher
Ultra Red Medallion // – Rookies 40 Cory Conacher
Ultra Red Medallion // – Rookies 41 Aleksander Barkov
Ultra Red Medallion // – Rookies 42 Justin Schultz
Ultra Red Medallion // – Rookies 43 Vladimir Tarasenko
Ultra Red Medallion // – Rookies 44 Mikael Granlund
Ultra Red Medallion // – Rookies 45 John Gibson
Ultra Red Medallion // – Rookies 46 Elias Lindholm
Ultra Red Medallion // – Rookies 47 Charlie Coyle
Ultra Red Medallion // – Rookies 48 Dougie Hamilton
Ultra Red Medallion // – Rookies 49 Linden Vey
Ultra Red Medallion // – Rookies 50 Jon Merrill
Ultra Red Medallion // – Rookies 51 Tyler Toffoli
Ultra Red Medallion // – Rookies 52 Sean Monahan
Ultra Red Medallion // – Rookies 53 Ryan Murray
Ultra Red Medallion // – Rookies 54 Tomas Hertl
Ultra Red Medallion // – Rookies 55 Valeri Nichushkin
Ultra Red Medallion // – Rookies 56 J.T. Miller
Ultra Red Medallion // – Rookies 57 Nikita Zadorov
Ultra Red Medallion // – Rookies 58 Jonas Brodin
Ultra Red Medallion // – Rookies 59 Filip Forsberg
Ultra Red Medallion // – Rookies 60 Ryan Strome
Ultra Red Medallion // – Rookies 61 Martin Jones
Ultra Red Medallion // – Rookies 62 Seth Jones
Ultra Red Medallion // – Rookies 63 Nathan MacKinnon
Ultra Red Medallion // – Rookies 64 Jacob Trouba
Ultra Red Medallion // – Rookies 65 Morgan Rielly
---
Ultra Platinum Medallion // 1 Wayne Gretzky
Ultra Platinum Medallion // 2 Bobby Orr
Ultra Platinum Medallion // 3 Mario Lemieux
Ultra Platinum Medallion // 4 Peter Forsberg
Ultra Platinum Medallion // 5 Steve Yzerman
Ultra Platinum Medallion // 6 Patrick Roy
Ultra Platinum Medallion // 7 Bobby Clarke
Ultra Platinum Medallion // 8 Bobby Hull
Ultra Platinum Medallion // 9 Mike Bossy
Ultra Platinum Medallion // 10 Grant Fuhr
Ultra Platinum Medallion // 11 Sidney Crosby
Ultra Platinum Medallion // 12 Alexander Ovechkin
Ultra Platinum Medallion // 13 Ryan Nugent-Hopkins
Ultra Platinum Medallion // 14 Jonathan Toews
Ultra Platinum Medallion // 15 Henrik Lundqvist
Ultra Platinum Medallion // 16 John Tavares
Ultra Platinum Medallion // 17 Steven Stamkos
Ultra Platinum Medallion // 18 Carey Price
Ultra Platinum Medallion // 19 P.K. Subban
Ultra Platinum Medallion // 20 Evgeni Malkin
Ultra Platinum Medallion // 21 Rick Nash
Ultra Platinum Medallion // 22 Teemu Selanne
Ultra Platinum Medallion // 23 Phil Kessel
Ultra Platinum Medallion // 24 Jordan Eberle
Ultra Platinum Medallion // 25 Anze Kopitar
Ultra Platinum Medallion // 26 Logan Couture
Ultra Platinum Medallion // 27 Henrik Zetterberg
Ultra Platinum Medallion // 28 Eric Staal
Ultra Platinum Medallion // 29 Patrice Bergeron
Ultra Platinum Medallion // 30 Martin Brodeur
Ultra Platinum Medallion // 31 Drew Doughty
Ultra Platinum Medallion // 32 Claude Giroux
Ultra Platinum Medallion // 33 Tuukka Rask
Ultra Platinum Medallion // 34 Marian Gaborik
Ultra Platinum Medallion // 35 Pavel Datsyuk
Ultra Platinum Medallion // – Rookies 36 Nail Yakupov
Ultra Platinum Medallion // – Rookies 37 Alex Galchenyuk
Ultra Platinum Medallion // – Rookies 38 Jonathan Huberdeau
Ultra Platinum Medallion // – Rookies 39 Brendan Gallagher
Ultra Platinum Medallion // – Rookies 40 Cory Conacher
Ultra Platinum Medallion // – Rookies 41 Aleksander Barkov
Ultra Platinum Medallion // – Rookies 42 Justin Schultz
Ultra Platinum Medallion // – Rookies 43 Vladimir Tarasenko
Ultra Platinum Medallion // – Rookies 44 Mikael Granlund
Ultra Platinum Medallion // – Rookies 45 John Gibson
Ultra Platinum Medallion // – Rookies 46 Elias Lindholm
Ultra Platinum Medallion // – Rookies 47 Charlie Coyle
Ultra Platinum Medallion // – Rookies 48 Dougie Hamilton
Ultra Platinum Medallion // – Rookies 49 Linden Vey
Ultra Platinum Medallion // – Rookies 50 Jon Merrill
Ultra Platinum Medallion // – Rookies 51 Tyler Toffoli
Ultra Platinum Medallion // – Rookies 52 Sean Monahan
Ultra Platinum Medallion // – Rookies 53 Ryan Murray
Ultra Platinum Medallion // – Rookies 54 Tomas Hertl
Ultra Platinum Medallion // – Rookies 55 Valeri Nichushkin
Ultra Platinum Medallion // – Rookies 56 J.T. Miller
Ultra Platinum Medallion // – Rookies 57 Nikita Zadorov
Ultra Platinum Medallion // – Rookies 58 Jonas Brodin
Ultra Platinum Medallion // – Rookies 59 Filip Forsberg
Ultra Platinum Medallion // – Rookies 60 Ryan Strome
Ultra Platinum Medallion // – Rookies 61 Martin Jones
Ultra Platinum Medallion // – Rookies 62 Seth Jones
Ultra Platinum Medallion // – Rookies 63 Nathan MacKinnon
Ultra Platinum Medallion // – Rookies 64 Jacob Trouba
Ultra Platinum Medallion // – Rookies 65 Morgan Rielly