UD Canvas marathon added to Upper Deck e-Pack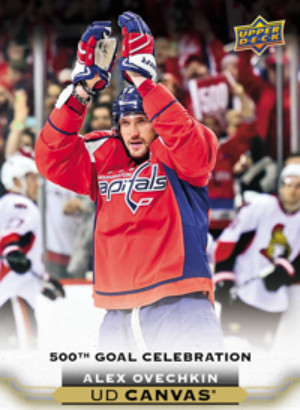 By Stephen Laroche | Beckett Hockey Editor
With 2015-16 Upper Deck Series Two Hockey reaching store shelves this week and hitting the virtual world via the company's e-Pack website in the near future, fans breaking open packs will be interested to see that not only is there a reward for completing the full foil board parallel set, but also for those that put together an online version of the complete UD Canvas set.
Collectors who manage to collect all 270 UD Canvas cards and keep them all in their e-Pack account by 11:59 p.m. PST on August 31 will receive a physical three-card UD Canvas Season Highlights set. Once in their collections, there is an option to sell them via Check Out My Cards or to receive them directly through the mail.
Putting a set of UD Canvas cards via e-Pack will not be an easy task. The first 120 cards are presently available in 2015-16 Upper Deck Series One packs while supplies last. Cards 1-90 come once in every seven packs on average while the UD Canvas Young Guns are much more challenging at 1:48. Once Series Two comes out, the new base UD Canvas cards (121-210) and UD Canvas Young Guns (211-240) will be available at similar ratios, but there will be 30 additional cards that are even tougher to pull (1:192) that are split between legends and current rookies in Team Canada colors. Once Upper Deck adds a trading component for e-Pack collectors, assembling a set will become a bit easier.
While Upper Deck has not released the checklist for the three marathon reward cards, the first card was teased on the e-Pack website. Commemorating Alex Ovechkin's 500th career goal, the photo shows him celebrating the achievement while facing the Ottawa Senators on home ice back on January 10.
Stephen Laroche is the editor of Beckett Hockey, Beckett Basketball, and Beckett Sports Card Monthly magazines. Have a comment, question or idea? Send an e-mail to him at slaroche@beckett.com or follow him on Twitter @Stephen_Laroche.