Topps Adds Baseball Twist to 2015 Garbage Pail Kids
Topps is adding a touch of the national pastime to its Kids. They're the Garbage Pail Kids as the company revealed that it will be meshing baseball with those memorable characters from the non-sports world in 2015 Topps Garbage Pail Kids.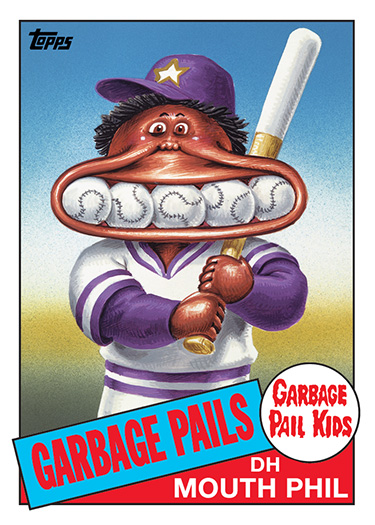 There will be three types of baseball-related stickers to be found regularly — All-Stars (past Kids found playing the game two per box), 10 Mascot stickers and 10 cards with nods to the 1985 Topps baseball design.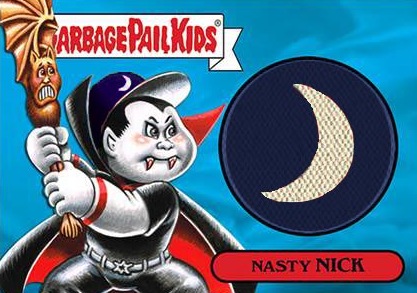 The brand will have a hobby Collector Pack version ($5 suggested retail price) where each pack will contain three stickers along with one parallel or insert, one red metallic parallel and one canvas parallel card. The other version ($2.50 SRP) will have nine stickers and one parallel or insert card per pack. Both editions will have 24 packs per box.
Among the cards in the product are 66 characters (each with two name versions). There will be Black parallels found in every other pack, Silvers found one per hobby box and Golds that are limited to just 85 cards per subject. There also will be Sepia parallels found one per Collector Pack box. Also found in these packs will be Character Back cards that have a selection of faces on the back instead of the standard design.
There also will be eight hobby-only bonus cards and 11 baseball subset cards with alternate names. Those cards, which carry the 1952 Topps baseball design, will be found in every 1o0th pack or approximately one per case in the Collector Pack version. There will be patch relics for selected baseball GPKs with 90 cards made per subject using GPK team logos.
Hits-wise there will be diecut sketch cards, artist autographs and printing plates for collectors to chase. Collectors will find one manufactured patch, hobby-only diecut sketches, plate or autograph in every hobby box.