Those '70s Shows: Topps Television Trading Cards of the 1970s
Television viewing was a lot different in the 1970s and VCRs were just appearing on the market, but only for the very wealthy. Cable TV was in its infancy, no DVD, no Netflix. Viewers watched shows on their local channels when they ran, and they liked it! TV shows then were pretty simple, not much for special effects. The jokes were corny but clean, and every show had a happy ending. It was a different time and those who viewed these shows remember them fondly.
Many of these shows were per- fect for the trading card treatment, and Topps was happy to oblige.
Here is a look at four hit series that appeared in Topps inventory in the late 1970s.
It's Not Easy Being Green – The Incredible Hulk (1979)
The Hulk appears often in Marvel films, but his first live action appearance was in 1977 on CBS. The Incredible Hulk starred Bill Bixby as Dr. David Banner, and bodybuilder Lou Ferrigno as Banner's alter ego, The Hulk. The show ended in 1982 without ever answering the question of how many shirts Banner went through a week.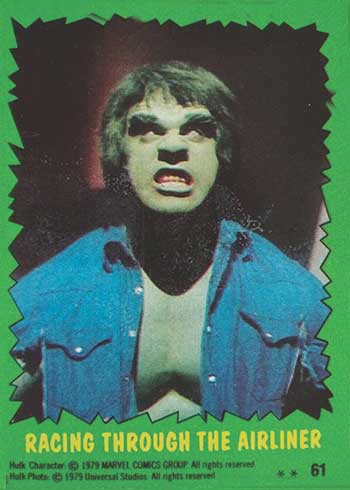 Topps issued a set of 88-base cards and 22 stickers. Cards have puzzle backs, 10 with TV Facts. The green border design was also used on 2022 Throwback Thursday Baseball cards by Topps. The stickers are numbered and many show scenes from the base set.
Come and Knock on Our Door – Three's Company (1978)
Premiering in March, 1977 as a mid-season replacement, Three's Companybecame an instant hit and ran for seven years. Starring Joyce DeWitt as the perky brunette, Suzanne Sommers as the ditzy blonde, and John Ritter as the desperate guy who wanted to date either of his beauti- ful roommates. All this while he was trying to pretend he was gay to fool the landlord, Norman Fell. Hilarity, as they say, ensued.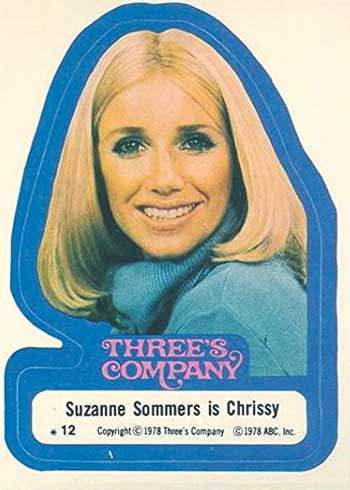 The Three's Company set was unusual in that the base set was 44 stickers, and 16-cards with puzzles on both sides of Chrissy (Sommers), who became the runaway star of the show. The first 28 stickers are publicity shots, often with the typical colored borders. The remaining stickers have scenes from the show with captions. Today, the stickers are still easily found; the puzzle cards are harder to complete.
Dyn-O-Mite! – Good Times (1975)
This 1974 show was a spin-off of Maude, itself a spin-off of Allinthe Family. It was about the Evans family (John Amos and Esther Rolle), a hard-working couple struggling to raise three children (Ralph Carter, Bern Nadette Stanis and Jimmie Walker) in Chicago's Cabrini-Green project. The show was meant to focus more on the parents, however audiences took to Walker, a standup comedian whose facial expressions and delivery of his catchphrase "Dyn-O-Mite!" propelled him to fame. The show would run until 1979.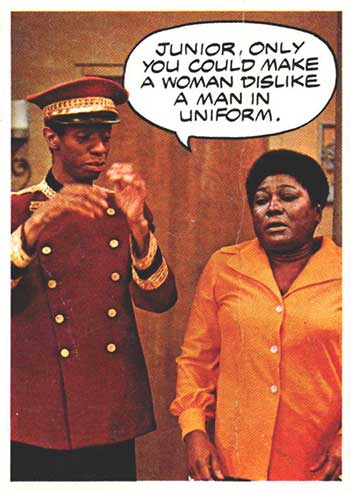 Topps 1975 release of Good Times featured a 55-card base set with 21 stickers. The cards featured scenes from episodes, with cartoon bubble jokes like Walker saying "My report card's underwater again, below C level"! Backs are 44 puzzle pieces and the rest are Behind the Scenes facts. The harder to find stickers have head shots of the cast and are blank-backed.
Up Your Nose with a Rubber Hose – Welcome Back Kotter (1976)
This show, which ran from 1975 to 1979, featured stand-up comedian Gabe Kaplan as a teacher returning to his old high school where he is assigned a class of misfits called "the Sweathogs." This wayward group included Vinnie Barbarino (John Travolta, in one of his earliest roles), Juan Epstein (Robert Hegyes), Freddy "Boom Boom" Washington (Lawrence Hilton-Jacobs), and Arnold Horshack (Ron Palillo). Kaplan out-wisecracks the Sweathogs and gains their respect. The show is based on Kaplan's real-life experiences.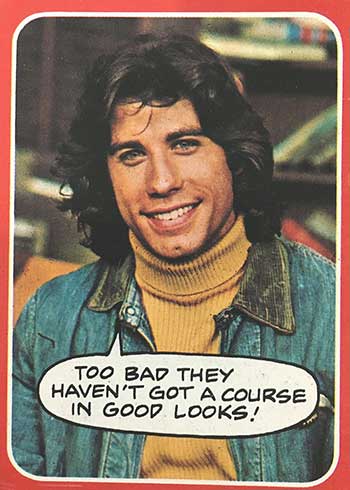 Topps Welcome Back Kotter trading cards is a small set with, oddly, 53 cards and no stickers. Text is a cartoon bubble on front, e.g. card #1 "Up your nose with a rubber hose!" (a popular Barbarino quote). Eight card backs made up a puzzle, the rest were "The Sweathogs Speak" with jokes like: Mr. Kotter: "What have you got against arithmetic?" Washington: "Nothing that would hold up in court!"
These sets may never become hot collectibles; their real value is their nostalgia. They are still easily found and for collectors who can overlook minor gum stains or off-centering otherwise excellent examples abound.