1975 Donruss Truckin' Checklist and Trading Cards Details
History is a big part of what the hobby focuses and thrives on. Look back on today's cards in 40 years and they'll be a time capsule to the way things used to be. Sift through a stack of vintage cards now and you're likely to be taken back to a time when movies were a lot cheaper, televisions were much smaller and the foggy memories of walking to school seem to go uphill both ways. This idea isn't just in sports cards, though. It carries over into non-sport side as well. 1975 Donruss Truckin' trading cards are a perfect example of that, showcasing some out-there vehicles from a time when gas about $0.60 a gallon and it wasn't considered creepy to have curtains in the windows of your van.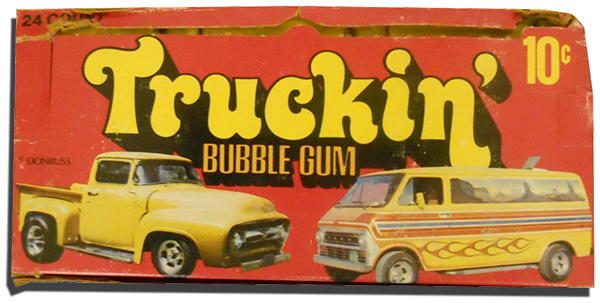 1975 Donruss Truckin' Overview
The set has 44 cards that come together like a fancy truck show. Each card showcases a collector's custom truck or van. Interesting models, out-there paint jobs and plenty of over-sized lowriders come together to fill out the checklist.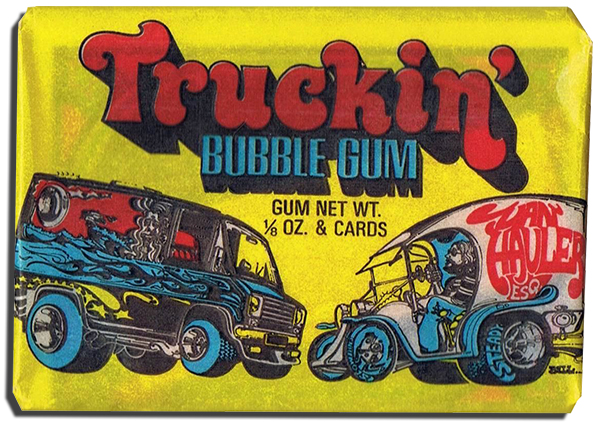 The design is psychedelic, just like the airbrushed panels on many of the vehicles. The center of the card is a glamor shot of the featured vehicle. These alone show the age of the set. Everything is big. A lot of the lines are clunky. And the van is usually connected with families now, something that definitely isn't the case with these customs. Borders use bright colors and stars in such a way that they could give 1972 Topps Baseball a run for the title of "Most '70s Looking Trading Card Set."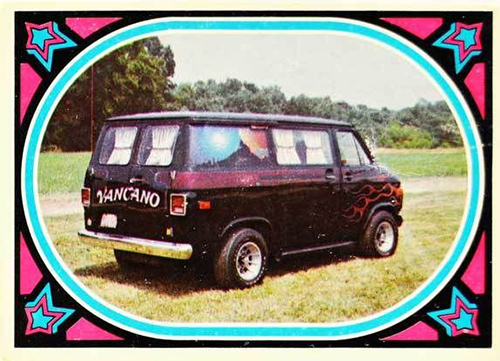 The descriptions fall in line as well. Here's what the back of this card says:
This sharp '73 Chevy van features balanced Corvette 350 engine, hooker pipes, American vector mags. Interior comes complete with kitchen table that seats four and folds down into a double bed. Other highlights are ice box, closet space, CB radio, power seats, and final touch, carpet.
1975 Donruss Truckin' trading cards were made in partnership with Truckin' magazine. At the time, the publication was in its infancy but grew quickly due to the rise in custom trucks and vans. The back of each card not only talk about the featured vehicles, but they also have a subscription offer for the magazine.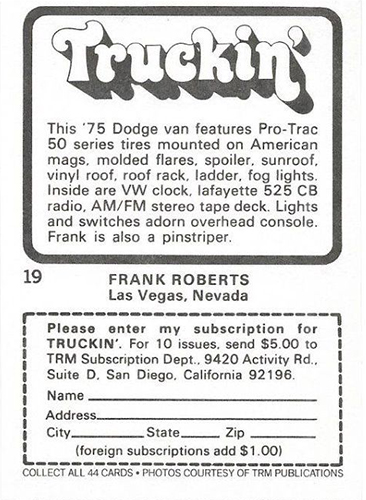 The cards today hold more nostalgic value than monetary. Sets and singles, although not terribly common, can be purchased for reasonable amounts, especially when you consider their age.
1975 Donruss Truckin' Checklist
44 cards.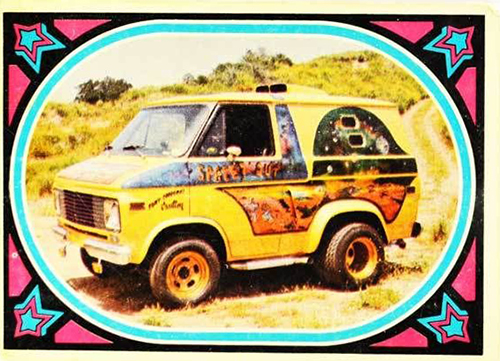 Shop for 1975 Donruss Truckin' trading cards on:
1 1973 Dodge Van
2 1956 Ford F-100
3 1974 Dodge Van
4 1972 Chevy Van
5 1970 Ford Econolpne
6 1956 Ford F-11
7 1970 Datsun Mini-Truck
8 1974 Datsun Super-Mini
9 1974 Ford Van
10 1957 Thames Panel Truck
11 1955 Chevy Stepside
12 Shortened Chevy Van
13 1974 Datsun
14 1971 Ranchero
15 1956 Ford F-100
16 1974 Dodge Van
17 1972 Dodge Van
18 1971 Ford Super Van
19 1975 Dodge Van
20 1956 Ford Panel
21 1973 Dodge Van
22 1970 Dodge
23 1975 Wooden Truck
24 1953 Ford F-100
25 1972 Chevy Van
26 1975 Chevy 4 x 4
27 1972 Courier
28 1974 Luv
29 1971 Dodge Van
30 1956 Ford
31 1973 Chevy Van
32 1956 Ford
33 1956 Ford
34 1935 Chevy 1/2 Ton
35 1951 Ford F-1
36 1956 Ford F-100
37 1974 Dodge Van
38 Ford F-100
39 1957 Chevy
40 1971 Ford
41 1975 Ford Van
42 1971 Dodge Van
43 1972 Chevy Van
44 1972 Chevy Van