This Date in History: Eddie Gaedel Pinch Hits – Beckett Pricing Insider
When it came to mixing baseball with showmanship, St. Louis Browns owner Bill Veeck was the king. The Hall of Famer was famous for his publicity stunts, none more famous than when he sent in Eddie Gaedel to pinch hit.
On August 19th, 1951 Gaedel became the shortest player ever to appear in a Major League Baseball game when he was called upon in the second game of a doubleheader between the Browns and Detroit Tigers.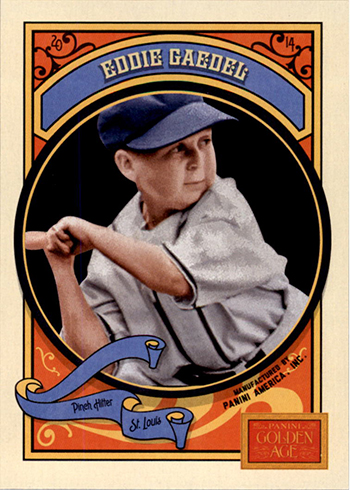 At 3′ 7″ and wearing the uniform number 1/8, Gaedel walked on four straight pitches before being lifted for a pinch runner.
According to Baseball Reference, Gaedel is one of 233 players whose MLB playing career lasted just one plate appearance. Though he would never appear in another game, Gaedel continued to work for Veeck in a promotional capacity until his death in 1961.
While I haven't checked each of the other 232 players with exactly one career plate appearance, I'm confident that none appear on as many trading cards as Eddie Gaedel.
Gaedel has 24 different cards in the Beckett Online Price Guide ranging from 1960 through 2014. None are very valuable, with his 1960 Nu-Card Hi-Lites card topping the list at just $5.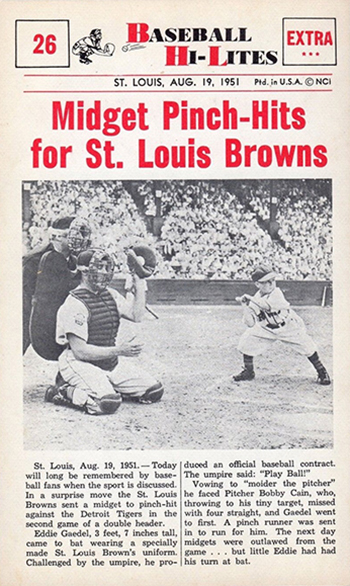 In more recent years, he appeared in the 2006 SP Legendary Cuts and 2014 Panini Golden Age base sets, priced at $0.60 and $0.50, respectively.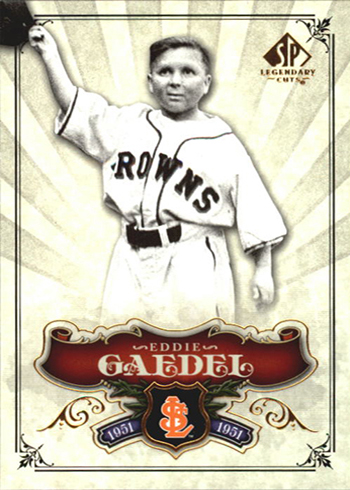 In their Spring 2005 Auction, Robert Edward Auctions sold the only known – at least at the time – signed photo of Eddie Gaedel for $6,960. It's an impressive sum to say the least, but nothing compared to the price paid for the bat used in Gaedel's lone plate appearance. Heritage Auctions sold that piece of baseball history for $44,812 in an August, 2013 auction.
This edition of the Beckett Pricing Insider is sponsored by MN Nice Cards.