Cheap Wax Wednesday Box Breaks: 2000 Pacific Baseball Retail
Just 85 days until Christmas! What does that have to do with anything?? You'll see.
Pacific entered the fully licensed baseball card world in 1993, with a lone flagship release. The number of Pacific releases increased from there and, by 2000, Pacific showcased eight different products: Aurora, Crown Collection, Crown Royale, Invincible, Omega, Pacific, Prism, and Revolution. The producer became known for their creative insert cards.
2000 Pacific Baseball was an early release, hitting shelves in December, 1999. The base set consists of 500 cards — 450 players plus 50 photo variations. The variations are not short prints but simply include a posed photo instead of an action shot. Since the set was released in time for Christmas one of the insert sets was literally Christmas Ornaments. Yes, the shiny die cut cards even came straight out of the pack with a string attached, ready to be hung on the tree.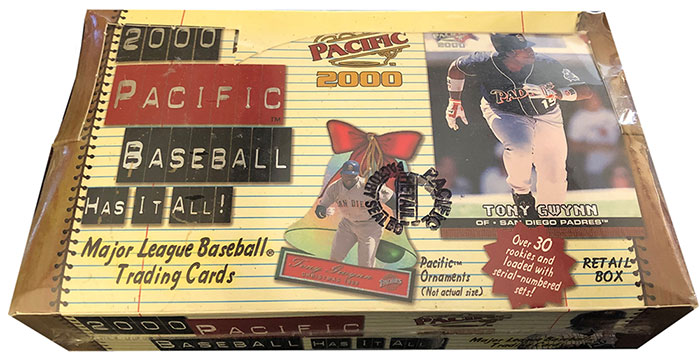 Fun Facts are provided by Bleacher Report National MLB Columnist Joel Reuter. You can follow Joel on Twitter (@JoelReuterBR) and check out his work at Bleacher Report.
2000 Pacific Baseball Retail Box Break
Cards per pack: 12
Packs per box: 24
Price paid: $36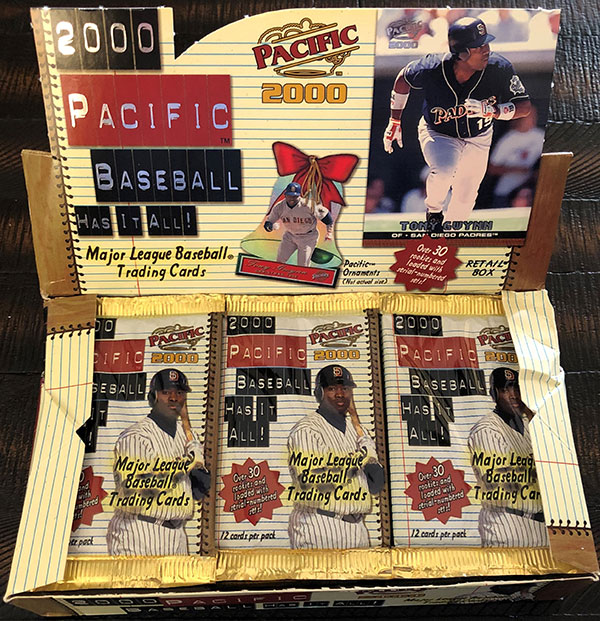 Pack 1 highlights:
Larry Walker, Vernon Wells & Robin Ventura
Pack 1 fun fact: Vernon Wells earned $131.4 million over the course of his 15-year career, enough to make him the 77th-highest earner in MLB history.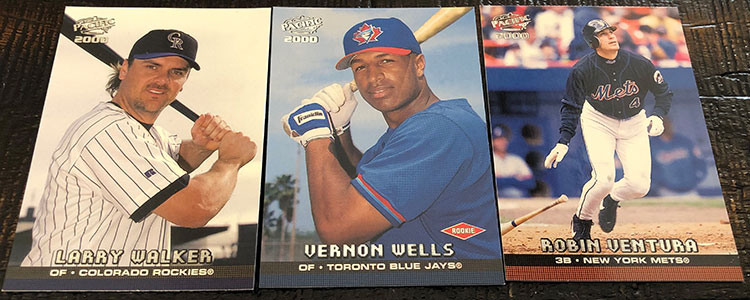 Pack 2:
Mark Grace, Ben Grieve, Kevin Brown & Roy Halladay
Pack 2 fun fact: Roy Halladay had a 10.64 ERA in 67.2 innings during the 2000 season. Two years later he was an All-Star and three years later he won AL Cy Young honors.

Pack 3:
Jim Edmonds, Matt Williams & Nomar Garciaparra
Pack 3 fun fact: Matt Williams set the D-backs single-season record with 142 RBI during the 1999 season. That record was matched by Luis Gonzalez in 2001.

Pack 4:
Jim Thome, Roger Clemens, Alfonso Soriano, Barry Larkin & Roberto Alomar Gold Parallel (034/199)
Pack 4 fun fact: Roberto Alomar hit .323/.405/.515 while averaging 38 doubles, 21 home runs, 103 RBI, 121 runs scored and 35 steals in his three seasons with the Cleveland Indians.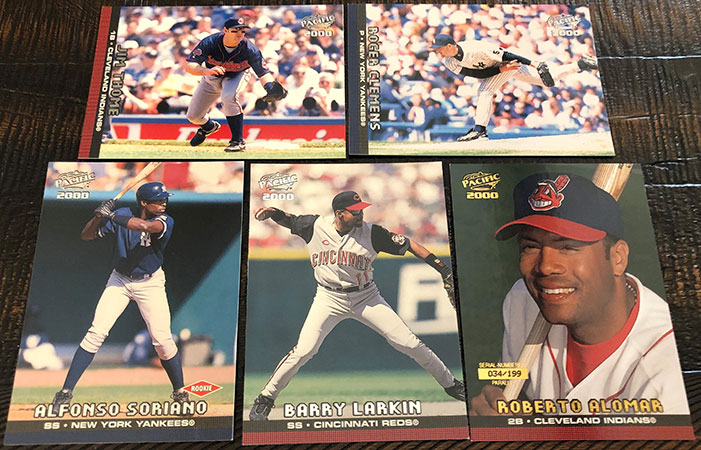 Pack 5:
Mike Piazza, Carlos Lee & Vernon Wells
Pack 5 fun fact: Carlos Lee stole 125 bases in his 14-year MLB career, not something most fans would expect if they only saw the tailend of his career.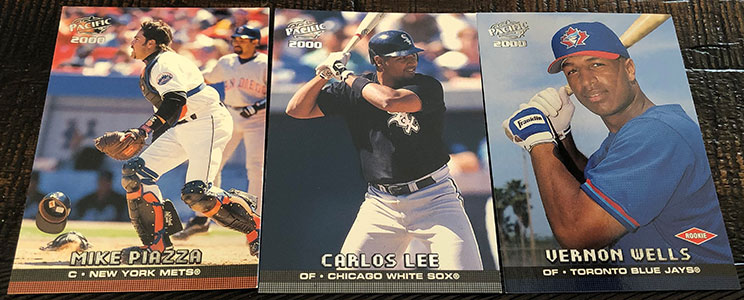 Pack 6:
Ken Caminiti, Cal Ripken, Jr., Derek Lowe, Andruw Jones, Troy Percival & Vaughn/Finley/Anderson/Percival Diamond Leaders (1:12.5 packs)
Pack 6 fun fact: To provide some context to the team leaders insert: Mo Vaughn hit 33 home runs, Garret Anderson batted .303, Chuck Finley had 200 strikeouts and Troy Percival tallied 31 saves for a 70-92 Angels team in 1999.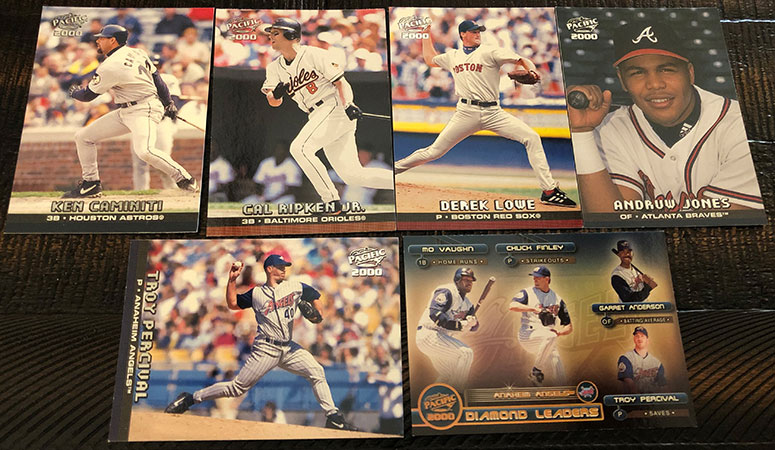 Pack 7:
Chuck Finley, Edgar Renteria, Andruw Jones & Cal Ripken, Jr.
Pack 7 fun fact: Chuck Finley is the Angels' franchise leader in wins (165), starts (379), innings pitched (2,675), and pitcher' WAR (52.0). He joined the Cleveland Indians as a free agent in 2000 after 14 seasons with the Angels.

Pack 8:
Carlos Beltran, Greg Maddux & Mo Vaughn Christmas Ornaments (1:12.5 packs). Have you ever seen anything like it??
Pack 8 fun fact: What in the world? I'm going to need a moment to collect my thoughts.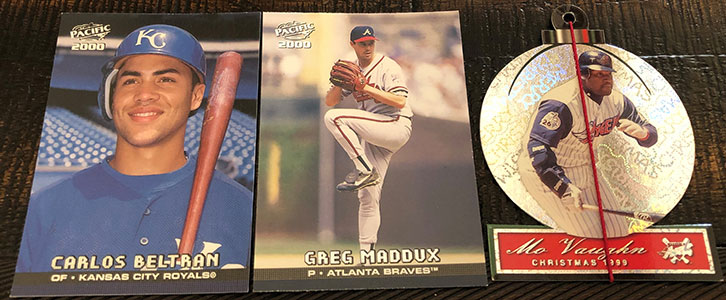 Pack 9:
David Cone, Jermaine Dye, Kenny Lofton & Mark McGwire
Pack 9 fun fact: Mark McGwire hit .302 with 32 home runs in just 321 plate appearances in 2000, posting a 203 OPS+ while earning his final All-Star selection.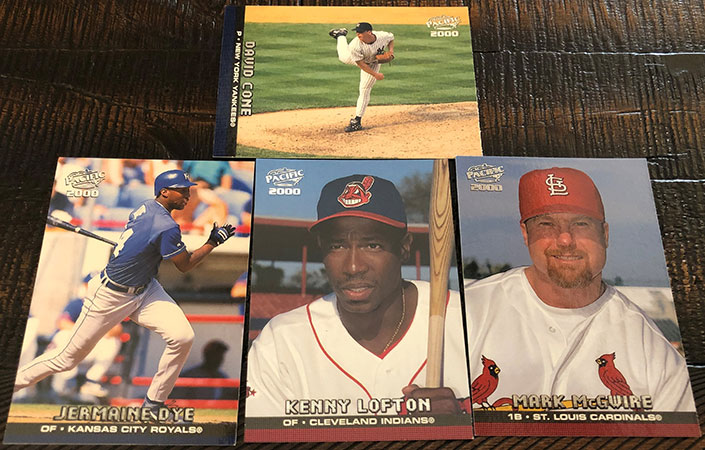 Pack 10:
Randy Johnson, Jay Buhner, Raul Mondesi, Barry Larkin, Andruw Jones & Will Clark Gold Parallel (091/199)
Pack 10 fun fact: At 36 years old, Barry Larkin hit .313/.389/.487 with 42 extra-base hits in 102 games in 2000, earning his fifth and final All-Star Game start.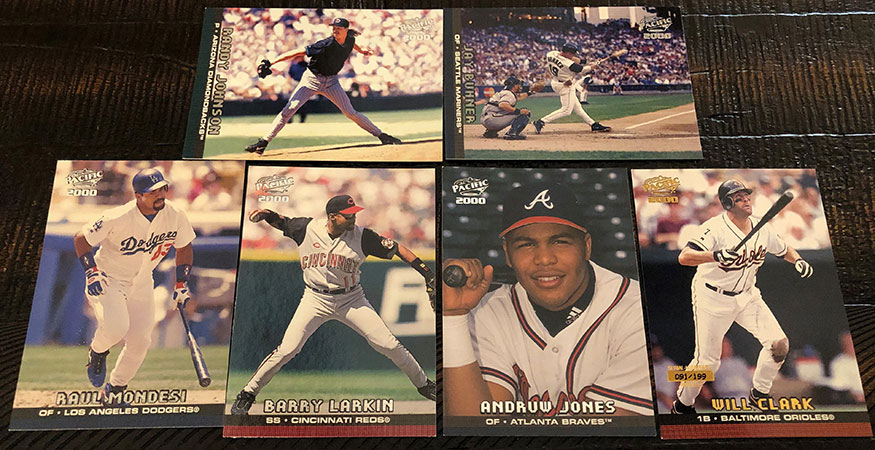 Pack 11:
Tim Hudson, Bernie Williams, Sammy Sosa & Rick Ankiel Gold Parallel (135/199)
Pack 11 fun fact: It's easy to forget how good Rick Ankiel was when he first broke into the big leagues. In 2000, he went 11-7 with a 3.50 ERA and 194 strikeouts in 175 innings to finish runner-up in NL Rookie of the Year voting.

Pack 12:
John Valentine, Mike Lowell, Miguel Tejada, Greg Maddux & Vladimir Guerrero. Two weeks in a row featuring braces. That has to be some kind of record.
Pack 12 fun fact: I can't wait to see who has braces in next week's break. Keep the streak alive, Shane!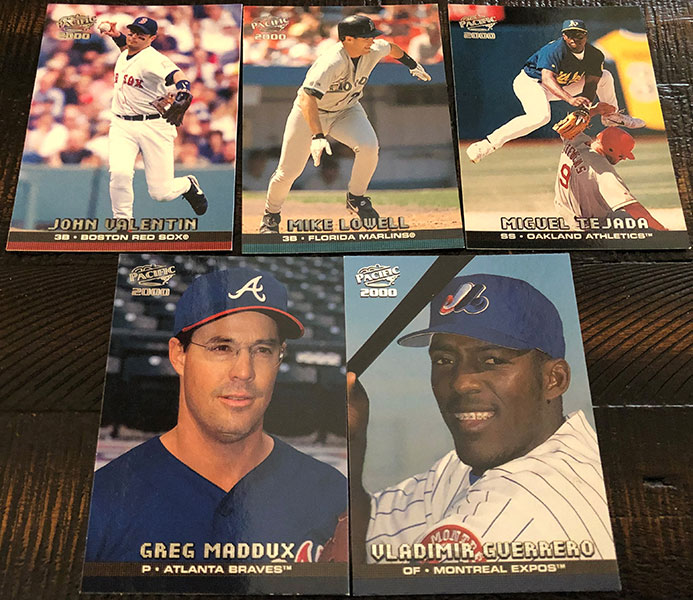 Pack 13:
Eric Gagne, Derek Bell, Darin Erstad & Erstad Variation
Pack 13 fun fact: Eric Gagne was still a starter during the 2000 season, going 4-6 with a 5.15 ERA and 79 strikeouts in 101.1 innings. He made the full-time move to the bullpen in 2002 and his career took off.

Pack 14:
Craig Biggio, Greg Maddux & Rondell White
Pack 14 fun fact: The Expos traded Rondell White to the Cubs at the 2000 trade deadline in exchange for left-hander Scott Downs.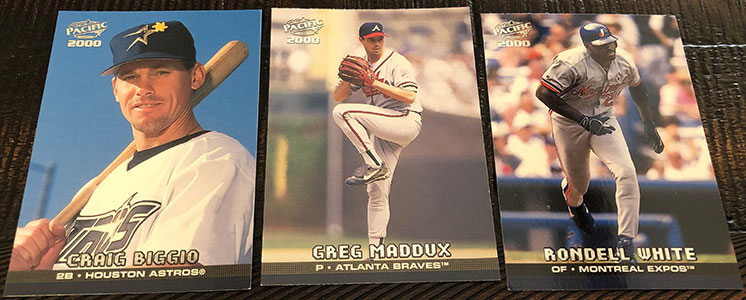 Pack 15:
Kerry Wood, Edgar Renteria, Wally Joyner, Vladimir Guerrero & Sammy Sosa
Pack 15 fun fact: The Padres traded Wally Joyner to the Braves prior to the 2000 season in a six-player blockbuster. The deal also sent Reggie Sanders and Quilvio Veras to Atlanta, and shipped Ryan Klesko, Bret Boone and Jason Shiell to San Diego.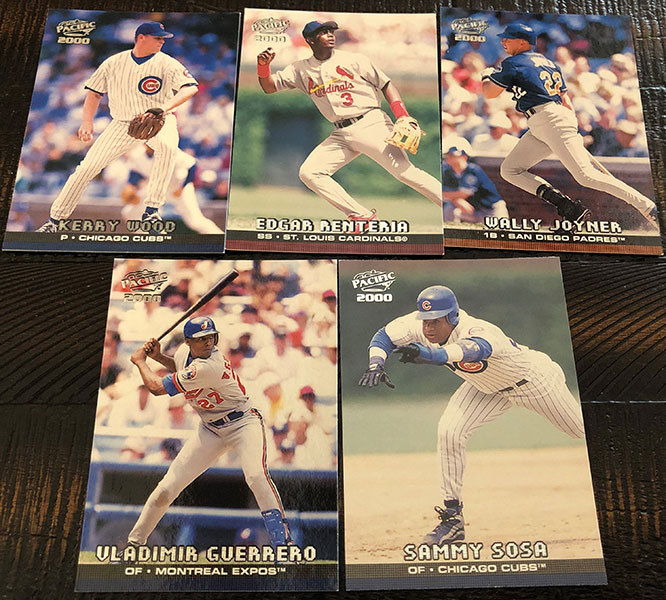 Pack 16:
Mike Cameron, Todd Helton, Eric Davis, Bernie Williams, Kenny Lofton & Jordan/Maddux/Jones Diamond Leaders (1:12.5 packs)
Pack 16 fun fact: Still going strong at the age of 38, Eric Davis hit .303 with 14 doubles, six home runs and a .389 on-base percentage as a part-time player with the Cardinals in 2000.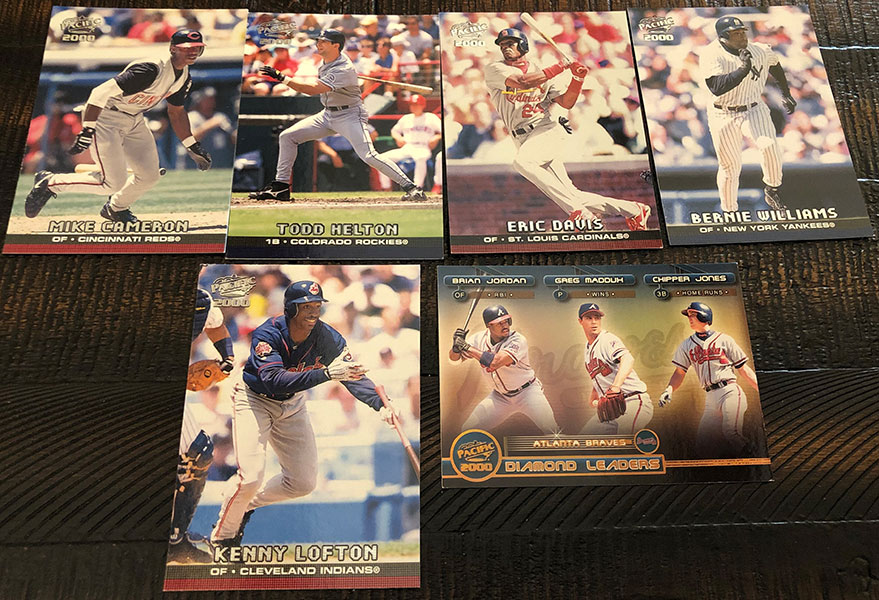 Pack 17:
Raul Mondesi, Chipper Jones, Moises Alou & fellow NH native Chris Carpenter Gold Parallel (151/199)
Pack 17 fun fact: Much like the aforementioned Roy Halladay, fellow Blue Jays up-and-comer Chris Carpenter also struggled in 2000. He posted a 6.26 ERA in 175.1 innings.

Pack 18:
Jason Varitek, Cal Ripken, Jr., Barry Bonds & Scott Rolen Christmas Ornaments (1:12.5 packs). It can be tough to find the Ornaments inserts in good condition because of the nature of the die cuts and because of the attached string.
Pack 18 fun fact: Another one? My brain had just recovered from the first one. I can't decide if they're the most absurd thing I've ever seen or if I absolutely have to have the entire set on this year's tree.

Pack 19:
Derek Jeter, Pedro Martinez, Magglio Ordonez & Ordonez Platinum Blue Parallel (35/75)
Pack 19 fun fact: At his peak, Magglio Ordonez was one of the most dangerous hitters in baseball. He hit .315/.371/.546 with 34 doubles, 32 home runs and 126 RBI in 2000, adding 18 steals for good measure.

Pack 20:
Omar Vizquel, Roberto Alomar & J.D. Drew. Imagine how good that Indians middle infield was with Vizquel and Alomar.
Pack 20 fun fact: Roberto Alomar and Omar Vizquel both won the Gold Glove in all three of their seasons as teammates. Alomar finished his career with 10 Gold Glove Awards and Vizquel took home 11.

Pack 21:
A couple of Jeffs; Kent & Bagwell
Pack 21 fun fact: Jeff Kent won his MVP award in 2000, hitting .334/.424/.596 with 41 doubles, 33 home runs and 125 RBI.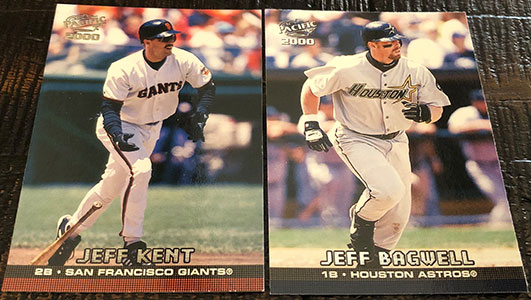 Pack 22:
Rafael Palmeiro & Jose Canseco
Pack 22 fun fact: Rafael Palmeiro never led the league in home runs during his 20-year career, despite hitting 569 long balls.
Pack 23:
Shawn Green, Bartolo Colon, Fred McGriff & Matt Williams Gold Crown Die Cuts (1:25 packs)
Pack 23 fun fact: Fred McGriff hit .277 with 27 home runs and 106 RBI in 2000 to make his final All-Star appearance in his age-36 season.

Pack 24:
Craig Biggio, Bret Boone, Roger Cedeno & Tino Martinez

Pack 24 fun fact: Bret Boone hit .251 with 19 home runs and 74 RBI in his lone season with the Padres in 2000. The following year, he had one of the most unlikely late-career breakouts in MLB history.
Lastly, the Pedro card back. One thing I appreciate about Pacific card backs is that they included the set name with the card number. As they produced more and more sets, sometimes they could be fairly easily confused.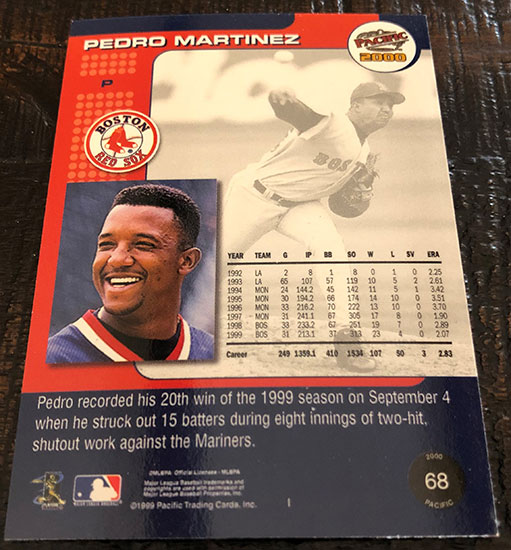 That was something! I had actually never seen the Christmas Ornament cards in person until this box. I'm glad I pulled my expected two and that both came out in fairly good condition. I plan on tracking down some more ornaments at some point. Maybe I can fill in a card room tree someday! The Ornaments insert set continued in 2001 Pacific.
Unfortunately I missed out on the big insert from this set, Cramer's Choice. These die-cut inserts, named after Pacific CEO Mike Cramer, were found just once in every 721 packs. Pacific did design some really good looking inserts and I am hoping to find some more Pacific products to feature.
Shop for 2000 Pacific Baseball on:
Want more installments of Shane Salmonson's Cheap Wax Wednesday? Check out his other breaks in the archives.