The Daily: 2016 Bowman Chrome Alex Bregman Autograph
The Card: 2016 Bowman Chrome Prospect Autographs Alex Bregman #CPA-AB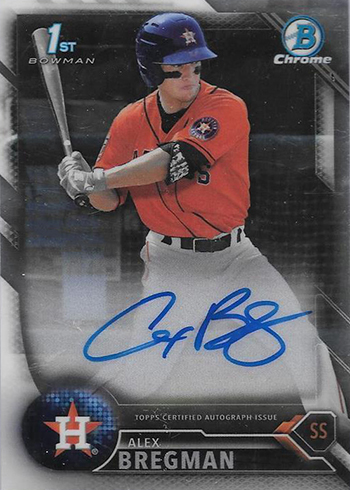 It's almost like all the All-Stars wanted in on the Home Run Derby action last night. The Midsummer Classic was something of a slugfest, and a dramatic one at that. Houston's Alex Bregman hit one of the game's ten home runs.
Coming in the tenth, Bregman broke a 5-5 tie with a solo shot. His AL team would go on to win 8-6.
Following the game, the second overall pick in the 2015 draft was given the keys to a new Camaro and Bregman was named the All-Star MVP. Not bad for a someone in just their second full year in the league and making his All-Star debut.
Although the 2016 Bowman Chrome Alex Bregman autograph is his first in a major league uniform, it's not his first overall. You can actually go back to 2010 when Bregman was part of the USA Baseball program and Topps held the license at the time.
That said, MLB Bowman Chrome autographs have proven to be the most popular, even when there's a large gap like there is here. Bregman's Bowman Chrome Prospect Autograph is found in 2016 Bowman Baseball packs.