Trouble Over, Bridgewater? – Beckett Pricing Insider
Teddy Bridgewater had an incredible season two years ago before a devastating knee injury brought that crashing down. The Vikings were able to have a strong 2017 without him and let him go to free agency. This led to Bridgewater signing with the New York Jets.
He probably won't stay there long, though.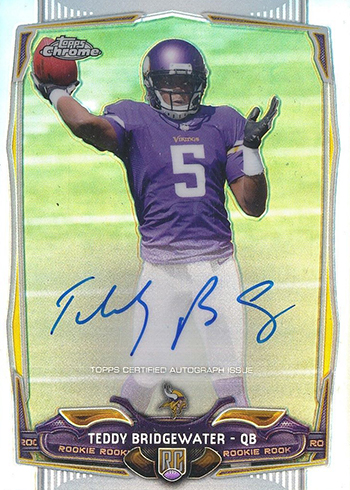 The Jets drafted their quarterback of the future in Sam Darnold. Reports suggest that Darnold is already impressing the Jets with his ability. And really, this should come as a shock to no one.
That means there's a chance that Bridgewater will be traded to another team during the season.
His Rookie Cards were among the top sellers from 2014 products for Bridgewater's first couple of seassons. For example, his Bowman Chrome Rookie Autographs Gold Refactor card was selling for over $100 two years ago. Now they're under $20.
Even some of the biggest products are seeing his cards become more affordable. National Treasures tends to be the most valuable cards for Rookies with his card started out at $600. It can now be purchased for around $150.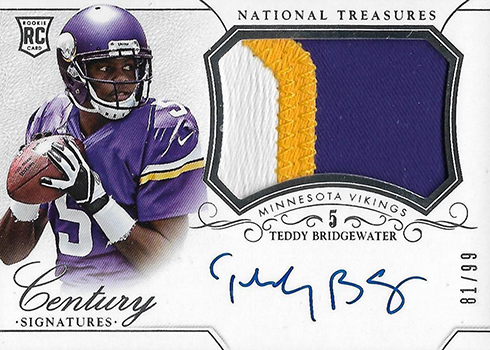 If Bridgewater can become a starting quarterback in the NFL again his prices should rise again. They might not reach their early levels, but maybe that's an unrealistic expectation at this point.
In a city like New York, he will get plenty of exposure and new coverage. But he needs a chance to play. Despite having Ryan Tannehill, a team like the Dolphins could also use a quarterback like Bridgewater. Tannehill is coming off a severe injury and hasn't really proven himself to be a winner. Bridgewater has proven he can carry a team to a division win.
Only time will tell how his future turn outs. But if collectors are looking for something lower risk, Teddy Brigewater might be the guy.