The Daily: 2017-18 Panini Prizm De'Aaron Fox RC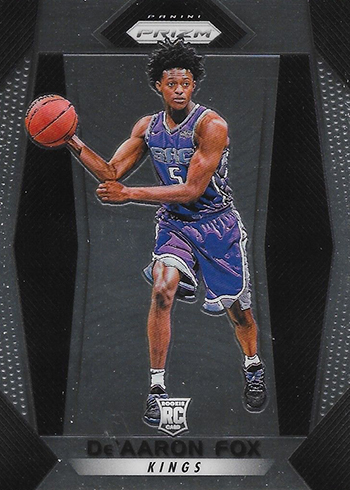 The Sacramento Kings are off to a solid start in 2018-19, sitting with a record of 6-3. De'Aaron Fox is a big reason why, showing huge improvements in his numbers this year. Last night, against the Atlanta Hawks, Fox got the first triple-double of his career. It came on 30 points, 15 assists and ten rebounds.
Should Fox continue to emerge, it will only increase the depth of the 2017-18 rookie class when it comes to basketball cards. Taken with the fifth pick in the 2017 draft, there was some level of expectation and his cards have never been commons. But they certainly lack behind those of early stars like Donovan Mitchell, Jayson Tatum and a handful of others.
If you're looking for an affordable entry point, Panini Prizm has emerged as one of the most popular sets for Rookie Cards that don't come with the added expense of autographs and low serial numbers. 2017-18 Panini Prizm Basketball was extremely hot from the outset, but if you can find some affordable packs or boxes, there's also the many Prizms parallels to chase.
The Daily highlights a key player or personality in the world of sports or collecting from the past 24 hours along with one of their key cards.