The Daily: 2005-06 Upper Deck Alexander Ovechkin RC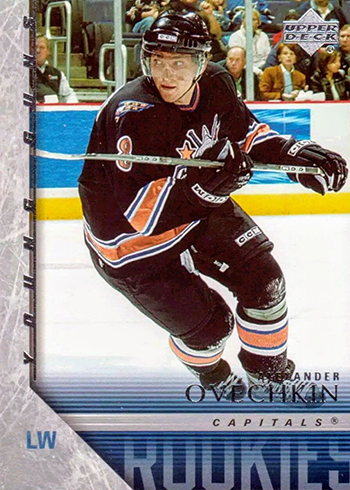 Alexander Ovechkin, Stanley Cup Champion. You can give the Capitals superstar lots of labels to summarize his career, but right now, what matters most is "Champ."
He helped lead Washington to a decisive Stanley Cup Finals win over the expansion Vegas Golden Knights. And the moment the final buzzer rang and Ovechkin took the Cup from NHL commissioner Gary Bettman, all the criticisms of Ovechkin not being able to get his team to hockey's promised land disappeared.
In the days, months and years ahead, the discussions will now shift, and rightfully so, to what he's achieved on the ice and what potential records may await.
Alexander Ovechkin has lots of Rookie Cards. Some may be worth more (here's looking at you The Cup and SP Authentic), but none are bigger than his 2005-06 Upper Deck Young Guns card.
It's part of Upper Deck's flagship release, a line that is one of the biggest in the entire hobby with set builders in particular. Ovechkin is the anchor to Series 2 in a stacked release. It may never reach the same status as Series 1's Sidney Crosby Rookie Card but this is still one of the more important hockey cards of the modern era. In case it was doubted before, it has been cemented now.
The Daily highlights a key player or personality in the world of sports or collecting from the past 24 hours along with one of their key cards.