The Daily: 1889 Goodwin Games and Sports N165 Curling

The Card: 1889 Goodwin Games and Sports N165 Curling
The 2018 Winter Olympics are officially underway in PyeongChang, South Korea. Unless you're keeping weird hours and streaming the events live, the time delays may seem a little odd. But they're happening.
Over the course of the next couple of weeks, some familiar names will take aim at history once again. Others will emerge. Records will be broken. And, most likely, some sort of controversy will cloud at least a small corner of the games.
And while figure skating and hockey will be among the ratings winners, the breadth and scope of the Olympics is the perfect time to try watching some new sports.
Might I suggest curling? To many, the sport is seen as shuffleboard on ice. Another perception involves some interesting fashion choices. In reality, curling is a sport that requires precision, strategy and has plenty of suspense. Much like a race can be determined by a fraction of a second, a curling match can be decided by a fraction of an inch.
And, yes, all the yelling brings its own form of entertainment.
Another plus for curling is that it's a sport that anyone can play. And lots of people do. In large parts of the world, winter can be cold, dark and long. For many communities, big and small, curling thrives because it brings people together. The socializing after is just as important, if not more so, than the game itself.
As far as cards go, there's not a whole lot out there for curling. And that's understandable. It's probably safe to say that most people couldn't name a famous curler.
But there are some cards out there. 1889 Goodwin Games and Sports N165 goes back a long ways, offering an overview on things that were played over 100 years ago. Besides curling, the 50-card checklist includes things like running, lacrosse, fox hunting and even ice yachting.
In more recent years, the Goodwin name has continued to showcase a little curling. 2014 Upper Deck Goodwin Champions has various cards, including autographs, of Canadian curlers Kevin Martin and Rachel Homan. Both are World Champions with Martin also winning gold at the 2010 Olympics in Vancouver.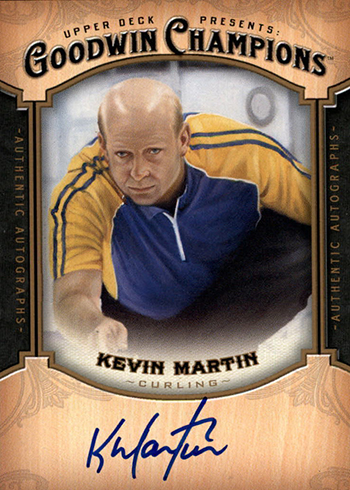 So curling cards are out there, just not a lot of them and they're not always easy to find.
The Daily highlights a key player or personality in the world of sports or collecting from the past 24 hours along with one of their key cards.