Meet the Collector Who Pulled the 2018 Finest Shohei Ohtani Superfractor Autograph
Some rare, high-profile cards take weeks to surface. Others can take years. But sometimes, it's a matter of hours. That was the case with the 2018 Topps Finest Shohei Ohtani Superfractor Autograph.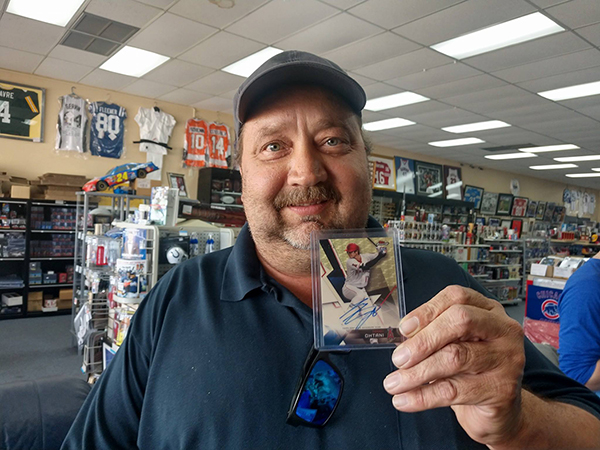 Scott Crow was working his way through a case on the afternoon of Wednesday, June 6 — the product's release day — when he got the one-of-a-kind card. It came in the third box of a case he'd bought at Oliver's Sports, a card shop in Wichita, Kansas.
"It was a pretty exciting moment for me as the store owner and him as the collector as well," said Vince Oliver, the shop owner. "He screamed a little bit but he was happy."
"I was going through the case and was less than impressed with what I'd gotten so far," he said. "I got a Walker Buehler, which is good, and a couple of colors but nothing spectacular."
Things picked up in a hurry.
"I opened the pack and saw the colors of the Superfractor. And I'm like, 'Really?'"
Crow is familiar with the thrill of getting a Superfractor. He pulled one of Michael Taylor out of Topps Chrome before this.
"So I slid the card just a little bit and I saw the Angels symbol. First thing I thought was Diamondbacks but then I saw the little halo," Crow recalled. "Vince has a couple of recliners and a love seat there. I just kind of walked in behind them. I screamed. It was a cuss word.
"Everyone kind of turned around and looked. I held it up and said, 'I got it.'"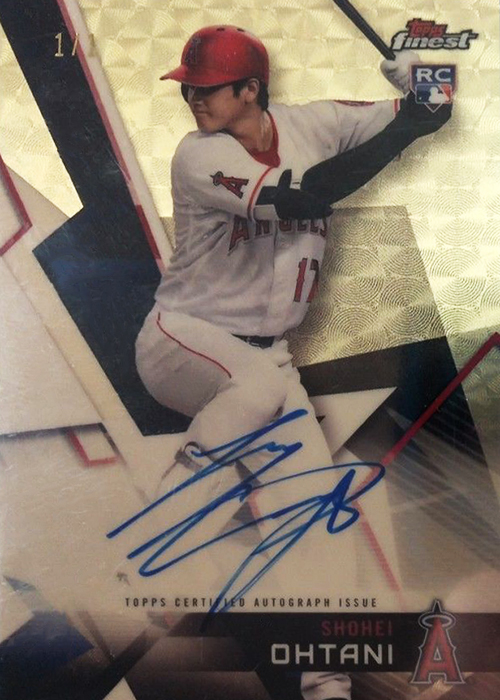 There was a small crowd of people in the store at the time.
"I walked over to the counter and laid the card down. I got Vince to come over and he picked it up and I think he said a few choice words, too. I think he was more excited than me."
"We all freaked out. I was screaming. I had four or five guys who were screaming and a couple of girls. Everybody was just freaking out," said Oliver, who has been a dealer at shows for more than 30 years and a shop owner since 1997.
But amidst all the happy chaos, Oliver's immediate thoughts went to one thing.
"Because everyone wanted to hold it, look at it and take selfies with it, I just wanted to get it in a sleeve then we could worry about everything else," Oliver said.
The excitement was overwhelming for Crow.
"I just left the card lying there, went outside and had a cigarette real quick to calm down."
Crow isn't holding onto the Ohtani Superfractor autograph, though. It's already listed on eBay through Oliver. They've currently got a $60,000 asking price on it but are accepting offers.
But this has caused some issues for Oliver and Crow. Right after the card was listed, the offers started coming in. Many were of the lowball variety and not serious. Some that came in overnight, though, were — at least enough to look at. But then the Buy It Now button was hit.
Good news, right? When Oliver reached out to the buyer, it was quickly apparent that the sale wasn't going to be completed. Not only did he have to relist it, but all the original offers disappeared once the Buy It Now was triggered.
The original asking price of $65,000 was too high to require instant payment, which is why it was lowered. Now, any potential buyer will have to pay up front.
Crow bought a new Harley Davidson three weeks ago. He said that when the card sells, a lot of the money will go towards paying it and other debts off.
Crow is a driver and is frequently on the road. Like many, he'd been collecting for years but took a prolonged break. He came back a couple of years ago.
Prior to the 2018 Topps Finest Shohei Ohtani Superfractor Autograph, Crow mentioned that his biggest was a Mickey Mantle, Ken Griffey Jr. dual autograph from a $9 box of 1994 Upper Deck Baseball that had been sitting on the shelf for years.
"I was extremely excited to pull that card," he said. "But this card, definitely 100 times better than that."
As far as other Ohtani Superfractors go, the Angels rookie has a pair of unsigned ones in 2018 Topps Finest Baseball. There's a parallel of his Rookie Card, which was pulled not long after this one. Ohtani's Finest Firsts insert also has a Superfractor. The 2018 Bowman Chrome Shohei Ohtani Superfractor Autograph still hasn't surfaced publicly surfaced in California the day after this one did.