Spears for Fears: The Art of Mark Spears
Mark Spears won the Rondo Hatton Classic Horror Artist of the Year Award in 2020. It helped that he has loved toys, video games, and all things horror-related since he was a kid. Mark married his high school sweetheart over 20 years ago and has lived in Huntsville, Alabama all his life. When Mark isn't working, or spending quality time with his two sons, there's a good chance he's at the movies.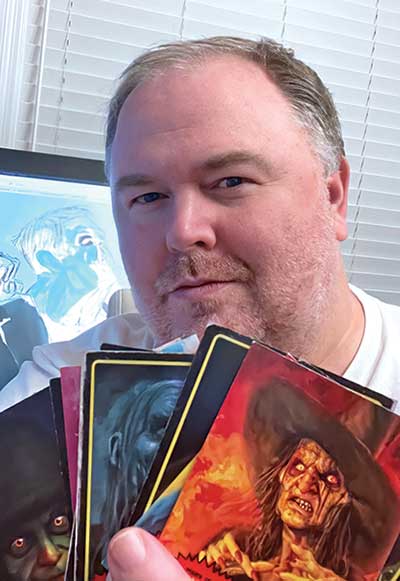 Non-Sport Update: What was the first sketch card set you worked on?
Mark Spears: DC Legacy by Rittenhouse Archives in 2007. At the time I was drawing Batman concept art for statues and figures. DC reached out to me because this was one of their very first trading card series to feature sketch cards.
They originally wanted me for 200 cards, but in the end I drew 650. I also did many of the case incentive cards. At that time it was probably the most sketch cards anyone had ever done for a series.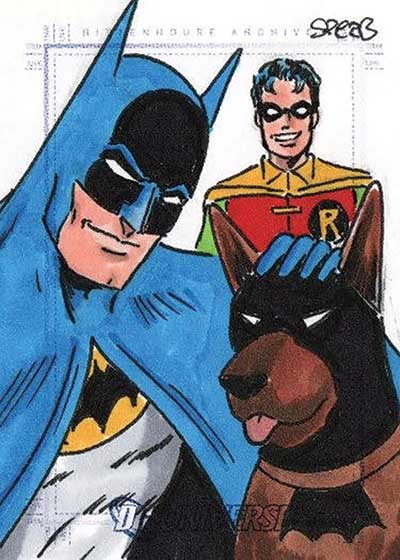 NSU: Do you have any interesting sketch card memories?
MS: One memorable moment was when I was picked by William Shatner to do his likeness for a Star Trek sketch card series. Rittenhouse had sent me the cards, and I started working on them, but then they had to cancel the project.
NSU: In 2015 you provided non-sport inserts for a sports-hybrid set called Goodwin Champions by Upper Deck. How did that materialize?
MS: Upper Deck reached out to me about doing some work for them but I didn't want to draw more sketch cards at the time so we talked about me doing some base cards for different things. I remember they wanted me for a Michael Jordan series and I did some test images for that. I also did some samples for a dinosaur and hockey set. In the end they switched gears and wanted me to do the playing cards for the Goodwin Champions. It was fun.
NSU: In 2021, you released Mark Spears Monsters. Is that your own project?
MS:Yes, I started my own trading card company [in 2021] and our first release was Mark Spears Monsters.It was a retro throwback to the cards of the 1970s and '80s but with a modern twist. We distributed them through Amazon, Walmart online, Nacelle store, and hobby shops. I did over 150 pieces of art for the series, not counting sketch cards. Each base card had two variations: Full Bleed, which has the logo on the front and the art printed to the edge, and also Distressed which uses the old '70s and '80s card stock and has a worn look to the border. We also had gum in every pack. The series was a hit and paved the way for the new set, Mark Spears Monsters Halloween Edition.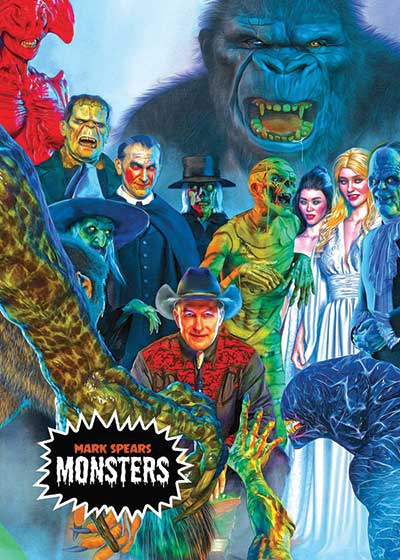 NSU: There's a Christopher Lloyd movie called Spirit Halloween in production. I understand your art will be featured.
MS: The series 1 trading cards are in the movie as well as some artwork from the Mark Spears Monsters Halloween Edition.Also, a mask appears in the movie based on my Frankenstein Monster. I wish I could say more but I am sworn to secrecy right now.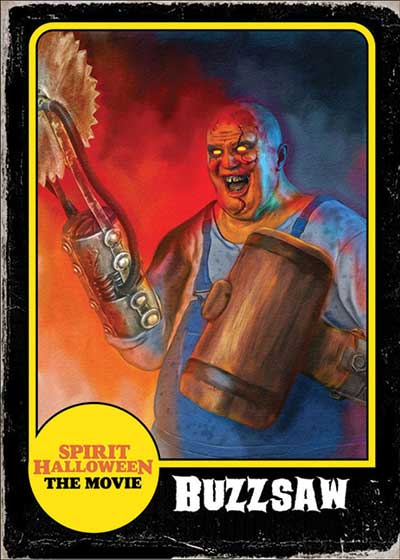 NSU: The Nacelle Company, which produced The Toys That Made Us docuseries on Netflix, recently approached you. What can you share?
MS: Right before series 1 was released I signed a license agreement with Nacelle for some of my original characters that appear in that series. We are hoping to do some action figures as well as develop some of the characters for shows.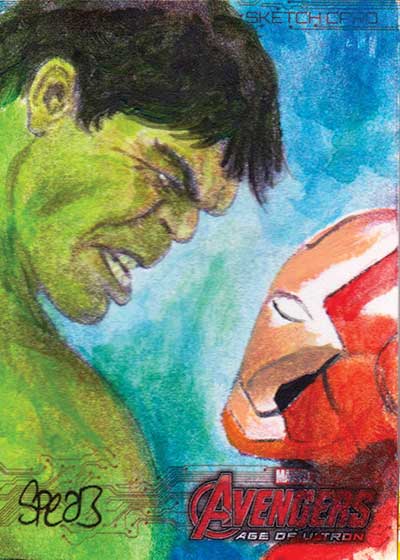 NSU: Do you have a dream property that you wish would be made into a card set?
MS: I would love to do a retro Friday the 13th trading card series. I am not sure who owns the rights to it right now, but if someone gets the rights, count me in.
NSU: What's next? Are there any upcoming projects you're allowed to share with us?
MS: We are considering a Mark Spears Monsters comic book in 2023 as well as one or two more card series.
NSU:How can people contact you or follow you?
MS: You can reach me on Instagram or Twitter at @markspearsart. Facebook is just @markaspears. You can also buy art prints and cards at markspears.store.