One-Sheet Collections: Duke's All-Time Leading Scorers
The One-Sheet Collections idea is a simple concept with infinite possibilities. Take a single nine-pocket sheet and a reasonable $100 budget, and build a nine-card collection with a unifying theme.
This week's collection focuses on Duke University basketball and the most prolific scorers in the history of one of the most prestigious college basketball programs in the nation.
Ahead I've highlighted the nine all-time leading scorers at Duke and chosen one card for each of them to build a nine-card collection of Blue Devils standouts.
2006-07 Topps Chrome Autographs Refractors Black #198 J.J. Redick ($50)
Points: 2,769
One of the most accomplished scorers in NCAA history, Redick averaged 26.8 points during his senior season at Duke while shooting 42.1 percent from beyond the arc and recording 14 30-point performances. The sharp-shooter went No. 11 overall in the 2006 draft and played 15 NBA seasons, averaging 12.8 points per game while connecting at a 41.5 percent clip from long range.
He has a wide range of different Rookie Cards, including a few different autographs in 2006-07 Topps Chrome with Black, Gold and Superfractor versions.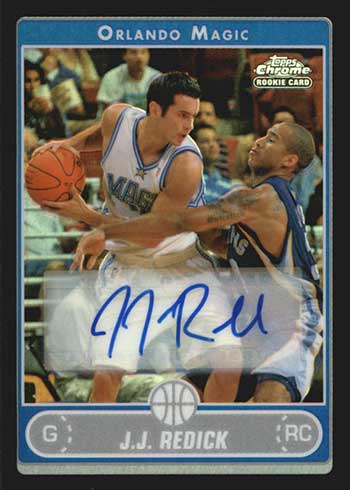 1987-88 Fleer #27 Johnny Dawkins RC ($1.50)
Points: 2,556
Dawkins averaged 18.1, 19.4, 18.8 and 20.2 points as a four-year starter for the Blue Devils, winning the Naismith Award during his senior season. He was selected No. 10 overall in the 1986 draft and went on to play nine seasons with the Spurs, 76ers and Pistons. The 6'2″ guard peaked during the 1987-88 season with 15.8 points, 7.4 assists and 3.1 rebounds per game.
His only Rookie Card is in the 1987-88 Fleer set, a steal at just a couple bucks.
Buy on: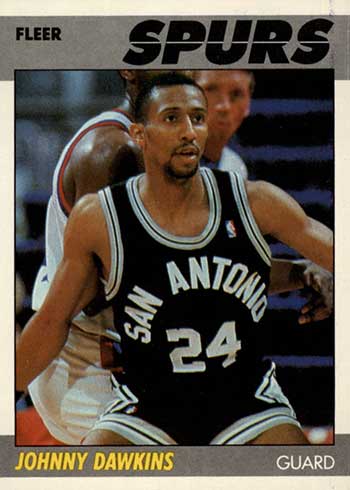 2012-13 Fleer Retro Autographs #44 Christian Laettner ($25)
Points: 2,460
Laettner led the Blue Devils to back-to-back NCAA titles during his junior and senior seasons, averaging 21.5 points and 7.9 rebounds during his senior year. He suited up for the Dream Team in the 1992 Olympics, then went No. 3 overall in the 1992 NBA draft. He averaged 18.2 points as a rookie and was an All-Star during the 1996-97 season, but he never quite developed into a bona fide superstar.
His seven different Rookie Cards have a combined book value of just $4.75, so I aimed a bit higher and chose one of the autographed cards that has been released since his playing career ended.
Buy on: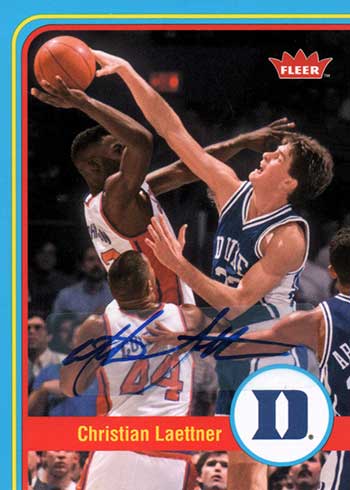 2012-13 Timeless Treasures #234 Kyle Singler AU /499 RC ($6)
Points: 2,392
A four-time All-ACC selection, Singler helped lead the Blue Devils to an NCAA title in 2010, averaging 17.7 points while playing alongside Jon Scheyer (18.2 PPG) and Nolan Smith (17.4 PPG). A tweener at 6'8″ who didn't have an elite outside shot, he was a second round pick in 2011 and averaged 6.5 points in six NBA seasons with the Pistons and Thunder.
The 2012-13 Timeless Treasures checklist is loaded with high-profile rookies, including Kawai Leonard, Anthony Davis, Klay Thompson, Jimmy Butler, Kyrie Irving and Draymond Green who all have a book value of $100 or more.
Buy on: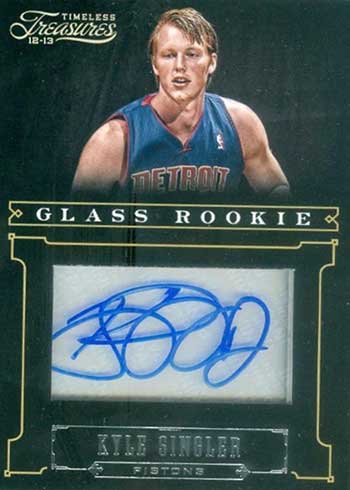 1981-82 Topps #E78 Mike Gminski RC ($0.75)
Points: 2,323
A 6'11", 250-pound center, Gminski averaged 19.0 points and 10.2 rebounds in his four seasons on campus before going No. 7 overall in the 1980 NBA draft. He went on to play 14 NBA seasons with the Nets, 76ers, Hornets and Bucks, and he averaged a double-double during the 1987-88 season with 16.9 points and 10.0 rebounds.
His 1981-82 Topps card is his only rookie, and it was his only card period until he was featured in the 1983-84 Star set.
Buy on: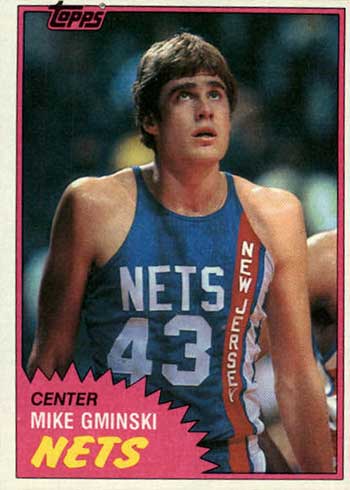 1990-91 SkyBox #300 Danny Ferry SP RC ($0.50)
Points: 2,155
After averaging 22.6 points and winning the Naismith Award as a senior, Ferry was taken No. 2 overall in the 1989 NBA draft, but he refused to play for the Clippers and instead spent his first pro season in Italy. His rights were eventually traded to the Cavaliers in exchange for Ron Harper and a trio of draft picks. He averaged 7.0 points, 2.8 rebounds and 19.8 minutes in 13 NBA seasons.
His 1990-91 Fleer, Hoops and SkyBox rookies can all be scooped up for pocket change.
Buy on: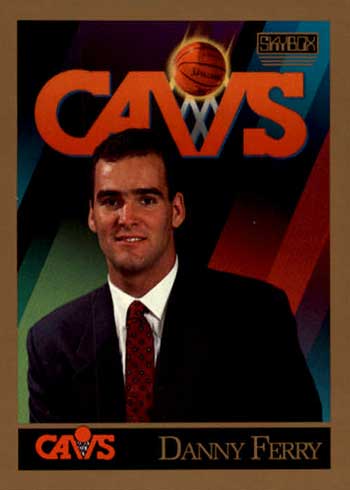 1989-90 Fleer #157 Mark Alarie ($0.20)
Points: 2,136
Alarie averaged 13.0 points and 6.5 rebounds during his freshman season at Duke, and he went on to log 16.1 points and 6.3 rebounds while taking home All-ACC honors three times. The Nuggets selected him No. 18 overall in the 1986 draft and he played five NBA seasons, peaking during the 1989-90 campaign with 10.5 points per game.
Despite being drafted in 1986, he wasn't featured on a card until 1989-90 Fleer and Hoops sets, and there are only eight total major release cards in the database.
Buy on: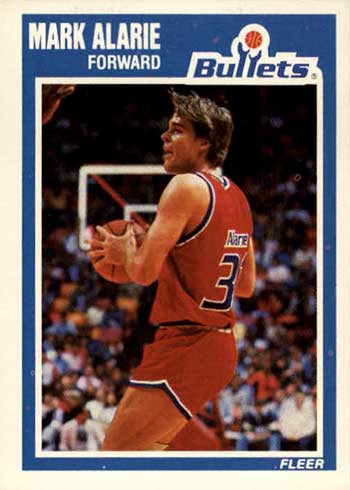 1983-84 Star #242 Gene Banks ($8)
Points: 2,079
Banks played alongside the aforementioned Mike Gminski for three seasons before taking over as Duke's leading scorer as a senior when he averaged 18.5 points and 6.8 rebounds per game. The 6′ 7″ forward was chosen in the second round of the 1981 NBA draft, and he averaged 11.3 points in six seasons with the Spurs and Bulls.
He appeared in the 1983-84, 1984-85 and 1985-86 Star sets. His only other NBA licensed card was in the 1987-88 Fleer set.
Buy on: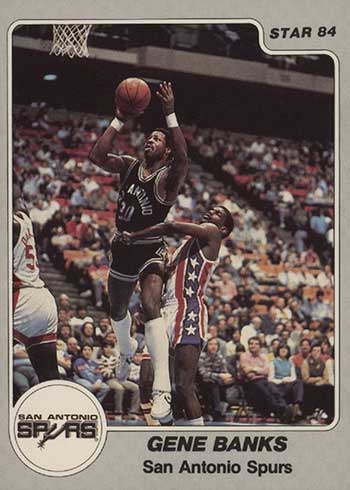 2002-03 Finest #114 Jay Williams RC ($8)
Points: 2,079
The only player on this list who did not suit up for the Blue Devils for four seasons, Williams went No. 2 overall in the 2002 NBA draft after averaging 19.3 points and 6.0 assists as a three-time All-ACC pick and he was the consensus 2001-02 college player of the year. He averaged 9.5 points and 4.7 assists as a rookie with the Bulls, but suffered a career-ending motorcycle accident during the offseason.
He has a whopping 39 different Rookie Cards and they still sell for a few dollars apiece thanks in part to the fact that he is in the public eye as a TV analyst on ESPN.
Buy on: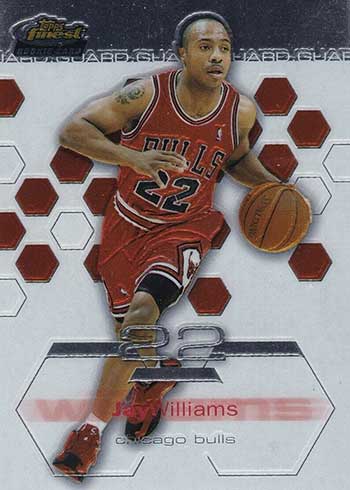 Total: $99.95