Biggest Stars Wars trading card set … Ever?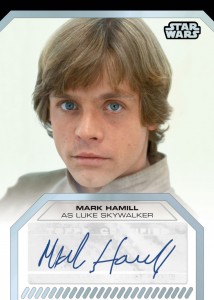 By Susan Lulgjuraj | Contributing Editor
Star Wars fans get ready.
Topps is putting together a comprehensive trading card set featuring events from the full saga – all six episodes down to 350 base cards.
Star Wars Galactic Files.
The names says it all. A list of characters, factions, vehicles, creatures from all six films, The Clone Wars and the expanded universe, which includes comics, novels and more.
This is done all in the name of the 35th anniversary of the original Star Wars movie.
According to Topps, the 350 base card set is the largest Star Wars set every produced. Parallels make their way into the set with three levels: blue (numbered to .350), red (/35) and gold 1/1.
But the base cards are only part of the fun. There are two hits in every box including a sketch card, an autograph or embroidered patch relic.
Along with the massive base set, there are five inserts: Duels of Fate, I Have a Bad Feeling About This, Classic Lines, Heroes on Both Side and Foil Cards. There is one insert in every pack.
The set is scheduled to come out in September with a suggested retail price of $4.99 a pack with 24 packs in a box.
As the release date gets closer and more info is released, we'll be sure to update the Stars Wars fans. In the meantime, check out the pictures.
Susan Lulgjuraj is a contributing editor for Beckett Media. You can email Susan here. Follow her on Twitter here.