$900,000 2003-04 Exquisite Michael Jordan, LeBron James Dual Logoman Sale
The highest amount ever paid for a modern trading card is believed to have just reached a new high as Goldin Auctions recently sold a 2003-04 Upper Deck Exquisite Collection All-NBA Access LeBron James/Michael Jordan Dual Patches 1/1 BGS NM-MT+ 8.5 for $900,000 in a private transaction.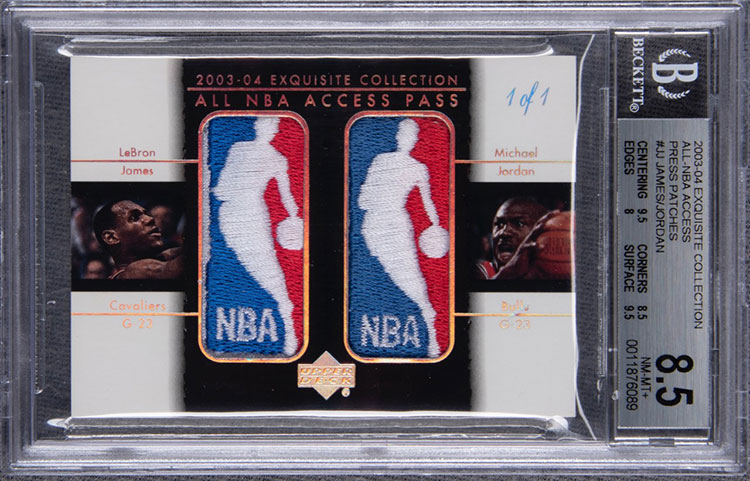 "There have only been two trading cards in the history of mankind that have ever sold for more than $900,000," Ken Goldin, Founder and CEO of Goldin Auctions, told Beckett.com. "One is a '52 Topps Mantle in [a grade of] 8.5 or higher. The other is a T206 Wagner in 2 or higher."
According to Goldin, the consignor of the Logoman Exquisite Collection card is a collector who has acquired several one-of-a-kind cards over the years, and wishes to remain anonymous. He said the buyer also asked to remain anonymous for now, but may reveal himself in the future.
Goldin said the consignor asked him to send the card to Beckett Grading Services for authentication and grading.
"It's amazing to see a card like this come to Beckett for grading," said Jeromy Murray, Vice President of Beckett Grading/Authentication. "The sports card market is as strong as I can remember and a sale like this shows that. We were certainly honored to have been chosen to grade a card of this magnitude."
The sale is, of course, the most ever paid for a basketball card, and is a sign the high-end basketball market is alive and well.
The previous record paid for a basketball card came in 2016, when Heritage Auctions sold a PSA 10 Gem Mint 1969-70 Topps Lew Alcindor RC for $501,900. "We're proud to report this sale nearly doubled that price," Goldin said.
To learn more about having your collection examined by Beckett, please go to Beckett.com/grading or email grading@beckett.com.
For more information on Goldin Auctions, visit GoldinAuctions.com.