Pro Set put Draft Day what-ifs on cardboard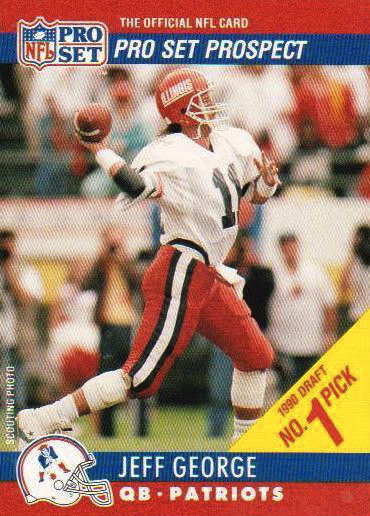 By Chris Olds | Beckett Sports Card Monthly Editor | Commentary
With this year's NFL Draft set to begin in prime time on Thursday night, we're likely going to see some cardboard made just for the draft and some real-time online reveals from card companies showing the league's newest players linked to their newest teams.
It's something that I've always found interesting — and it's something we've seen before. In fact, it first happened a long, long time ago well before the days of Twitter and Facebook. And it happened on real cardboard.
In fact, a simple four-card set from Pro Set made for the 1990 NFL Draft, then a Sunday event, is one that I've always found oddly interesting — and just this week I finally added this simple release to my collection all these years later.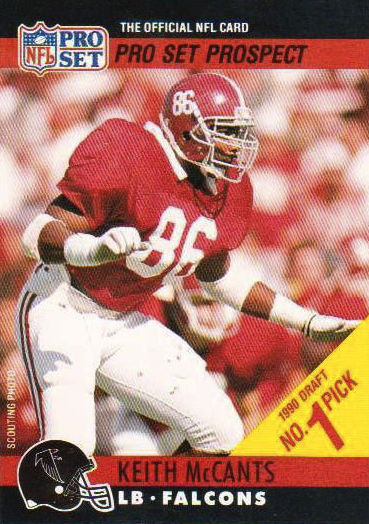 The simple 1990 Pro Set Draft Day set isn't that simple at all in its time — but it's one that might seem that way now since plenty has changed in the last 25 years. Back then, a card company produced a handful of products a year for a league such as the NFL and Pro Set had a "living set" philosophy that meant plenty of updates and card tweaks creating variations as changes on the field happened. It also meant innovations such as this one.
For the 1990 Draft, the company prepared four cards that might be distributed — just one correctly predicting the No. 1 overall pick. Three cards were printed, were cut and were in-hand for the correct one to be given to the correct player just after he was picked. In this case, there were three cards of Illinois Fighting Illini quarterback Jeff George — one showing him as a New England Patriot, one showing him as an Atlanta Falcon and one showing him as an Indianapolis Colt. A fourth card showed Alabama Crimson Tide standout Keith McCants as a potential pick of the Falcons.
Each card was No. 669, the already-assigned number set aside for the top pick in 1990 Pro Set Series II, which would not arrive until later in the card-collecting year. Leading up to the Draft, the Falcons traded away the No. 1 pick, immediately making two of the four cards collectable scrap. With the first pick in hand, the Colts took George. (For the record, the Patriots traded the third pick to Seattle, which took Cortez Kennedy. Later in the draft, the Patriots added quarterback Tom Hodson.)
As far as quarterbacks and these teams, we all know how things worked out — the Colts with a revolving door before Peyton Manning arrived in 1998 and a revival once again with Andrew Luck in 2012, the Patriots later with Drew Bledsoe and a guy named Tom Brady (who you might have heard of) and the Falcons ending up with George in 1994 and not much else until Michael Vick and Matt Ryan years later.
McCants went fourth overall in the draft to Tampa Bay where he played three seasons and battled injuries before finishing his seven-year career with stops in Houston and Arizona.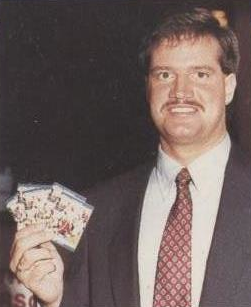 When some collectors tore into some packs of 1990 Pro Set Series I, they found the Illinois version of George's card just as it was found in New York City. When Series II arrived later in the year, the card front was updated with a Colts-uniformed action photo and the back was updated with a photo of George holding a handful of his first cards. In packs, McCants was assigned to card No. 672 a Creamsicle-colored creation noting his new team — his Crimson Tide card never re-created.
Pro Set did the same thing with the 1991 NFL Draft for a handful of players — seven cards featuring the likes of "Rocket" Ismail, Nick Bell, Mike Croel, Todd Lyght and Dan McGwire — before other companies got in on the Draft Day trend throughout in the decade.
These days, we'll see the caps players wear and the jerseys they hold on stage make their way into memorabilia cards — literal ways we can get a piece of the Draft Day action — not long after the event is over. That's just one way we can tell the times have changed when it comes to our cardboard.
The four cards Pro Set made back in 1990 won't cost you much today, but the seeds that they helped plant — our need for immediate cardboard nearly satisfied — have helped grow the hobby far beyond anything that we could have imagined all those years ago.
To me, that's a living set.
Chris Olds is the editor of Beckett Baseball and Beckett Sports Card Monthly magazines. Have a comment, question or idea? Send an email to him at colds@beckett.com. Follow him on Twitter @chrisolds2009.