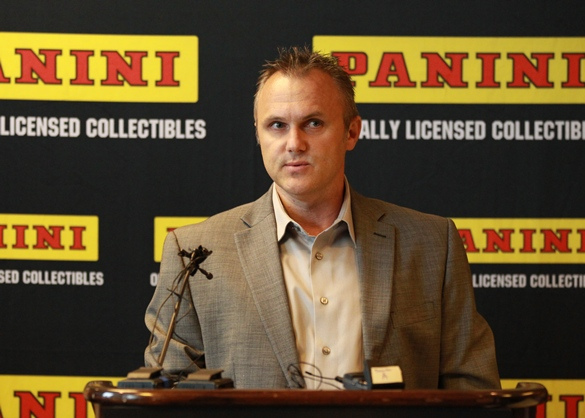 By Chris Olds | Beckett Sports Card Monthly Editor
It's been a little more than two years since Panini America's deal with the Major League Baseball Players Association was publicly announced, and since then the company has produced 21 different baseball products of varying types and prices aiming to capture the attention of collectors.
In that time, we've seen the return of some old, familiar brands such as Pinnacle and an influx of new with Prizm. We've seen the addition of Washington Nationals pitcher Stephen Strasburg as an exclusive spokesman and the addition of Yasiel Puig to the Panini Authentic memorabilia line — its first baseball player. We've seen legendary baseball broadcaster Vin Scully sign his first baseball cards despite 60-plus years in the game, and, dagnabbit, we've even seen The Bad News Bears on cardboard for the first time.
We've seen Panini add the USA Baseball license and make a deal with the National Baseball Hall of Fame to bring the stars of the future as well as the past into the fold, too. And with that, we've seen National Treasures do things we might not have seen before for baseball cards.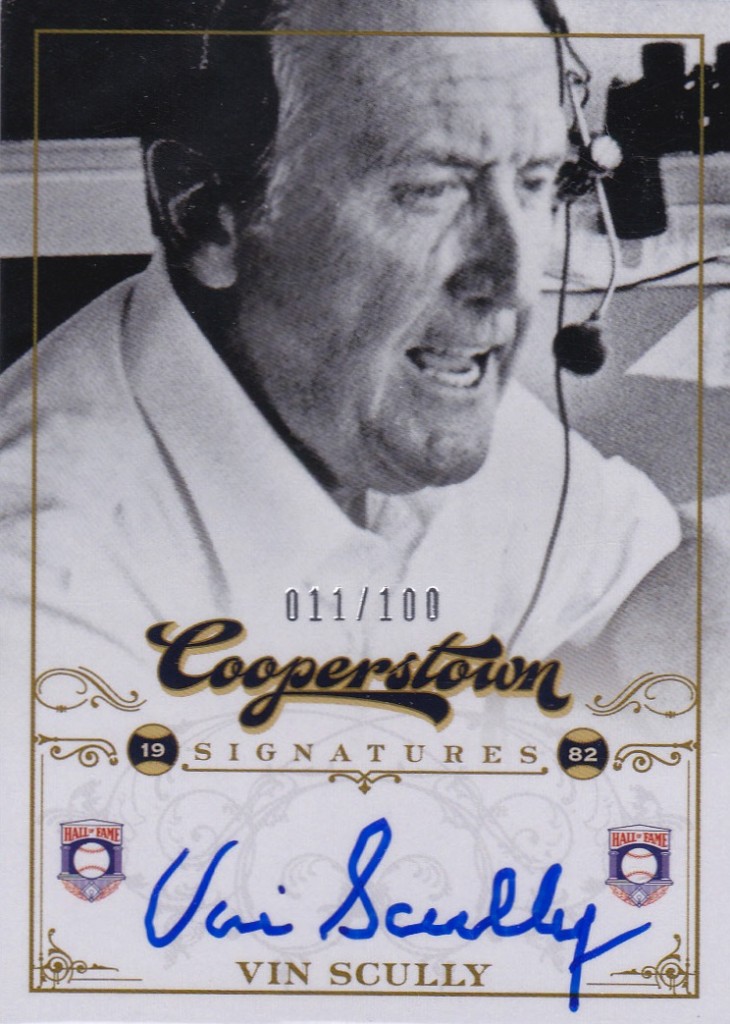 And, beyond Panini, during this time we've also seen two other licensing moves that may have come as surprises to the hobby and the company — Upper Deck being added as an MLBPA licensee and MLB Properties extending its exclusive with Topps through 2020.
It's been a whirlwind two years since that September announcement and Beckett Media caught up with Panini America CEO Mark Warsop for a behind-the-scenes chat about it all as part of the upcoming Behind the Scenes Issue of Beckett Sports Card Monthly, which will arrive next month with this and more about the inner workings of a few different things in the hobby today.
Does it really feel like it's been that long?
"Good question," Warsop said. "The time really has flown by — they say that tends to happen when you're having fun. There's no denying that we've had quite an eventful first two years with the MLBPA license. We have a great relationship with the team over there and look forward to maintaining that for years to come."
Some highlights from the full interview include  …
On pursuing the MLBPA license: "Our goal is to be fully licensed in every sport, so the MLBPA was a viable partner for us since we entered the U.S. market [in 2009 with the NBA license and acquisition of Donruss.]"
On not having MLB logos as part of product design options: "With each release, our creative team continues to strengthen the look and feel of what we're trying to accomplish … There's a learning curve to everything, but we are very comfortable and excited with the direction we're taking with our MLBPA license going forward. We are just hitting our stride."
On freedoms that come with not having an MLB Properties license: "We certainly have a little more flexibility with our checklists. If we want to include cards of Pete Rose, the game's all-time hits leader who remains a collector favorite all these years later, or "Shoeless" Joe Jackson, we can do that. We have done that, but not just because we can — because we feel we have something special to offer collectors and fans of those players."
On the emergence of Prizm, which will have its third product release arrive this month: "Optichrome technology is by no means a new development in sports cards, but with hard work, rigorous research, development behind the scenes and a steadfast commitment to doing it right, we've managed to deliver the technology in a way that has truly raised the bar in terms of the way the cards look, the way they feel and the fact that they don't warp. We're proud of Prizm and will continue pushing the envelope there."
On the next National Treasures: "National Treasures officially raised the bar in terms of what a high-end baseball product should deliver. It left some huge shoes to fill for any National Treasures product that follows, but we are excited for when National Treasures returns. And it will return."
On Topps' extended MLB Properties deal: "The extension certainly was a surprise. Being fully-licensed is something we've wanted — and something we've stated publicly and continue to state — since entering the U.S. market. But the extension has not and did not alter our plan of delivering baseball's players to the trading card community and building the best products for the MLBPA."
Warsop also addressed the company's long-term baseball plans along with many other questions and subjects. Look for his response to those subjects and more in the December issue of Beckett Sports Card Monthly.
Chris Olds is the editor of Beckett Baseball and Beckett Sports Card Monthly magazines. Have a comment, question or idea? Send an email to him at colds@beckett.com. Follow him on Twitter by clicking here.
REVISIT THEM ALL
Here's a rundown of all 21 baseball card products released (so far) since Panini America announced its deal with the MLBPA in September 2011.
2011 Donruss Elite Extra Edition –>> (Beckett Checklist/OPG) — (eBay)
2011 Panini Limited –>> (Beckett Checklist/OPG) — (eBay)
2011 Panini Limited Cuts –>> (Beckett Checklist/OPG) — (eBay)
2011 Playoff Contenders –>> (Beckett Checklist/OPG) — (eBay)
2011 Playoff Prime Cuts –>> (Beckett Checklist/OPG) — (eBay)
—
2012 Panini Cooperstown –>> (Beckett Checklist/OPG) — (eBay)
2012 Elite Extra Edition –>> (Beckett Checklist/OPG) — (eBay)
2012 Panini Golden Age –>> (Beckett Checklist/OPG) — (eBay)
2012 Panini National Treasures –>> (Beckett Checklist/OPG) — (eBay)
2012 Panini Prizm –>> (Beckett Checklist/OPG) — (eBay)
2012 Panini Signature Series –>> (Beckett Checklist/OPG) — (eBay)
2012 Triple Play –>> (Beckett Checklist/OPG) — (eBay)
2012 Playoff Prime Cuts –>> (Beckett Checklist/OPG) — (eBay)
2012 Panini USA Baseball –>> (Beckett Checklist/OPG) — (eBay)
—
2013 Panini Cooperstown –>> (Beckett Checklist/OPG) — (eBay)
2013 Panini Golden Age –>> (Beckett Checklist/OPG) — (eBay)
2013 Panini Hometown Heroes –>> (Beckett Checklist/OPG) — (eBay)
2013 Panini Pinnacle –>> (Beckett Checklist/OPG) — (eBay)
2013 Panini Prizm –>> (Beckett Checklist/OPG) — (eBay)
2013 Triple Play –>> (Beckett Checklist/OPG) — (eBay)
2013 Panini USA Baseball Champions –>> (Beckett Checklist/OPG) — (eBay)