3 Key Christian Yelich Card Sales – Beckett Pricing Insider
This edition of the Beckett Pricing Insider is sponsored by MVP Sports Collectibles.
The reigning 2018 National League MVP has picked up right where he left off . With apologies to Cody Bellinger and Tim Beckham, Christian Yelich was the best player in the game through the first week of the young 2019 season.
Yelich currently has over 2,700 cards in the Online Price Guide, including more than 2,000 serial numbered cards, over 600 certified autograph cards, and 500-plus memorabilia cards. Rookie Cards? Seven.
Yelich's cards are smoking hot on the secondary market right now, especially his certified autographs. Nearly all of his cards have been given the up arrow treatment over the last few days, with his 2010 Bowman Chrome Draft Prospect Autograph ($300) and his 2013 Topps Update RC ($25) among the most popular.
Here are three notable recent sales of some rare Yelich cards.
2013 Bowman Inception Ascension Collection Patch Autographs Inception #CY Christian Yelich 1/1 – $485
Yelich has only three cards in the 2013 Bowman Inception product – one relic autograph serial numbered to 25, a one-of-one Logo Patch Autograph serial numbered and this triple patch autograph.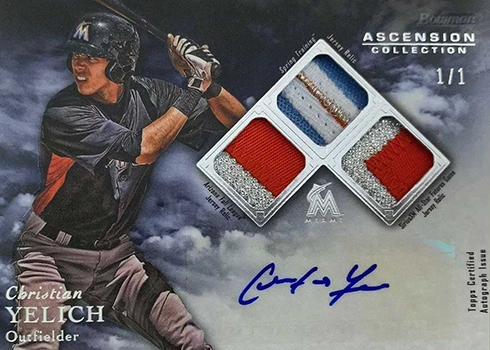 2013 Topps Chrome Rookie Autographs Atomic Refractors #CY Christian Yelich /10 (PSA 9) – $450
While Yelich's 2010 Bowman Chrome Draft Autograph has been his hottest card, his 2013 Topps Chrome Rookie Autograph might be a close second in terms of certified autograph popularity. The base version of card was recently raised to $150. Prior to this Atomic Refractor hitting $450, the last recorded sale we have in the Market Data Report was an eBay sale for $135 back in November, 2013.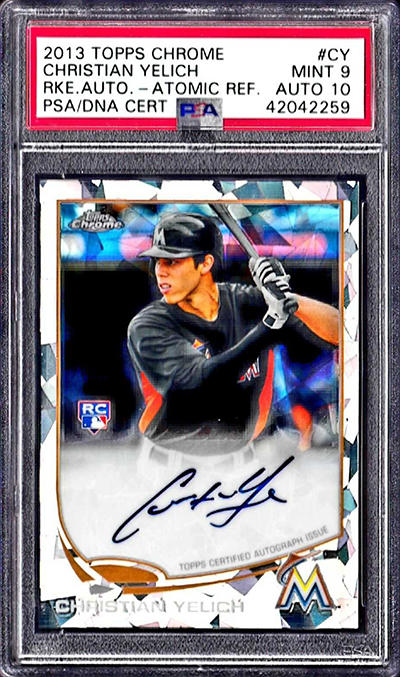 2019 Topps Major League Materials Autographs Platinum #MLARCY Christian Yelich 1/1 – $280
This is the highest sale for a 2019 Christian Yelich card that we've tracked over the last few weeks. Featuring the Logoman and a sticker autograph, this card parallels the Major League Materials Autographs set, which is serial numbered to 50. A Red version, numbered to 25, also exists.