One-Sheet Collections: 1990s Topps Rookie Cup All-Stars
For many, nostalgia remains the driving force behind baseball card collecting, and that's how we arrived at the idea of One-Sheet Collections.
It's a simple concept with infinite possibilities.
Take a single nine-pocket sheet and a reasonable $100 budget, and build a nine-card collection with a unifying theme.
This time around we focus on the best Topps All-Star Rookie selections of the 1990s.
The 1961 Topps set was the first to include the iconic Rookie Cup on the front of cards for the previous season's top rookie performers, with Hall of Famer Ron Santo and prolific slugger Frank Howard part of the inaugural class.
It has since become a yearly tradition, with a team of rookie standouts chosen at the end of each season to be honored in the next year's Topps release.
Looking at the entire field of 1990s All-Star Rookie selections, we chose the best player at each position based on their career accolades to be included in this week's collection.
Enjoy!
Pocket 1: LF Manny Ramirez
Card: 1995 Topps #577 Manny Ramirez
Beckett Value: $0.50
Buy on:
Ramirez joined an already stacked Cleveland Indians lineup during the strike-shortened 1994 season, hitting .269/.357/.521 with 22 doubles, 17 home runs and 60 RBI in 91 games.
He finished runner-up in AL Rookie of the Year voting behind Kansas City Royals designated hitter Bob Hamelin. It was a good year for rookie outfielders, with Ryan Klesko and Raul Mondesi joining him on the All-Star Rookie team.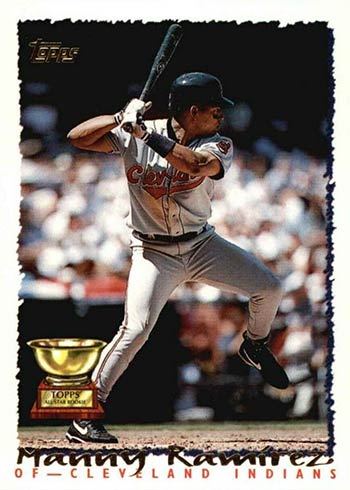 Pocket 2: CF Ken Griffey Jr.
Card: 1990 Topps #336 Ken Griffey Jr.
Beckett Value: $1
Buy on:
Arguably the most iconic Rookie Cup card of the decade, Griffey was still just 20 years old at the start of the 1990 season.
The No. 1 overall pick in the 1987 draft, he hit .264/.329/.420 with 23 doubles, 16 home runs, 61 RBI and 16 steals in 127 games as a rookie in 1989. That earned him a third-place finish in AL Rookie of the Year balloting, behind pitchers Gregg Olson (Orioles) and Tom Gordon (Royals).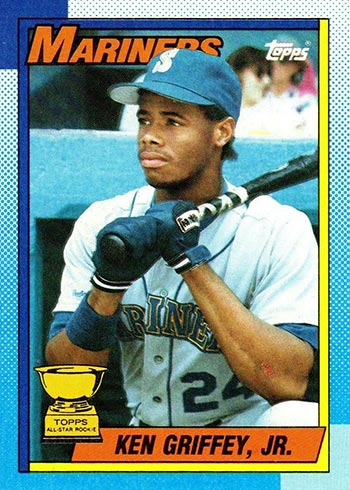 Pocket 3: RF Larry Walker
Card: 1991 Topps #339 Larry Walker
Beckett Value: $0.25
Buy on:
Part of a dynamic trio of Montreal Expos rookies, Larry Walker joined Delino DeShields and Marquis Grissom in receiving NL Rookie of the Year votes during the 1990 season.
The starting right fielder on Opening Day after a brief cup of coffee in 1989, Walker hit .241/.326/.434 with 18 doubles, 19 home runs, 51 RBI and 21 steals while leading his rookie teammates with 3.4 WAR.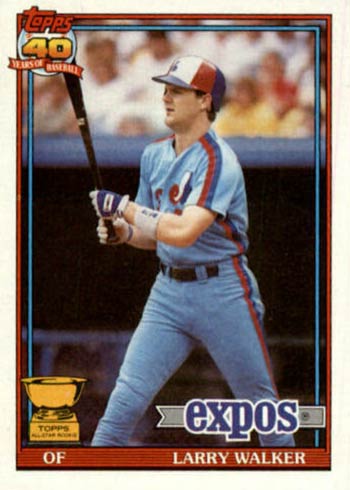 Pocket 4: SS Derek Jeter
Card: 1997 Topps #13 Derek Jeter
Beckett Value: $1.25
Buy on:
The late 1990s gave us Derek Jeter and Nomar Garciaparra as back-to-back AL Rookie of the Year winners in 1996 and 1997, and both were worthy candidates for a spot in this collection.
Jeter gets the nod for having the better all-around career and for helping lead his team to a World Series title as a rookie. He hit .314/.370/.430 with 41 extra-base hits and 14 steals in 157 games to win top rookie honors unanimously.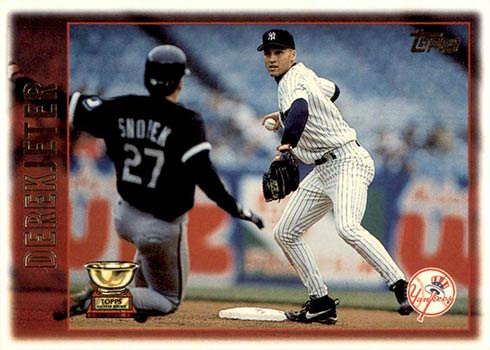 Pocket 5: SP Kerry Wood
Card: 1999 Topps #20 Kerry Wood
Beckett Value: $0.20
Buy on:
It's rather slim pickings among Rookie Cup pitchers during the 1990s, with Hideo Nomo, Kevin Appier, Jim Abbott and reliever Billy Wagner among the other notable options.
Few pitchers have made the immediate splash that Wood did for the Chicago Cubs in 1998, capturing the baseball world's attention with his 20-strikeout performance and helping the North Siders reach the postseason for the first time since 1989. He finished 13-6 with a 3.40 ERA and 233 strikeouts in 166.2 innings.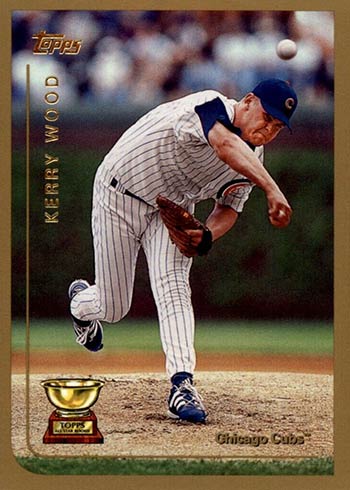 Pocket 6: 2B Jeff Kent
Card: 1993 Topps #703 Jeff Kent
Beckett Value: $0.50
Buy on:
Kent split his rookie season between the Blue Jays and Mets, hitting .239/.312/.430 with 21 doubles, 11 home runs and 50 RBI in 102 games.
The World Series-bound Blue Jays used him to acquire rental ace David Cone at the trade deadline, helping to secure the first of two straight titles. Kent was traded again in 1996, going to Cleveland in exchange for Carlos Baerga, before he signed with the San Francisco Giants in 1997.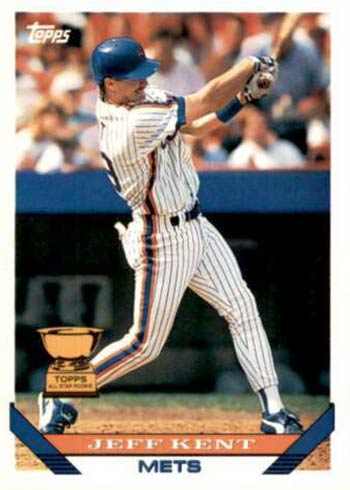 Pocket 7: 3B Chipper Jones
Card: 1996 Topps #177 Chipper Jones
Beckett Value: $0.50
Buy on:
The No. 1 overall pick in the 1990 MLB draft with rookie cards scattered throughout 1991 products, Jones was a hyped prospect and a staple in products throughout the early 1990s even though his rookie season was not until 1995.
He hit .265/.353/.450 with 22 doubles, 23 home runs and 86 RBI to come in second for NL Rookie of the Year honors and receive some down-ballot MVP support. He then hit .364/.446/.618 with five doubles, three home runs and eight RBI in the postseason to help Atlanta win a title.
Pocket 8: C Mike Piazza
Card: 1994 Topps #1 Mike Piazza
Beckett Value: $1
Buy on:
Piazza put together one of the greatest rookie seasons in MLB history in 1993, hitting .318/.370/.561 with 35 home runs and 112 RBI.
He was the first of five straight Los Angeles Dodgers players to win NL Rookie of the Year honors, and he posted five straight finishes in the top 10 in NL MVP voting to begin his Hall of Fame career.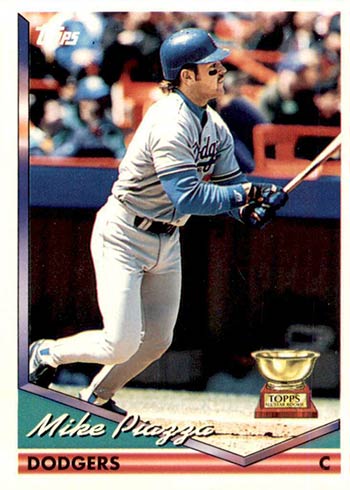 Pocket 9: 1B Jeff Bagwell
Card: 1992 Topps #520 Jeff Bagwell
Beckett Value: $0.25
Buy on:
Acquired from the Boston Red Sox in exchange for veteran right-hander Larry Andersen in an August 1990 waiver deal, Bagwell took over as Houston's everyday first baseman the following year.
He hit .294/.387/.437 with 26 doubles, 15 home runs and 82 RBI in 156 games, and in the years to come he emerged as one of the most feared sluggers in baseball. Tip of the cap to Todd Helton, who was also a strong candidate for this spot.
Total Beckett Value: $5.45