One Boy's Dogged Pursuit of the Mark McGwire '85 Topps USA Baseball Card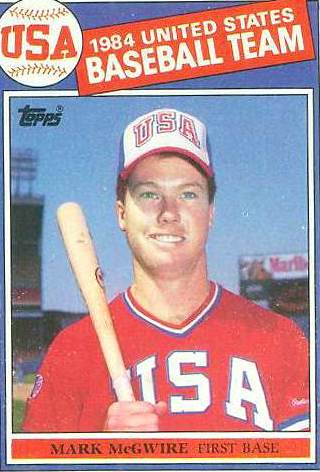 Over two decades before Mark "I'm Not Here to Talk About the Past" McGwire took his reputation, which was already on life support, and suffocated it with a pillow on national television with his congressional testimony, McGwire was a Mickey Mantle/Incredible Hulk mash-up who was poised to take over baseball, ripping home runs faster than any other rookie before him.
"Big Mac", as he was called, back when people thought fondly of both Mark, and the McDonald's burger, hit 33 home runs as a rookie by the All-Star Break. That's SIX MORE than what baseball's current phenom Aaron Judge has. Imagine how insane we'd be going for McGwire and his rookie card now, especially being in Oakland. He'd be on the sideline of Warriors games, kickin' it with Steph, KD and the fellas. In the mid-80s in Oakland he only had to compete with a young man who was too legit to quit on his fledgling music career, Stanley Burrel, aka MC Hammer.
As we travel back to this point in time, 1987, to be exact, a young Jon Finkel, and millions of other nine and ten-year-old card collectors like him, was on the lookout for the classic '87 Topps McGwire rookie card in every pack he opened…until he found out his local card shop had McGwire's ACTUAL rookie card: The rare, hard-to-find (back then) 1985 USA Baseball card of McGwire.
It's tough to imagine now, what with the instant ability to Google and then buy almost any card if you have the time and money, but back in the day, not only was getting ahold of one of these cards difficult, but paying for it was even harder. I had only so many lawns I could mow and chores I could do to save up for a card that I think was about $100 at the time… At that point in my life, making $5/lawn with a crappy old push-mower, it might as well have been $100,000.
Also, if I told my dad I was going to spend $100 on a baseball card I'd probably be kicked out of the house, so I had to factor that into the purchase as well.
Nevertheless, for several years, I tracked that card around town. I knew the shops it was in, I knew which of my friends had it, and I hoarded assets of lesser-valued card like I was Danny Ainge heading into an NBA Draft. But I was never able to pull off a trade.
I wish I could say that I eventually got my hands on that card, and that this story had a happy ending… But alas, it wasn't to be.
At some point, I settled into the realization that I was never going to own that card and I moved on to collecting the cards of a man who I personally believed was going to be BETTER than McGwire. A man who played for my hometown team, the Red Sox.
A man known as Mike "Gator" Greenwell.
But fear not… This story does not bring back any sad memories, for as all collectors know, a majority of the fun, especially when you're nine, lies in the pursuit. And I wouldn't trade that experience for anything…
Besides… Gator is, was, and will always be a way cooler nickname than Big Mac.