10 Mark McGwire Baseball Cards That Help Tell the Story of His Career
When you click on links to various merchants on this site, like eBay, and make a purchase, this can result in this site earning a commission.
With so many different base cards, subsets, parallels, memorabilia cards and autographs, building out a collection for a single player can be overwhelming.
Luckily, the 10-Card Instant PC article series is here to help.
There are more than 10,000 Mark McGwire cards, according to the Beckett database.
So where does one begin putting together a Mark McGwire PC?
These 10 cards serve as an excellent representation of his playing career and footprint on the hobby, making them a great place to start.
1985 Topps #401 Mark McGwire RC
McGwire hit .388 with 31 home runs and 77 RBI in 65 games during his junior season at USA before representing Team USA in the 1984 Olympics. The Oakland Athletics selected him No. 10 overall in the 1984 draft.
His first Topps card was part of the 1985 flagship set when members of the Olympic team were included for the first time.
Buy on: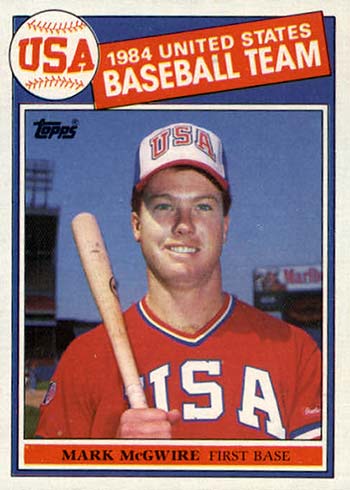 1987 Donruss #46 Mark McGwire
Splitting the 1986 season between Double-A and Triple-A, McGwire hit .312/.415/.554 with 36 doubles, 23 home runs and 112 RBI in 133 games. The 22-year-old made his MLB debut on Aug. 22 and went 10-for-53 with three home runs.
Following that late-season debut, McGwire earned a spot in the 1987 Donruss and 1987 Topps flagship sets. The Donruss card includes the iconic "Rated Rookie" logo, while the Topps card is part of a classic wood-grained set, so you can't go wrong with either.
Buy on: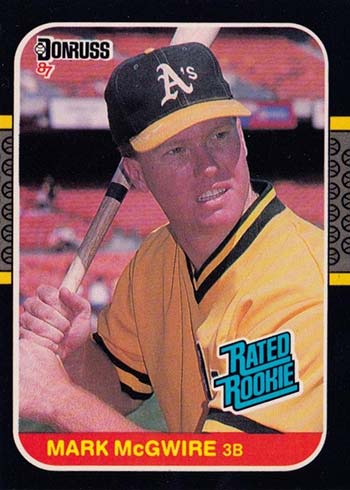 1987 Donruss Highlights #40 Mark McGwire/Jose Canseco
Before McGwire burst onto the scene in 1987, the Oakland Athletics had another rising superstar in Jose Canseco. The young outfielder won 1986 AL Rookie of the Year honors, and two years later, he took home AL MVP with a 42-homer, 40-steal campaign.
The duo would go on to be known as the "Bash Brothers" and they are featured side-by-side on a number of cards. One of the first was part of the 1987 Donruss Highlights boxed set, and it's the most valuable card ($6) in the mass-produced set.
Buy on: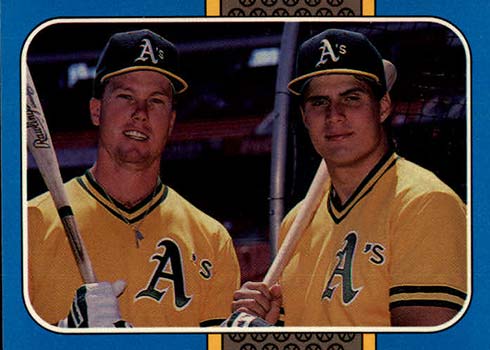 1988 Topps #3 Mark McGwire RB
The Athletics handed McGwire the starting first base job from the jump in 1987 and he put together one of the greatest rookie seasons in MLB history. His 49 home runs stood as the rookie record until he was surpassed by Aaron Judge in 2017, and he posted a 164 OPS+ and 5.1 WAR.
His 1988 Topps base card features the gold Rookie Cup, but the checklist also has this subset card honoring his record-breaking rookie performance.
Buy on: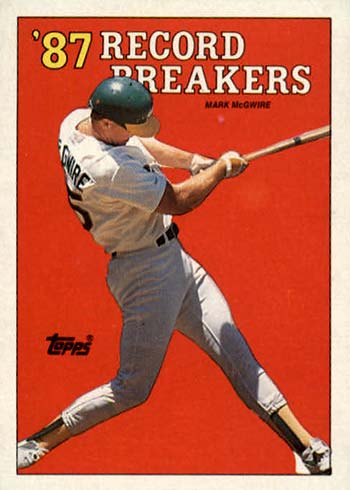 1991 Fleer Pro-Visions #4 Mark McGwire
During his first four full seasons in the majors, McGwire posted a 144 OPS+ while averaging 38 home runs and 105 RBI while earning four straight All-Star appearances. His production dipped in 1991 when he hit just .201/.330/.383, but he came out the other side of it with a 42-homer, 104-RBI, 176-OPS+ season in in 1992 to solidify his standing as one of the game's elite sluggers.
The inaugural Pro-Visions set was released by Fleer in 1991, and McGwire was included alongside Jose Canseco, Will Clark, Roger Clemens, Eric Davis, Dwight Gooden, Mike Greenwell, Bo Jackson, Don Mattingly, Kirby Puckett, Ruben Sierra and Darryl Strawberry.
Buy on: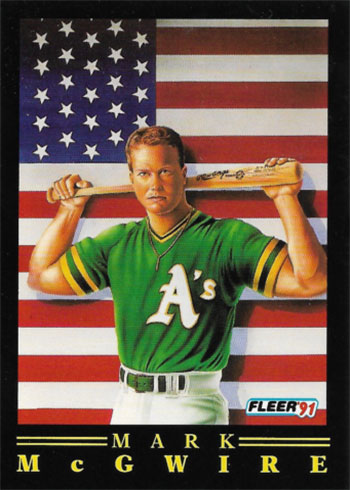 1997 Topps Sweet Strokes #SS10 Mark McGwire
With a 163 OPS+ and 34 home runs in 105 games, McGwire was a hot commodity at the 1997 trade deadline in the final year of his contract. He was shipped to the St. Louis Cardinals in exchange for a trio of prospects, and he hit 24 home runs in 51 games after the trade, signing a three-year extension in September.
The 1997 Topps Sweet Strokes insert set is among my favorites of the 1990s, and this one serves as a finisher to McGwire's time in Oakland for the sake of this collection.
Buy on: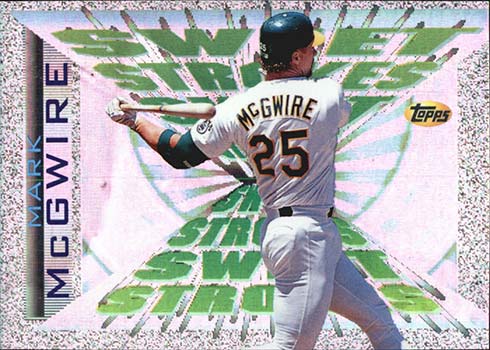 1998 Topps #325 Mark McGwire
After his 58-homer season, the baseball world was buzzing around McGwire entering the 1998 season. The 34-year-old joined Ray Lankford, Ron Gant, Brian Jordan and a young Fernando Tatis Sr. in the middle of a potent St. Louis lineup.
Since there was no 1997 Topps Traded set as part of a three-year hiatus from the longtime update set, McGwire's first Topps card in a Cardinals uniform had to wait until the 1998 flagship set.
Buy on: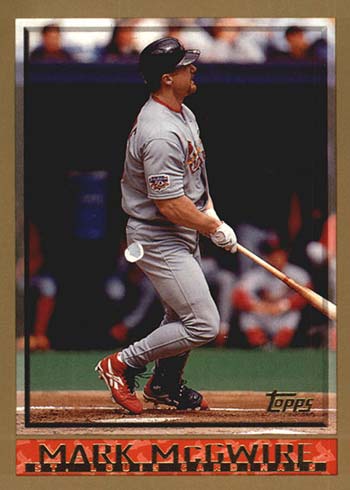 1999 Private Stock Home Run History #19 Sammy Sosa/Mark McGwire
During the 1998 season, McGwire and Chicago Cubs slugger Sammy Sosa took aim at Roger Maris' long standing record of 61 home runs in a season. Both players would eclipse that mark when all was said and done, and McGwire became the new record holder with 70 long balls.
The compelling nature of that chase transcended baseball and made its way into pop culture, and it's often credited with saving baseball on the other side of the 1994 strike. The 1999 Private Stock Home Run History insert set focuses on the two sluggers, and No. 19 on the checklist is a great shot of the prolific duo.
Buy on: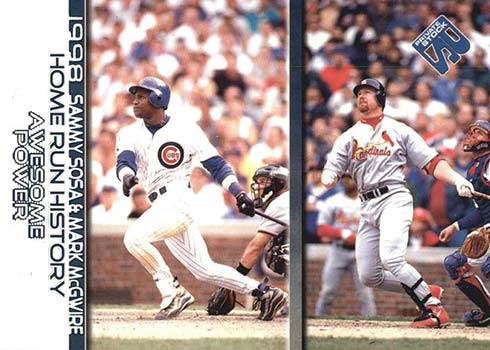 1999 Topps #220 Mark McGwire HR 70
McGwire's home run onslaught was honored in the 1999 Topps Series 1 set, with card No. 220 used to honor his record-setting season. There's a variation of the card for each of his 70 home runs, and No. 1 ($20), No. 61 ($15), No. 62 ($20) and No. 70 ($25) carry a slightly higher price tag than the others.
Sosa was given the same treatment with card No. 461 in Series 2 of the 1999 Topps set.
Buy on: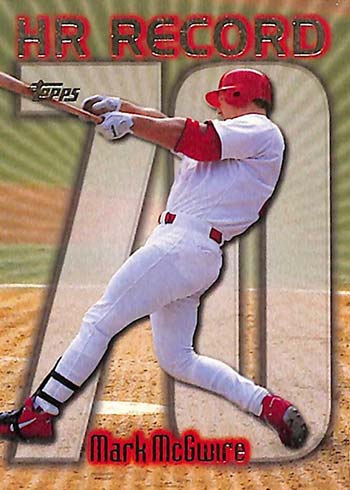 2002 Topps #600 Mark McGwire
In the final season of his career in 2001, McGwire hit .187 with 29 home runs in 364 plate appearances. He retired fifth on the all-time list with 583 home runs, and his 10.6 at-bats per home run rank No. 1 in MLB history.
Despite retiring after the 2001 season, he was included in the 2002 Topps flagship set, which means his final Topps card includes a full stat back.
Buy on: