10 Career-Defining Alonzo Mourning Basketball Cards – Instant PC
When you click on links to various merchants on this site, like eBay, and make a purchase, this can result in this site earning a commission.
Alonzo Mourning was one of the dominant centers of his era on both ends of the floor, averaging 17.1 points, 8.5 rebounds and 2.8 blocks per game over a 15-year NBA career that earned him a place in the Hall of Fame.
All told, there are more than 4,000 Alonzo Mourning cards, according to the Beckett database.
So where does one begin putting together an Alonzo Mourning PC?
The following 10 cards serve as an excellent representation of his playing career and footprint on the hobby, making them a great place to start.
1992 Classic #60 Alonzo Mourning
Mourning averaged 21.3 points, 10.7 rebounds and 5.0 blocks per game during his senior season at Georgetown University. That earned him First Team All-American honors alongside LSU center Shaquille O'Neal, Duke forward Christian Laettner, Ohio State guard Jimmy Jackson and USC guard Harold Miner.
That stellar performance also made him one of the chase cards in the 1992 Classic college set, and his base card is a great shot of his rim-protecting prowess.
Buy on: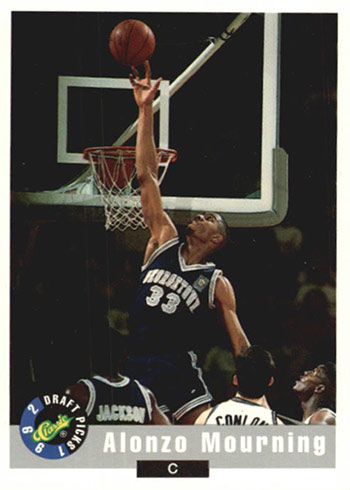 1992-93 Topps Gold #393 Alonzo Mourning
The Hornets selected Mourning with the No. 2 overall pick in the 1992 NBA draft, behind only LSU center Shaquille O'Neal who went first overall to the Orlando Magic. An immediate star, Mourning averaged 21.0 points, 10.3 rebounds and 3.5 blocks to earn 1992-93 All-Rookie honors.
Mourning has six different Rookie Cards in 1992-93 products, and his 1992-93 Topps rookie also has a one-per-pack Gold parallel version.
Buy on: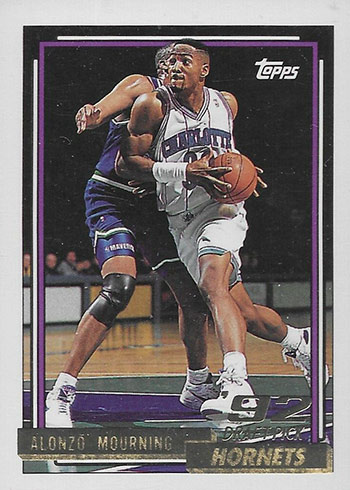 1993-94 Fleer Rookie Sensations #17 Alonzo Mourning
Mourning followed up his strong rookie campaign with his first All-Star Game selection the following season when he averaged 21.5 points, 10.2 rebounds and 3.1 blocks. He was the leading scorer on a Hornets team that also featured Larry Johnson, Hersey Hawkins and Dell Curry.
The Fleer Rookie Sensations inserts helped launch the insert card craze of the 1990s, and they were found in 1:5 Series 1 cello packs for the 1993-94 release.
Buy on: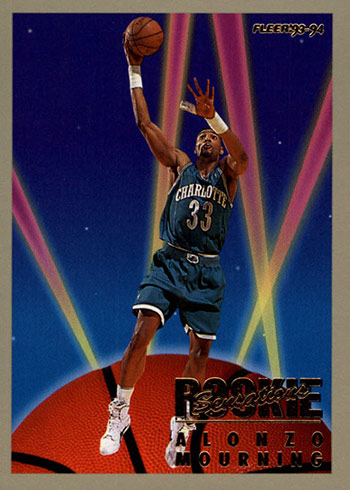 1993-94 Ultra #367 Alonzo Mourning USA
After Christian Laettner got the nod over him as the college representative on the 1992 Dream Team, Mourning was added to the Team USA mix for the World Championships in 1994. He did not end up playing for the 1996 Olympic team, but eventually got his gold medal at the 2000 Olympics.
There are a number of subset cards in 1993-94 products, as well as ahead of his 2000 Team USA run, to commemorate his time playing for his country.
Buy on: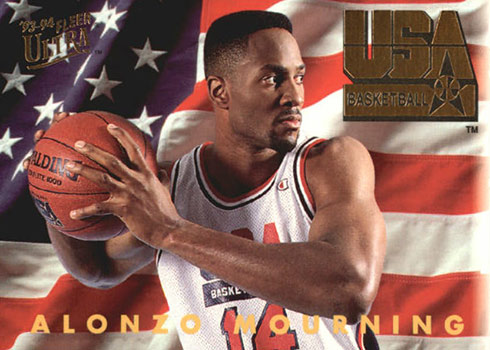 1995-96 Stadium Club Power Zone #PZ11 Alonzo Mourning
After turning down a seven-year extension that would have paid him $11.2 million annually, Mourning was traded to the Heat prior to the 1995-96 season in exchange for four players headlined by sharp-shooter Glen Rice and a 1996 1st Round pick. Mourning would eventually sign a seven-year, $105 million extension with the Heat following his first season in Miami.
The Power Zone inserts were a tough pull in 1995-96 Stadium Club, and Mourning was part of the second portion of the checklist found in 1:48 Series 2 packs.
Buy on: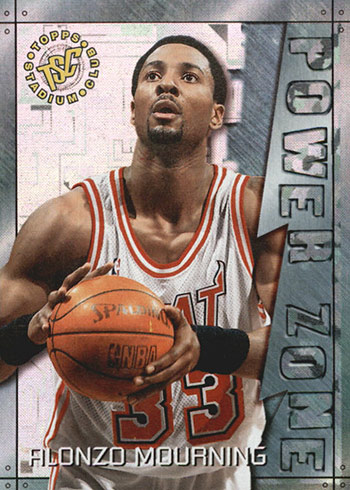 1998-99 Topps Chrome Season's Best #SB23 Alonzo Mourning
During the 1998-99 season, Mourning averaged 20.1 points, 11.0 rebounds and an NBA-best 3.9 blocks per game to take home Defensive Player of the Year honors. The Heat finished with the best record in the Atlantic Division, but lost to the Knicks in the first round of the playoffs.
There were some great-looking Topps Chrome inserts in the late 1990s, and while the Season's Best inserts were easy to find at 1:6 packs, the 29-card checklist made pulling specific players somewhat difficult. The cards also have a Refractor parallel.
Buy on: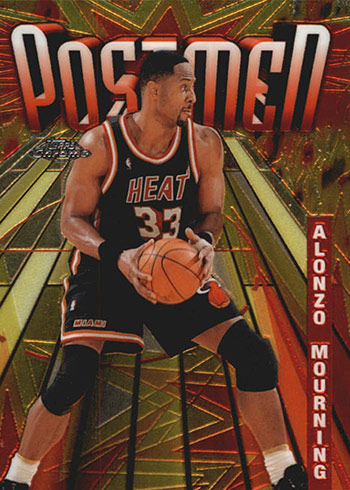 1999-00 SkyBox Premium Autographics #78 Alonzo Mourning
Mourning took home Defensive Player of the Year honors for the second straight year during the 1999-00 season when he tallied 21.7 points, 9.5 rebounds and 3.7 blocks per game to lead the league in rejections once again. The Heat finished atop the Atlantic Division standings once again with a 52-30 record, but they were again ousted by the Knicks in the playoffs.
Mourning has autographs in the iconic SkyBox Premium Autographics sets in 1996-97, 1997-98, 1998-99, 1999-00 and 2000-01, and any of those would be a great first auto pickup for a Mourning PC.
Buy on: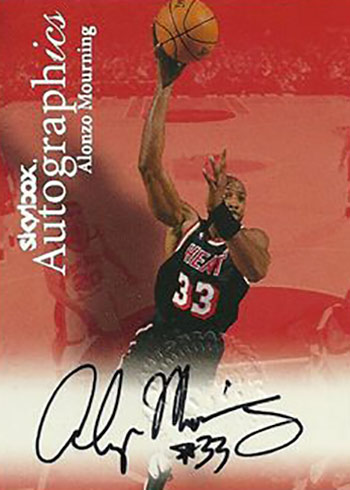 2003-04 Fleer Tradition #83 Alonzo Mourning
Shortly after winning gold at the 2000 Olympics, Mourning was diagnosed with kidney disease. He initially played through the diagnosis, but wound up missing the entire 2002-03 season while he dealt with the illness. Mourning signed a four-year deal with the Nets prior to the 2003-04 season, but played just 12 games before returning in November. A month later, he received a kidney transplant.
Mourning only appeared in a handful of 2003-04 sets in his Nets uniform, including 2003-04 Fleer Tradition Basketball.
Buy on: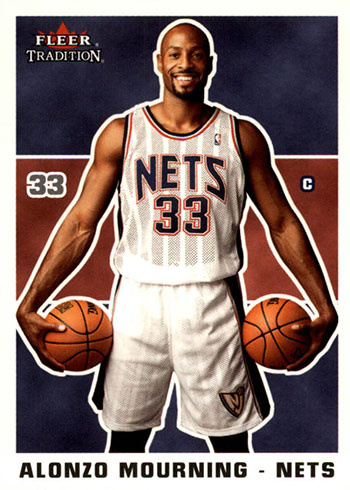 2005-06 Topps Total Silver #64 Alonzo Mourning
After returning for the second season of his contract in New Jersey, Mourning played a limited role and was eventually traded to Toronto as part of the return package in the deal that sent Vince Carter to New Jersey. Mourning never played for the Raptors and was bought out of his remaining contract, which allowed him to find his way back to Miami. Serving as the backup center to Shaquille O'Neal, he finally won a ring in 2006.
The Topps Total set was one of the few to feature Mourning during the 2005-06 season. Along with the base card from that set, each card also has a Silver parallel that was found one-per-pack and a Gold parallel that was numbered to 10.
Buy on: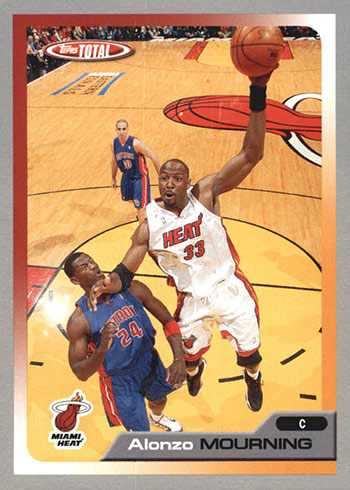 2008-09 Fleer #98 Alonzo Mourning
The 2007-08 season was the last of Mourning's career. He wrapped up his 15 NBA seasons ranked among the all-time leaders in blocks (2,356, 11th). He also tallied 14,311 points and 7,137 rebounds en route to Hall of Fame induction.
His 2008-09 Fleer base card features a great full stat back that encompasses his entire career.
Buy on: