New Fleer Ultra Hockey Release Features Surprise Parallel Cards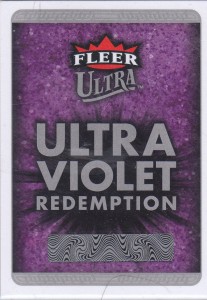 By Stephen Laroche | Beckett Hockey Editor
Sometimes a redemption card can be a bit of a disappointment for a collector. After pulling one from a pack, there is often a wait associated with it and what is ultimately received might not live up to expectations.
In the case of the redemption cards for Ultra Violet parallels coming out of 2014-15 Fleer Ultra Hockey packs from Upper Deck, the cards collectors will receive will certainly be worth the temporary inconvenience. These flashy pieces of cardboard are limited to one copy each and are going to be highly coveted by player collectors.
"We made the Ultra Violet one-of-one parallels as a component of the group of high end chase cards that are available in Ultra," said Upper Deck's Senior Marketing and Social Media Manager Chris Carlin. "We strategically fashioned this product to highlight an array of chase cards that more often than not, are devoid of autographs and memorabilia. We offer plenty of those cards in other brands and we wanted to give Ultra a distinct profile in our hockey calendar lineup. The Ultra Violet cards help contribute to that effort."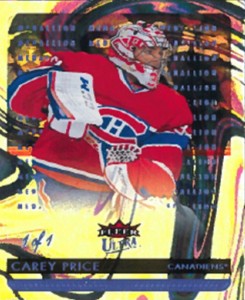 Carlin also gave some insight into why these scarce cards will not be redeemed  for a specific player.
"We also deliberately chose to redeem them in random fashion, instead of issuing them out in packs to make them a lot more special for the collectors once they track down the card they want. We also wanted consumers to have the option of rolling the dice and redeeming the card or selling or trading it and letting someone else take a shot."
The Ultra Violet parallels for the 200-card base set have already been printed and will be shipped out to collectors once they are redeemed. There are also additional 30-card Ultra Violet Rookie cards that will be printed once the checklist has been finished after the start of the 2014-15 season. This small delay will allow the company to depict the top freshmen making their debuts and create strong secondary market demand as well.
It was also noted that the cards will be look quite impressive once a collector has them in their hands. While Upper Deck did not state the odds of tracking down one of these redemption cards, they did note that they are only available in hobby packs. Carlin and the rest of the company are very pleased with how this new edition of Fleer Ultra has been received by the hobby.
"We've seen a great response for the brand as a whole from the hockey card community," he said. "We structured the content and positioned the brand to be unique in regards to what it offers as compared to other brands and it looks like a lot of collectors are enjoying chase cards like Road to the Championship, Photo Vault and the Ultra Violet one-of-ones."
Collectors can also expect to find pricing on 2014-15 Fleer Ultra Hockey from Beckett in the near future.
Stephen Laroche is the editor of Beckett Hockey and Beckett Basketball magazines. Have a comment, question or idea? Send an e-mail to him at SLaroche@beckett.com. Follow him on Twitter @Stephen_Laroche.