2015-16 Upper Deck Champs Hockey Card Details
Sometimes, a rest can be a great thing for a trading card brand. In the case of 2015-16 Upper Deck Champ's Hockey, it has been six-year wait. When Upper Deck brought Champ's to the market back in 2008-09, it proved to be a cult hit with hockey collectors and it was a nod to the 1924-25 Champ's Cigarettes series which was one of the first to offer cards of NHL players. The brand's two-year run was cut short before it could finally take off as a perennial favorite, but it did create plenty of positive feelings in the hobby to generate a comeback.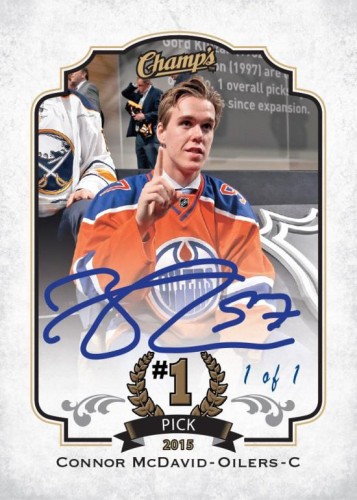 Base Set and Parallels
With a large 315-card base set, 2015-16 Upper Deck Champ's Hockey looks to cover more than the average set does in terms of player content. There are 180 shell set cards along with numerous subsets making up the balance of the collection. Regular short printed base cards are found once in every two packs while the High Series cards are slightly tougher to pull (1:5).
All 315 cards have parallel versions that make for an additional challenge. There are Gold variants which are different on either the front (base 1:10, SP 1:15) or back (base 1:20, SP 1:30) in addition to Silver (/25 for both base and SP). The alternate versions of the High Series subjects have both a front (1:50) and back (1:100) variant along with an addition type limited to 25 copies.

Inserts
Previous incarnations of this product managed to offer up plenty of quirky insert collections that most would not expect to see in a pack of hockey cards. In the case of 2015-16 Upper Deck Champ's Hockey, the inserts encompass both the hockey world and non-sporting subjects and the easiest to find will be the Fish cards (1:10), followed by Northern Wonders (1:35), Traditions (1:35), and Famous Food (1:52). Those focusing on the game itself are much tougher to pull and focus on Conn Smythe Trophies (1:200) and #1 Pick (1:200), which spotlights Connor McDavid.

Autographs
Each box of 2015-16 Upper Deck Champ's Hockey is going to yield one hard-signed autograph card for collectors. Autographed versions of some regular cards (1:58) and short prints (1:87) lead the way and the inked High Series cards are a bit tougher at 1:285. A set of Mini Auto cards are a long-odds hit (1:1,800), but the two hockey-themed insert sets have a signed parallel with Conn Smythe Trophies being numbered to 25 and the McDavid #1 Pick coming in as a one-of-one.

Memorabilia
The most common type of memorabilia cards in 2015-16 Upper Deck Champ's Hockey focus on today's top stars and rookies. Base Card Rookie Jersey are the most common at 1:15 packs, but the veteran Base Card Jerseys are only slightly tougher at 1:30. There is also a Mini Jersey set (1:400) along with the potentially compelling Canadiana Relics (1:600) and Canadiana Odd Relics (1:2,800) that may generate some buzz upon release.
Finally, there are Framed Mini Tobacco Cards (1:1,200) which give collectors a shot at some of the earliest hockey cards ever produced.
2015-16 Upper Deck Champ's Hockey at a glance:
Packs per box: 20
Cards per pack: 6
Boxes per case: 10
Set size: 315 cards
Release date: July 13, 2016
What to expect in a hobby box:
– one hard-signed autograph card
– two hockey or Canadiana relic cards
– four high series cards
– nine parallels or variants
– six insert cards
Stephen Laroche can be found on Twitter @Stephen_Laroche.