Naim Cardinal and His Impressive Rookie Card Collection of Every Indigenous NHL Player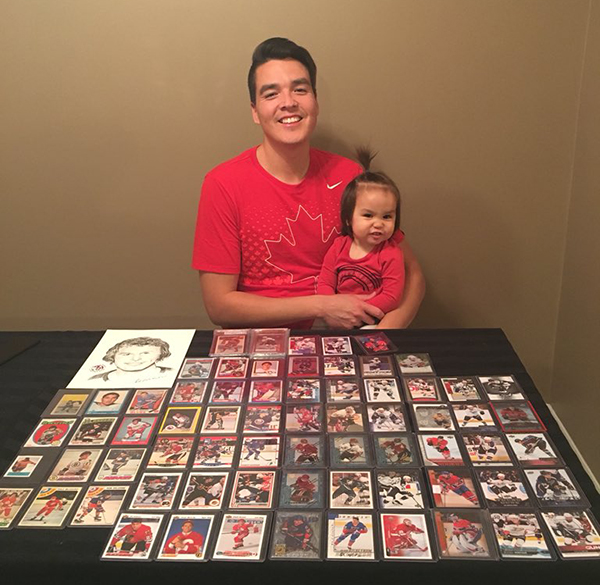 Collecting sports cards can be its most rewarding when you set a specific goal and go after it. For Naim Cardinal, an Edmonton-based collector, it's Indigenous hockey players and their Rookie Cards.
After starting this particular collection in 2014, Cardinal has put together a run of at least one Rookie Card from every Indigenous player to have one. And while some big names like Grant Fuhr, Bryan Trottier and Theoren Fleury are in there, many are lesser-known guys who didn't make a massive splash in either the NHL or the hobby.
"I picked up a few Rookie Cards here and there. I had guys like Jonathan Cheechoo's Rookie. I had more well-known guys and they were just picked up for my collection," recalled Cardinal. "I just thought about it and thought I should do something that was going to keep me going with the hobby."
There they are, folks. One rookie card of every indigenous player who played a regular season NHL game & has a hockey card. 70 in total. pic.twitter.com/aZe2BUIMB1

— Naim Cardinal (@NaimCardinal) October 22, 2017
Cardinal's collection may not be the biggest as far as number of cards go. He currently has about 110 total cards from 70 players. But his razor-sharp focus gave him something to pursue. It also deepened his love of collecting.
"When I initially started the project, I was looking for something that would keep me going in the collecting because I was getting bored with buying packs and trying to chase down the Rookies every year, the big names," Cardinal said.
"I felt like this was something that was meaningful to me. It's something that I can hang on to and it's something that I can keep within my family if I wanted to."
His favorite card in his collection? The 1954-55 Parkhurst Fred Sasakamoose. Cardinal actually has two of them, one raw and one graded 6.5 by KSA.
"He's the first First Nations player in the NHL. He's the guy who opened up all the doors for these guys coming after him," he said.
For modern players, Cardinal focuses primarily on Young Guns. But that doesn't mean he's not willing to expand into other brands. For some of his favorite players, like Jordin Tootoo, Cardinal says that's he more than happy to add rookie autographs and patch cards.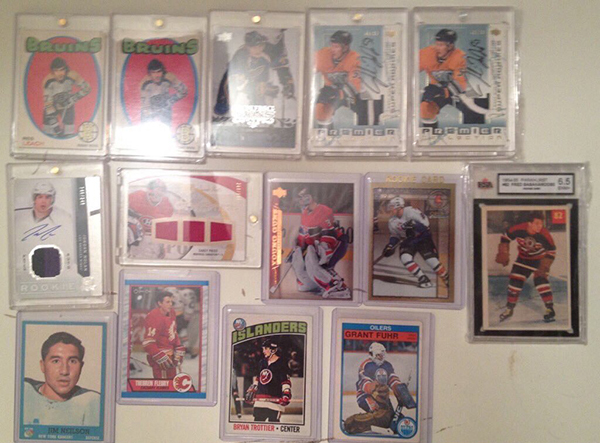 Now that his initial list is complete, he's also starting to pick up Young Guns parallels and building rainbows, "Initially I wanted one of each. But now that I've gotten every single player, I'm looking for the parallels from some of the newer sets like the Upper Deck Exclusives or the High Gloss, if possible."
Like many, Cardinal started collecting in the late 1980s. He was introduced to the hobby by his older brothers and their cards that came from places like Esso gas stations.
A member of the Tallcree First Nation, Cardinal grew up in Northern Alberta, about 700 kilometers (over 400 miles) north of Edmonton. That meant that getting cards in those early years wasn't as easy biking to a local card shop. Instead, he got whatever the local grocery stores and gas stations brought in.
After collecting for about five years, Cardinal took a break from the hobby for a while. That lasted about a decade. Returning to the hobby in 2004, Cardinal now lives in Edmonton where the card collecting is well-served with multiple shops and regular card shows. Cardinal frequents both Wests Sports Cards and Wayne's Sports Cards and Collectibles. He also loves hitting the Northgate Card Show.
Cardinal has a busy person. In addition to his family life, he's currently an education consultant at an Edmonton college. He's also pursuing a Master's degree in Education.
You can follow Naim on Twitter at @NaimCardinal.
Comments? Questions? Contact Ryan Cracknell on Twitter @tradercracks or by email.