Looking for cards of Redskins RB Alfred Morris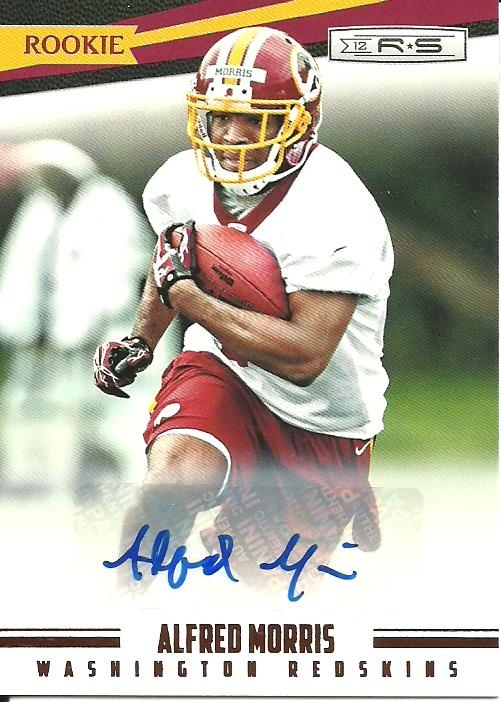 By Susan Lulgjuraj | Beckett Football Editor
Alfred Morris is currently one of the most popular NFL rookies, but no one was talking about the Washington Redskins running back when the season started.
When collectors pulled his cards, they usually went in the "eh" pile. However, football fans are searching their collections for any Morris cards they may have missed.
Morris had just six Rookie Cards, 23 autographs and 52 total cards right now. Compare that to fellow Redskins rookie Robert Griffin III who has 11 RCs, 313 autos and 655 total cards.
With such a small sample to choose from, collectors might have a hard time finding Morris' cards.
In fact, through the first two months of the season, the only place to find Morris' NFL cards are in Panini products. He appears in sets such as Score, Rookies and Stars, Prestige and Momentum.
Get a online price guide and a checklist of Morris here.
"The reason why we spotted him so early is as easy as who his coach is," said Ben Ecklar, Panini America's NFL Product Development Director said on the company blog. "Mike Shanahan has a history of rotisserie running backs and a history of playing rookie running backs early. We knew he was going to get opportunities and we felt strongly about his ability to succeed in those opportunities."
Yep, he definitely got opportunities.
Morris didn't come with the same hype as RG3. The 173rd draft pick drives a 1991 Mazda 626 and Florida Atlantic University was the only school to offer him a football scholarship. FAU went 1-11 his senior year.
But after Week 5, Morris is fourth in the league in running with 491 yards – only 60 yards behind the leader – and has four touchdowns in five games. The only players with more yards are Jamaal Charles, Arian Foster and Marshawn Lynch.
Here's a breakdown of some of Morris' most popular cards right now
– 2012 Prestige rookie autograph /899

– 2012 Elite Die-Cut auto

– 2012 Prominence autographs

– 2012 Momentum autographs

– 2012 Rookies and Stars
Susan Lulgjuraj is an editor of Beckett Football. You can email her here with questions, comments or ideas. Follow her on Twitter here.