2015 NBA Rookie Photo Shoot Recap: Panini's Tracy Hackler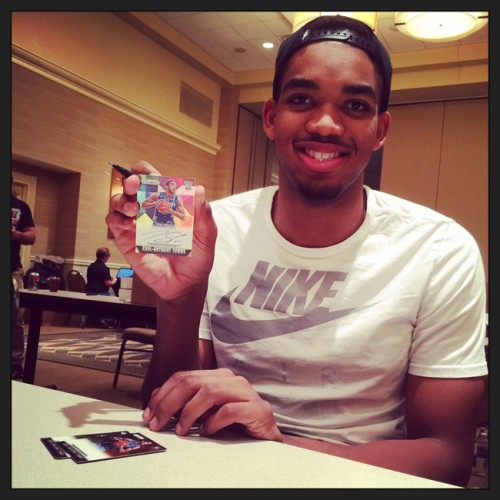 By Stephen Laroche | Beckett Media
Panini America was quite busy over the weekend with both the Pro Football Hall of Fame induction ceremonies and the 2015 NBA Rookie Photo Shoot, but it still managed to deliver plenty of excitement to dedicated collectors through its social media feeds.
At the NBA Rookie Photo Shoot, nearly 40 of the game's brightest prospects headed to Tarrytown, New York to pose for their first trading card photos and sign for several of the company's early-season releases for 2015-16. In addition to this, the players also went head-to-head in a Trick Shot Challenge competition and managed to interact with fans who are unable to attend this exclusive event by taking over the company's Twitter feed and answering collector questions.
Beckett Basketball caught up with Panini's Marketing Manager, Tracy Hackler, in the days following the the annual spectacular and he was able to reveal some details that will surely be of interest to collectors.
How excited were the players about seeing and signing their first NBA trading cards?
"One of the biggest highlights of this event every year is watching the reactions of the players when they see their cards for the first time. To see those huge, authentic smiles come across the players' faces – or to watch them carefully scrutinize the card-back copy on every card – is a true sight to behold. And this class in particular is filled with players who grew up collecting cards. Karl-Anthony Towns worked in a card shop when he was younger; Frank Kaminsky still loves busting packs. These players understand and appreciate what this event means for fans and collectors and they seemed to really enjoy being there."
Read on after the jump for the rest of the interview and images from the 2015 NBA Rookie Photo Shoot.
What do you feel the Trick Shot Challenge aspect brings to the event and what it was like to see these young stars perform in person?
The #PaniniDunk Trick Shot Challenge at this year's event was a continuation of an idea we started last season and is a great way to utilize the Panini America Instagram account on a huge day for social media. These kids are so talented and out-of-this-world creative when it comes to unique dunks and innovative trick shots that I found myself many times standing in amazement when I should've been filming them on Instagram. In addition, this opportunity to work closely with our partners at Facebook/Instagram helped us deliver the live #PaniniDunk finale between Karl-Anthony Towns and Justise Winslow via Facebook's new streaming feature to more than 3 million viewers.
The #PaniniDunk hash tag is obviously also a nod to the new NBA Panini Dunk app that soft-launched during 2015 NBA Rookie Photo Shoot weekend with special virtual cards made that day. We'll have plenty more on NBA Panini Dunk in the near future, but the app is available for download now in the iTunes App Store. We'd love for collectors to download it and let us know what they think.
Editor's note: The Panini Dunk app can be found here
What are your thoughts on the overall importance of the event to the hobby and collectors?
The Panini America NBA Rookie Photo Shoot is one of the single most important events on our basketball calendar every year. In terms of content acquisition (autographs, memorabilia, photography and more) and in terms of strengthening our relationships with the next class of NBA stars and our partners at the NBA, this event is second to none.
How amazing is it to let the players take over your Twitter feed and interact with collectors?
That's always an enjoyable aspect of engaging with the players. The opportunity for our Twitter followers to get direct access to players that many of them have been fans of for years is enjoyable to watch. In a sense, it's one more way that Panini America brings fans and collectors as close as possible to their on-court heroes.
–
Stephen Laroche is the editor of Beckett Basketball and Beckett Hockey magazines. Have a comment, question or idea? Send an e-mail to him at slaroche@beckett.com. Follow him on Twitter @Stephen_Laroche.