Local Card Shop of the Week: Top Shelf Cards (Elgin, IL)
Chris Keller is one of the more widely known breakers in the industry. He owns Top Shelf Breaks. His skills on the breaking mic were honed during his days in the music industry. He has built a very sizable and loyal following over the last several years in the breaking community. Now he is stepping into the retail store side of the hobby. He's looking to combine breaking and retail shopping for one big sports card experience. I recently caught up with CK at the National Sports Card Convention and was able to visit his new shop.
Local Card Shop of the Week is brought to you by Southern Hobby, who has been serving the collecting community for nearly 30 years.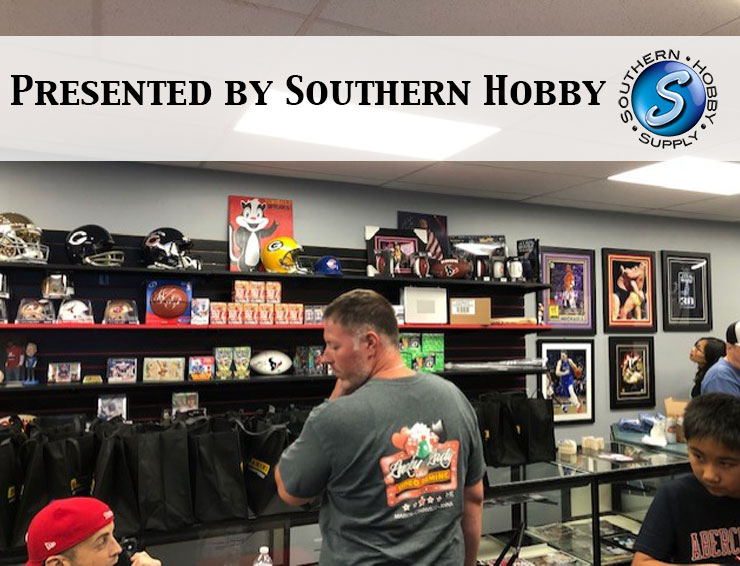 JOEY SHIVER – Thanks for taking the time to talk with us Chris. You have been collecting and working in the industry for several years. Can you tell us a little about your collecting background and what led you to opening your store in Elgin?
CHRIS KELLER – A long, long time ago in Central Pennsylvania, my friend Matt showed me an oversized magazine that had current market prices of sports cards, along with interviews of players, sports news, and just cool hobby stuff. In between riding my skateboard around town, I would read and study up on the cards and the hobby. At the time, packs and boxes were being sold at the local bookstores in the malls and corner stores mostly. I don't really recall hanging out at a local LCS. It was just about getting those boxes at the stores and ripping them. That's how it began, my buddy roped me in, was around 1988-89-ish. We were chasing the Griffeys, of which he had a lot, and still does to this day.
I started my career in commercial radio and it's what I always wanted to do. I turned that passion for music, radio and entertainment into a long career, which ultimately had me land in Chicago in 2003. In between, I lost touch with the hobby and collecting except for the NBA days of Kobe, MJ, Shaq, Skybox, Hoops, and Fleer Ultra to be exact. That kind of lured me back in. I lived in L.A. at the time and would frequent a shop in Santa Monica often to buy, trade, and sell stuff. Long story short, as I left LA to move to Houston with a new gig. The night before I was leaving, there was a break in, and my 5,000 box of top-loaded rookies, hits, everything was stolen. I had them locked in my trunk, in a secured garage, but they stole the key from my roommate at the time, and that was that. I had so much going on with my move and new job starting in a few days, there was nothing I could do as I had to hit the road for the move.
I started Top Shelf Sports (TSB) in 2014 with my buddy Nate with the intention of just becoming a trusted brand, building that, and creating alliances and relationships in the hobby and social media. As the years went on, I had to move out of the break cave in my basement and into a small retail suite about 15 minutes away. It was a start. When that lease was ending, I found the current Top Shelf Sports Card location.
TSB was bringing in the revenue, and the move to a bigger, open, retail location made sense financially to make the jump. The money I was saving on gas alone almost covered the difference in rent, so first thing is to make sure you can support your move or your upgrade.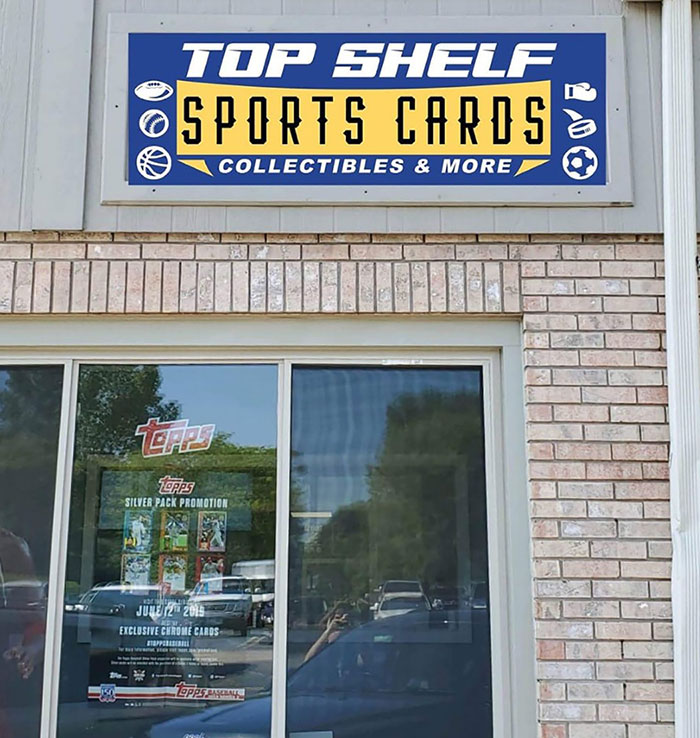 JS – I was able to tour your store recently during the National Sports Card Convention and you have a really clean setup that will offer retail shopping but also allow you to run your card breaks from private studios as well. Can you talk a little about your set up and how you wanted to cater to both retail and breaking with your store?
CK – The second I walked in the front door with the broker (after walking past the car with license plate 222 at the front door), I knew instantly that this was the place; provided the owner would take my offer. It has a studio already built right in the front, with the big glass windows looking out on to the main floor. This is where we do the breaks daily and nightly. TSB is the cash flow, so that has to keep running seamlessly. I had to keep that going as if nothing changed, other than the location of the studio. I was faced with adding more time to physically build out the retail floor. We added display cases and shelving. We built a special sort room in the back, which is like a studio with large glass windows. This open studio look gives the retail customers a look into the breaking operation, kind of like watching candy or donuts being made at a factory. That's the look and vibe I was going for. And, it works! People will stand outside and peer in as we are breaking or sorting the cards. It's pretty cool. We are like card breaking fish in a bowl!
JS – What sports products do you plan to offer in your store?
CK – We are full service. If it is a release in any of the major four sports or Star Wars, UFC, WWE, soccer, racing — we will have it. My focus for the retail shop is overflow of the products we get from TSB. We get weekly new release hobby boxes for sale. The other focus is live breaks in the shop on Thursday nights. Many of the customers are not too familiar with the concept yet, but that's why I do tutorials with them and show them how it works.
JS – Most people who know you, know that you are a big Bears and Cubs fan. You had some tremendous memorabilia and signed photos on the wall in your shop. Who would you put on your Mount Rushmore of sports in your area? Do you anticipate a lot of "Home Team" collectors in your area?
CK – There are definitely home teamers and collectors here. They like to get their favorite players from their teams. It's mostly Bears and Cubs. We are in process of approval with Upper Deck so we can start offering new hockey products. They have quite the process to get approved as a brick and mortar Diamond Dealer. It just entails a lot of paperwork, photos, videos, and time.
Mt Rushmore of local, like if I had one item with Chicago players? Well, it starts with the obvious, Michael Jordan, as the centerpiece. I thought about a giant mural on one of our walls of MJ, hand painted, awesomeness, but I have to stay on budget with those kind of things. I'd like an MJ, with a mix of guys that are true Chicagoans like Brian Urlacher and Dick Butkus, Rex Grossman, JAY CUTLER….KIDDING! …..mixed in with some Cubs veterans like Ryno, Fergie, Santo, Ernie with the new guys KB and Rizzo. Sorry, no Sox allowed, even though I have some nice pieces of them for sale.
JS – When I attended the event at your store during the National, you had former Chicago Bear and WCW wrestling star, Steve McMichael on hand signing autographs and taking photos. Do you plan to have autograph signers in store in the future? Are there any other events (i.e. trade nights, family events, in store breaks) you expect to have in the future?
CK – The "Mingle with Mongo" was a big hit! He's a total natural and just loves to tell stories, and sign all the way through while he's doing it. I will be bringing in athletes and celebs a lot.
That will be part of the identity of Top Shelf Sports Cards — the place where there is always some player, celebrity, something, someone at the shop doing some sort of event. I want it to be a destination, always fresh, fun, and vibrant. It keeps you topical and keeps your customer base engaged and always watching to see who/what you are doing next.
Family Nights are going to be big for us during the fall and winter months as well. We won't just cater to the teen demographic of collectors, but also the younger ones. My sons are 8 and 5, so we have a kids center set up out front where they can do some art, sit on bean bags, play with cards and supplies, that kind of stuff, while the older crowd is on the main floor breaking stuff, or trading, box wars, etc.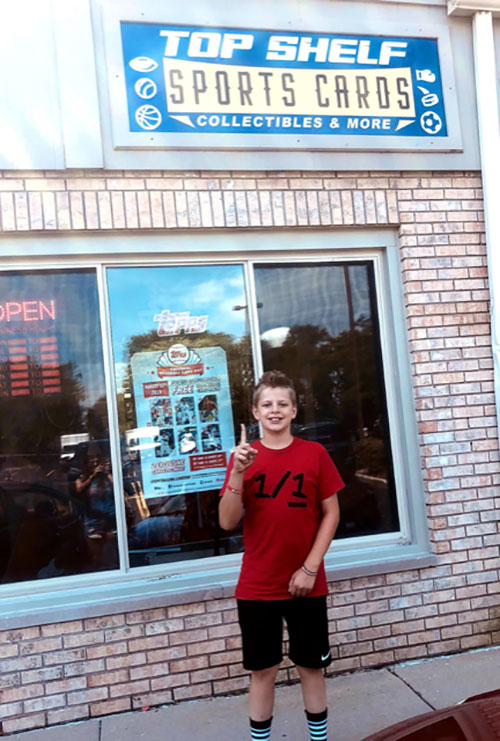 JS – As it relates to particular products, what has performed well in breaking in 2019 and what has made those products so popular?
CK – Well, it's no secret that just about everything is doing well right now. It used to be that those entry level products (that's friendly for the cheap stuff) wasn't always a great break. There would be no interest, but lately, those type of products have some demand. I'm talking baseball — the Stadium Clubs, the Topps Series 2, Gypsy Queens, those base-heavy products have demand. I do not like to do a large volume of it due to the time to sort all of it properly, but it sells for sure.
NFL always does well for me. My weekly Blitz Mix is one of our most popular breaks we do each week. It's a mix of the newest release product, along with stuff from a few years back. I try to get stuff from each year back to 2016, which rounds out the teams pretty good, no matter who you get. But, MLB right now is smoking hot! Wait, so is NBA, and it's about to be hotter! So is NFL with the rookie crop about to hit the field! So yeah, it's all good. Even the buyback stuff from Leaf and TRISTAR do well here. It's a great time, my friend!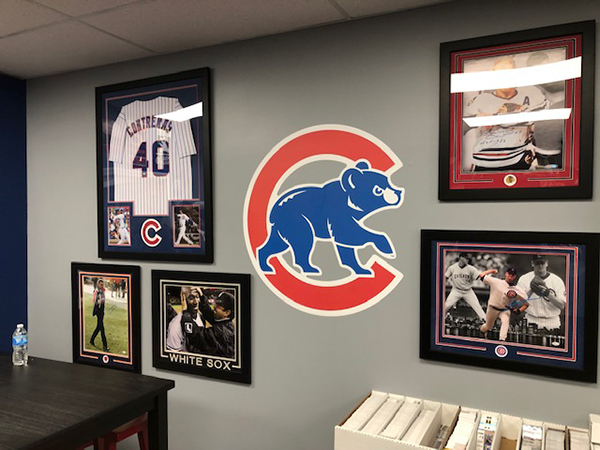 JS – Are there any products that are on the release calendar you are really looking forward to in the next few months for your retail store?
CK – Other than the month of March, this next month or two is the best time for me, both personally and business wise. All the new football starts hitting, the good stuff like Spectra, Select, Prizm, XR, Origins, the Collegiate National Treasures, and Immaculate stuff. I'm really looking forward to seeing the 2019 NFL products this year, and more importantly watching the games in the shop.
Top Shelf will be breaking exclusively the NEW Origins NBA three days early before release. This is a great opportunity for us, and I'll make it an event both online with my TSB breaks and at the shop, giving customers the chance to "Hit It First" with the new Origins NBA three days before street date. This is the first Zion cards and will be as the kids say "hot fire!"
JS – You have a very active social media presence with your breaking company and I would expect that you will be doing the same for your retail store. How important has social media become for you as a small business owner?
CK – Yes, five years ago I had one Twitter follower — my business partner. Today, it's grown and TSB was pretty much built single handedly on and through Twitter — literally. A brick and mortar is a bit different as you have to expect people to take their time to come in your shop vs just hitting 'retweet or buying a spot and watching from home. So, it's a bit different and new to me quite honestly. The word is definitely out about the shop but it takes more like tying in with the local radio station here in Elgin, and some Google stuff. Yes, Google stuff, hitting the Facebook machine with updates, and marketing through the local Elgin Facebook "What's Happening" groups is a big boost as well. But, it's different than Twitter for sure.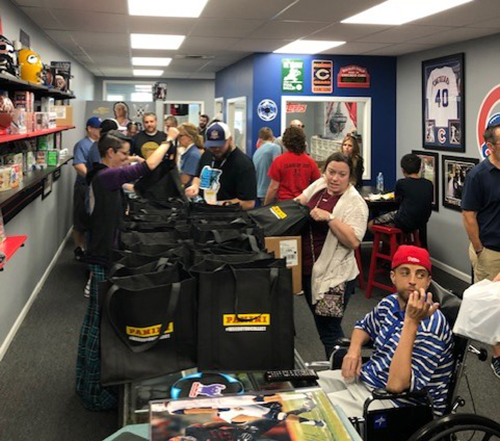 JS – What are some of the major positives within the hobby and industry right now? What do you see from a product or support standpoint from the companies that is really driving customer satisfaction?
CK – I say this often on the air, and I mean it or I wouldn't say it – I see effort! I see the effort the manufacturers are putting in with the design and production of the cards. It starts with that right, visually? If you open that box and pack and it's a beautiful looking card, it goes a long way with me. I see them constantly trying to come up with new angles and inserts and parallels, and not just doing them to do them, they are trying to make it better. There is definitely effort, instead of them putting out the same ole, same ole each year. I know others are going to hate and argue that, but it's probably because they got skunked in a box of it.
JS – On the contrary, what are some areas you think could be addressed or modified to improve the customer experience? What type of feedback would you like to pass along to help improve any areas in the hobby that need attention?
CK – Redemptions aren't the most fun to pull live in a break, but, I mean what the heck else can they do really? If the guy didn't sign, he didn't sign. Topps and Panini are just as frustrated by it as we are as collectors. I think sometimes people forget what it takes to run a giant company like these manufacturers. People get so angry, and mean, and short. I'd like to see a little more positivity when it comes to that stuff. The companies are trying and they may be a bit understaffed to handle the requests timely. I get that, and that's an issue. I've addressed that with them. Perhaps they need to staff up and add to the team instead of having just a few people manage it for the entire country. That's what I'd like to see — staffing up, branching out their customer service departments, and hiring more people to manage the load.
JS – In closing, what do you want your potential customers to know about what they can expect when they visit your store in Elgin?
CK – When people visit Top Shelf Sports Cards, they will feel welcome. They will feel part of something. I've always invited people into my world, meaning my world of running the business — making them part of it by asking them for their input, feedback and help. I also want them to know what and how things work when they walk in. It's a clean environment, meaning not cluttered. Things are clearly marked with pricing and the flow is not confusing. They can sit at one of the tables and sort through commons and hits, watch a movie or a game, or they can hang at the counter and chat with me and others, get a drink, and just escape and enjoy. That's what I want, an escape to enjoy and "talk shop," literally.
Also, with National Baseball Card Day, it is a good time to remember that there will be two Card Days this year with a Card 1 and Card 2. We are looking forward to that! We have the free packs with $10 minimum purchase from Topps. Also, my son Brixen makes "Brixen Packs," which consists of all Topps cards and is given out one per person on National Baseball Card Day.
Top Shelf Sport Cards
Chris Keller
(312) 730-6849
2090 Larkin Avenue Suite 5
Elgin, IL 60123
Facebook:
Top Shelf Sports Cards Elgin
Website:
TopShelfBreaks.com
Twitter:
@topshelfcards22