Canadian Local Hobby Shop of the Week: Rawscoe's Sport Collectibles (Peterborough, ON)
Ross Elson started collecting cards as a kid in Canada. After passing along that passion to his kids, he decided jump into the sports cards business. I recently caught up with Ross to discuss his store in Ontario.
Canadian Local Card Shop of the Week is brought to you by Universal Distribution, Canada's premier distributor of CCG's, sports cards and non-sports cards, trading card games, role-playing games, comics, toys, figurines and more.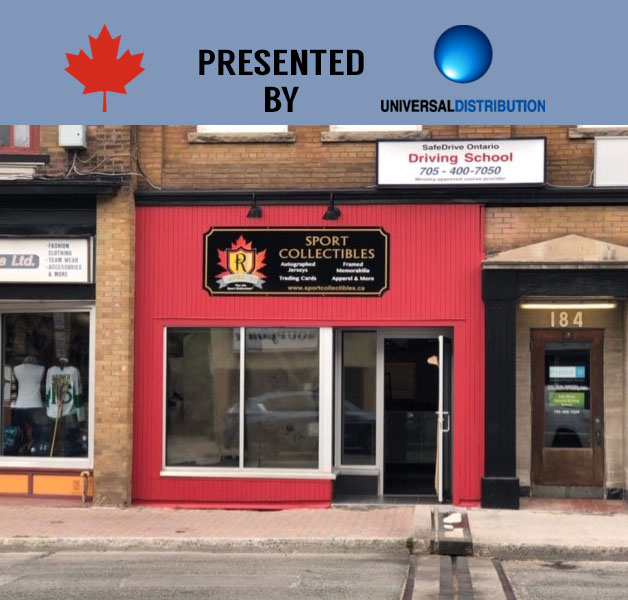 JOEY SHIVER – Can you tell us a little about your collecting background and what led to your decision to open your shop?
ROSS ELSON – I started collecting when I was a kid. My passion for the hobby was reawakened when my own boys took interest in it. Our passion then grew into a hobby business as we attended the Toronto Sport Card & Memorabilia Expo. In our town, there was no hobby shop, but I knew from our own collecting and attending the Expo that the hobby was alive and healthy. Peterborough has an exciting rich history with hockey and a population that is passionate about sports, and I felt that it would be a great town in which to open up a shop.
JS –Can you tell us a little about your store, your setup and what type of inventory you carry? Also, what services do you provide?
RE – Our store provides autographed sports memorabilia such as jerseys and framed pieces and, of course, we have Upper Deck sport trading cards. My wife and I designed our store with customer experience as our vision. Our memorabilia products are presented in gallery fashion.
We have the customary display cases for cards with shelves of sealed product behind, but we also have two areas for collectors to enjoy and share the hobby with each other. At the front of the shop are high tables and stools for collectors to rip their packs and socialize. And at the rear of the shop are tables and chairs for events such as breaks, trade nights, and even kids' birthday parties.
We even have TVs mounted so we can have the live game or last night's highlights on. We don't want our collectors and guests to simply buy our products and leave. We want them to experience and enjoy the sport and hobby in our store.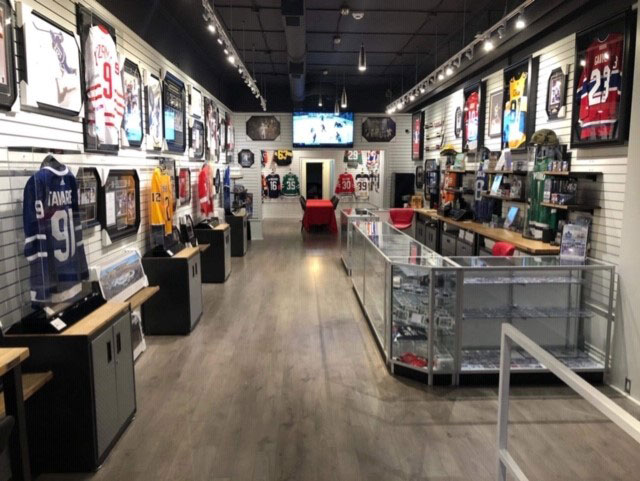 JS – You are located in Ontario, northeast of Toronto. When it comes to the "home team," who would you say your collectors focus on?
RE – By the numbers our collector's home team is the Toronto Maple Leafs, but not far behind, and definitely equaled in passion, are the Canadiens and Bruins.
JS – Your Facebook page reveals a very nice collection of framed memorabilia. Can you tell us about your selection and some of your favorites?
RE – When we set up the shop, we tried to bring in something that would appeal to each team's fans and represent all major sports, not just hockey — a daunting task to say the least. We are definitely heavily themed in hockey but have basketball, baseball, football, and soccer pieces as well. By at least representing each major sport with a few pieces, we can send a message to our collectors that we have access to pieces from the sport of their passion and bring in something specific they are looking for.
I find that the photos printed on canvas appeal to me. We have a beautiful signed one of Sidney Crosby kissing the Cup as he lifts it over his head in celebration.
Also a canvas, an aerial shot of John Tavares shooting the puck as his shadow stretches over centre ice. Another one that I just love is a signed Nathan MacKinnon stick blade with photos above. The pieces stir up the excitement of the game and evoke an emotional response in me, and I've seen the same effect on our customers when they spot their team or favorite player.
JS – Speaking of Facebook, how important is social media when it comes to running a small business?
RE – I think social media is an invaluable tool for small business. It allows us to promote our brand and communicate directly with our guests and collectors. At the same time. it allows collectors to zero in on exactly the kind of information and content that they want to receive. As the shop owner I want to make sure that our collectors are getting what they need from their shop and social media allows me to do that. It's a win-win for everyone.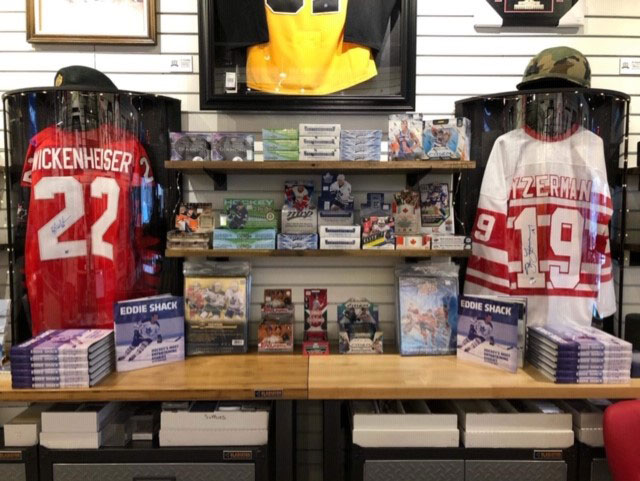 JS – How do you view exclusivity in the hobby among card manufacturers as a whole? I know that Upper Deck has a very big presence in Canada. What about the other companies?
RE – I feel that exclusivity works well for us here in Canada when you've got the right company looking after things and taking pride in the ownership of that product. Upper Deck not only produces a premium product, they also work tirelessly to support brick and mortar hobby shops whether that support comes directly or through your distributor. We have access to other companies and their products for sports other than hockey, and there are some nice products out there. But of course being in Canada, our love and passion for hockey is limitless, and Upper Deck is right there with us.
JS – What products performed well in 2019? What about those products made them desirable to your collectors?
RE – Collectors love the hits, whether it's Young Guns, hard-signed autos, or premium patches — each has their favorites. There's such a rich environment out there currently, but the two standouts would have to be Upper Deck Series 1 and The Cup. Series 1 is the cornerstone product for most collectors, and The Cup brings us the cards we dream about.
JS – What is one thing you think is really going well in the sports card hobby right now? On the contrary, what is one thing you would change, whether from an industry or local perspective?
RE – I think the co-operation between the NHL, NHLPA, and Upper Deck is bringing us the most comprehensive and premium product we've ever seen. The product mixed with collector's passion is keeping collectors as well as bringing in new ones and we're seeing more and more families — moms and dads alike, boys and girls — collecting together and sharing in the passion for the hobby.
Something we are working on changing in our shop is the impression people outside the hobby, have about the hobby. It's not "kid's stuff" that is to be grown out of and left behind, or found in that dimly lit store your mom doesn't like you going into.
Yet, it is "kid's stuff," grown-up stuff, and family stuff. It is a hobby that has value both monetarily and emotionally and it is fuelled by passion and the love of a game.
And I know I'm not the only shop owner that wants their shop to be more than retail. We want our collectors to experience that hobby, share it with others, and share it with us as well. We all started out as collectors too. We were just fortunate enough to be able to turn our passion into our job.
JS – In closing, can you tell us about any sales or upcoming in-store events you have scheduled for the next couple of months?
RE – It's been a whirlwind leading up to and going through the holiday season. We've just had a chance to recharge our batteries a bit and we're going to be scheduling some trading events and some breaking events. As well, we're working on having an athlete at the store for a public signing. We're even working on having an authentication event. Collectors can bring in their signed memorabilia and have it authenticated and leave with a certificate. And you can learn about all of these on our Facebook page and social media.
Rawscoe's Sport Collectibles
Ross Elson
(705)775-1825
182 ½ Charlotte Street
Peterborough, ON K9J 2T8
Hours
Tuesday-Friday: 10AM-6PM
Saturday: 10AM-6PM
Sunday: 12AM-5PM
Monday: Closed
Facebook: Rawscoe's Sport Collectibles
Website: SportCollectibles.ca