Local Canadian Card Shop of the Week: Eastridge Sports Cards (Calgary, AB)
Mike Davis began collecting sports cards in 2010. His hobby quickly led to a job opportunity in the industry. Ultimately, he became the owner of his own sports cards shop. I recently caught up with Mike to discuss his shop and the state of the hobby in Canada.
Canadian Local Card Shop of the Week is brought to you by Universal Distribution, Canada's premier distributor of CCG's, sports cards and non-sports cards, trading card games, role-playing games, comics, toys, figurines and more.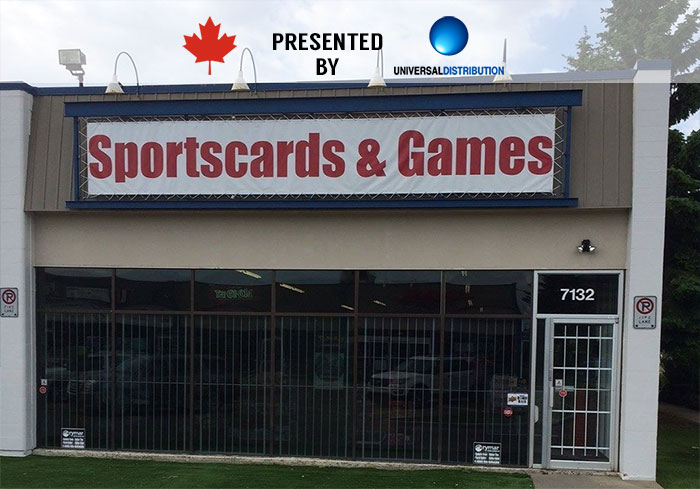 JOEY SHIVER – Thanks for taking the time to talk with us Mike. Can you tell us a little about your collecting background and what led to your decision to open your shop?
MIKE DAVIS – I got back into collecting in 2010 after deciding I needed a hobby. I figured I liked sports so why not collect cards? Eastridge was started in 2005, and I started working here in 2011 after deciding to retire from the bar business. I took over ownership of the shop April, 2019.
JS –Can you tell us a little about your store; your setup and what type of inventory you carry? Also, what services do you provide?
MD – We have a 2,000 square-foot store front with 1,300 square-foot warehouse space attached. We carry sealed sports card boxes, board games, trading card games, miniatures games, and supplies. We also have over one million singles in stock.
JS – This is a new series we are running to include collectible shops in Canada. For collectors who haven't been, what would you say are the main differences, if any, between your shop and what may be found in the US?
MD -The main difference is the hockey focus.
JS – I would imagine that the Calgary Flames are a local favorite among your collectors. Can you tell us a little about what teams and players your collector base seeks out the most?
MD – The Flames are, of course, king led by Johnny Gaudreau and Sean Monahan. The top rookies in all sports are always in high demand.
With Calgary having a lot of people who moved here from elsewhere during the oil boom, there are also a lot of collectors of Toronto Maple Leafs and Montreal Canadians. There has also been an increase in Toronto Blue Jays interest with the new young players performing well. The Toronto Raptors winning the NBA Championship also has increased basketball interest.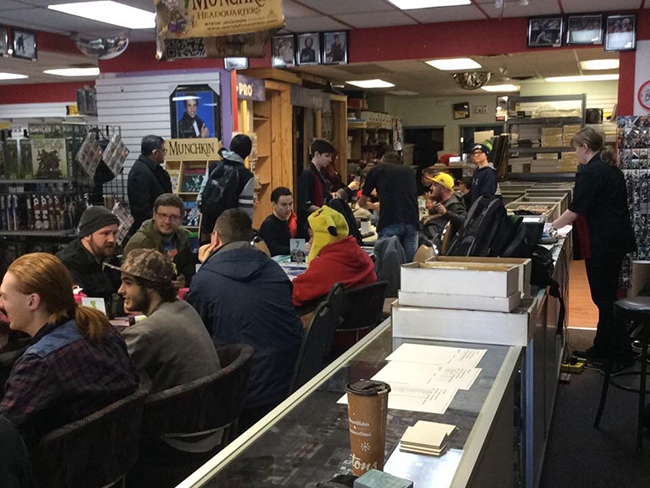 JS – As it relates to trading cards, do you carry all of the major sports releases? I see that hockey and gaming cards are a big part of your inventory. How much are other sports in demand among your customers?
MD – We do carry releases from all major sports. While hockey is the most in demand, baseball is gaining popularity every year. Basketball also seems to be seeing an uptick.
JS – You had Bobby Hull in store signing back in July, which was probably a wonderful treat for your collectors. Can you tell us about that and any other signers you have had in the past or have planned in the future?
MD – The Bobby Hull signing was our first in-store signing event. It was great! Bobby shared lots of stories with everyone. We are hoping to host more signings in the future.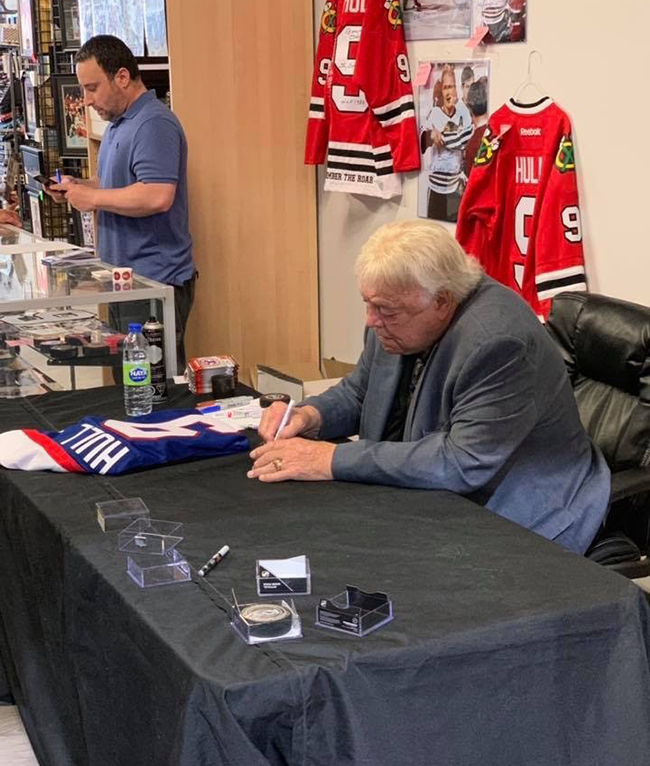 JS – Aside from signings, what other in-store events do you promote?
MD – We hold a monthly trade night, as well as participate in National Hockey Card Day and National Baseball Card Day.
JS – What specific products have performed well in the first half of 2019; and what made those products so popular?
MD – 2018-19 Upper Deck Series 2 Hockey and 2018-19 SP Authentic Hockey performed extremely well. These are staple products that collectors love and are some of the most collected rookie cards in hockey. 2019 Bowman Baseball was also a phenomenal performer. Even in Canada, collectors love to chase Bowman prospect cards.
JS – Are there any new products that are on the release calendar you are really looking forward to in the next few months?
MD – I am excited for 2018-19 Clear Cut Hockey. I think this could be an amazing performer!
JS – I know that you attended the Toronto Sports Card Expo this year. Can you talk about that show and what your experience was like?
MD – The Toronto Sports Card Expo is a show we attend every year. It is an amazing way to connect with collectors from all over.
Eastridge Sports Cards & Games
Mike Davis
(403) 702-6690
7132 Fisher Street SE
Calgary, Alberta T2H 0W5
Hours
Monday: 11AM-7PM
Tuesday-Friday: 10AM-9PM
Saturday: 10AM-6PM
Sunday: 10AM-6PM
Facebook: Eastridge Sports Cards & Games