Local Card Shop of the Week: SwamiLee's Sportcards & Collectibles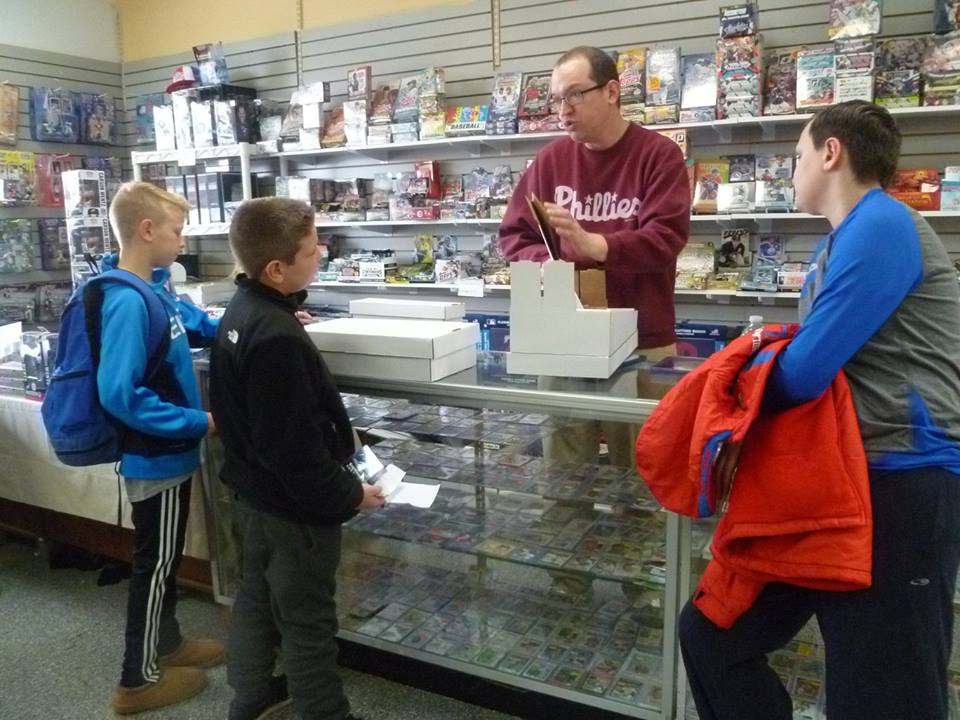 Lee Goldinger first remembers baseball cards while at his brother's Little League game in 1974. When his parents asked him what he wanted, thinking he'd say popcorn or candy, he said, "baseball cards." Then, in 1975 at age six, he was walking around the local mall carrying a rack pack of 1975 Topps Baseball with Charlie Sands on top of the pack. Today, he doesn't know why that card sticks in his mind, but it does.
His first card was a Chris Spier 1972 and he had that beaten-up card for the longest time. In 1977, he picked up some packs of football cards but was upset that they were cards from the previous year and not the new '77s. Now, he wishes he had stocked up on the '76 packs to try for Walter Payton. After his early start with cards, it was almost a natural transition to become a card shop owner. Now known as SwamiLee, he owns SwamiLee's Sportscards & Collectibles in Pennsauken, NJ. I recently caught up with The Swami to discuss his shop and how he views the hobby.
JS – Thanks for taking the time to speak with me Swami. You have been collecting for quite a long time and you have surely seen the hobby make many changes over the years. What are some of the major differences about your store that opened in 2017 vs the store you had in 1991?
SL – In 1991, my store was all about packs. Very few people spent the $30-$50 they needed to buy a full box. But there weren't any box or case hits so there wasn't the same need to buy the full box that there is today. With so many dishonest people out there, customers are concerned with purchasing single packs thinking that the seller might have searched for the hits and removed them. It's why we pride ourselves on having the cleanest packs in the industry. Whenever we open a new box, we shuffle all of the packs to make sure everyone has a fair chance to get the big hits. Secondly, as we all unfortunately know, there are fewer kids in the hobby today compared to 1991. Back then, at least half if not more of my customers were under 18. Today, I'm fortunate to say maybe 15%-20% are, which I believe is a pretty high number. Lastly, there are so many choices out there it's tough to figure out what to buy in quantity. You expect some products to be hot and they aren't while something you might have thought wouldn't do well, blows up.
JS – Talk about your first few months a little. What brought you back to the hobby shop business?
SL – I recently left my job and was looking for something to do while I made some career decisions. My inventory was spilling out of my storage unit and my house. In my family, if we want to do something, we do something. So I talked to Mrs. Swami and she said I should go for it. I'm having a blast being there six days a week, seeing the people that come in each day. At my previous location in 2014 I was only there two days a week while my father covered the balance.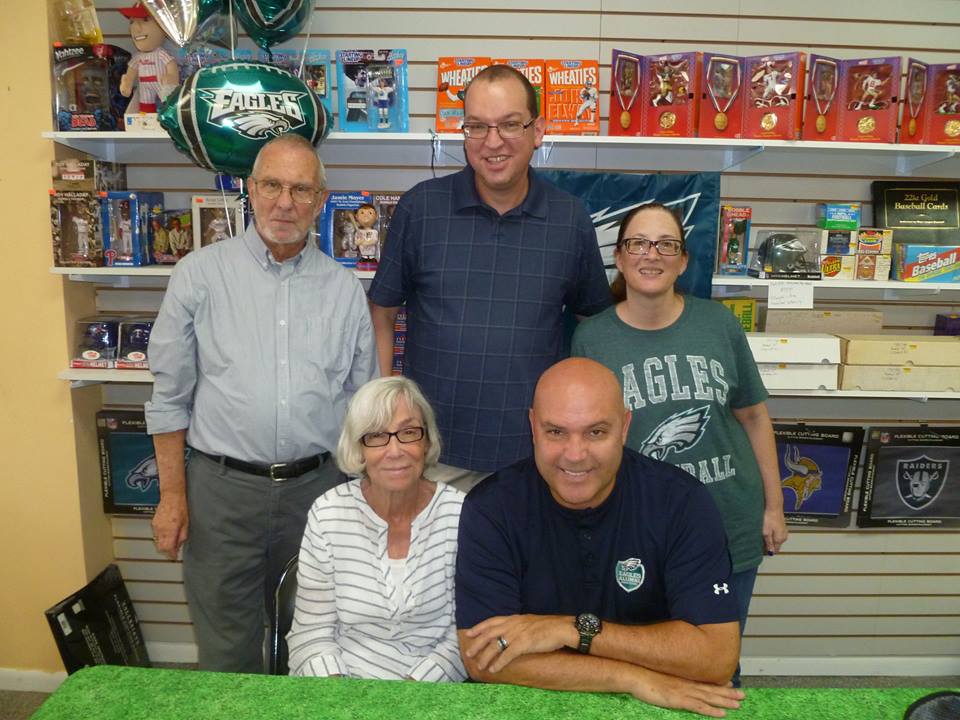 JS – Before we go any further, I have to ask: How did you get the name SwamiLee?
SL – I think it was 1994. My buddy Bill and I produced a magazine called "S.L.A.M.," "The Starting Lineup Advisory Magazine." If I do say so myself, it was the best publication on the market for SLU figures. As we put the first issue together, we were going back and forth trying to come up with a signature column. After a while, I thought of "SwamiLee Sees All". I'm not sure why. It wasn't a big deal to me until people started coming up to me calling me "The Swami" at the SLU shows. Years passed, the magazine is no more, but people that knew me from back then would see me at a card show and call me "The Swami" so I figured I would embrace it.
JS – Your website mentions that your store is family owned and at any point you may find Swami, Mrs. Swami or the Swami's parents manning the store. Can you tell us a little about the family that helps run the store and their collecting history?
SL – My mother and father cover for me when I'm not around and also come in for a few hours a couple of days a week. My mother likes to keep occupied so she sorts cards for me. She gets upset if she stops over and I have nothing for her. They aren't collectors, but my mother is the big sports fan. Back in her day, she would hang out in the dugout with the Cleveland Indians and knew Jimmy Piersall, Vic Power, and company very well. To be clear though, she was not "that kind of girl!" (Mom insists I clarify that point if I tell the story). That being said, growing up, they bought baseball and football packs for me consistently when they went shopping or just wanted to bring me a small present. My father ran my previous location and sometimes I think people would rather talk to him than me! Both are wonderful people who I enjoy having in the store whenever they want to be there. As for Mrs. Swami, she works full time and does a bulk of the housework so she doesn't join me as often at the new place as she did at the old place. That being said, when we have our free autograph signings, she's always there serving food and drinks to our attendees.
JS – While NJ may not "technically" have many major sports teams, the Devils are historically a very good hockey team and both the Giants and Jets play their home games there. Your particular location is very close to Philadelphia and, by extension, Pittsburgh is probably a team that is regional as well. What sports and teams is your clientele mostly made up of?
SL – Most of my customers are Eagles and Phillies fans. Those that drive a bit further are Mets and Yankees fans, but we forgive them. When the Phillies do well, their cards thrive. When the Eagles do well, memorabilia thrives more than cards. It's strange actually. Even though the Phillies are pretty bad these days, I still sell more Phillies items than Eagles items (if you don't count Carson Wentz). As a Steelers' fan myself, I do have a few Steelers' fans that come in also.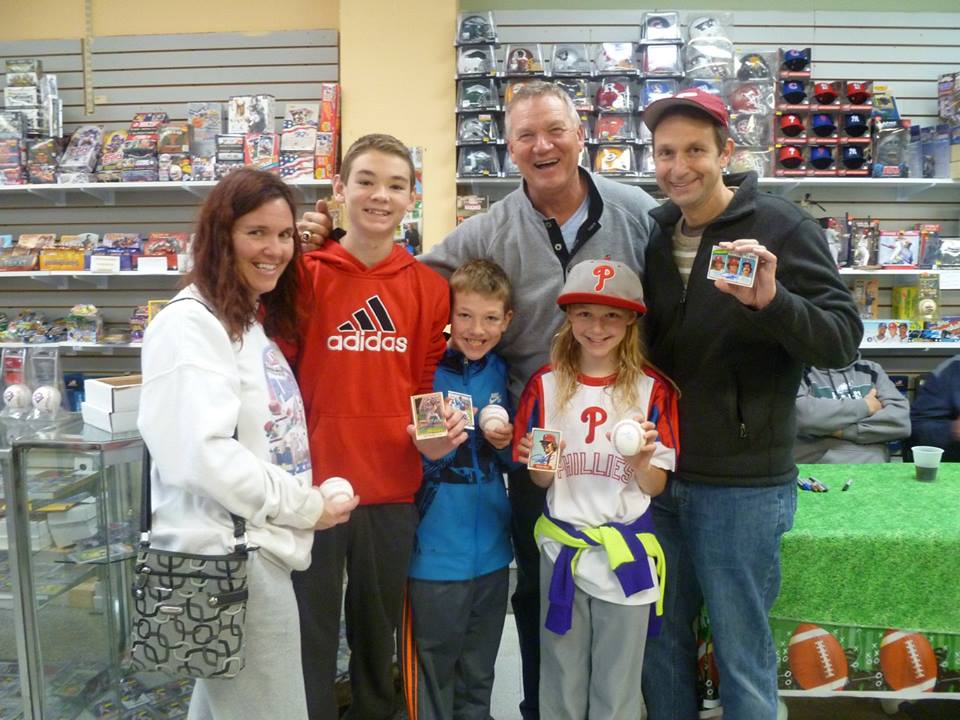 JS – With there being a lot of Eagles fans nearby, I'm sure there has been a lot of demand for football this year. Carson Wentz had a great season until his injury and the defense has played very well. How has their success played out in the store with customers?
SL – Football in general is a bit slower due to lack of impact rookies. I'm seeing more action on 2016 product and of course anything that says Wentz on it flies. Even after the injury, I still sell Wentz cards and figures well. As the Eagles progress in the playoffs, I'll be curious to see if 2017 football in general takes off.
JS – What have been some of the hottest products in your store since August and why do you think collectors have been drawn to those?
SL – I do very little basketball, but 2017-18 Panini Prizm is selling like crazy. One of the reasons I believe is I may be the cheapest hobby shop in the country as I ordered heavy assuming it would be a strong product. That basketball rookie class is extremely strong this year! Bowman Chrome baseball has done very well for me and lower-end 2016 football boxes (due to Wentz) have also been a big seller.
JS – What have been some of the biggest hits pulled at SwamiLee's? This could be your current location since August or any of the stores you've owned in the past.
SL – Unlike many hobby shops, I don't sell quantities of Flawless, Dynasty and other high-end boxes so my shop won't see as many crazy hits as others. That being said, over the course of the last few years we have seen a 2017 Topps Derek Jeter Relic/Auto numbered to 5 pulled during a Pack Wars Event, a Mariano Rivera 1/1 out of Stadium Club, a Joe Montana autograph numbered to 5 out of one of the Panini products (I can't remember which one) and 2017 Prizm basketball has seen Silver Prizms come pouring out from all the top rookies from Ball to Tatum to Mitchell. We have a strong collector base more than an investor/gambler base (though we welcome buyers of all types).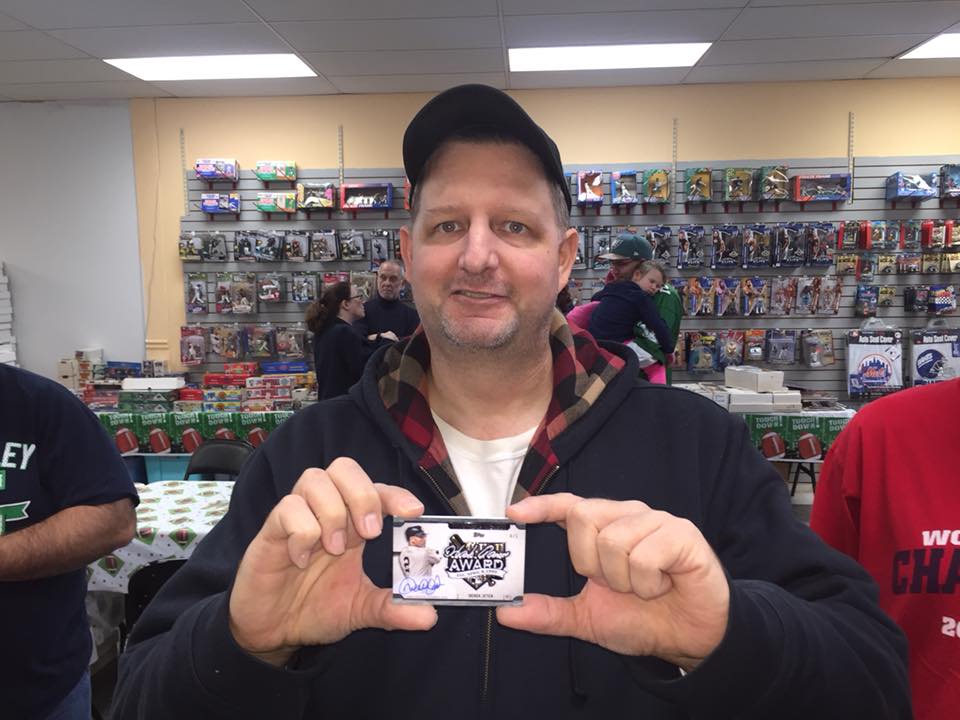 JS – I also noticed something unique on your website and Facebook. There are links to your YouTube videos "SwamiLee's Sports Talk". Can you tell us a little about this video series?
SL – I've always wanted to do a talk show from my youth. Of course back then, it wasn't possible. Now that we've embraced the new millennium, my old elementary school buddy, Mike, and I decided we were going to do it just for the heck of it. So about once a week or so, we get together at the shop and just do what we do when we get together for dinner or drinks. We talk sports! Nothing is off limits and he likes to push my buttons with certain topics that he knows set me off. If you watch a few of the videos, you'll know quickly what those topics are. Recently, another old friend joined us and the three of us are now doing the show. It's amazing what you can do with modern technology!
JS – Your Facebook page advertises Pack Wars and Trade Nights. Can you tell us more about those events?
SL – I like to do some kind of event one time per month. In September/October, we had a Free autograph signing with one of the greatest punters in NFL history, Sean Landeta. In November, we had a Free autograph signing with former Phillies World Series Champ, Dickie Noles. Two finer gentlemen you will not find! At the signings, we also serve free food and drink. When the signing is over, we play Pack Wars. Everyone opens the packs and the best card gets them all. It is a big hit with everyone. That's where the Jeter relic/auto came from. It was exciting to say the least! We had our first Trade Day in December. Collectors got together and talk sports, sportscards, and trade their cards. It was a great time. Anytime you get a group of collectors together to just shoot the bull, it's exciting. Mainly because it's not something that gets done very often. We are currently working on our next Free autograph guest and hope to announce it soon.
JS – Let's talk a little about your personal collection. You started collecting almost 45 years ago so you have been a part of several ups and downs. What is your primary focus now on a personal level? Are you more into vintage/junk wax/modern? What are some of the highlights?
SL – I have never been a big dollar collector. You won't find PSA 9 Ryan rookies or anything like that in my bag of tricks. At this stage of my life, I'm a collector of anything vintage Milwaukee Brewers, as I've been a Brewers' fan since 1975 (nobody, myself included, knows why.) I have nearly every Topps card from 1969-1993, until they changed their logo. I'm not a fan of the newer logos. I recently picked up a lineup card from a 1977 Brewers/Tigers game that lists the name Von Joshua on it. I love somewhat obscure Brewers. I also have a custom Brewers 1982 Starting Lineup Team Lineup, which was painted by hand for me. I will buy anything with a vintage Brewers logo on it if I don't already have it. I love my Seattle Pilots pennant and my early 1970s Brewers record album along with my custom Jim Slaton Starting Lineup figure. And cardwise, I just need the Superfractor Rickie Weeks from 2013 Topps Chrome to have the rainbow. He's featured in a throwback uniform so I collected it. Before I had the shop, I was into breaking cases and selling the singles online, but I rarely kept anything unless it was a Brewer in a throwback uniform.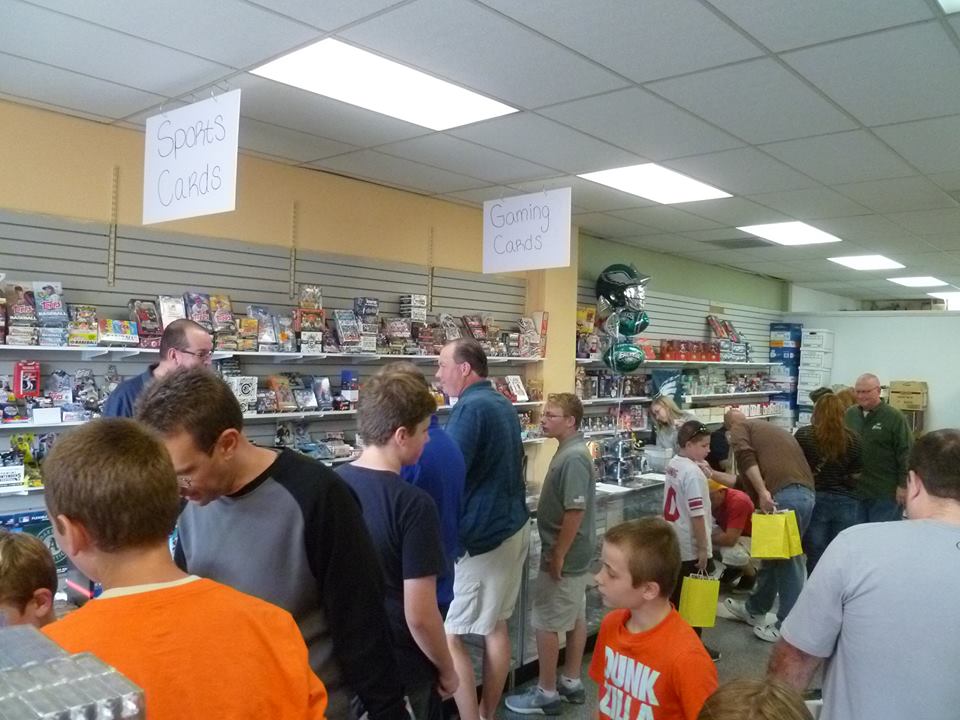 JS – Aside from your personal collection, you have also seen a lot of product changes over the years. What changes have been most surprising to you in the industry? What products have changed the hobby for you?
SL – The hobby will never be "like it was" as they say. In my day, there was just Topps (then Fleer & Donruss, then Score) and we just stockpiled Hall of Famers and rookies. I would have 10 Will Clark rookie cards in my binder. And they were worth a couple of dollars each. When Upper Deck came out in 1989, the thought of paying a dollar for a pack was unheard of. Eventually I gave in and would buy a pack or two late at night after dropping my college girlfriend off at her house. I rarely pulled a Griffey back then. As for today, I really enjoy Heritage. The old school feel mixed with autographs and chrome is a great combination. I also really enjoy Topps Chrome. The various parallels are great. Despite what people say, you can never have too many colored parallels in Topps Chrome!
JS – In conjunction with the changes you've seen, what would you like to see from card companies in the future to help the hobby continue to grow and keep it strong?
SL – I do not believe the card companies have priced the kids out. Many people say that, but it's not true. The kids that come in my store don't want dollar packs with no hits. They want autographs, refractors, jerseys, etc, and that costs money. The card companies need added value. Heritage is a great example of this. Although there is only one "hit" per box, there are also color swaps, color backs, refractors, chrome, flip backs, variations, etc. That is a ton of added value. Then I see a product like Dynasty and shake my head. For $260, I expect more than a single Dave Winfield autograph, no matter the serial number. Bottom line, bang for your buck is what needs to be provided and unfortunately, some products do not offer that. A collector buys that product, gets disillusioned by the junk in the box and decides to stop buying cards. Oh, and sticker autographs need to go unless they are cuts or the player has passed.
JS – If you could give a future shop owner one piece of advice, what would that be?
SL – It's hard to do this full time and pay your bills. It's a great opportunity for someone to do it part-time or have a retired person or spouse watching kids running it. I would love to see maybe three friends get together and open a shop where it would be more of a hangout with cheap rent and they could all work there part-time. That being said, it would be great if all serious collectors had the opportunity to run a shop at some point in time.
JS – What else does SwamiLee's offer that helps bring in new collectors and keep them coming back? Do you have any in-store events or promotions you can share? Anything coming up?
SL – We pride ourselves on our pricing. The internet is tough these days. People give things away for nothing online. I monitor eBay, the internet big boys, everyday to make sure our prices are competitive. I have over 120 different wax boxes in stock. If you compared my prices to anyone, internet or brick and mortar, across the country you will find I am competitive if not cheaper on a bulk of the product, especially if it's new and hot. That keeps people coming back. Let's be honest, why would you pay me $140 for a retail box of Prizm basketball when you could buy it online for $110? I am well known for my pricing structure on wax, and also having commons from 1951 to present day. Many shops don't bother with set builders anymore, but we cater to them. I have multiple customers that come in every one to two weeks to fill various sets. That's where the real fun is to an old timer like me! Lastly, we are working on our next Free autograph guest. We hope to announce it any day now.
SwamiLee's Sportcards & Collectibles
2673 Haddonfield Rd
Pennsauken Township, NJ 08110
(856) 488-7100
Facebook – SwamiLee's Sportscard & Outlet of Pennsauken, NJ
Twitter – @SwamileeSports
Instagram – swamilees_sportscards
YouTube – Swamilee's Sportscards & Collectibles
Website – www.swamileecards.com
Hours of Operation
Sunday – CLOSED
Monday – Closed
Tuesday – 12pm:4pm
Wednesday-Friday – 12pm:7pm
Saturday – 11am:4pm