Canadian Hobby Shop of the Week: Maverick Sports & Collectables (St. John's, NL)
Andrew Corbett spent the 1990s working at a few local card shops, the dream of many collectors back then. He would eventually go on to own his own card shop in St John's, Newfoundland and Labrador. I recently caught up with Andrew to discuss his shop and get his thoughts on the current state of the hobby.
Canadian Hobby Shop of the Week is brought to you by Universal Distribution, Canada's premier distributor of CCG's, sports cards and non-sports cards, trading card games, role-playing games, comics, toys, figurines and more.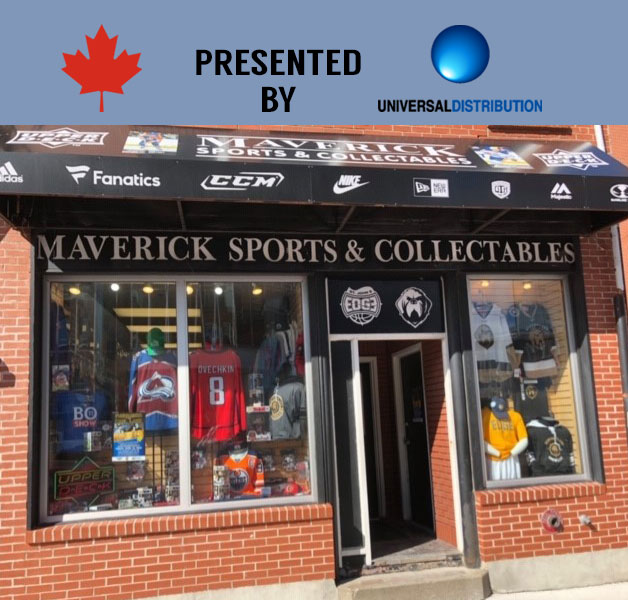 JOEY SHIVER – Thanks for taking the time to talk with us Andrew. Can you tell us a little about your collecting background and what led to your decision to open your shop?
ANDREW CORBETT – Personally, I've collected since back in elementary school, building sets and playing knock downs and flips at recess and lunch. Then, in the early '90s, I got back into it like everyone and also worked at a few local card shops. After working in a sports store throughout university and after, the opportunity came up to take over the spot of an existing card store. From then on, I've just built the store into what I envisioned, and what we've become today.
JS –Can you tell us a little about your store, your setup and what type of inventory you carry?
AC – We deal in all major sports in sports cards, jerseys, apparel, hats, sports figures, souvenirs, and memorabilia. We have a fantastic selection of boxes, packs, sets, and singles, as well a wide range of card supplies. Outside of that, we deal a little in darts, and Canadian and Newfoundland currency.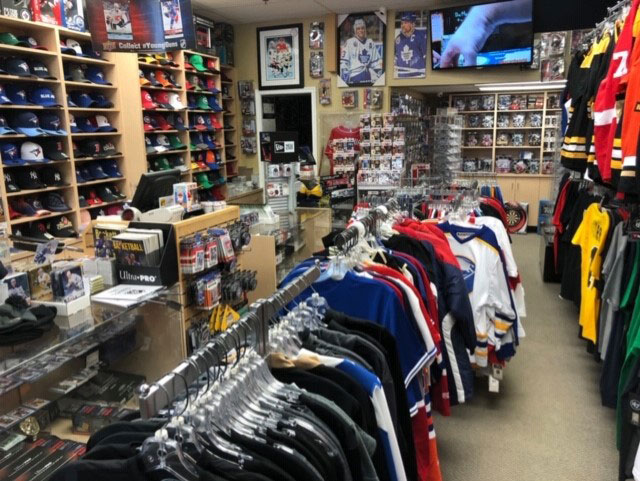 JS – While you carry a lot of sports cards, hockey appears to be a big seller. How do the sports stack up against each other in your location?
AC – Hockey, by far, is our number one seller. However, the other three major sports have become much more popular in recent years due to strong rookie crops. We could certainly sell a lot more in some of these sports currently if the supply was available here in Canada.
JS – You are located as far east in North America as you can travel. The closest major sports city appears to be Quebec. When it comes to the "Home Team," who would you say your collectors focus on in various sports?
AC – Canadian teams are definitely well supported here. Hockey, by far, is ruled by the Canadiens and Maple Leafs. Raptors lead the NBA, followed by Warriors and Lakers. Blue Jays lead for the MLB with strong Yankees and Red Sox fans as well. The NFL is led by the Patriots, Packers, and Steelers here.
JS – Your Facebook page reveals product releases and big hits. Can you share with us some of your favorite items that have come through the shop?
AC – I'm still a big hockey card fan. I still collect both the regular Upper Deck sets every year as well as the Canvas set. I see a lot of nice cards opened in the store and we're always open to buying or trading cards from our customers. We've had most all of the big cards in hockey pulled here such as McDavid Cup Rookie, and much more. We also deal in vintage cards and have had some great collections come through the store over the years.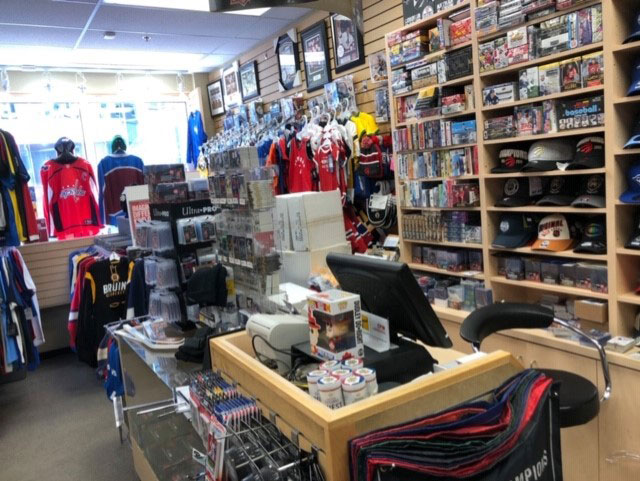 JS – Speaking of Facebook, how important is social media when it comes to running a small business?
AC – Social media, especially Facebook, are great ways to interact with your customers, while also attracting new people to your business. It lets you specialize and highlight different items and events that we're trying to promote.
JS – What is one thing you think is really going well in the sports card hobby right now? On the contrary, what is one thing you would change, whether from an industry or local perspective?
AC – I think the best thing going in the hobby is the number of top-notch rookies right now across all four major sports. This is helping drive sales with both existing and new collectors. The one thing I would like to see changed is to increase the access to basketball, baseball, and football sports card products in Canada.
JS – In closing, can you tell us about any sales or upcoming in-store events you have scheduled for the next couple of months?
AC – We run a break every Saturday after a new NHL release. We've always got some kind of promotions going on. Currently, we have a great sale on NHL jerseys as well as a great 50% to 75% Off rack and bin.
Maverick Sports & Collectables
Andrew Corbett
(709)738-2888
Email: maverick@nfld.net
250 Water Street
St. John's, NL A1C 1B7
Winter Hours
Sunday: 12PM-5PM
Monday-Tuesday: 10AM-5:30PM
Wednesday-Saturday: 10AM-6PM
Facebook – Maverick Sports & Collectibles