Latest non-sport set from Leaf packs pop, unfortunate circumstance and more …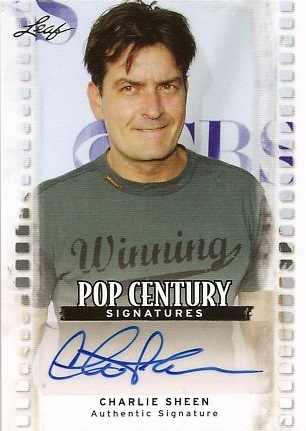 By Chris Olds | BSCM Editor | Commentary
No matter what you think of Hollywood, there will be plenty to think about when 2011 Leaf Pop Century arrives this week.
Pick a name you might have read about in the news … Charlie Sheen, Lindsay Lohan, Mickey Rourke, Britney Spears … they're in there as autographs.
Also in there will be a 1/1 dual cut autograph booklet of President John F. Kennedy and the man who murdered him, Lee Harvey Oswald … a card that also includes a piece from the limo driven on that infamous day in Dallas.
And the product also includes an autographed card of Jeff Conaway, the former Grease actor, who died Friday after battling drug problems for years.

"I am saddened to hear of the passing of Taxi star Jeff Conaway," said Leaf CEO Brian Gray after hearing the news. "I personally did the signing with Jeff, and I was shocked what a great guy he was. He was one of the few celebrities Ive worked with that acted like we were doing him a favor and not the other way around."
Other celebrity autographs to be found in the product include Harrison Ford, Pamela Anderson, Kate Beckinsale, William Shatner, Bo Derek, Vivica A. Fox, Pam Grier, Hayden Penettiere, Kim Kardashian (and the rest of them, too), Kendra Wilkinson, Dennis Rodman, Vince Neil, Traci Lords and countless others.
There's also a small segment of the sports world with the last two Heisman Trophy winners, Auburn's Cam Newton and Alabama's Mark Ingram, along with strikeout king Nolan Ryan among those signers.
No matter what you think of the scandals that have surrounded the lives of more than a few of the subjects on the list — or whether a JFK-Oswald card is tasteful — there's no doubting that those scandals have made them household names in the tabloids or on our televisions.
And it's that star power — however it comes — that will likely translate into sales of trading cards.
Chris Olds is the editor of Beckett Baseball. Have a comment, question or idea? Send an e-mail to him at colds@beckett.com. Follow him on Twitter by clicking here.